Our Family's 50-Mile Walk to Connect with Our New Home
After moving to San Diego, one writer took her husband and sons on a five-day urban hike to explore and better understand their new stomping grounds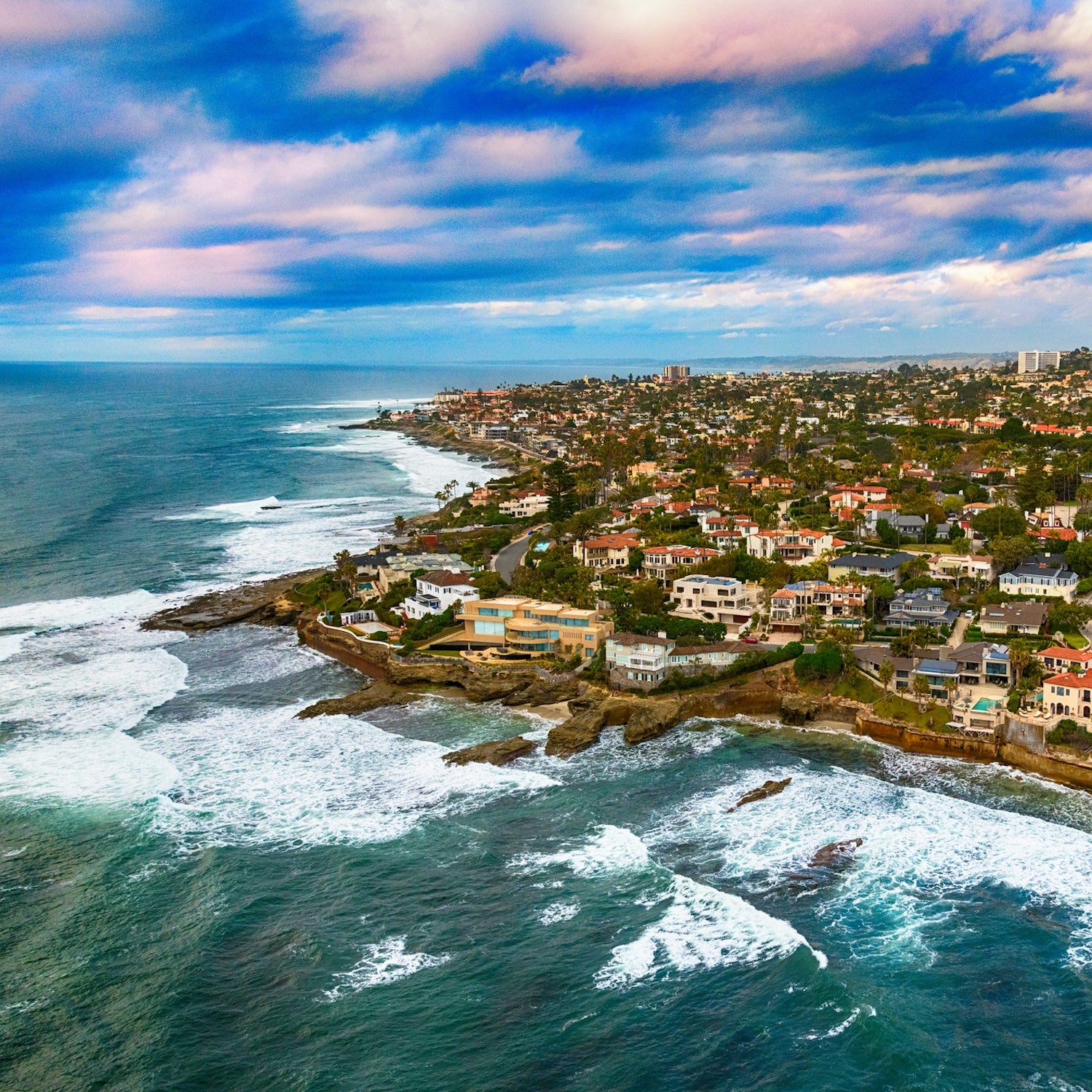 Art Wager, Getty
Heading out the door? Read this article on the new Outside+ app available now on iOS devices for members! Download the app.
Eddie's hazel eyes lit up when he saw the sign: "Did you know this place was here?" Though we'd only been walking for an hour from our City Heights home to San Diego's Hillcrest neighborhood, apparently, my husband already needed espresso. I'd been hoping we could survive with less on this meander. But my sons, Kai and Nikko, hiked their masks over their noses and raced into the all-white café. I stood outside with our backpacks and our dog (a designer mutt named Stella) as my family procured speed-inducing treats. Could we actually slow down during this week of walking San Diego? After I declined pastries festooned with sparkles, little Nikko pushed his glasses higher on his face and said, "We still have like nine miles to go today." 
"I don't want to go fast," I replied. 
Now that life had returned to its pre-pandemic haste, I'd been longing for slowness. We'd relocated to San Diego from Santa Cruz in December to be closer to family, and I found myself driving everywhere, chauffeuring my nine- and 13-year-old boys to soccer, school, and music lessons. Though we joked that in San Diego everything was 15 minutes away, the distances felt vast, so many single-story concrete corners we'd had to traverse to reach sand or dried canyonlands. How would we ever connect with this place if we were always driving it?
I thought I'd found my answer in a podcast interview with writer, scientist, and enrolled member of the Citizen Potawatomi Nation Robin Wall Kimmerer. She explained that we were all once native to a place, and to return to this ecological connection to home, we must acquaint ourselves with the living world around us. So, I decided that my clan would do just that. We'd walk from our mid-city house to the posh seaside village of La Jolla, and back—50 miles in total—over five days. They boys helped craft the itinerary to include hotels with hot tubs and comfy beds. Eddie mapped out all the restaurants he wanted to try along the way. I made no plans other than to search for dandelions in the sidewalk's cracks. 
On that first day, as we descended past the Mission Hills mansions perched over the glittering bay, Eddie admired the engineering feat of building a bayfront airport right in the middle of downtown. The boys marveled over a soccer pitch in a backyard. Stella sniffed at a jasmine bush manicured into an archway. 
But I felt adrift. How hard we worked to manipulate our living world to our benefit, and yet, how little connection I truly had—I didn't know the names or characteristics of most of the plants and animals we saw as we marched into Old Town; I didn't know the moods of the tides, the fog, the wind pressing us toward our destination for the night, Paradise Point Resort on Mission Bay.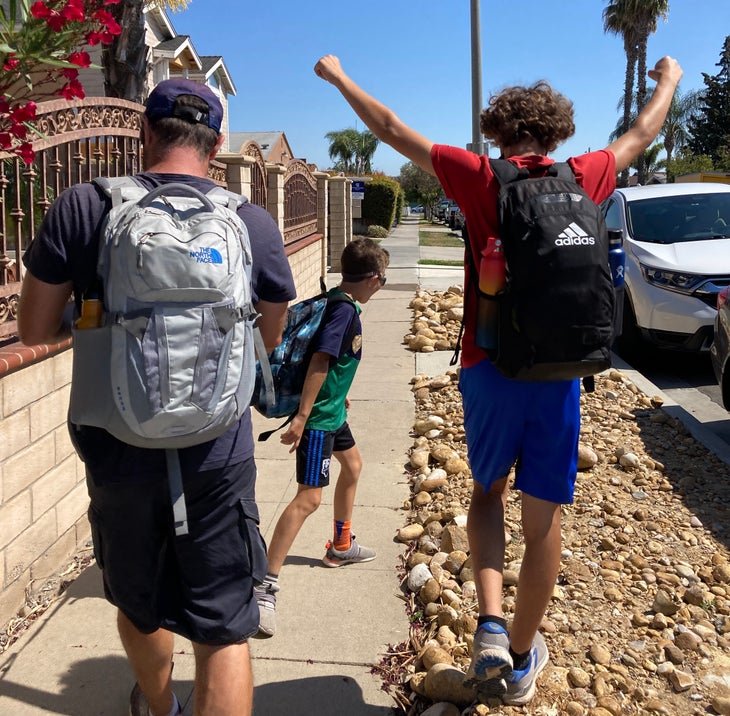 The next morning, as we migrated from Mission Bay to Pacific Beach, we started using Kai's Seek app to identify the plants and animals around us by taking a photo of the species. And though it said Stella (who is a poodle/retriever/lab mix) was an alpaca, we began to shakily acquaint ourselves with our environment. Like so many of us here in California, most of the palms, jacaranda, and hibiscus were nonnative, and these SoCal icons also housed other immigrants like the green parrots squawking overhead. So many species were like us, making a home in lands that aren't ours. Yet they had found a way to thrive here. Could I as well? 
Hiking from Bird Rock (an affluent hillside beach community) to La Jolla, a dogwalker pointed us toward a bike and walking path we'd never noticed. On the trail, the boys found a tire swing, fairy houses, and a beehive encircled by California poppies, our state flower. "These can grow anywhere," Kai told us. Just like my boys. They were resilient as this landscape—we plopped them in a new city, right in the middle of a pandemic, and they found ways to connect with their environment like Mexican elderberry, which wasn't exactly from this trail, but added nutrients to the soil and sustenance to other species. 
As I iced my feet on the hotel balcony that night, I listened to the boys recounting our success of walking so far in just two days. I wondered how much they'd noticed about the natural world around us. Because the farther I wandered, the less I understood—like how did the Kumeyaay, San Diego's first people, access water in their ancestral homelands? Did they live, like we do, on high ground so that when the torrential rains blew through, flooding the valleys, their homes were safe? And how had they survived the annual fires that gobbled up the dry brush on the rolling hills? What did they eat? What native plants were available to them in this coastal desert? Because for us, it was so easy to just order some sushi to be delivered to our room. How had we become so different than this land's ancestors? And how might we regain some of that wisdom?
We took a different route back home: trekking down the beach by UC San Diego to a La Jolla waterfront trail, passing giant houses adorned with Teslas, surf schools, and botox spas to reach the flatlands of Pacific Beach, where we recharged at a local seafood shop that imported most of the fish from afar. Looking at all these paved roads and multi-unit houses with tiny garden plots out front, the trucks lugging kayaks, the cyclists zooming by, I realized that we all had ways of connecting with the land beneath us, even if it was for fun instead of survival. Was just the desire to integrate the natural world around me a good enough start? 
That night, a loud crack made us hobble out of bed and onto our deck at Bahia Hotel. The nightly fireworks show exploded over Mission Bay. The palms clapped in the breeze. Seagulls shrieked over someone's bonfire leftovers. The almost full moon rose over the faraway peaks to the east, reflecting in the ripples on the water. I took a deep inhale, noticing the slight saltiness in the air. Then an exhale, releasing my oxygen. My feet throbbed. I couldn't stand for long. This walk had forced me to slow down and appreciate what it means to be walking this land. We still had another ten miles to go, but I knew that as we walked along the San Diego River and up that big Texas Street hill, stopping for a rest at one of North Park's bustling breweries, I'd be trying my best to get to know the ground under my feet and maybe learning something about myself in the process.
Lead Photo: Art Wager, Getty