The Girl Scouts Is Raising Our Next Generation of Rippers
For more than a century, the Girl Scouts has been the most well-trod path for junior explorers to get into adventure. But what comes after the Thin Mints and craft badges is a troop for sisterhood, winter camping, and some serious archery.
Heading out the door? Read this article on the new Outside+ app available now on iOS devices for members! Download the app.
Spider arrived at the breakfast table with glitter on her cheek. Six wide-eyed middle school girls were ­devouring ham sammies while she described her midnight abduction. "This dude came to the window and gave me a bead. And then I got the power of Narnia and an orange compass." She reached out for a tater tot. "I felt like I was there for a week! He crowned me queen of the stars and the moon above. It was the best dream ever."
The XX Factor Issue

Our special issue highlights the athletes, activists, and icons who have shaped the outside world.
A 12-year-old redhead named Nicole nodded. "That's why she has glitter and white paint on her face! From the journey!" Nicole, who was eating Count Chocula, looked happier than she had the evening before, when she was a little hysterical because she couldn't find her sleeping bag. "It was in my duffel the whole time!" she groaned. "It was so embarrassing! I had to sit on the floor and cry a little."
These were the dauntless Cadettes of Tomahawk Ranch. Sixty teens were spending a cold December weekend at the Girl Scout camp in the Kenosha Mountains near Bailey, Colorado. After breakfast they would run through four skill stations, including field archery, route finding, wilderness food prep, and winter survival. The latter would involve very popular practice sessions of slithering into a sleeping bag (with hiking boots on! squeee!) and then having your friends fold you up in a tarp like origami to keep the arctic blasts out. It worked so well that no one wanted to emerge except for the promise of Twizzlers. Last night the girls hiked in nine-degree darkness and felt the power of the universe. They saw shooting stars, some of them for the first time. They learned that we are all one, but thanks to a groovy Carhartt-clad ­leader who goes by the name Obi Joe (camp names are a thing here), they also learned that they are special.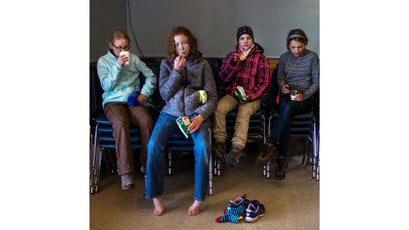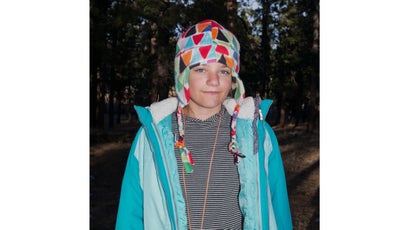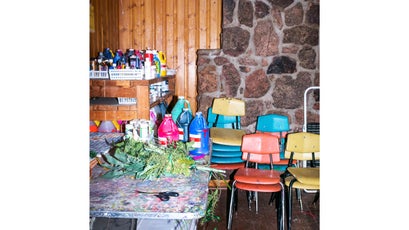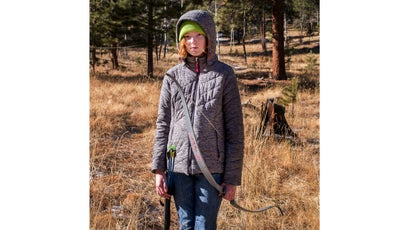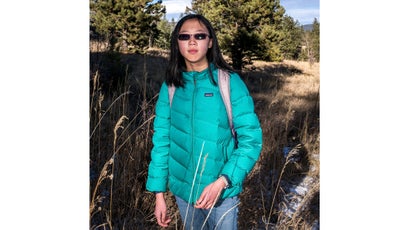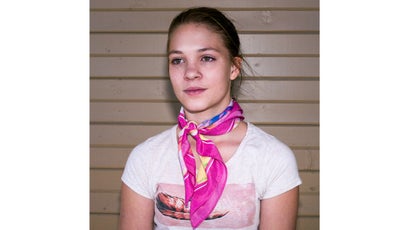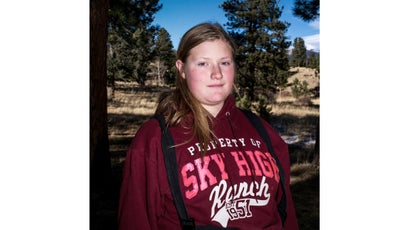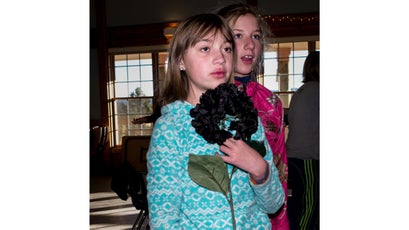 "When you're sad, remember this," she said, her dark braids flapping in the stiff wind. "Of all the billions of stars out there, this is the only one we know of with life. And you got to be here."
This weekend is part of a yearlong pilot program for Colorado scouts called Outdoor Adventure Club, designed to test the concept of delivering high-order, full-on, risk-taking fun. You know, like the Boy Scouts. One weekend a month, girls from across the state meet with trained staffers to rock-climb, snowshoe, mountain-bike, raft, and learn other wilderness skills. There were 120 spots. A good deal at $195 for the year, it sold out immediately. 
"It's popular because it's a great program," said Kristin Hamm, who works in marketing for the Girl Scouts of Colorado council and whose sixth-grade daughter, Alice, was running around looking for snacks. "The goals here are getting adventurous and also ­keeping girls at this age interested." Hamm is also a troop leader and knows how hard it is to compete with soccer, skiing, music lessons, and the umpteen other activities of the average Colorado suburban middle-schooler. This is the age when girls—who may have been diehard "On my honor…" reciters as Daisies and Brownies—start to peel off. Girl Scout membership has declined 14 percent since 2013, to 1.8 million girls, largely due to competition from other activities, including ones that take place indoors on screens. 
In response, the Girl Scouts now offers ten new outdoor badges, including five for adventure. Girls in Virginia are working toward their Ultimate Outdoor Challenge patch by hiking, caving, and camping, while girls in California kayak to sea caves in the Channel Islands. Troops are getting the message that tweens are ready to wiggle out of their sashes and embark on some real exploration. 
Aspen Rundell, a fourth-generation Girl Scout from Peyton, Colorado, certainly seemed more interested in making hardtack and ponderosa-needle tea than in straightening her hair. At Tomahawk Ranch, she had hat head, big time, but she didn't mind. "I'm joyful today, and I bring joy," she said during circle time, the orientation before dinner, which is not something you hear from a lot of eighth-graders. Her mother, being third-generation and all, was also here, tidying up the dehydrated apples. "For us, being outdoors is about sisterhood and social interaction," said Rose Rundell. "Aspen doesn't know any of these girls, yet she has to get along and make friends, and she has. It takes them out of their shells."
This weekend the girls will see their small triumphs and failures refracted through the mountain light. Nicole will learn that it's OK to lose track of her sleeping bag, even if she cries a little, and Mackenzie will feel comfortable crooning some homemade lyrics. They'll all discover that it's possible to hike when it's seriously freezing out and that they can take care of themselves if they get lost. They will cheer on a girl they don't know who flings arrows like a vengeful goddess. 
---
Hold up. If you thought that the Girl Scouts was mostly about selling cookies, you're right—it still is. Nicole told me she moves a couple thousand boxes each year: "At least 100 hours in cookie season, every day after school and every weekend. If I sell 1,000, I get a discount to summer camp!" With their badges and smiles, these little sharks gross their troops around the country close to $800 million a year, money that stays in the local councils. 
But scouting is still by far the biggest on-ramp to the outdoors for American girls. According to the group's own data, more than 70 percent of scouts surveyed said that they first tried an outdoor activity while in a troop or at camp. That's a lot of girls. With 59 million alumnae, the Girl Scouts sweeps in nearly one in two American women at some point in their lives, including me. Hillary Clinton, Michelle Obama, Condoleeza Rice, Sally Ride, Taylor Swift, Venus Williams, 76 percent of current female senators, 80 percent of current female governors—all Girl Scouts. 
Founded in 1912, the organization has a national office in New York City, with a $93 million budget of its own, and 112 independently run councils. At just $15 per year in dues (plus more for troop activities), the Girl Scouts is accessible to everyone. And thanks to online and school-based outreach and recruiting, scouts of color make up about half its membership. 
"I think we're overprotecting girls while encouraging boys to take risks, be tough, and learn sound decision-making."
But scouting—and its historic, gender-defying reach into the ­outdoors—faces challenges worth noting if you care about the future of girls and the future of adventure. In the U.S., participation in outdoor activities among girls ages 6 to 12 dropped about 15 percent between 2006 and 2014. It was 7 percent lower among girls 13 to 17, according to the Outdoor Foundation, the non­profit research arm of the Outdoor ­Industry Association. As little kids, boys are 4 per­cent more likely to do things like cycling, running, fishing, camping, and hiking. With teens, the gender gap widens to 12 points. And while more girls than ever play sports, they receive plenty of mixed messages when it comes to physical pursuits.
What was true a century ago is still true today: it's not easy being an adolescent girl. (Even back then, experts worried that girls spent too much time inside, overly influenced by fashion and media.) We know millennial girls are more likely to be cyberbullied and to suffer from depression and anxiety than boys. Suicide is increasing at a ­faster rate among girls between the ages of 10 and 14 than any other group. Even for girls who are healthy and well-­adjusted, there's something about the combination of estrogen and modern life that acts like a hybrid washing machine and pressure cooker. As Mary Pipher famously pointed out in her 1994 classic, Reviving Ophelia, American girls are vivacious and opti­mistic when they enter puberty, but many emerge a few years later as meeker, quieter, less confident, and less curious versions of themselves. It's enough to make you want to grab your Thin Mints and run for the hills with every girl you know.
"I think we're overprotecting girls while encouraging boys to take risks, be tough, and learn sound decision-making," said Caroline Paul, a former firefighter and whitewater competitor, and the author of Gutsy Girl: Escapades for Your Life of Epic ­Adventure. "We are failing to prepare girls for life." 
Behind the outdoor-sports discrepancy lurks a worrisome chasm: the bravery gap. A 2014 survey of more than 1,000 girls by the Oakland, California, nonprofit Girls Leadership showed that half identified as brave, compared with 63 percent of boys. "A boy is pushed to do things, but when a girl says she's scared, an adult will often intervene," Paul said. "Boys are taught to per­severe, and girls are told that fear will protect them. Fear has ­become a feminine trait." 
---
But here's the good news: a solid decade of research has ­revealed that outdoor adventure programs for girls promote friendship, perseverance, self-confidence, leadership, and general bad­assery linked to happiness and success. A 2016 study by social psychologist Viren Swami at Anglia Ruskin University, published in the British journal Body Image, found that the more time girls and women spent in nature, the better they felt about their physical selves. Being active and outside, he said, makes us focus on what our bodies can do rather than how they look.
Middle school, researchers have confirmed, is a critical window not only for connecting kids to ­nature but for changing their brains in ways that will make them more resilient and more confident throughout their lives. If you can get girls interested in outdoor activities now, they're more likely to stick with them. 
Not surprisingly, Girl Scouts USA is a big fan of the nature-psych research and has even hired its own Ph.D.'s to study the effects. In a recent survey of nearly 2,000 scouts, those who have monthly outdoor experiences are stronger problem-­solvers, better challenge seekers, and, not incidentally, more likely to recommend the Girl Scouts to their friends. 
That last part is key. Sixty-three percent of teenagers of both sexes cite being with friends and family as the biggest motivators to getting outdoors. And research has shown that in single-sex programs, girls are more likely to speak up, take on challenges, and step into leadership roles. 
These elements were deliberately baked into Girl Scouting from the very beginning. Founder Juliette Gordon Low, an American divorcée (well, technically he died while she was divorcing him), wanted girls to learn to be strong and self-sufficient. Women still didn't have the vote­, she thought, but they could damn well make a campfire. She ­befriended Boy Scouts founder Robert Baden-Powell in England and decided that if boys could get tough and healthy by route finding and sleeping under the stars, so could girls. Plenty of parents in fast-­urbanizing America agreed. In fact, scouting for both genders helped drive the remarkable rise of nature-based summer camps in the 1910s and 1920s.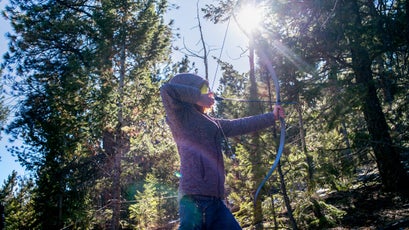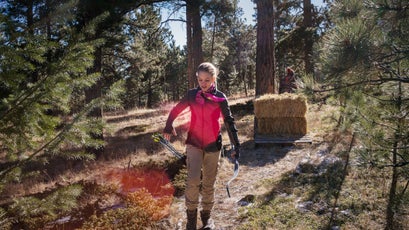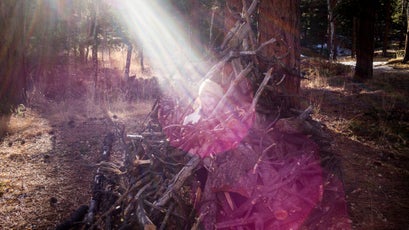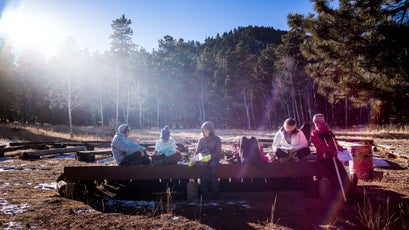 Early on, Low envisioned an ­orga­nization that was inclusive, democratic, and welcoming (unlike, it may be said, the Boy Scouts, which only accepted gay leaders in 2015 and transgender boys this year). "But what was really interesting," said Susan Miller, a historian of childhood at Rutgers University and the author of Growing Girls, "is that the Girl Scouts never saw the outdoors as being incompatible with being a girl. They were always adamant that the outdoors was really their birthright, although maybe it's true that daily life didn't always match the aspirations."
In the century since its founding, the organization's emphasis on the outdoors has waxed and waned like alpine moonlight. Girl Scouting fully embraced home economics in the fifties, sixties, and early seventies, when TV's Marcia Brady famously ditched her troop to go camping with the boys. (Ironing badge, anyone?) The scouts are both a reflection of girl culture and an influence on it.
"We're always evolving," said Girl Scouts USA chief marketing and communications officer Lynn Godfrey. After some soul-searching, the organization decided to embrace the ­acronym G.I.R.L.: "We want girls who are go-­getters, innovators, risk takers, and leaders," she said. To help develop those traits: new programs in adventure sports and robotics. It's a deliberate swerve away from your grandmother's fusty troop. These days, summer scout-camp themes echo The Hunger Games and Harry Potter. "Parents may not realize that what we offer is exactly what they are looking for," said Godfrey. "And the outdoors is the essence of who we are."
Girl paradise, right? Don't pull out your homemade cork-and-needle compass just yet. Given the well-studied benefits of unleashing girls in nature, the Girl Scouts still put up pretty deplorable statistics when it comes to actually getting girls outside. 
In my neighborhood in Washington, D.C., the local Boy Scout troop goes camping once a month and the Girl Scouts go three times a year. Chalk one up for the boys. Only 40 percent of Girl Scouts, in fact, do any kind of outdoor activity on a monthly basis. Although half of all Girl Scouts rate ­camping as a favorite activity, only 3 percent go out and pitch a tent ­every month. Four percent go hiking monthly, and 19 percent go walking, an activity that sets a ­pretty low bar. Those figures plummet even further for scouts of color.
Because I wanted to see some adventure newbies, not just the already-slaloming girls of Colorado's Camp Tomahawk, I sought out an urban troop in D.C.
---
Forty girls strong, Troop 3812 is run by the formidable Nina Hughes, who presents as part Michelle Obama, part Miss Jean Brodie. I joined a group of her Seniors, ages 14 to 16, at an Ikea in College Park, Maryland, for some extreme interior decorating. All girls of color, most had grown up without a lot of exposure to nature. 
"Today we're studying feng shui," explained Ziyah Holman, a poised ninth-grader who was leading the afternoon's activity for the Room Makeover badge. Standing under an ad for Swedish meatballs and consulting her packet, she explained that the girls needed to find inspirational examples of something orange ("for prosperity"), something "glued," and something with texture. 
The giant box store off the Beltway may not seem an auspicious setting for an inquiry into the outdoors, but even here they couldn't stop talking about their last adventure. Except to talk about scented candles. They'd recently gone hiking at a winter weekend retreat, where they went "lodge camping," and they were excited about summer camp. 
"I didn't really like hiking at first," said Ziyah, who lives in Hyattsville, Maryland, a suburb of D.C. where the closest neighborhood park is, as she put it, "damaged." "But I really started to enjoy it, seeing the views." 
"Girl Scouts makes it more fun because there are people you can joke along with," added Elisabeth, a ninth-grader. Tyler, who had an impressive set of corkscrew curls and Converse low-tops ­decorated with lemons, added that she loves kayaking, which she tried at a scouting camp. 
"These girls have an opportunity to stand up and say there's not many people that look like me that do what I do, and that's OK and I'm proud of it," said Hughes, who is also Tyler's mom and has been leading the troop for ten demanding years. Although she was no expert, the organization offered training, and she went for it because Tyler insisted. "If it wasn't for Girl Scouts, we wouldn't be camping," she said. "I had no interest in it. Now we go three or four times a year. I knew this would give her opportunities she wouldn't normally get: canoeing, sailing, caving, skiing, archery. Things we never did when I was growing up."
All the girls' moms were also hanging out at Ikea, both because they had to schlep them there from various points in Prince George's County and because they often volunteer on the outings. "I've loved every minute of it," said Cheryl Betts, Elisabeth's mom. She'd watched her daughter's natural leadership abilities blossom as she went from a shy fourth-grade Junior to student-council representative at her high school. "That's because of the Girl Scouts!" she said. 
"Boys are taught to per­severe, and girls are told that fear will protect them. Fear has ­become a feminine trait."
Most of the girls in Troop 3812 come from middle-class families, but the D.C. area's 5,000-plus troops include many girls from less privileged communities. Girl Scout research shows that its those girls who benefit most from the organization's outdoor agenda, even though they participate less. But the Nation's Capital council hopes to boost rates. Last year it provided $160,800 in tuition assistance for day and sleepaway camps, and more than 10,000 of the 60,000 D.C.-area Girl Scouts attended them. 
The Ikea girls and their moms were so awesome, I almost signed up to become a leader right there in housewares. My own daughter, 13, was a scout for several years, but it didn't hold her. "I'm too busy," she finally declared as she packed up her dance bag for another day of activity inside. 
---
I lasted a bit longer than my daughter as a scout. Back in my heyday in the seventies and early eighties, the outdoors was having a moment, even in New York City where I grew up. We did some unconventional things, like venture into Central Park at night, camp on Fire ­Island, learn ­assault preven­tion, and even smoke a joint with our renegade leader, who shall remain nameless. Could this really have happened? I reached out to my old troop pal Kati ­Kovacs, now a law professor. 
"Yup, that happened," she said. She reminded me that we were even allowed to bring boys on camping trips, and she told me a story about a sailing excursion I'd missed, when the troop got marooned in a squall on Oyster Bay. They took shelter on the property of a Roosevelt heiress and were sent merrily back to the city in chauffeured limos. No badge for that, unfortunately. "She was a great role model," Kati said wistfully of our leader. 
Back then troop leaders, like everyone, had more license to be wacky, irresponsible, and occasionally illegal. These days troop life is pretty staid. It involves a lot of leader-­training webinars, consent forms, and worksheets. When Girl Scouts alumna Kita Murdock decided to become a co-leader of her daughter's Brownie troop in Boulder, Colorado, in 2009, she was put off by what she called "all the box checking" to earn badges. This being Boulder, the troop's families decided that they didn't want anything to do with peddling sugar or supporting palm-oil production by flogging corporate cookies, and they didn't need the money it generated.
"We were rogue Girl Scouts," she said. "We liked the focus on leadership but came to it with our own ideas of what to get out of it." 
Other parents and educators have gone further rogue, creating alternative organizations. 
When Lyn Mikel Brown's daughter was an eight-year-old Brownie in 2000 and tired of crafting, they decided to ditch the group and start their own. ­Hardy Girls Healthy Women, based in Waterville, Maine, is one of many local and ­national groups working to get more girls outside more ­often. Some include adventure components and some don't. Most are small-scale and pricey, but that's also changing. In addition to ­classes in welding and ­media ­literacy, Hardy Girls offers its ­popular backpacking and horseback-­riding units to much larger organizations, including the Girl Scouts.
Brown, a professor of education at Maine's Colby College and author of Powered by Girl: A Field Guide for Supporting Youth Activists, attributes the rise in girl-adventure programs to new heroines in dystopian fiction and to parents who are concerned about technology eating their children. "I think girls are really much more brave, assertive, and focused on what they want for themselves," she said. "I've seen the shift in just the past five to ten years. But I don't think they have the same access to adventure as boys, and some of the programs that claim to be adventure based are really more protective of them."
That's something groups like Dirt Divas, a Vermont mountain-­biking program, and GirlVentures, in San Francisco, are working to change. GirlVentures takes girls ages 11 to 18 on multi-day kayaking, backpacking, and rock-climbing expeditions. "We don't offer camps per se," said former executive director Taara Hoffman. "Our territory is nature. We want girls out of their comfort zones. Learning that you can live off the land without material things is very empowering." Serving 120 girls a year, GirlVentures provides full or partial scholarships to two-thirds of them. Outward Bound offers group expeditions to teenage girls, many of them also on scholarship. And Girls on the Run teaches fitness and life skills to 200,000 third-to-eighth-graders nationwide. 
These are important trends, and Nadine Budbill, an educator who founded Dirt Divas, is proud to be part of them. But for reasons of scale and the potential to get vast numbers of girls outdoors, she's still a big fan of the Girl Scouts. ­"Especially now that they're not so old-school," she said. 
---
If we accept the evidence that taking physical risks is related to psychological health, emotional resilience, and the self-confidence that girls need to navigate a complicated and sometimes unfriendly world, then it matters that we close the bravery gap, for all girls. As Lyn Mikel Brown put it, "Girls need to see the world as something they have control over. It starts at a young age with exploration. We want them to have a sense of agency."
Simone Marean, executive director of Girls Leadership, agrees. Not every risk leads to success, whether on a ski slope, in school, or in a relationship. "If we can build bravery skills, then they'll have the internal capacity to recover from failure and go back out there and try again," Marean says. Pain and rejection will happen; being in nature can help girls find solace, strength, and inspiration. 
Under the open, twilit sky, the world becomes a bigger place. It becomes their place. 
"I think girls are really much more brave, assertive, and focused on what they want for themselves."
I like picturing the girls of America, legions of them, storming the archery fields, tipping over their canoes, and getting their minds blown watching the slow rotation of the Milky Way. Briefly, they'll turn away from Snapchat, their obnoxious brothers, their too-small yards. For a few weeks or a few days, they'll have the space and the power to start figuring out who they are and who they want to be. 
Back at Tomahawk Ranch, I was walking in the forest with a girl named Meghan from Westminster. "My parents don't like the outdoors as much as I do," she told me. Our footsteps crunched atop an inch of snow. It was a cold, clear, perfect Colorado morning. "I love being outdoors! But I also like the comforts of indoors. I have two guinea pigs, Teddy and Puddles."
OK, so maybe she was a little homesick. Sustained introspection isn't big at this age. Out here it didn't have to be. 
"I'll give extra M&M's to anyone who finds missing arrows!" yelled a field instructor. "The trail is our safety zone. Do not get shot at!"
"Range is hot!" belted out a 12-year-old named Taya. She tossed her pink fleece over a ponderosa branch, adjusted her quiver, and ­lifted her bow. She held the power pose for a moment, her long blond hair billowing behind her. Releasing her fingers, she fired off a searingly fast missile. It landed square in the trunk of a tree. 
"Yes!" she pumped her fist. "I feel like Katniss!"
Taya lifted the bow again and vanquished another obstacle.
Contributing editor Florence Williams is the author of The Nature Fix. She also hosts a series of women-focused episodes on our podcast. Follow her @flowill.