What Activism Can Teach Kids About Life
'You Are Mighty' lays out ground rules for getting your kid to help change the world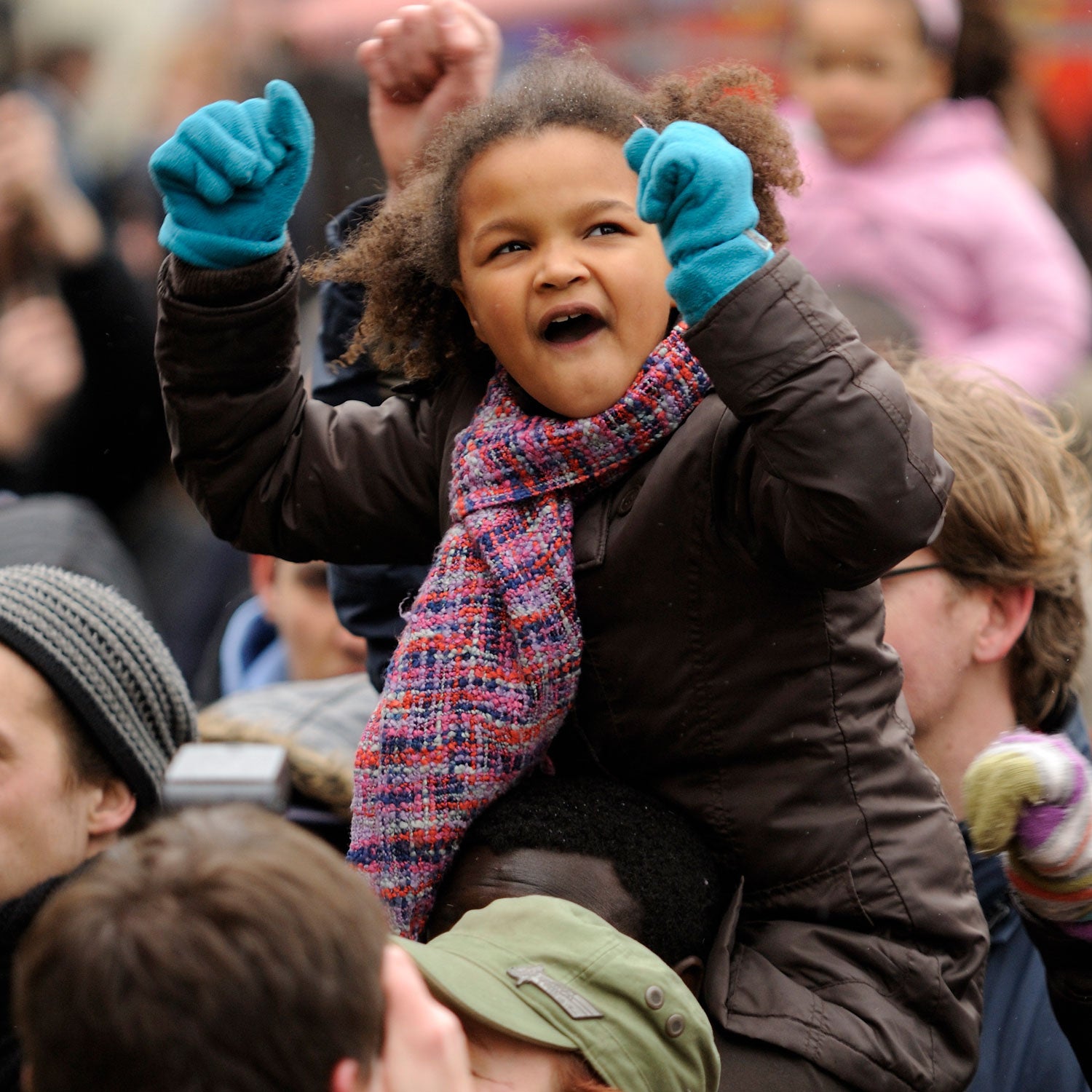 VLIET/iStock(Photo)
Heading out the door? Read this article on the new Outside+ app available now on iOS devices for members! Download the app.
One morning earlier this spring on the way to school, my two daughters and I watched a car run the stop sign in front of us. Pippa, 9, turned to me and said, "I wish Canyon Road was closed to traffic." The street is one of Santa Fe's main tourist destinations, lined with more than 100 galleries and restaurants, and it's clogged with a steady stream of traffic all day.
On our daily walks and bike rides around our neighborhood, the girls and I often talk about ways to make getting around town by foot or bike safer and to encourage more people to walk or ride. We've thought about starting a "bike train," where kids ride en masse to school, creating safety in numbers. Last year, I phoned city hall to request that a crosswalk be installed at a busy four-way stop on our route to school. A week later, a painted white strip materialized at the intersection.
But this was a more complicated idea and, more important, it was Pippa's. I tried to imagine how it might work. Would people still go to the restaurants and galleries if they had to walk the mile from start to finish? Would a pedestrian thoroughfare be a help or hindrance to local businesses? And what about people who aren't able to walk? When I posed these questions to Pippa, she thought for a moment and said that an electric, open-air bus or pedicabs could cart people up and down the street at regular intervals. I pictured us walking the dog and biking up the middle of Canyon Road without having to glance over our shoulder to see if we were about to be mowed down. It sounded pretty nice.
I wish I could say that I encouraged Pippa to pursue the idea, but like so many good intentions, it slipped between the cracks. Plus, I wasn't sure who she should call, and even if she found the right person, I worried it would be a tough sell and that it would wind up bumming her out. More than that, though, the idea of helping Pippa take up an activist cause made me tired. Most days, simply trying to be a halfway decent parent and raise healthy, well-adjusted children who do not grow up to be criminals feels like its own activist cause. As lame as it sounds, the whole thing seemed like a lot of extra work.
A new book aims to change all that. You Are Mighty: A Guide to Changing the World gives kids (and their jaded parents) step-by-step tools for making a difference and—maybe just as important—making activism fun. And no one's better suited to shake up activism's lackluster image than author Caroline Paul, who also wrote the bestselling girls' guide cum adventure memoir The Gutsy Girl and was one of San Francisco's first female firefighters.
"Kids still think activism is pretty exciting," Paul said when I called her at home in California. "There's way more to do than just marching. Getting creative makes it more fun." You Are Mighty, aimed at readers ages nine and up, outlines more than a dozen ways to take action, from writing letters and setting up face-to-face meetings to making cool protest signs, organizing flash mobs with friends, and inventing neat things that solve problems. Throughout, Paul pairs practical advice with real-life stories, like ten-year-old Mia Hansen, who petitioned Jamba Juice to stop using Styrofoam; three weeks after she started, Hansen had gathered 130,000 signatures and convinced the company to ban the toxic cups completely. Then there's the story of five-year-old Mikailia Ulmer, who wanted to save bees, so she started making honey-infused lemonade; now Ulmer buys honey from local beekeepers and sells her lemonade in grocery stores around the country.
With its punchy, can-do tone and clever illustrations, this is a book written and illustrated for adolescents, but Paul has a message for parents, too: Activism is as essential to kids' well-being as good nutrition, fresh air, exercise, and free play. If you're not encouraging your kids to stand up for what they believe in, you're overlooking a key part of raising independent, compassionate kids. "Activism is such a great opportunity to teach life skills," says Paul, who took up the cause of acid rain at age nine, when she and her twin sister wrote letters to President Nixon. "Kids learn civics, debate, teamwork, communication. Being an activist is educational, social, and builds better citizens." It also teaches them that failure is OK. "My sister and I each got a form letter back. This was actually one of our first social justice disappointments; even at nine, we could tell it was a form letter and pseudo Nixon didn't promise any change. He just congratulated us on our civic engagement. We didn't know what else to do, but I think kids these days have lots more outlets."
Not everyone thinks they should, though. Paul has seen some pushback on social media from people who think parents should be the activists and let kids be kids. She's not buying it. "Children from a very young age understand inequity," she says. "They see it in the world. They know polar bears are starving. They know about weird weather cycles and families who have to be evacuated for fire or floods. Studies show that if you can't act on your feeling, you're prone to depression because you feel powerless. As adults, it's our responsibility to talk about it, not force or manipulate them, but help children feel empowered to act. Activism is not a dirty word. It's active participation. It's just being a good citizen."
Pippa devoured You Are Mighty in two days. When I asked her about the book, she told me, "The stories were really, really inspiring because I felt like I could make a difference when I read that other kids did." Afterward, she couldn't stop talking about her Canyon Road pedestrian plan. "Everyone needs to be active, and it would let them see a lot more galleries and enjoy their time instead of being in a car and zooming by. It would be healthier, even with just one non-car road. Taking away that pollution would make a difference."
Best of all, now she knows how to begin, by teaming up with her school's climate change group and maybe writing letters to the local trail commission for help. "I'll join with friends so it won't just be me, and it'll be more fun." There's strength in numbers.
Lead Photo: VLIET/iStock