How to Make Young People Fall in Love with the Outdoors
And what I learned from an island camping trip with a bunch of disadvantaged youth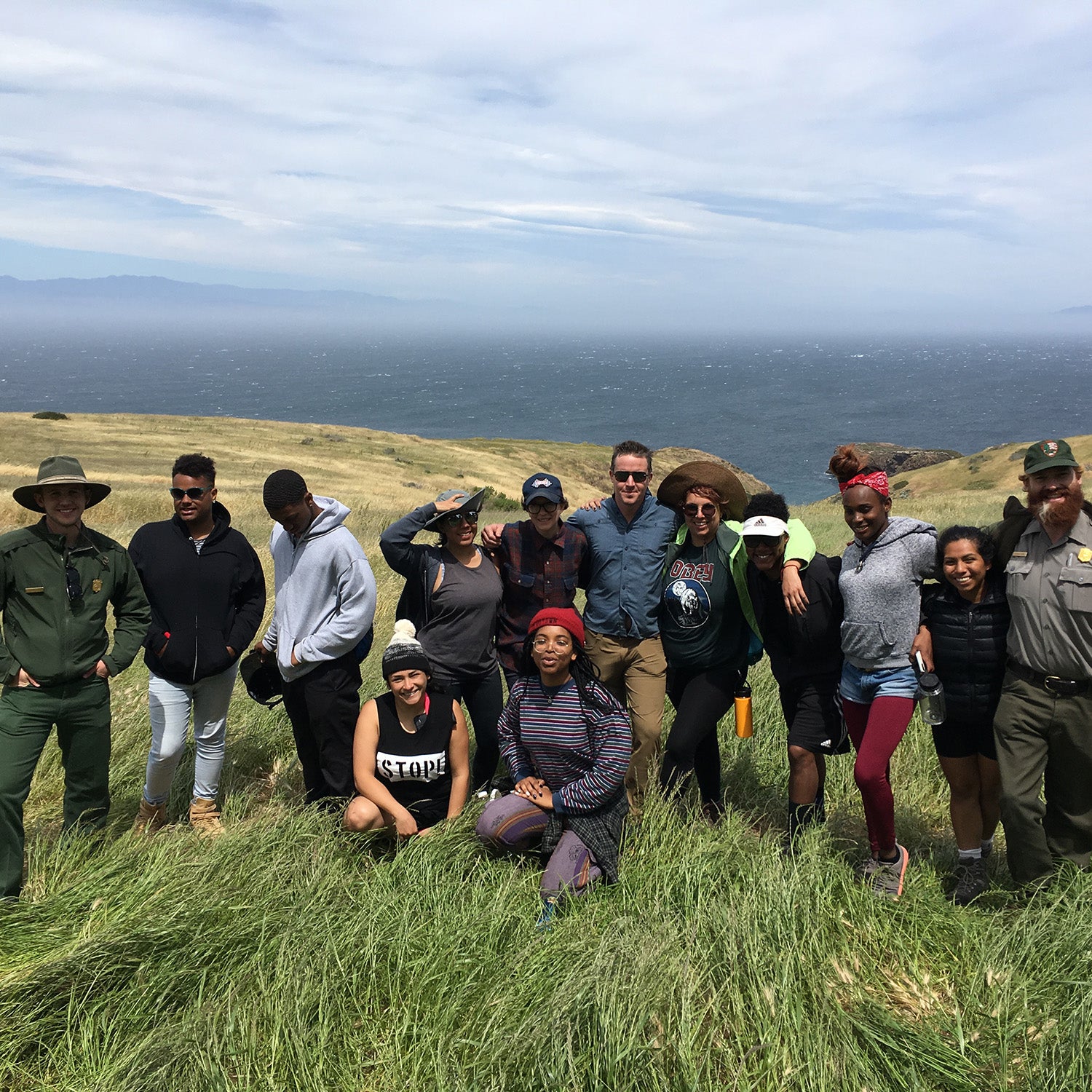 Heading out the door? Read this article on the new Outside+ app available now on iOS devices for members! Download the app.
I've got this theory that each of us is only the summation of our experiences. So to help put disadvantaged kids here in Los Angeles on more equal footing, I take them on outdoor adventures. For our latest trip, we sailed to the Channel Islands National Park, off the coast of California.
Partnering with the Los Angeles Youth Network, I'm able to help 17- to 21-year-old kids who are actively working to build successful lives. They've already gotten themselves off the streets and are holding down jobs and pursuing educations. That's a huge step forward, but when I think about my own upbringing, it's the experiences I had outdoors that stand out more than any of the crappy jobs I worked or the math classes I barely attended. Hopefully, by adding some of those experiences to their lives, we're helping them gain both confidence and perspective. Most of these kids have never been outside the city, and none had ever been on a boat.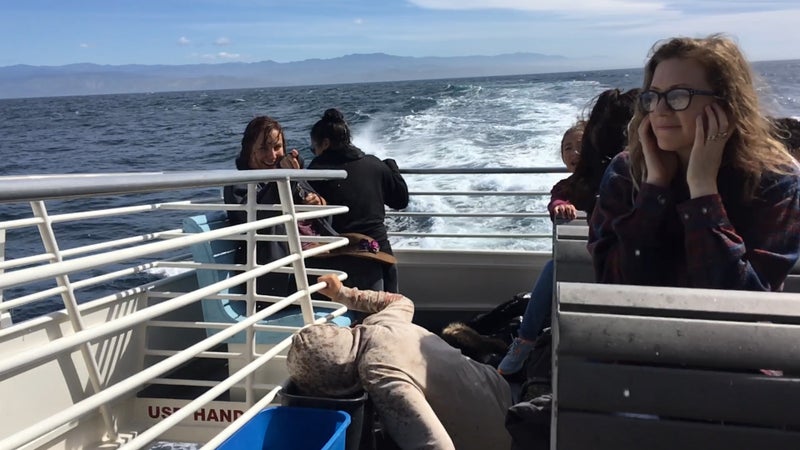 That boat ride was definitely a surprising experience for the group. The ride to Channel Islands, located 35 miles off the coast of Ventura, takes about two hours. Island Packers operates the ferry and helped make this trip possible. This is typically a pleasure cruise, but conditions were rough on our way out to the island, and I overhead a crew member express surprise that they'd made the decision to run that day. Everyone got seasick, most of the kids got soaking wet while hanging over the sides to vomit, and by the time we reached the island, I think at least half the kids were regretting their decision to come.
Being a bunch of Los Angeles teens, the idea of spending a few days beyond phone reception, sleeping on the ground, and especially not showering wasn't that appealing. At least not initially. Add a bunch of vomiting and soaked clothes, and it just wasn't a good start. 
But then you throw in some cute foxes…. The reason I picked Santa Cruz wasn't just to give the kids that new experience on the ocean. It was because the entire island is lousy with these adorable little animals. They're unique to this one island, and the current theory is that they were imported thousands of years ago by the Native Americans who lived out here to serve as pest control, and maybe even companions. Whatever the reason, the foxes have no fear of humans and scamper around your feet while you camp in an effort to steal your food. By the time we saw the first one, most of the misery was forgotten.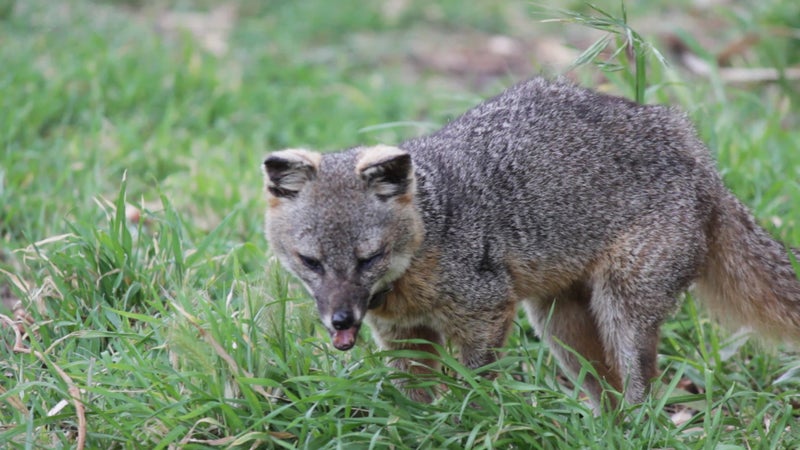 The sea had been so rough because a constant 30 to 40 mile-per-hour wind was blasting the channel. That made camping rough, especially when it was time to cook and go to sleep. MSR had been nice enough to send down some of its Elixir 4 backpacking tents, which borrow heavily from their mountaineering designs, so those at least held up, even if sleeping was difficult with all the noise. We nearly blew away trying to watch the sunsets from the cliffs.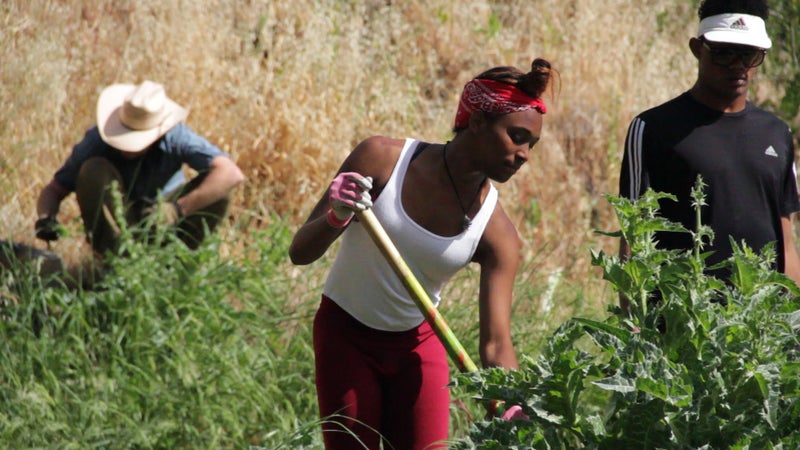 One way I try to make the outdoors as accessible for the kids as possible is by wearing silly hats and playing a cartoon outdoorsman. They're always afraid there will be bears or mountain lions or serial killers in the woods, but they are also endearingly (and completely inaccurately) convinced that mountain man Wes will battle them with his bare hands if there are. Trying to stay nice and neutral and positive for three days straight can be really hard, especially when the kids start sharing some of the challenges they've faced. Fortunately, on this trip, the National Park Service had agreed to send us our very own ranger, and it turned out Ranger Spencer was exactly the kind of big, burly teddy bear most people think of when they picture the ideal park ranger. He was friendly, warm, and knowledgeable, even in the face of a bunch of city kids trying to challenge his comfort level. Ranger Spencer took over the Smokey the Bear duties and kept the kids entertained and involved throughout a nature hike and the half-day of service that came after it.
Santa Cruz was once an entirely isolated ecosystem—sort of a nearby Australia—with unique flora and fauna. But a century of sheep ranching introduced all manner of invasive species. The Park Service and the nature conservancy it shares the island with are hard at work trying to remove them all and return the ecosystem to its natural state. The kids learned all about this while pulling out invasive thistle and getting bloody hands in the process.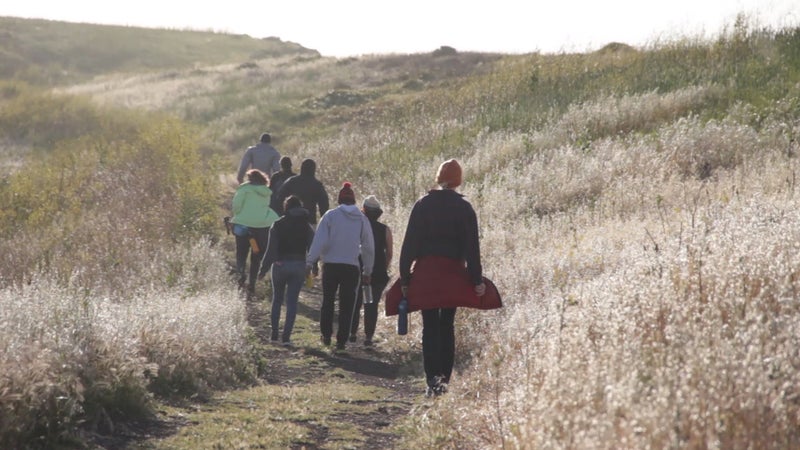 I'm enormously proud that the group earned the camping trip by putting in some hard work in benefit of the unique place they were able to enjoy. One of my other goals in all of this is to instill an appreciation for our nation's wild places and an interest in conserving them in an audience who wouldn't typically be exposed to either.
The ferry ride back to Ventura that final afternoon couldn't have been smoother. The kids remembered to take their Dramamine, and nobody got seasick. It was a nice, rewarding payoff to a challenging trip and hopefully made the whole thing a positive experience for them.
Was it worth it? Watch the video and judge for yourself. I've previously spelled out how you can do something like this in your local community.
Special thanks to Igloo Coolers, Mountain Safety Research, Island Packers, CampCrate, Kammok, HMW Outdoors, Virginia McQueen, the National Park Service, and Ranger Spencer.