Why Do Kids Run?
Six-year-old Half Marathoner Sparks Debate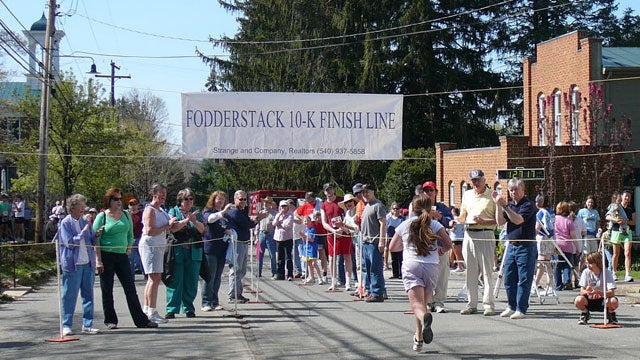 Heading out the door? Read this article on the new Outside+ app available now on iOS devices for members! Download the app.
When news broke earlier this week that six-year-old Keelan Glass finished the Showdown Half Marathon in less than three hours, news outlets picked it up as the anomaly it appeared to be. A first grader from Dallas running 13.1 miles in 2:47? Excuse me while I scrape my jaw off the floor. 

Runners on the Fodderstack course in Rappahannock County, Virginia.

The 2009 Fodderstack 10K, which runs between Flint Hill and Washington, Virginia.
Since then, other elementary-school running sensations have come out of the woodwork. Runner's World reports that Matthew Feibush ran the Cinco de Mayo Half Marathon in 3:02:32, and Rosey Dunham, 6, finished the Dayton River Corridor Classic in 2:35:23. Keelan herself started running 5Ks when she was four, and 10Ks at five. These tiny striders make 12-year-old trail runner Kaitlynn Welsch, who I wrote about last year, seem practically over the hill.
So what's with little kids tackling big distances? Is it simply a case of monkey-see, monkey-do (Keelan was inspired by watching her triathlete mother), or are we raising children to be more competitive and driven at much younger ages? 
Surely both are true. Keelan reportedly raised nearly $3,000 for charity and told reporters that "God makes me keep on running," but most six-year-olds don't show up at the starting line on their own volition—they need grownups to get them there, to give them the opportunity to race in the first place.
I was ten when I ran my first 10K, a small race in the rural foothills of Virginia's Shenandoah Mountains, near my father's farm. It was April 1981, and my Easter visit happened to coincide with the second annual Fodderstack Classic. My dad and stepmother had agreed to volunteer at the finish line, and it was probably their idea that my sister and I register, which we did at the last minute on a lark. Meg and I were both athletic, but we never intended to run the whole race. Why on earth would we do something so crazy?
It was not a blistering debut, to say the least: Tretorns scuffing bumpy farm-road asphalt—six tedious miles with one beastly climb that would come to known, in all future Fodderstacks, as "the mountain." When we finally crested the last small, ignominious lump before the finish line, my sister and I had been doing a beleaguered combination of trudging and jogging for what felt like 100 miles. My father saw us coming from a few hundred yards away, and got his camera ready.
We made it. There was backslapping, fingers tearing off the bottoms of our race bibs, and wobbly Jell-O legs trying to make sense of a new sensation: standing still. Then my dad gestured for us to turn around. "Go back," he instructed with a sly grin. "Turn around and crawl across the finish line."
My father was a National Geographic photographer and editor who approached his work with a solemn reverence, but when it came to documenting family life, he was a sucker for staging silly, jokey shots.
The finish line was a strip of peeling duct tape plastered across the road. Meg and I turned around and got down on our hands and knees. Dad, on his side of the line, did the same. Knobby, freckled hands held the camera, shutter clicking as we dragged ourselves along in mock agony. Then, in his deep, gravelly voice, the same words he always said: "Good, OK, one more. Last one. Just one more."
I don't remember our times, but that moment when we fake-crawled across the finish line with the crazed grins of our first runners' high is captured forever in my father's photograph. We became runners that day.
My father was not a runner, and I don't think he cared one way or another if Meg and I ran or raced. I don't remember feeling pressured to compete, but if he pushed us that day, it wasn't out of parental ego, but out of concern for our character. Bragging on his kids was not my dad's thing. Showing up for a community event, putting forth your best effort, and never quitting was. 
Each year, we raced the Fodderstack, running farther and walking less. Improbably, we started accumulating age-group awards—chunky earthen mugs and trophies made by a local potter. Afterwards, we'd lounge on the grass in front of the Washington courthouse, and bask in our five minutes of small-town glory.
We were certainly not the youngest or fastest runners to ever complete a 10K, and it never dawned on us to want to be. We staggered along with a crew of local kids in tube socks and ponytails. Running didn't make us special. It made us normal.
But something started with that first Fodderstack. Back home in New Jersey, Meg was on her way to becoming a six-foot-tall star hurdler. The next year, I would post a 7:11 mile in my first Presidential Physical Fitness test and lead off Lincoln School's 4×100-meter winning relay team at the sixth-grade all-city track meet. By junior high, I started playing tennis and lacrosse. I didn't run all that often anymore, but by showing up every April to slap my sneakers along a manure-streaked country road in Virginia, I never stopped thinking of myself as a runner.
Last year, Meg and I met up again at the Fodderstack. It had been decades since we'd run it together. Our father died two years earlier, and we'd come back to the farm to help my stepmother sort through his photographs. Meg was training for a half marathon, her first race since graduating from high school. I'd found running again in my early twenties, on the trails of Santa Fe, and ran for a million reasons, but mostly as a way to go deep and wild into nature and into my own mind and body.
On that balmy April morning, our father wasn't there to watch, but we pinned a picture of his grinning face to our race numbers and carried him with us the whole way to the finish. He would always be our audience. 
Kids now live in a different world of instantaneous, viral fame. The news of a six-year-old running 13 miles travels far, fast, and wide. It's only natural for those of us who don't know Keelan to wonder who she's really running for, and why—to please her parents or prove herself? To raise money for a cause or to set a single-age world record or to simply feel her legs spin beneath her?
Who can know, really? Whether you're six or ten, 28 or 41, your reasons for running change every day. They're as complicated as running for a father who lives in another state and life, with a camera slung around his neck, who reinvents reality just by pointing his lens. And they're as simple as loving the feeling of feet flying along a farm road on a warm spring day when the whole world is fresh and green and alive.
Keelan has said she wants to run her first marathon at ten, but her parents aren't giving her the green light just yet. Even if she never competes again, I hope she always remembers becoming a runner—becoming someone who decided to try something big, and then, step by step, did it.
Lead Photo: Lyman Jordan III/Fodderstack 10K