Why Is It So Hard to Serve Healthy Food in Schools?
Nutritious lunches are key to fueling our children's minds and bodies, and our cafeterias are failing us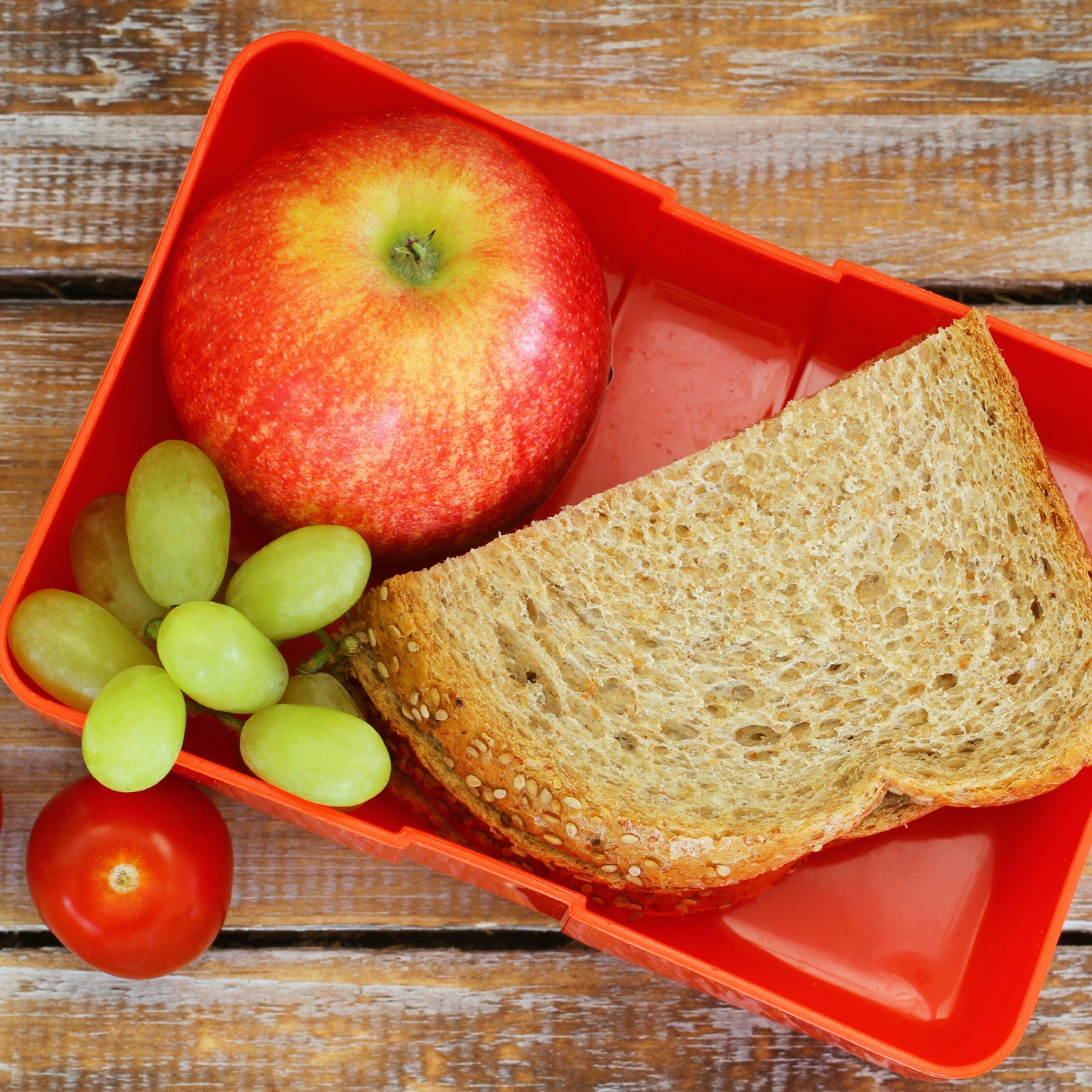 graletta/iStock(Photo)
Heading out the door? Read this article on the new Outside+ app available now on iOS devices for members! Download the app.
The other morning my five-year-old daughter begged me to let her buy lunch at school. I typically pack her and her seven-year-old sister an almond-butter sandwich, carrot sticks, and a sliced apple, but we'd gotten a late start to the day and my husband and I were chasing them around with hairbrushes and reminding them for the eighth time to put on their socks and shoes. I looked at the clock and did the math: I could hustle and make the five-year-old lunch, or we could bike to school. Easy choice: we rode bikes, and she got beef tostadas at school.
I'm a big believer in outsourcing tasks like house cleaning and laundry to make family life saner. Our mornings would certainly be smoother without making lunch everyday. Maybe we could use that extra time to linger calmly around the breakfast table and converse. Maybe my husband could take more than two sips of his coffee before running out the door to work. Maybe we'd even find time to meditate together before the day ran away from us. But the rule in our house is only one school lunch per week.
It's not a question of cost—at $2.50 a pop, the lunches at our public elementary school are affordable. It's matter of nutrition. Our family is far from gourmet, but we do make an effort to prepare whole grains with plenty of lean protein, fresh fruits and veggies, and healthy fats. The typical weekly school offerings, however, read like artery-clogging fast food items: chicken nuggets, cheese pizza, pork riblets, beef nachos supreme, cheese-stuffed breadsticks, and (our daughters' weekly cause for celebration, a New Mexican specialty) Frito Pie.
Every time I look at the menu, I have to wonder: If food is fuel for our bodies and brains, and kids are in school to exercise both, why aren't school lunches healthier?
In some districts, they are. California's Sausalito Marin City School District, located just north of San Francisco within of the wealthiest counties in the nation, made headlines last August when it became the country's first public school district to serve 100 percent organic lunches. Gone are processed and packaged foods, genetically modified organisms (GMOs), and pesticides. In their places are fresh, local, seasonal ingredients and recipes made daily from scratch by chef Justin Everett from Cavallo Point Lodge in Sausalito. The fare includes roasted chicken and whole wheat pasta, black bean chili, and butternut squash soup. There's also a food literacy component in the district that teaches hands-on gardening basics and a food's journey from farm to plate.
Across San Francisco Bay, in a program initially funded by Alice Waters' Chez Panisse Foundation, Berkeley Unified School District has eliminated processed food, hydrogenated and partially hydrogenated oils, high fructose corn syrup, refined sugars, refined flour, chemicals, dyes, additives and nitrates from student meals, and cafeterias also serve regional organic milk at lunch, and local and/or organic fruits and vegetables as much as possible.
At a public school open house in Santa Fe in November, superintendent Joel Boyd dismissed questions of pushing school meals to be even healthier with the oft-cited concern that whole grains and veggies simply don't taste good to kids, and that too much food goes to waste.
The Sausalito-Marin initiative, which started in 2013 as a pilot program called the Conscious Kitchen run by the student-led nonprofit Teens Turning Green, currently serves 500 students in two schools. But it's not just for rich kids. In the unincorporated Marin City—a so-called food desert, surrounded by the many organic farms of Marin County—more than 95 percent of students qualified for free- or reduced-cost lunches, and they're part of the program too. Fifty percent of seventh graders there are overweight or at risk of becoming overweight, according to the Marin City Wellness Policy Report.
After Conscious Kitchen's pilot year at Bayside MLK, a K-8 school, administrators reported an increase in student leadership, attendance, and academic performance, and a 67 percent decrease in disciplinary problems. National statistics reinforce these findings. A 2014 study of eighth graders from Ohio State University found that eating fast food lowered students' math and reading scores. In 2008, Nature Reviews Neuroscience published research indicating that a diet high in trans and saturated fats can wreak havoc on learning and memory. Poor nutrition also affects behavior. In 2008, comprehensive analysis from the Harvard School of Public Health concluded that students with access to nutritious meals—especially breakfast—showed lowered rates of aggression and disciplinary problems.
School lunches have been in the spotlight since 2009, when Michele Obama took up the cause, hoping to reverse the trend in cafeteria meals that were high in saturated fats and processed, packaged foods. The resulting Healthy, Hunger Free Kids Act of 2010 revamped the National School Lunch program, founded in 1946, by raising USDA nutrition standards for first time in 15 years and requiring participating schools to offer lean protein, whole grains (at least 51 percent), fruits, veggies, and whole or low-fat milk with every meal. It also pushed for age-appropriate calorie limits, restricted sugar and sodium levels, and encouraged schools to partner with local farms and gardens. Some schools even say the act doesn't go far enough. Detroit Public Schools have replaced corn dogs and deep-fried foods with brown rice and raw vegetables like jicama and snap peas sourced whenever possible from Michigan farms; the district also implemented Meatless Mondays. 
Other districts, however, are opting out. Some claim the standards are too strict and they're losing students to the convenience store down the street. Our daughters' public elementary school in Santa Fe is a good example. It's progressive, with a vibrant school garden that the children help plant and tend. There's even an horno, a traditional outdoor earthen oven where they bake whole wheat bread during after-school garden club, and hoop houses for growing kale, spinach, and salad greens. So why isn't any of this making it into the cafeteria? At a school open house in Santa Fe in November, superintendent Joel Boyd dismissed questions of pushing school meals to be even healthier with the oft-cited concern that whole grains and veggies simply don't taste good to kids, and that too much food goes to waste. 
But a 2014 Harvard study found that cafeteria waste has actually decreased since the National School Lunch program raised its standards; a second study out of Harvard in 2015 suggests that waste is more a function of time than the food itself: Kids who had less than 20 minutes to eat consumed less food and threw away more uneaten food than their peers. Findings at Bayside MLK confirm this: When the food is fresh and delicious, less of it is thrown away. The key to the Conscious Kitchen's success is taste-testing and repetition; a team of student ambassadors collaborate with chef to develop menus and provide feedback from their peers. 
About a month ago, I met my seven-year-old at school for her 20-minute lunch break. It was Frito Pie day—hooray!—and her partitioned cardboard tray was filled with soggy, curly corn chips smothered in beans and cheese. In compliance with the National School Lunch guidelines, green salad or cooked veggies, as well as fruit are served with every lunch, but that day's offerings of canned pineapple and droopy green beans didn't exactly exude freshness.
By the time the lunch lady shooed the class outside for recess, my daughter had finished her Frito Pie. I had to press her to eat her beans, which I probably would have had to do at home, and to pick a few bites of the pineapple. Kids are always going to need a little help making healthy food choices—that's our job as parents and educators. And until fresh, local, organic foods make a bigger appearance on the weekly menu, I'll be taking time each morning to pack miso soup, carrots, sliced apples, and whole wheat crackers for my girls. They're worth it.
Lead Photo: graletta/iStock