My Best Workout Buddy Is 5 Years Old
This summer, get your kids off the couch and get swole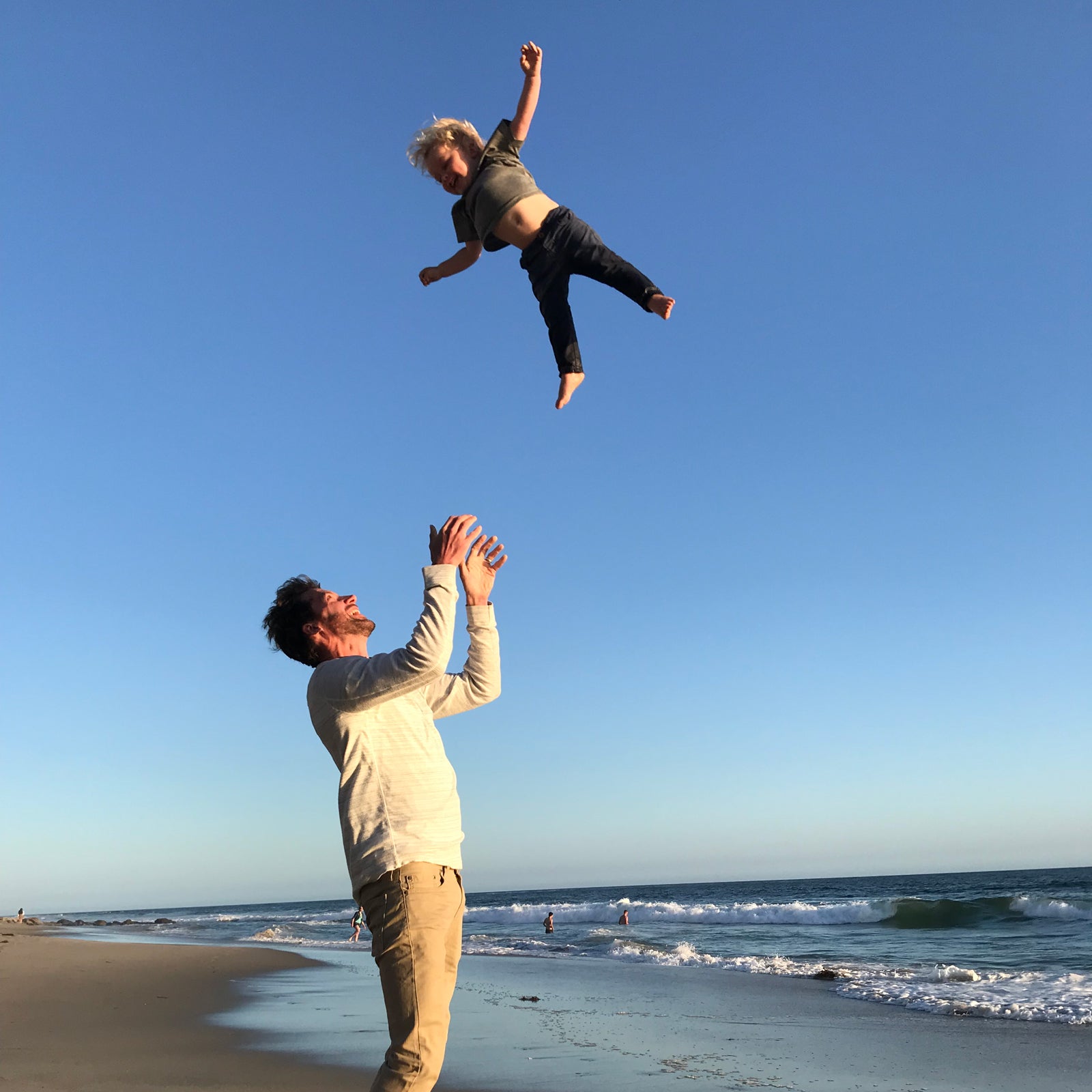 Courtesy Jacob Baynham(Photo)
Heading out the door? Read this article on the new Outside+ app available now on iOS devices for members! Download the app.
I've never been big on gyms. I like working out, but I feel self-conscious exerting myself within arm's reach of total strangers. It might have to do with the fact that when I exercise, I get pallid and hollow-eyed and sweat profusely. A few years back, I was recovering after a race when I heard a boy ask, "Mom, is that guy dead?" That's a lot to put on my treadmill neighbor.
I'm even less likely to go to a gym now that I have kids. I know gyms have tried to help parents by providing daycare, but my children have never been thrilled about daycare. So I'm left to sweat in solitude with morning YouTube yoga and the occasional jog.
And then recently, in the doldrums of summer, it hit me. My five-year-old, Theo, was in the kitchen, barking at me in an obnoxious unicorn language he invented, and it occurred to me that this beautiful, smart, sometimes annoying boy is also a vastly overlooked 40-pound free weight. I'd heard of mommy bloggers doing postpartum leg lifts with their infants. Couldn't I do something similar with Theo?
I decided to bring up the idea with my buddy Nate, a father of three, athlete, and generally good guy who enjoys arbitrary fitness goals. He trained to run a mile in under five minutes and a 5K in under 18. To prepare for a competitive Spartan Race, he fashioned a spear out of materials he found at a hardware store and practiced throwing it into a hay bale in his back yard. He competes in CrossFit workouts—the latest of which entailed 100 pull-ups, 200 push-ups, 300 squats, and a two-mile run, all while wearing a 20-pound vest. He also went almost an entire year testing the health benefits of showering only in cold water.
I knew he'd have a good take on my idea. "Do you think I could incorporate kids into a workout routine?" I asked when Nate came over to my house with his family.
The wheels were turning before he even answered. "Oh, yeah," he said. "You could definitely do that."
We went out into the back yard with two of our kids, and Nate started listing off different exercises. Some were old standards—squats (with your child on your shoulders), lunges (ditto), push-ups (with Junior on your back)—but others were more inventive. Wall balls, for example, are a popular CrossFit exercise in which you squat holding a medicine ball and then explode into a standing position, throw the ball against a wall, catch it, and return to a squat. Take away the wall and instead throw your child into the air, and you've got an exhausting full-body exercise that most kids will love. (Parental discretion advised, of course.)
Nate kept rattling off ideas. "You could do bear crawls with your kid on your back," he said, and then showed me how to alternate moving your hands and feet for a shoulder-burning, core-strengthening exercise. If you have a toddler, you could do standing jumps over them—baby jump-overs, Nate called them. (More parental discretion here.) Or have your kid get down on all fours and do side jumps back and forth over them.
If you have an infant, you could lie down on your back on a blanket in the grass and lay your child, perpendicularly, at your feet. Then, work your core by raising and lowering your heels to gently tickle her belly. Then you both flip over, and you do a set of Supermans while your baby has some tummy time. Or put your baby in a front pack and use the extra weight to enhance your pull-ups or crank out a few sets of step-ups on a bench.
It seemed there was no end to the ways I could be using my kids to get ripped—and no excuse for either of us sitting on the couch on a hot summer afternoon. Before long, Nate had curated a workout routine that incorporates four complex sets of exercises and works well with a five-year-old. Here's how it goes:
Air Squats (10 Reps): With your feet shoulder-distance apart and your child riding on your shoulders or clinging to your back, sink your hips below your knees while keeping your chest as upright as possible. Doing these slowly will make them more rewarding.
Baby Thrusters (10 Reps): These are like wall balls, minus the throwing. Start in a squat with your child facing you and your hands under their armpits. Rise into a standing position with your child and extend them into the air over your head. Then slowly lower them down to chest level again and return to a squat position.
Lunges (20 Reps): With your child riding on your shoulders or your back, take walking lunges around the yard, ten on each side.
Push-Ups (10 Reps): Lie down on the ground and have your child lie flat on your back, holding your shoulders. While rotating your palms into the ground as if you are trying to turn them away from you, rise into a plank position and then lower down. These are challenging, especially if your child is heavy, so feel free to drop your knees to the ground when necessary.
Nate prescribed four rounds of this routine with a 30-second rest between rounds. He suggested working toward the goal of not resting at all. When I did the routine, each round took me about three minutes. Within 15 minutes, I was finished, and Theo was on my shoulders, giggling and shouting, "Again!" 
I laughed. I was in my back yard. The birds were singing. Theo was thrilled. I would be sore the next day, top to bottom, as if I'd spent an hour at the gym. And although I was a little pallid, hollow-eyed, and sweaty, Theo knows me well enough to know that I wasn't dying. 
Lead Photo: Courtesy Jacob Baynham