Sponsor Content: Purina Pro Plan
Your Dog Deserves More Hikes
Adventures are always better with man's best friend by your side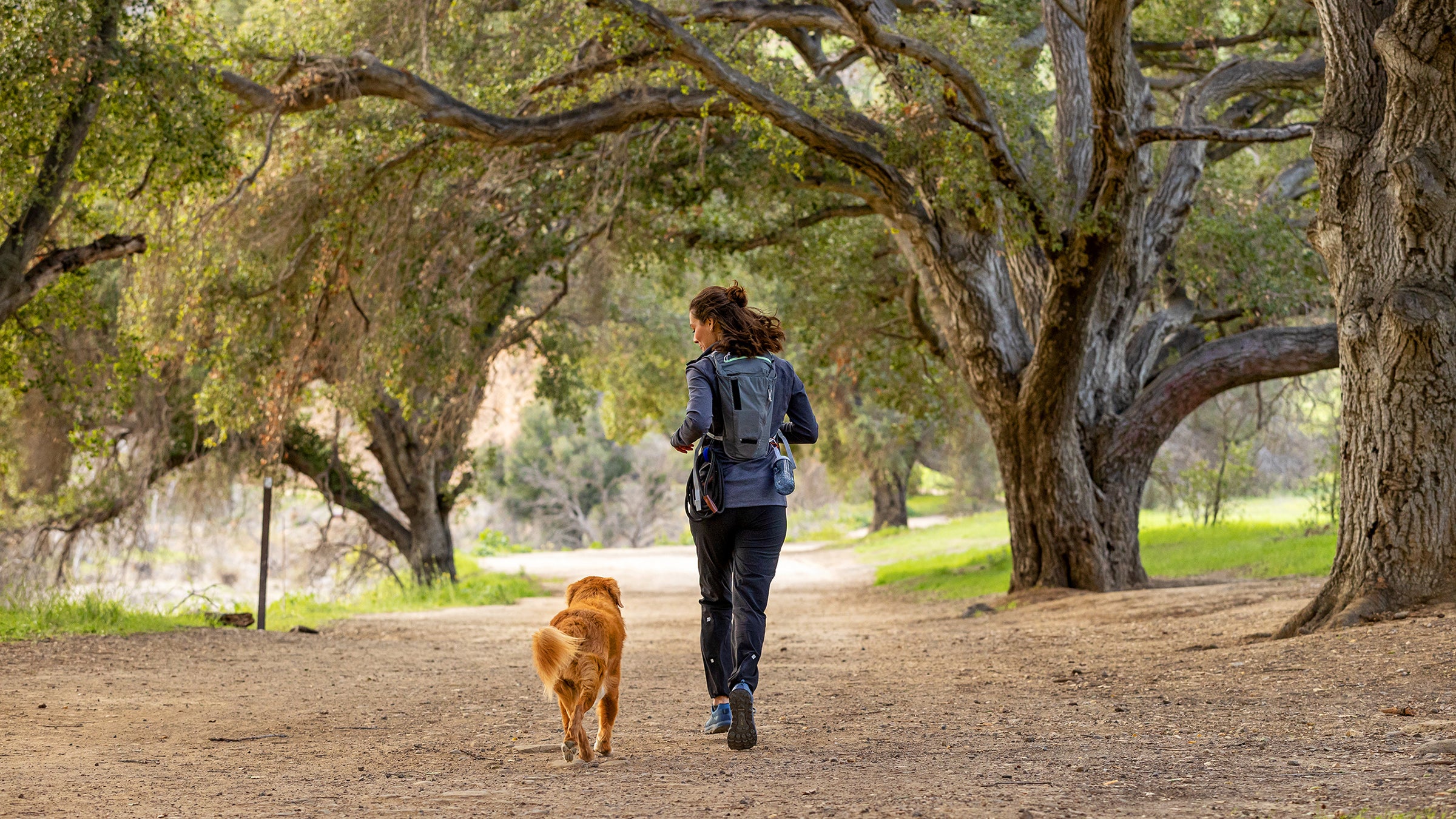 With hiking season right around the corner, dogs around the world have a PSA for the outdoor adventurers in their lives: they want in. And not just for a few hours of weekend fun on the trail. This season is all about logging more trail miles together—humans hiking with their best friend by their side. New trails. More adventures. And, of course, more quality time together. If the enthusiastic tail wags aren't enough to convince you, one brand wants to help you make your dog's dreams a reality by challenging owners and their dogs to spend more time outside together. Ready to log some miles with Fido? Keep reading to find out how to give your pup their best hiking season yet.
Getting Outside With Your Dog More
Raise your hand (or paw) if you've spent an entire weekend enjoying time outdoors only to get trapped inside come Monday. You're not alone. And, for better or worse, your dog is right there with you. But you can both benefit from more outside time. Here's how:
Build outside activities into your routine. Committing to more movement with your pup is the first step in living a more active lifestyle together. Setting a goal of more miles or more minutes outside is a good place to start. But dogs thrive on routines. Consistent exercise time can help reduce anxiety, reinforce training and good behavior, and boost your dog's overall mood. So ditch the weekend warrior persona and plan regular hikes or runs outside with your dog throughout the week.
Explore a new trail. Yes, routines are crucial for keeping your dog healthy and happy. But mixing up locations can help provide the mental stimulation your dog needs. Just make sure you leave time for a quality sniff sesh before or after your hike. Experts say 20-30 minutes of sniffing can provide as much mental exercise for your dog as a 1-hour walk.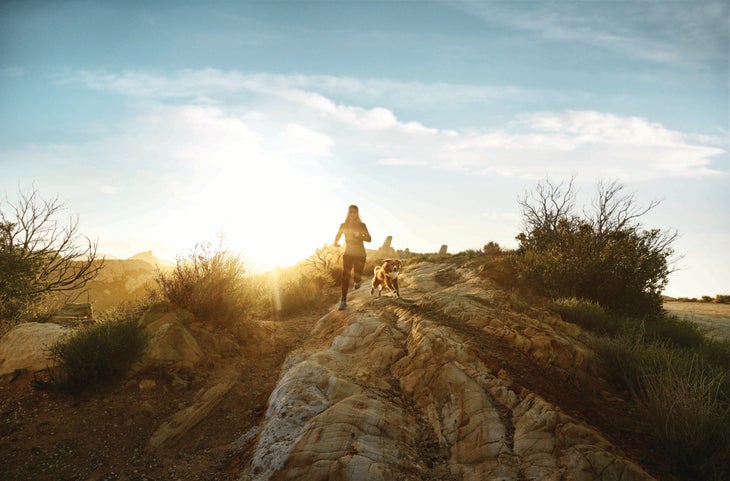 Make it a play date. As a descendant of pack animals, your dog thrives on socialization. Sure, a dog-park play date can check the social time box for your pup. But that leaves the two-legged pack members with a lot of time standing around. Instead, make your next doggie play date a group hike so everyone can benefit from moving their bodies together.
Take it to the next level. Give your pup a chance to up their athleticism by signing up for agility classes. Not only does agility training provide a great mental and physical outlet for dogs, but it also helps to boost their confidence on the trail. Plus, agility classes (and other types of training) help dogs and owners bond through shared learning experiences.
Read More: Inspiration for Getting Active With Your Dog
Nutrition for Active Dogs
Every hiking season you get to spend with your dog is another season of memories together. Proper nutrition will help ensure your pet can enjoy adventures with you for years to come. 
So how do you feed an active dog? Fueling your dog for outdoor activities is just like fueling your own body. Well, almost. Dogs and humans actually run on different energy sources. That means while you're carb-loading to prepare for a big hike, your dog needs to consume fat and protein to burn while they exercise. Purina Pro Plan Sport Performance dog food formulas are made with a 30/20 protein-to-fat ratio to fuel an active dog's metabolic needs and provide strength and stamina so they can keep up with you on the trail. Pro Plan recipes also include amino acids to nourish muscles and glucosamine and omega-3 fatty acids for mobility and joint health.
Read More: How to Feed Your Adventure Dog 
Join the Movement
This hiking season, Pro Plan wants every day to be an active day for you and your dog. That's why the brand partnered with tennis superstar Venus Williams, and her dog Harry to start the Monday Like a Pro Challenge—a movement that encourages more owners to get outside with their dogs. Throughout the challenge, Williams and other celebrity athletes will be there to pump you up and cheer you on as you grab the leash and head out on your next adventure.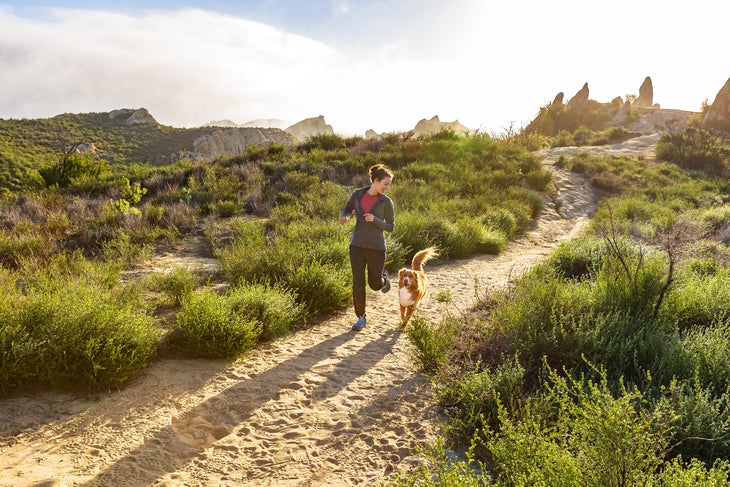 How does it work? First, log your active minutes every week from now until May 21 on the Monday Like a Pro Challenge site. Throughout the challenge, Pro Plan will donate $15,000 to Athletes for Animals for every week humans and their pups log 1 million minutes of active time together (up to a total donation of $150,000). Every week you participate, you and your dog will be entered for a chance to win a year's supply of Pro Plan Sport. Share weekly photos of you and your dog enjoying your favorite activities together for additional entries. Use #MondayLikeAPro and tag @ProPlan.
---
Empowering Owners. Advancing Nutrition. And Improving Pets' Lives. Pro Plan is reimagining what breakthrough pet nutrition can do.  Our pioneering mindset inspires us to turn the impossible into incredible new products that can help pets enjoy a happier, healthier life and strengthen the bond they share with their owners. Visit Proplan.com to learn more.
Lead Photo: Purina Pro Plan