The 10 Most Underrated Adventure Movies on Netflix
Scrolling through that confounding mix of cinema will give us all carpal tunnel. Stop it this moment and check out our list of below-the-radar survival films.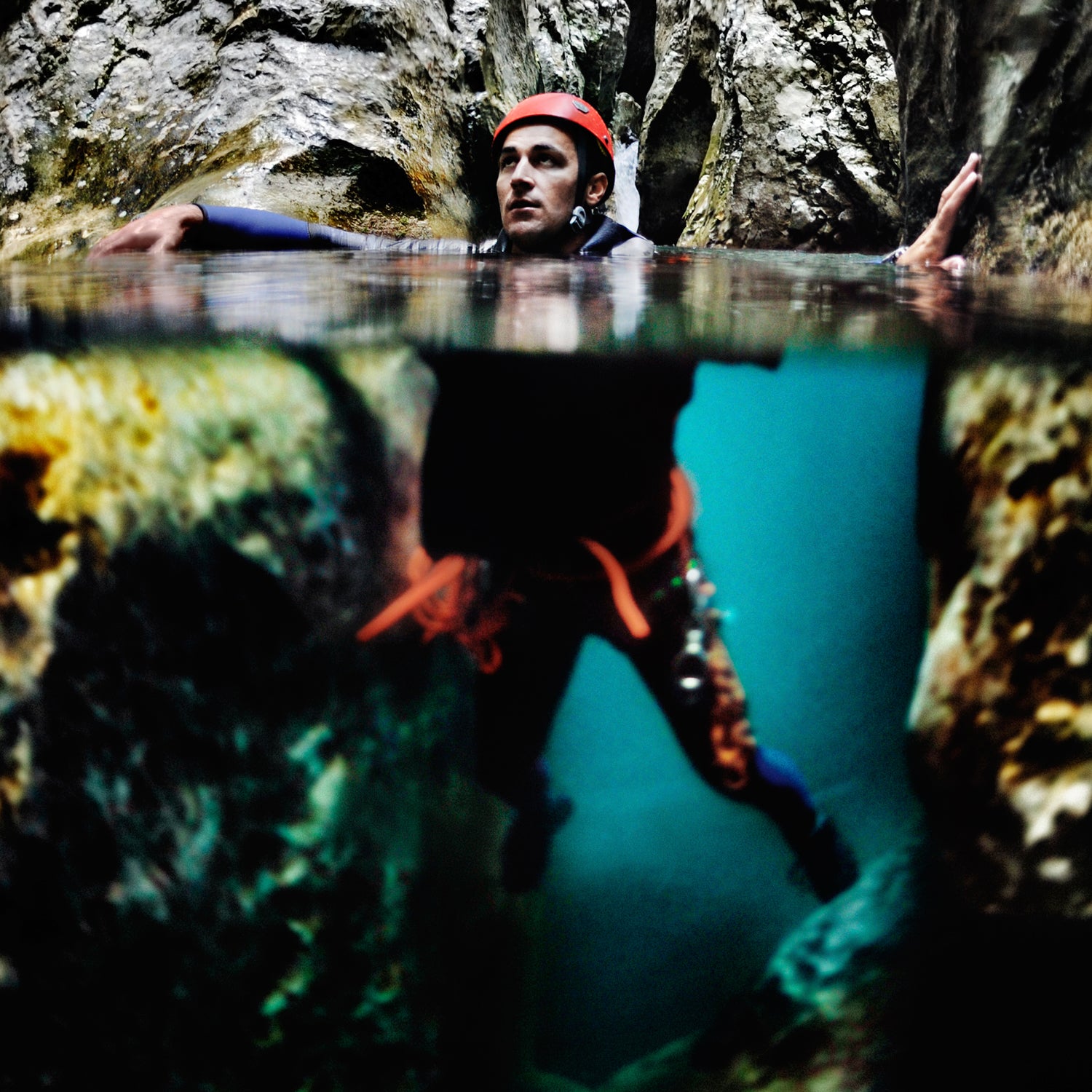 Heading out the door? Read this article on the new Outside+ app available now on iOS devices for members! Download the app.
The most stressful question of my day arrives right at that time when I should be enjoying my post-dinner food coma: "What should we watch tonight?" Just typing it sends my cortisol level into the upper deck.
If you're like me, you hate yourself for scrolling below row six or seven of Netflix, down to where the misbegotten, underfunded, and haphazardly marketed films dwell. But we've all been there—into the slurry of 1960s pulp films, Bollywood crossovers, and that particular brand of low-budget madness perpetrated by The Asylum—to that kaleidoscopic abyss where lay Badges of Fury, Cheerleader Ninjas, and Hidden Assassin. (Peace to Dolph Lundgren.) And yet you scroll on, hoping for a promising glint in the roughest rough.
It's not hopeless, but when you're pushing that depth, it's helpful to have a guide to point out some under-the-radar landmarks. These are ten legitimately shiny gems—genuine portrayals of adventure, all of them—that you can feel good about excavating from the muck:
1. Into the Mind (2013)
Sherpas Cinema is popping up all over our radar these days for their bold conceptual approaches to extreme ski films. 
Into The Mind, sponsored by the North Face, marks the studio's second feature-length film, following 2011's film festival crusher All.I.Can. The film takes our affinity for helmet cams to an extreme: it's largely comprised of first-person experiences on big-mountain slopes. Spliced together with awesome cinematography, the effect is an unparalleled cinematic examination of risk and reward.
---
2. Rescue Dawn (2007)
Documentary auteur Werner Herzog directs Christian Bale in a Vietnam movie about a P.O.W. escape. How did you miss this?
Rescue Dawn represents Herzog's second swing at nailing the true story of Dieter Dengler, a German immigrant to the U.S. who joins the military and whose fighter plane is shot down over the Vietnam jungle, and who eventually escapes internment. Herzog took on Dengler's story in the 1997 documentary Little Dieter Needs to Fly. His second attempt, produced on a mere $10 million budget from MGM, is a great survival flick.
---
3. All Is Lost (2013)
Robert Redford portraying a symbol of aging masculinity? Wow, talk about range!
But seriously, if Redford's persona won't budge, then a savvy filmmaker might tailor a setting that underscores the actor's unflinching stoicism. That's exactly the shape of All Is Lost, which spins a drama of epic proportions from the simple premise of a man sailing solo at sea. Redford isn't just the centerpiece, he's the only character in the film, and he utters fewer than five lines of dialogue. Around him the clouds above the Indian Ocean whip into a vicious hurricane that test not only his resolve but his stubborn-old-man survival instincts. Sure, the critics dug it. But a brief poll of staffers revealed that most people didn't watch it start to finish. That's a mistake.
---
4. The Hunter (2011)
A lone hunter wanders the misty highlands of Tasmania with a giant rifle in search of an animal long-thought extinct: the Tasmanian tiger. He's hired by a biotech military contractor a continent away and instructed to fetch samples of the animal, whose DNA may be the key to a powerful new bio weapon.
The Hunter might have landed with viewers in the 90s, but in the current era of tent-pole mega-features, subtler, heady thrillers are often overlooked. Such was this movie, even with the rifle in Willem Dafoe's capable hands.
---
5. The Ghost and the Darkness (1996)
Val Kilmer (1990s svelte Kilmer) is a bridge engineer. Michael Douglas (1990s long-haired Douglas) is a snarky big-game hunter. They team up to hunt a pair of lions wreaking havoc on a village of African laborers who are building a transcontinental railway line in the late 19th century. The lions may or may not represent pissed-off ancient spirits, and their attacks may or may not represent a last-ditch lash-out against Western colonialism.
The film marks a career milestone for director Stephen Hopkins, who was coming off a hat trick of rock solid 1990s action flicks in Predator 2, Judgment Night, and Blown Away, and who would move on to the travesty 1997 film Lost In Space. Oh, and it was written by William Goldman, who crafted the screenplay for Butch Cassidy and the Sundance Kid.
---
6. Tracks (2014)
A young woman sets off alone into the wilderness on an existential journey, meets and overcomes challenges, then writes a book about her experience. Sound familiar?
Tracks was easy to lose track of because it was released three months before Wild, the Hollywood film adaptation of Cheryl Strayed's bestselling book that starred Reese Witherspoon. As in many of these dueling film releases (Deep Impact vs. Armageddon, White House Down vs. Olympus Has Fallen, etc.) there must a be a victor and a failure. Tracks wound up the latter, but there's nothing obvious holding it back. The fundamentals of narrative, drama, solid acting, and gorgeous cinematography are all on display here. Give it a chance.
---
7. Alive (1993)
This movie is awesome by early 90s standards, and it's more awesome now that it's on Netflix. A team of Christian rugby players crashes its airplane in the Andes mountains in 1972 and suffer blizzards, avalanches, and other Donner Party-esque setbacks—for 72 days. Spoiler alert: the Donner Party parallels don't end there. Eventually, a group of survivors begins a long hike out of the mountains, back to civilization.
It's a classic survival tale that also happens to be based on a true story published by one of the survivors called Alive: The Story of the Andes Survivors. Bonus: A young Ethan Hawke plays the survivors' moral compass.
---
8. The Way Back (2010)
https://youtube.com/watch?v=87kezJTpyMI
It's tough being Colin Farrell. He's a solid actor who just can't carry a quality film as the leading man. There should be a curse named after him. Luckily for the spunky Irishman, director Peter Weir (Master and Commander, The Truman Show) slotted him in between relative newcomer Jim Sturgess and grizzled stalwart Ed Davis, who all help drag this minor epic to glory.
The film chronicles a small group of prisoners who escape a Siberian gulag during World War II and hike an unbelievable 4,000 miles to India. It's a tale of endurance, survival, and Farrell's Russian accent. It's also loosely based on a true story as portrayed in the 1956 book The Long Walk.
---
9. Valhalla Rising (2009)
You probably IMDB'd Nicolas Winding Refn after the release of 2011's violent indie crossover Drive, starring Ryan Gosling. Then you probably discovered that Refn had made a movie with Tom Hardy three years earlier called Bronson, about a mildly schitzophrenic convict. The dual triumph of those two films cast a shadow over a movie Refn made in-between them called Valhalla Rising.
Despite the name and the fact that it takes place in 1000 AD, Valhalla Rising isn't overtly about the Norse god. In fact, it's not overtly about anything. It's essentially a 93-minute display of primal masculinity, which should come as a comfort: that's Refn's stock and trade. This one is placed squarely on the bare, scarred shoulders of Danish actor Mads Mikkelsen (known for the award-winning "Hannibal" series on NBC), who plays a mute warrior named One Eye on a bloody quest through muddy mountains and foggy seas. Did we mention the main character doesn't speak?
---
10. A Lonely Place to Die (2011)
A rock climbing film masquerading as a conventional thriller (or vice versa), A Lonely Place To Die is essentially Scotland's answer to Cliffhanger. But instead of chasing cases of cash, the bad guys are in pursuit of a small kidnapped child who falls into the wholesome hands of a group of unsuspecting trad climbers.
The "survival" element of this movie is mostly encapsulated in a cat-and-mouse game between the armed kidnapper thugs and the puffy-jacketed climbers, although there are some pretty gnarly-looking rope falls. Bonus: Close-ups of the actors placing cams (like real climbers!).
Lead Photo: Predrag Vuckovic/iStock