10 Things You Should Know About 127 Hours
Heading out the door? Read this article on the new Outside+ app available now on iOS devices for members! Download the app.
                    James Franco, Photo by Chuck Zlotnick
The new movie 127 Hours will reach theatres all over the country this Friday. If you haven't been reading our blog, here's the part where we tell you again that it's the story about Aron Ralston's struggle to stay alive after a 800-lb. boulder falls on his arm in Blue John Canyon. To get you prepped for the movie, here's a quick list of the things to know before you sit down with your bucket of popcorn and pail of Coke to watch Aron Ralston drink his own urine while he slowly starves in the desert.
10 People Fainted During the Previews
Yes, you've probably heard this already. It happened in the scene where James Franco, playing Aron, sawed his arm off. Here's a quick link or two in case you want to read more about it. Just keep in mind, this film isn't The Exorcist or Saw.
9 What You Should Do If You Feel Like Fainting
We had to include this, just for fun. New York wrote a long piece with advice from both Ralston and Franco on what viewers should do if they feel dizzy or light-headed in the theater.
"Stay seated," Aron Ralston told Vulture last week. "It's okay if you're in your seat and you feel like you need to pass out for a few seconds. It only becomes dangerous if you decide you need to leave the theater and you stand up and then you're falling from a standing position."
"If you're feeling woozy, just cover your eyes. There's nothing wrong with covering your eyes. It took 40 minutes [for Aron to cut his arm off], so what Danny showed is mercifully short. It's visceral, but it's about the exhilaration of getting free and leaving in the end."
–James Franco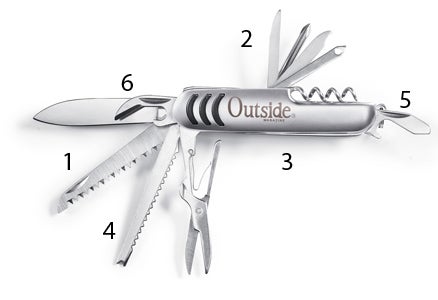 8 About That Pocket Knife
It was an imitation leatherman—so not exactly a precision instrument for sawing off a limb. Not that we should be casting any stones. At one point we asked Ralston for an honest review of the pocket knife we give to subscribers. Here's what he had to say.
1. Hey, Hey, bone saw!
2. Say you bust a strap on your backless leather chaps. No problem—its got an awl.
3. Pewter color makes it less identifiable than the old yellow Outside knife. Owner is therefore less likely to be mocked as too cheap to plop down $6.97 for a real Wal-mart knockoff.
4. No pliers, toothpick, or tweezers—but a fish scaler? It'll more likely be cleaning resin out of a pipe than scales off any fish.
5. Flimsy bottle opener would keep Lindsay Lohan sober.
6. Right-handed can opener. 'Nuff said.
7 The Question
Was Aron Ralston a hero or just a reckless adventurer? Steve Casimiro, a consultant to the film, writes his opinion on Adventure Journal.
6 It's Not Showing in Every City, Yet
Fox Searchlight released the film the weekend of November 5th in just New York and Los Angeles, but the film's distribution will expand quickly. The studio has a growing list of locations, with the movie hitting a number of new theatres this weekend. Click here to find a theatre near you.
5 What It Takes To Survive in a Desert Canyon
Survival expert Breck Crystal talks about why Aron's situation resonates with him. Then he shares his secrets for surviving in the desert during this video. If you still have more questions about desert survival, you can always ask Outside's Survival Guru, Tony Nester.
4 Ralston Was On Set, A Lot
Aron Ralston visited the set often to watch the progress of the movie and collaborate with Boyle and Franco on the project. A lot of that filming took place in the acutal location where Ralston was trapped, called Blue John Canyon. Ralston said that Boyle invited him to be a part of the film, "Because we shared a common vision for this," said Ralston. "… What was important to me was the authenticity of my story being shared with people, that we also inspire audiences, instead of using it maybe as a horror film or something that just would have — perhaps left people in a hole, we wanted — I wanted people to be uplifted with it, to have that hope in the end."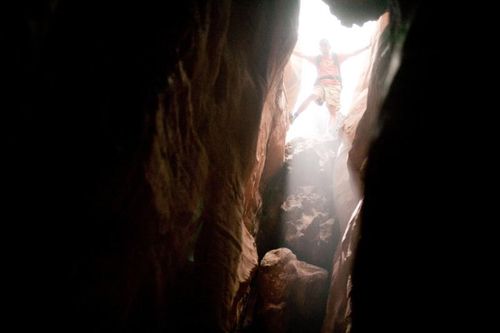 James Franco, By Chuck Zlotnick
3 Critics Love The Movie
But "127 Hours," a chronicle of accident and determination, is nearly flawless. Mr. Franco's goofball energy connects the viewer to the character almost instantly, and Mr. Boyle's speedy, jumpy style sends us out into the desert on a wave of caffeine and rock 'n' roll.
–A.O. Scott, The New York Times
2 Ralston's Written Account
It won't ruin the movie. It's in this Outside article or in his book, Between a Rock and a Hard Place.
"IT'S 3:05 ON SUNDAY. This marks my 24-hour mark of being stuck in Blue John Canyon. My name is Aron Ralston. My parents are Donna and Larry Ralston, of Englewood, Colorado. Whoever finds this, please make an attempt to get this to them. Be sure of it. I would appreciate it."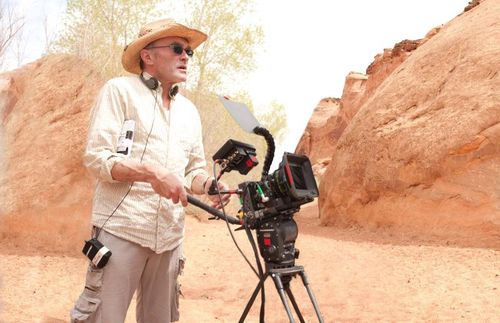 Danny Boyle, Photo by Chuck Zlotnick
1 Danny Boyle Fought To Make This Movie
Outside's Editorial Director Alex Heard interviews director Danny Boyle about the film in the below podcast. Boyle shares why Ralston first told him no to the film, Ralston's reaction after seeing the movie for the first time, and what he considers the climax of the story—it's not what you think.
Download The Podcast Interview with 127 Hours Director Danny Boyle
You can download more Outside podcasts on iTunes.
–Joe Spring
@joespring
Trending on Outside Online