Sponsor Content
15 National Park Trails to Add to Your Bucket List
From well-trodden classics to unheard-of epics, these trails offer something for everyone and access to the best of our national parks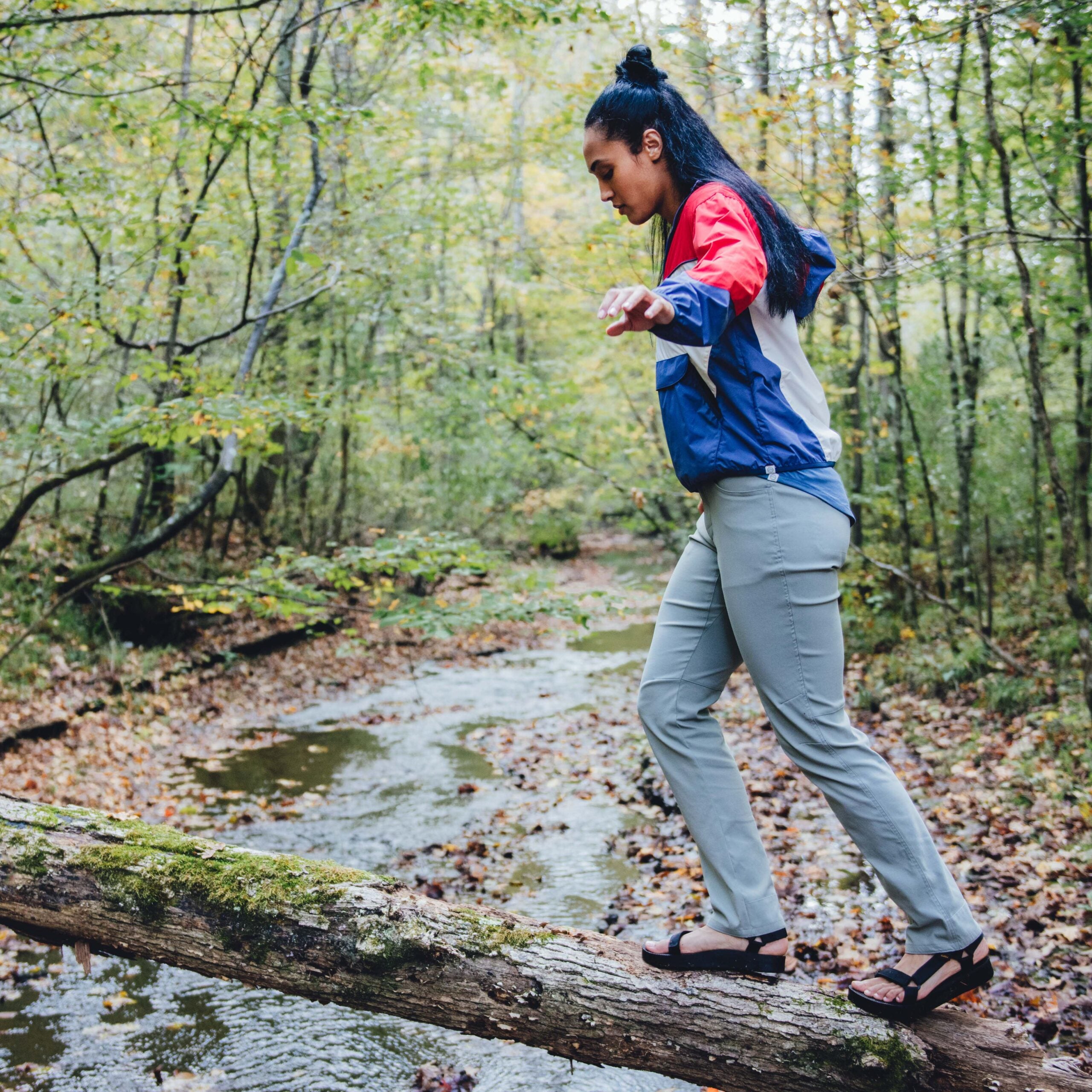 There are countless ways to enjoy the natural splendors preserved within our national park system. But our favorite has to be by trail. And if you know where to look, there's a wild variety of hiking routes that explore every kind of terrain imaginable, from Arctic tundra to South Pacific jungle to stalactite-adorned caverns. These stunning trails are some of the National Park Service's best and most extraordinary.
Saguaro National Park, Arizona
Sendero Esperanza Trail, 3.4 miles
There's something special about cactus country, even—or maybe especially—in the summertime, when monsoon season gives the desert a new burst of life. Hike through classic, top-heavy saguaros from the Sendero Esperanza Trail, which connects with several others so you can easily modify the challenge to suit your group. Do be mindful of heat warnings and flash-flood risks if you visit during summer months.
Essential gear: Perfect for the challenging summer weather in Saguaro, the ATG by Wrangler Men's Performance Shirt has a UPF rating of 50 and wicks moisture to keep you cool and dry in full sun exposure.
Big Bend National Park, Texas
Hot Spring Trail, 0.5 miles
This is, by far, the shortest hike on this list. But it's a worthy inclusion because it leads to a built-up hot spring with natural mineral water streaming out of the earth at 105 degrees. Few national parks offer such treasures, and even fewer let you soak in them. But at Big Bend, a brief hike will bring you to a pool built into a bank of the Rio Grande, just shy of the Mexican border. Want a challenge first? The park's South Rim Trail, which varies from 12 to 14.5 miles depending on how you hike it, will land you at a point overlooking the desert valley in exchange for 2,000 strenuous feet of elevation gain.
North Cascades National Park, Washington
Cascade Pass Trail, 7.4 miles
North Cascades is less than three hours from Seattle, yet it's one of the least visited parks in the system. In 2019, visitation averaged just about 100 people per day. The Cascade Pass Trail ventures past glaciers and offers views of surrounding peaks, including Johannesburg, where bits of a hanging glacier sometimes crash down the mountain. For a longer day hike, take a side trail to Horseshoe Basin, where a steep, curved wall spouts quite a few falls.
Lassen Volcanic National Park, California
Bumpass Hell Trail via Cold Boiling Lake, 5 miles
If you think Yellowstone is the only place to walk among bubbling mud pits, you've sorely overlooked Lassen Volcanic National Park, a hidden gem in Northern California. The largest hydrothermal area in the park, Bumpass Hell, has fumaroles (vents of steam and volcanic gas), boiling pools of water and mud, and areas of the ground that just dump steam. Hike to Bumpass Hell from Cold Boiling Lake—where bubbles rise like soda fizz—along a five-mile trail. Take care to stick to the marked paths: break through the crust and you'll be in hot water, literally.
Pictured Rocks National Lakeshore, Michigan
Chapel Loop Trail, 10 miles
The Chapel Loop Trail at Pictured Rocks National Lakeshore is the only place in the park where you can see, from land, the sandstone cliffs hugging Lake Superior. And it's a sight to behold—here, about as far away from the Caribbean as it gets, the lake's turquoise waters look downright tropical. Along the way, you'll pass by two waterfalls, Mosquito and Chapel Falls. Bring your swimsuit to take a well-deserved dip in the lake from Chapel Beach.
Essential gear: Stave off chilly lake breezes with the ATG by Wrangler colorful Women's Windbreaker. Its kangaroo pocket has a pouch to store your phone (and snacks) for safekeeping while you traverse along the cliff's edge. Bonus: it's made of 100 percent recycled polyester.
Hawaii Volcanoes National Park
Devastation Trail, 6 miles
Hike through the rainforest of Hawaii Volcanoes National Park to Nāhuku, a 500-year-old lava tube where you can see roots growing through the lava. The tube was closed after the 2018 eruption of Kilauea and then blocked off to visitors again shortly after reopening in February 2020 because of COVID concerns, but now it's finally reopened to the public. It's lit during the day and open 24 hours for exploration, so bring a flashlight or headlamp if you wish to explore it after hours in the dark.
National Park of American Samoa
Mount Alava Adventure Trail, 5.6 miles
The South Pacific island of American Samoa contains one of the National Park Service's least visited parks. And it's easy to see why—it can be quite hard to get here, with flights running only twice a week from Hawaii when air travel is running at normal capacity. This park is also the stuff of dreams, with pristine white beaches dotted with palm trees, yet it has a wilder side. You'll have to climb 56 ladders to complete the Mount Alava Adventure Trail, which follows a ridge to offer dramatic views of nearby islands.
Shenandoah National Park, Virginia
Old Rag, 5.4 miles
Reading the National Park Service's website will give you the idea that Old Rag is the most treacherous hike you can do on the East Coast. It's a challenge, to be sure, but also one of the most popular hikes in the park system for good reason. Here you can gaze down at deep green forests from atop granite boulders that afford panoramic views of the Blue Ridge Mountains and Shenandoah Valley. Go early in the morning if you want a better chance at solitude (and parking).
Essential gear: While scrambling up the boulders of Old Rag, keep your phone handy—and secure—in the deep pockets of the ATG by Wrangler Utility Short. These shorts will keep you prepared for any weather forecast with their moisture-wicking properties and stretch canvas construction.
Redwoods National and State Parks, California
James Irvine Trail to Fern Canyon Loop, 12 miles
To call the redwoods "giant" is to vastly undersell a forest that would dwarf giants. Still, these majestic trees aren't the only selling point of a hike that combines the James Irvine Trail and Fern Canyon Loop, where dripping ferns cover 50-foot-tall rock walls—a filming site for the second Jurassic Park movie. There's even more variety: the trail ends with coastal views at Gold Bluffs Beach.
Crater Lake National Park, Oregon
Garfield Peak Trail, 3.4 miles
At nearly 2,000 feet deep, Crater Lake is the deepest and among the most striking lakes in North America. The small Wizard Island peeks out of its glassy surface. On clear summer days, you can motor along the 33-mile Rim Drive for views all around the lake (you can check the park's cloud cam ahead of time to see how good the visibility is). From the Rim Drive, hike the strenuous 3.4-mile out-and-back Garfield Peak Trail for stunning views of Wizard Island.
Conagree National Park, South Carolina
Boardwalk Loop Trail, 2.6 miles
Hike or stroll along a wheelchair- and stroller-friendly trail through old-growth bald cypress and tupelo trees in South Carolina's only national park. This raised boardwalk snakes through an area that frequently floods with nutrient-rich water that supports a mossy, fairytale forest you might sooner expect to see in the Everglades. Good thing the boardwalk's lined with benches—you might want to linger and keep an eye out for the roughly 200 species of birds known to visit.
Rocky Mountain National Park, Colorado
Nymph, Dream, and Emerald Lakes, 5.5 miles
The fourteeners of Rocky Mountain National Park harbor seemingly endless trails and alpine lakes to explore. Connect three of the most accessible—Nymph, Dream, and Emerald Lakes (where you may catch ice skaters or even a backcountry hockey game if you arrive via snowshoe in the winter)—with a trail that climbs steeply through refreshing pine forests. Lines to enter the park can be frustratingly long and parking can be a challenge year-round, so go on a weekday or arrive early to make sure you're not turned away.
Canyonlands National Park, Utah
Grand View Point Trail, 2 miles
Though all of Utah's five National Parks are incredible and give the state a well-earned reputation for dramatic natural beauty, its least visited offers some of the most mind-boggling views. Canyonlands is just half an hour from Arches, but you'll find half as many people swooning over the buttes and depths of a desert landscape sculpted by the Colorado River. The first 100 yards of the two-mile out-and-back Grand View Trail are paved and wheelchair-accessible so everyone can drink in the views from Island in the Sky mesa, which also offers a scenic drive along the rim.
Carlsbad Caverns National Park, New Mexico
Big Room Trail, 1.25+ miles
About 750 feet beneath the surface of Carlsbad Caverns National Park in southern New Mexico, you can get an unforgettable look at the largest cave chamber in North America. Photos can't do justice to the wild mineral formations you'll see while walking through this well-lit cave at your own pace, like the "frozen" waterfall. You can either hike into the cave through the Natural Entrance Trail (a steep 1.25 miles) or take the elevator down, which makes part of the trail wheelchair-accessible. Want a quirky souvenir? There's a shop and cafeteria deep within the cave that sells postcards and stamps so you can drop a note in the mail from underground.
Essential gear: The temperature in the caves is always cool—an average of 56 degrees—but humidity nears 100 percent during the summer months, making for a clammy hike. Wear the ATG by Wrangler Performance Knit as a base layer to wick sweat and stay comfortable during your journey into the depths of the earth.
Gates of the Arctic National Park
Unmarked Routes, Unlimited Miles
You'll need an air taxi, a topo map, and maybe a few friends if you want to explore the tundra, boreal forests, and Arrigetch Peaks of Gates of the Arctic in Alaska. It's the second largest national park as well as the least visited. It's entirely above the Arctic Circle, it has no official trails, and the park's website is clear: "You're on your own." But if you're looking for true wilderness, solitude, and a real challenge, you won't find better odds for all three. Imagine sharing an area bigger than Maryland with no one but grizzly bears, wolves, and a few dozen visitors. The park's website offers a list of air taxis and guide services that can take you into the park, like Expeditions Alaska, which runs multi-day camping and backpacking trips.
Essential gear: The ATG by Wrangler stretchy Men's Five Pocket Pant and Women's Slim Utility Pant will protect you while bushwhacking without inhibiting your range of motion.
---
The Wrangler®  brand is founded in a connection to the outdoors, rooted in adventure and independence. ATG by Wrangler™ now provides versatile, performance apparel with the intent of making the outdoors accessible to all.