Will the New 'Baywatch' Movie Be Any Good?
Can Baywatch the movie succeed in carrying the sad torch of the generation-defining nineties flesh fest?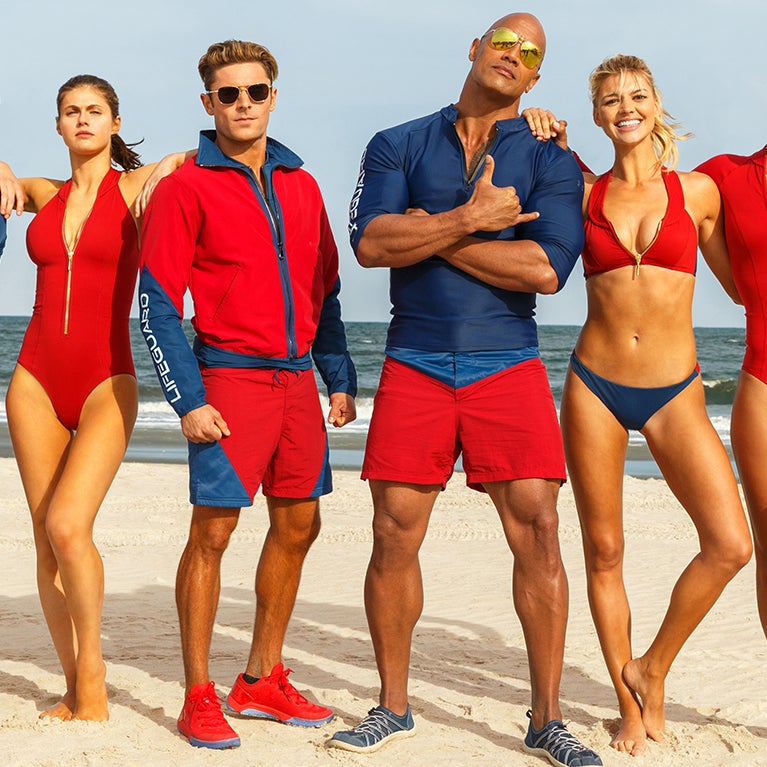 Heading out the door? Read this article on the new Outside+ app available now on iOS devices for members! Download the app.
That rapid-fire drumbeat. Those ­tinkling Casio keys. The wail of Survivor frontman Jimi Jamison. In the 1990s, the opener to Baywatch was bona fide Pied Piper stuff, an audiovisual narcotic that herded scores of teenagers, myself included, to the small screen. At its height, it was the number one TV show on the planet, broadcasting the most garish aspects of American beach culture to some 144 countries in 15 languages. Kelly ­Slater, riding a surge of popularity following his first world title, even starred (grudgingly, it turned out) alongside Pamela Anderson and David Hassel­hoff for two seasons—as Jimmy Slade, an aspiring pro surfer who (wait for it) lived in his van.
Now there's Baywatch the movie, in theaters May 26. Could the fever be upon us again? Thanks to the anatomically sublime Dwayne "the Rock" Johnson, Zac Efron, Alex­andra Daddario, and Kelly Rohrbach, the film boldly upholds the show's philosophy of beach as breasty bacchanal. By gratuitously doubling down on C. J. Parker's (Rohrbach) slow-motion jogging, Matt Brody's (Efron) endless shirtlessness (don't let the photo above fool you), and abundant pyrotechnics, Baywatch is banking on a new generation to swoon over the apparently sultry and exciting lives of Los Angeles County lifeguards. 
But in a world so saturated with sex that Playboy was forced to let the nudes back in, the Baywatch babe is retrograde erotica. Slater won't be making an appearance in the ­movie, but for those nineties teenagers out there, Anderson and the Hoff have returned. Now can we get a John John Florence cameo?