The Films We Can't Wait to Stream from Banff's Virtual Festival
These five documentaries from the famed mountain film festival feature everything from daring ski descents to an adorable Alaskan husky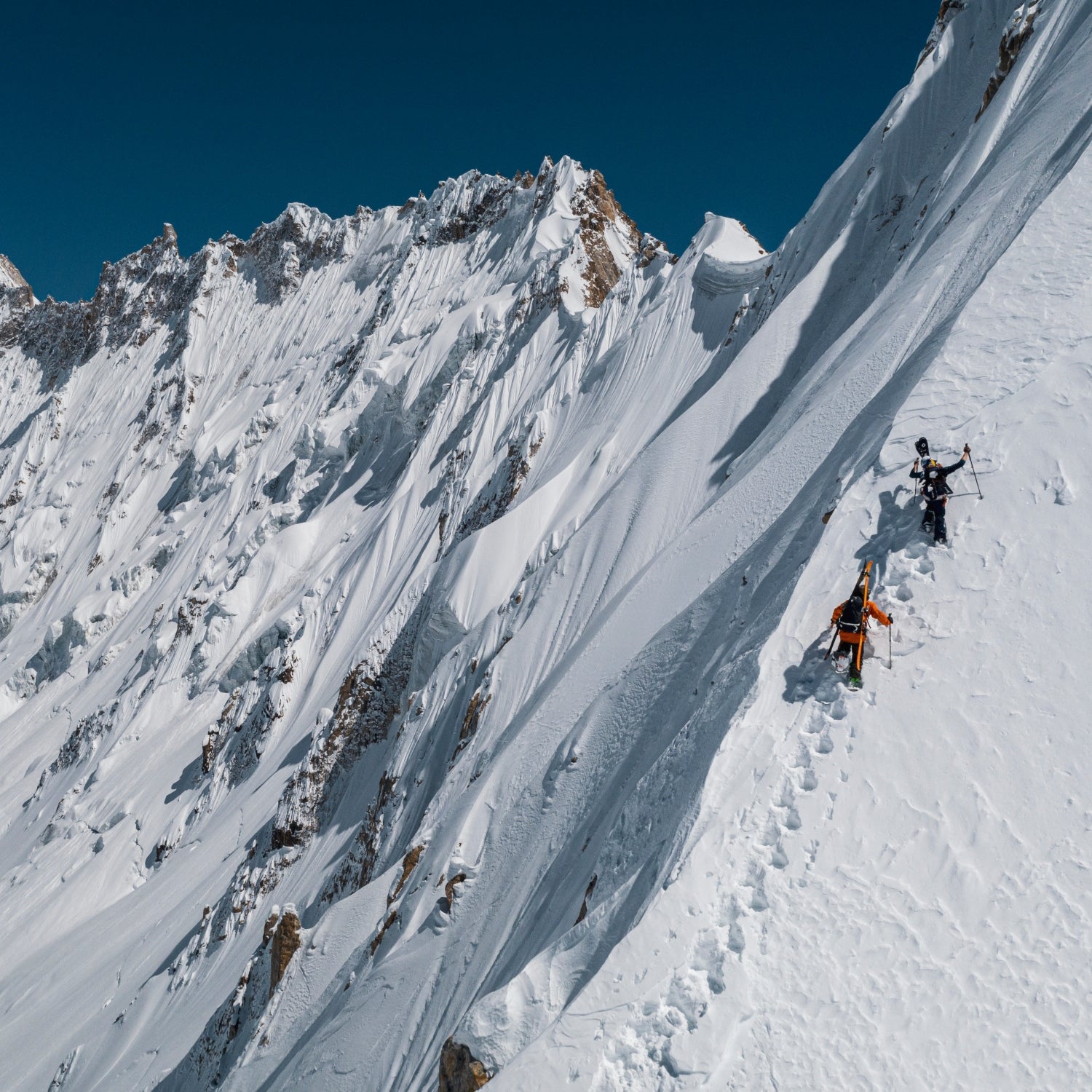 Jeremy Bernard
Heading out the door? Read this article on the new Outside+ app available now on iOS devices for members! Download the app.
It could be that we've recently arrived at an ideal viewing situation for film festivals. After holding virtual screenings during the pandemic, many festivals are coming back with hybrid programs that offer audiences the opportunity to choose between getting the full in-person experience or saving on a plane ticket and watching films a la carte from the comfort of their own couch. The latter isn't a bad idea when it comes to the Banff Centre Mountain Film and Book Festival, which returns October 30 through November 7 with such an abundance of films set in frigid locales that a heavy blanket should be required for viewings. There is skiing (so much skiing), ice climbing, ultrarunning, and a 1,200-mile hike on the appropriately named Ice Age Trail. Banff attendees can purchase tickets for individual in-person programs or tune into the virtual event with a full festival pass ($99) or rentals of individual programs and films ($12-$25). These world premieres are at the top of our list to check out this year (with, yes, a 16-pound weighted blanket).
'Breaking Trail'
Emily Ford is really living the dream: being a professional gardener, thru-hiking, and spending lots of quality time with an Alaskan husky named Diggins, who joined her on a 1,200-mile trek of Wisconsin's Ice Age Trail in March this year. Meaning she hiked in the snow, in temperatures as low as minus 37 degrees Fahrenheit, while carrying a 60-plus-pound pack. Unsurprisingly, Ford is just the second person—and the first woman and person of color—to complete the grueling journey during the winter. Breaking Trail follows the delightful duo of Ford and Diggins as they manage to find their own trail angels on the journey. It's an excellent buddy film—Ford is hilarious even when her Nalgene is frozen solid, and Diggins has quite the personality. But it also expands on themes related to Ford's broader goal: to foster a more inclusive outdoors and encourage more people of color to join her on the trail. "Nobody should feel that the outdoors isn't for them," she says in the film. "If you just don't feel like you fit the bill, there's a place for you outside and there's a place for you on the trail."
'Confiné'
"Ultra trails, running 100 kilometers or more, that's not healthy," says sports physiotherapist Blaise Dubois early on in Confiné. Alas! The main subject of this documentary, professional ultrarunner Mathieu Blanchard, plans to run not just 100 kilometers but 650 (or about 400 miles) in a week as he traverses the International Appalachian Trail's Québec GR A1 segment. It's close to where he lives in Montreal, but about as far away as one could get from the comforts of home. There are rocks to scramble over, white-knuckle narrow trails to navigate, and nearly 100,000 feet of elevation gain. And he does it all while navigating stay-at-home restrictions in the midst of COVID-19: the film begins in April 2020 as he's training for the attempt. (Confiné means "confined" in French.) Ultimately, Blanchard is doing a more extreme version of what many of the luckiest of us have done during the pandemic: finding new ways to spend the days and appreciate the activities our immediate surroundings have to offer.
'Precious Leader Woman'
Professional snowboarder Spencer O'Brien worked with director Cassie De Colling on this film, which is an exploration of her life as an athlete and her journey to reconnect with her culture. O'Brien is one of few Canadian snowboarders from the First Nations, with both Haida and ​​Kwakwa̱ka̱'wakw heritage. (The title of the documentary is a translation of O'Brien's Haida name, K'ul Jaad Kuuyaas.) The demands of becoming a professional athlete, though, took over her life and made it hard for her to stay in touch with her family and her identity, which she had never thought about much growing up. "It was never something I hid, it was just never something I broadcasted," she says in the film. "When I was younger all I wanted to be was a snowboarder, so I never cared about people knowing anything other than that." Early on in Precious Leader Woman, we see O'Brien at one of the highest points in her career, nearly winning the X Games in 2012. But that event ended in a significant injury that highlighted the onset of rheumatoid arthritis, which almost ended her career before the 2014 Sochi Olympics. What follows are professional highs and lows that O'Brien seems to navigate with increasing steadiness as she connects with her Indigenous identity. She attends potlatches, gets her Haida name, and learns about how her First Nations communities were forced to give up their culture through residential schools and laws banning certain ceremonial events. With the help of people like her sister, who overcame an addiction to heroin by reconnecting with her culture, O'Brien realizes she can reclaim her culture too.
'Not Alone'
Outdoor guides who lose a friend in an accident go through an extremely isolating experience, not least because there are so few people who have endured the same thing. In 2019, mountain guide Sarah Hueniken was returning from a trip when she saw and reported a powder cloud from an avalanche where she knew two groups were climbing. She later learned it took the life of her friend and former student, Sonja Findlater. The loss hit Hueniken so hard that she didn't even leave the house to go to the grocery store for eight months. "I haven't had a day where I don't think about this," she says in the film. Not Alone follows the ongoing process of moving through heartbreak, which for her includes setting herself a goal of linking three ice climbing routes in Alberta's Ghost River Wilderness Area, somewhat fittingly called the "phobias," with the aim of bringing herself closer to the memory of her friend. The film demonstrates that the grieving process is far more complicated than a straight line from not OK to OK. At a tough moment in her climbing attempt, Hueniken says of the film, "The whole point of this was to tell a story about Sonja, and I just feel like it doesn't matter how hard you try, you can't get things back."
'La Liste: Everything or Nothing'
You may think you have seen the skiing film La Liste: Everything or Nothing, starring Jérémie Heitz, before. You would be partly correct: in 2016, a documentary also called La Liste followed the Swiss skier as he raced down a list of some of the most iconic peaks in the Alps. This film is essentially a sequel in which Heitz and ski partner Sam Anthamatten expand la liste in question to include not only the Alps but many of the world's most fearsome 6,000-meter peaks. It's a simple conceit executed with aplomb: part highly produced travelogue, part ode to the mountains, and most of all a very satisfying compilation of dramatic ski footage that will occasionally make you wonder, "Is this skiing or is this plummeting very gracefully over the side of a near-vertical mountain face?"
Corrections:
(11/01/2021) A previous version of this article misspelled Spencer O'Brien's Haida name and misstated the nature of the injury that nearly ended her career. The story also incorrectly suggested that O'Brien took a year off competing in order to work on the film, when in fact she took a step back from competition because of the COVID-19 pandemic. The article has been updated to correct these errors and to clarify how O'Brien's sister reconnected with her culture. Outside regrets the errors.
Lead Photo: Jeremy Bernard
Trending on Outside Online