The Best Adventure Films of 2013
From film festivals to private releases, we combed this year's batch of adventure cinema to bring you the best-of-show.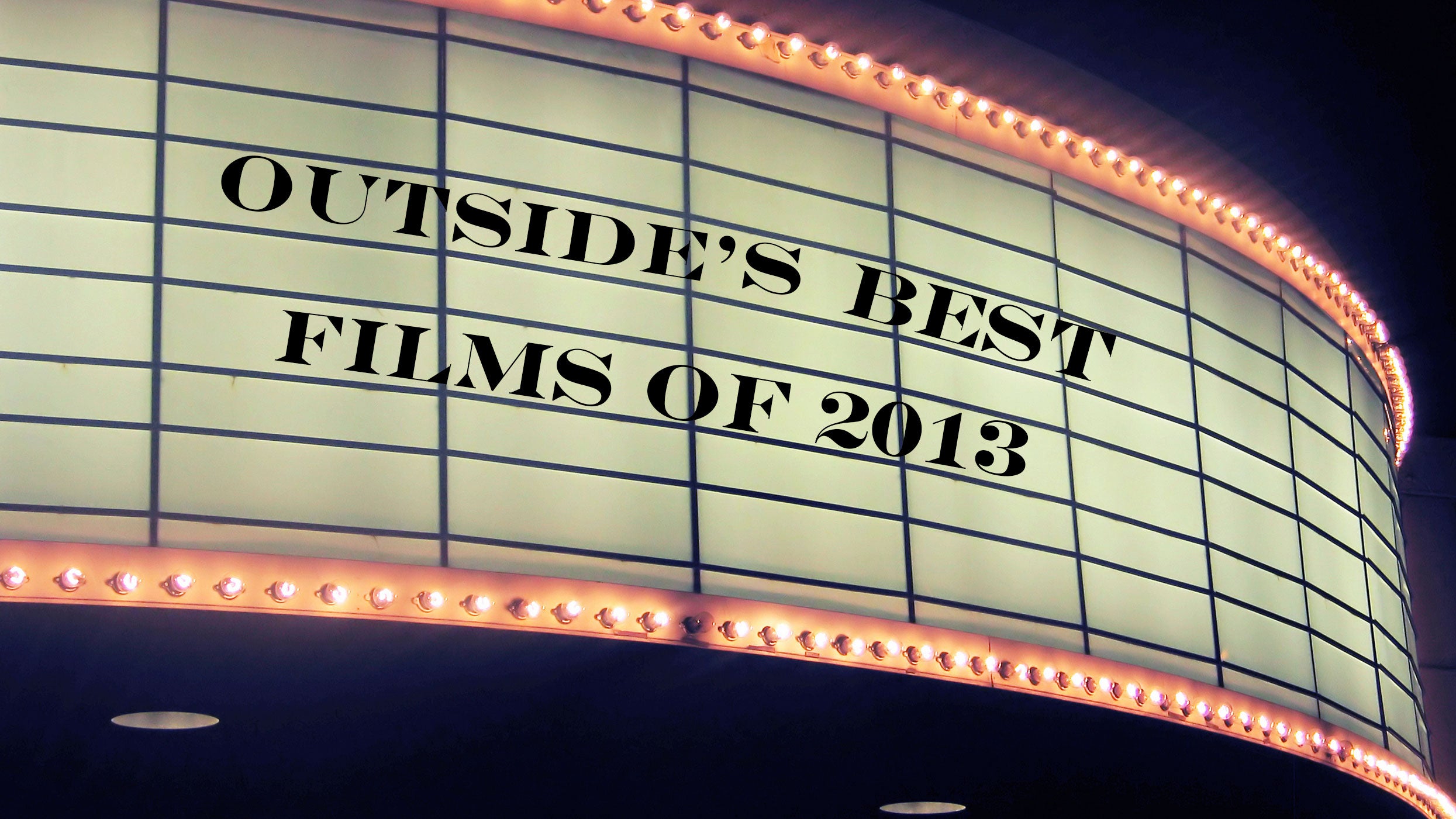 Heading out the door? Read this article on the new Outside+ app available now on iOS devices for members! Download the app.
The holidays are here, and that means one thing—lying around on the couch in a food coma, watching movies. Can't quite handle Miracle on 34th Street for the umpteenth time? Add a side dish of exploration with one of these top picks from the year in adventure films. Epic stories in exotic locations never tasted so good.  

The Crash Reel – by Lucy Walker
The Crash Reel arrives in U.S. theaters just as traumatic brain injuries and concussions rise to the forefront of the public's attention. Directed by Lucy Walker, the film is an official 2013 Sundance selection, which is a rarity for an adventure sports documentary. The movie chronicles snowboarders Kevin Pearce and Shaun White in the lead up to the 2010 Olympics. Five days before the trials, Pearce slams his head on a halfpipe, suffering severe brain trauma and flipping the script of his life. The Crash Reel emerges as one of those astonishing films in which its production value is only matched by the strength of its message.  
The movie hits U.S. and Canadian theaters on December 13. Outside will also host screenings on December 18 and 19 in Santa Fe, New Mexico.
Learn more about Kevin Pearce's story in "Some Reassembly Required," from the May 2011 issue of Outside.
Maidentrip – by Jillian Schlesinger
At age 13, Laura Dekker set out to be the youngest person to sail around the world alone. Director Jillian Schlesinger was not part of Dekker's journey, but she was able to illuminate this incredible young woman's adventure using a mixture of Dekker's footage and some of her own. Maidentrip has garnered loads of attention at almost every film festival and leaves the audience with a sense of admiration for a teenager who is more courageous than most.
Maidentrip is touring with Telluride Mountain Film.
Stand – by b4apres media and Nicolas Teichrob Photography
This film loosely tracks Norm Hann's standup paddleboard expedition along the Great Bear Rainforest, which is under threat from proposed oil projects. Stand explores the rainforest's impassioned community, specifically a group of high school students who handmake exquisite standup paddleboards to honor their ancestors and to explore their home waters while they still can.
A special cut of Stand is touring with Banff Mountain Film and DVD's are also available online.
Keeper of the Mountains – by Allison Otto
Have you ever wondered who is responsible for documenting Himalayan mountaineering feats? Turns out 89 year-old Elizabeth Hawley was sent to Kathmandu, Nepal in 1960 by the international news agency Reuters, and has been keeping records on Himalayan expeditions ever since. She has confirmed thousands of summits on Everest and its neighboring peaks, and—more importantly—isn't afraid to call BS. Keeper of the Mountains is her story.
Keeper of the Mountains is now touring with Banff Mountain Film & Telluride Mountain Film.
Supervention – by Field Productions 
At 97 minutes, Supervention is an offensively long ski movie, yet it keeps you hooked and laughing till the end. Norway-based Field Productions has steadily been on the rise for several years in the U.S. and has already cemented itself atop the European charts. This film is the product of two years of work, and it shows; it's a true ski movie packed with plenty of park and big mountain lines, plus it's consistently funny throughout. The Norwegians strike again!
Supervention is already in European theaters and is on iTunes starting December 5.
North of the Sun – by Inge Wegge & Jorn Ranum
When Norwegians Inge Wegge and Jorn Ranum set out almost two years ago to make an adventure film, they didn't know what to expect. The two young men spent $5 during nine months of filming—to buy some sugar and tea—and won more than $15,000 dollars in prizes just at the 2013 Banff Mountain Festival. This film has produced many "this is my favorite movie, like ever" quotes and for good reason. It's an inspiring journey of cold weather surfing laced with life lessons and overpowering urges to smile.
North of the Sun is available on demand through their Vimeo page and is also touring with Banff Mountain Film & Telluride Mountain Film.
Spice Girl – 
by Josh Lowell, Alex Lowther, Peter Mortimer, & Nick Rosen
Spice Girl dives into the UK climbing scene, which is the last place you'd think to find Hazel Findlay. Findlay is a blonde climbing star who is constantly raising the bar for girls around the world. At the film's crux, we watch as young Findlay becomes the first women to climb a British grade E9, which for non-climbers means impossibly hard and sketchy. The film troop of Josh Lowell, Alex Lowther, Peter Mortimer, and Nick Rosen have been leading the adventure film world for several years now, and Spice Girl shines as yet another example of their great work.
This film is a part of Reel Rock 8 and is on tour with Banff Mountain Film as well. Pete Mortimer's "High Tension" is also touring alongside "Spice Girl" and is another can't miss film of 2013.
Sufferfest –  by Cedar Wright
Sufferfest probably won't win any cinematography awards, but it is funny as hell. This film tracks Alex Honnold and Cedar Wright, two world-class climbers, on their self-inflicted and entirely human powered journey to summit every 14,000 foot peak in California. Did we mention they bike to each one? The climbing tandem is hilarious as they force themselves down the road and up the mountains. The film is a pleasure to watch and inspiring in the sense that even an Outside coverman's butt gets sore after a few days on a bike.
This short film is touring with Banff Mountain Film.
Blackfish – by Gabriela Cowperthwaite
Blackfish is one of those movies that sticks with you for a couple days—or longer. Gabriela Cowperthwaite's award-winning documentary inspired by the Outside article "Killer in the Pool" examines 39 years of killer whales in captivity, focusing extensively on Tilikum, a 12,000-pound male orca associated with the deaths of three people, including SeaWorld trainer Dawn Brancheau in 2010. The documentary also unveils the conditions at Loro Parque, a marine park in the Canary Islands, that led to the death of trainer Alexis Martínez in 2009. That story, "Blood in the Water," was also told by Outside correspondent and Blackfish Associate Producer Tim Zimmermann.
Blackfish is showing at select theaters and is available on iTunes.
The Last Great Climb – by Posing Productions
When Leo Houlding set out to climb the feared Mount Ulvetanna of Antarctica, he knew his crew needed to be hardcore, all the way down to the filmmakers. Alastair Lee, of Posing Productions, accepted the challenge to document the groundbreaking first ascent, and he came out with an award wining film. Taking home the "Best Climbing Film" at Banff this year, The Last Great Climb is unexpectedly light and funny as the climber's tasks are nothing but. The whole adventure makes you want to never leave the comforts of home but does a wonderful job of letting you feel like you're a part of their triumph.
The film is available on DVD and for HD download on December 1.
Trending on Outside Online