The Best Outdoor Books, Movies, and More of 2018
These new releases rose to the top this year on our shelves, screens, and playlists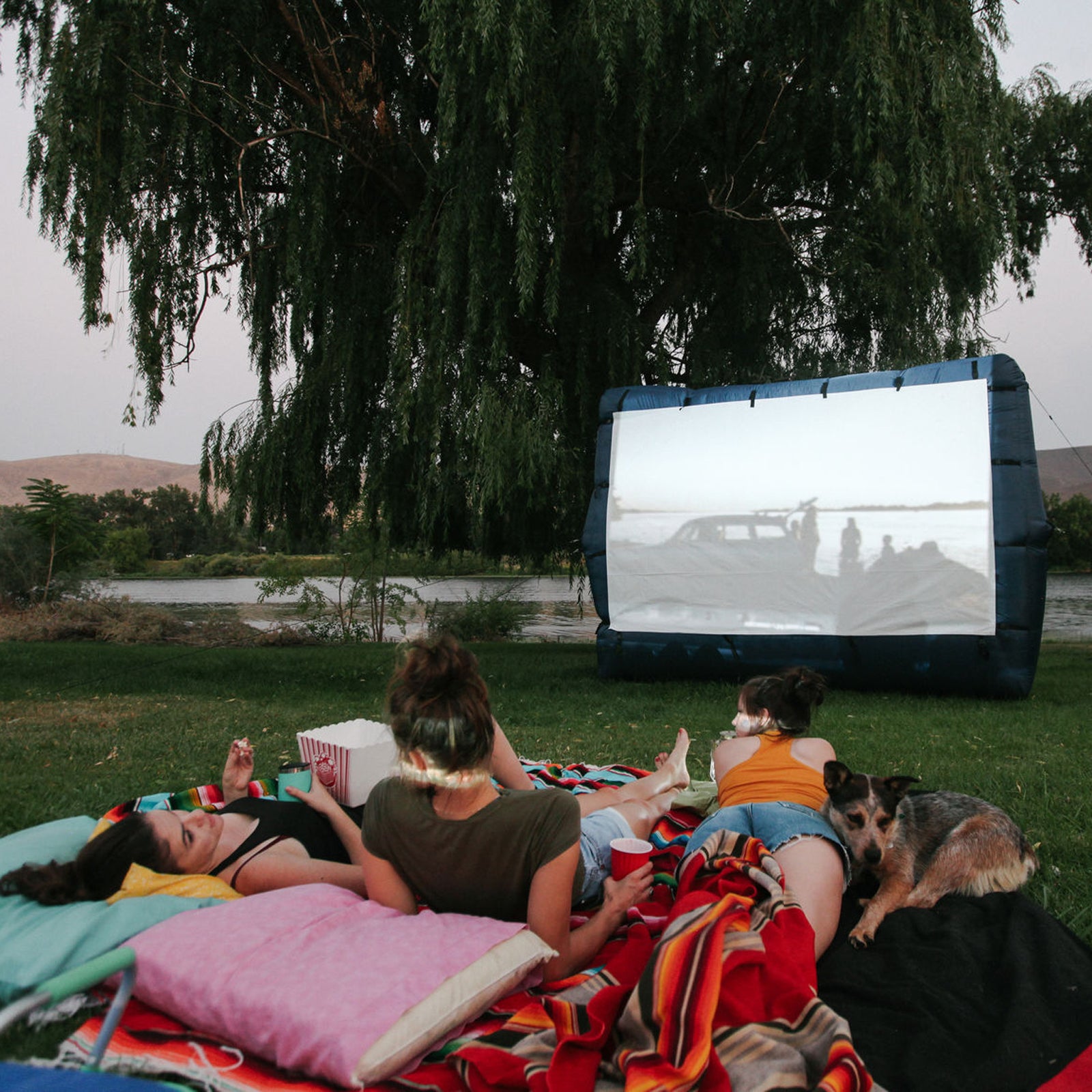 Heading out the door? Read this article on the new Outside+ app available now on iOS devices for members! Download the app.
A bright side to 2018: a lot of good art came out of the dumpster fire, including bonkers true crime books and films that make our palms sweat just thinking about them. Here are the best outdoor reads, watches, and listens, from our obvious favorites to a few that slipped past our radar.
Books
'Lands of Lost Borders' by Kate Harris
If you are here for the blend of far-flung adventure, deep observation, and all-out sufferfest, there was no better book this year than Kate Harris's Lands of Lost Borders. Her journey by bike across the Silk Road is a gorgeously written interrogation into why we crave the thrill of exploration, and what we learn from crossing borders, political or imagined.
'Northland' by Porter Fox
Speaking of borders (and occasional sufferfests), Northland examines the line between the U.S. and Canada, which gets far less attention than the shorter border to the south. He travels it by boat, foot, and road, to look at how it's shaped U.S. history, and how it's at the center of conflicts about oil pipelines and immigration.
'Florida' by Lauren Groff
Lauren Groff is incredibly good at visceral descriptions of place and in Florida, her collection of short stories that circle the weirdness and wild side of the state, the landscape is a character all its own, dangerous and unpredictable. The 11 pieces read like ghost stories, and the characters, all searching for some kind of solace, still burn after you put the book down.
'Acid West' by Joshua Wheeler
Halfway across the country, Joshua Wheeler digs into the myths and misconceptions of his home state, New Mexico, in his collection of essays, Acid West. He's fascinated with the ways that history—like the legacy of the nuclear bomb tests—doesn't go away, and, like Groff, his sharply visual prose pulls out the obsessive oddities that go on in a place people stereotype or ignore.
'Chesapeake Requiem' by Earl Swift
Chesapeake Requiem is contributor Earl Swift's look at the crab fisherman of Tangier Island, Virginia, who are losing their land thanks to what they call "erosion." It's a compelling, human-scale book about sea level rise, politics, parity, and how hard it can be to see a climate crisis, even when you're in its midst.
'Eager' by Ben Goldfarb
You'll never be able to look at streams the same way again after reading Eager, Goldfarb's deep and detailed look at how beavers, and the lack thereof after the fur trade, shaped the North American landscape. His charming, funny writing, and his eye for quirky details will turn anyone into a beaver believer.
'The Feather Thief' by Kirk Wallace Johnson
There are so many too-crazy-to-be-true layers to The Feather Thief that you'd be forgiven for thinking it was a novel. Robbery, obsession, and Charles Darwin all weave together in a true crime book for the birds. Or, at least about the birds.
'The Last Cowboys' by John Branch
New York Times sportswriter John Branch has a knack for digging into highly specific circles and cogently showing them to the outside world—he's the writer behind the Pulitzer-winning avalanche story, "Snow Fall." In The Last Cowboys he turns his undivided attention to the dominant rodeo champions of the Wright family, and digs into the narrow margin of livelihood that comes from both saddle bronc riding and ranching in the drying west.
Movies
'Free Solo' and 'The Dawn Wall' 
At this point, there's probably nothing new we can tell you about Free Solo  and The Dawn Wall, this year's blockbuster climbing films. But it's validating and invigorating to see the obsessive dedication and complex decision making that underlie big wall climbing treated with such big screen care and respect.
'Return to Mount Kennedy'
In 1965, Jim Whittaker and Bobby Kennedy were among the first people to climb Mount Kennedy in the Yukon. Fifty years later, their sons went back to the mountain to try to climb it and see what bonded their fathers together. Return to Mount Kennedy is full of beautiful shots, and a beautiful original Eddie Vedder score.
'3100: Run and Become'
It is not easy to make a long, gripping move about distance running, especially when that running happens around a New York City block, but 3100: Run and Become bucks that monotony by looking at why we run, and what we get from it.
'The Moment'
On the opposite end of the adrenaline spectrum, Darcy Turrene's thrashy, hilarious The Moment is a joyful look at the underdog scene of early days freeride mountain biking in British Columbia.
'Leave No Trace'
A father and daughter living feral in the Oregon woods jolt back to society in Leave No Trace and struggle to adapt in very different ways. The film touches on trauma, technology, and living in the shadow of our parents well-intentioned, but ultimately flawed ideal. It might make you question living off the grid.
'Maine'
In another look at idylls that might not be so idyllic after all, Maine follows two PCT thru-hikers whose trips become intertwined. And scores big points for portraying the unglamorous reality of life on the trail.
Podcasts
'Wild Thing'
Journalist Laura Krantz comes into the myth of bigfoot skeptical in Wild Thing, but in her deep dive into the legends and lore about sasquatch, the lines become fuzzier, and she starts to question her assumptions.
'The Habitat'
Once we've beaten down all the nooks of this planet, we're going to have to find another place to abuse, and The Habitat looks at how NASA is starting to explore that, by sticking a group of people in a Mars simulator. Anyone who's been tent bound for a long time will be quick to see similarities.
'Bundyville'
Leah Sotille's Bundyville podcast is fair, balanced, skeptical reporting on the Bundy family, their fight with federal land managers, and their occupation of the Malheur National Wildlife Refuge. The best parts come from Sotille's willingness to challenge her own assumptions in a situation that feels partisan and deeply divisive. It's something we could all probably do more of.
'Safety Third'
The interviews in Safety Third, hosted by Paddy O'Connell and Elizabeth Nakano, veer between fart joke level humor, and figuring-out-your-shit deep talks—exactly the kinds of conversations you'd want to have with your best friend, if your BFF was a big wave surfer, or the head of Colorado's recreation industry office.
TV
'Wild Wild Country'
In the most thought-provoking Netflix docu-series of the spring, Wild Wild Country, a guru brings his disciples to the high desert of Oregon in the early'80s, where they click and clash with the local ranchers. The conflict spills out from there, in surprising ways.
'Momentum Generation'
HBO's Momentum Generation goes deep into the world of the battles and relationships ships of the 90s surf scene that launched legends like Kelly Slater and Shane Dorian.
'Camping'
If you're into a totally different kind of infighting, HBO's Camping gets into all possible dramedy that can come from a camping trip.
Music
'Golden Hour' by Kacey Musgraves
Music isn't inherently outdoorsy, but Kasey Musgraves's Golden Hour cracked the code for road trips, campfires, and the spaces in between adventures. It's a gauzy, glittery country pop with a gritty backbone.
'Tree of Forgiveness' by John Prine
John Prine's contemplative Tree of Forgiveness, his first new album in 13 years, is classic Prine storytelling—perfect for long drives to faraway places, when you've got a lot of time to be alone with your thoughts.
"Warriors" by Karmic
On the single front, Karmic's "Warriors" is the best pump-up, pre-race, try-not-to-dance-while-you're-putting-your-ski-boots-on song of the year.
Lead Photo: Tana Teel/Stocksy