Between the Lines, January 2013
Heading out the door? Read this article on the new Outside+ app available now on iOS devices for members! Download the app.
CONTRIBUTOR: CHRISTOPHER SOLOMON
"I was raised Catholic, which might explain my masochistic streak," says contributor Christopher Solomon, who wrote "The Agony and the Heresy" about training for a marathon by following CrossFit Endurance founder Brian MacKenzie's punishing routine. "That was the hardest thing I've ever done for a story," says Solomon, 42, who lives in Seattle. While he admits that he's in the best shape of his life, he acknowledges that the program isn't for everyone—unless, he says, "running wind sprints until you puke sounds like an ideal way to spend a Tuesday night."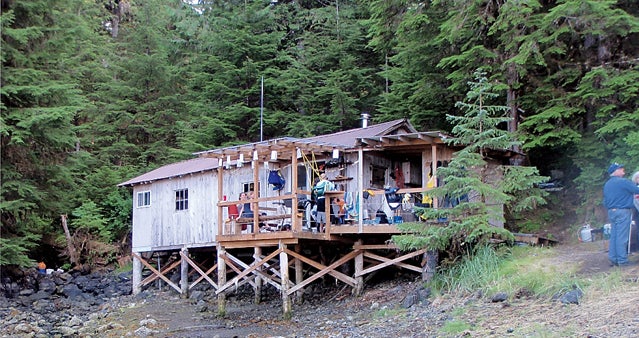 Rinella's chateau.
NOTES FROM THE FIELD
Contributor Steven Rinella loves his cabin on the edge of the Alaskan wilderness ("Dream Acres"). His wife, Katie, is less enthusiastic about the place:
"When we first met, he talked about that cabin like it was an Alaskan chateau. When I saw it, I was like, 'It's a shack in the woods.' But he loves it so much that I'll go. And I'm not a martyr. I will enjoy myself."
THE LINE: REPEATING HISTORY
In "Going Old School," Nick Davidson writes about Australian adventurer Tim Jarvis' plan to replicate Ernest Shackelton's 1916 epic, in which the Briton famously rowed a lifeboat 800 miles across Antarctica's Southern Ocean, then traversed South Georgia Island to save his crew. So where does Jarvis' trip fall on the scale of historical legitimacy?
From costume party to time machine
2004-06: A troupe reenacts Lewis and Clark's park across the U.S., stopping at visitor centers and writing journals in the voice of the characters they play.
2006: English and Norwegian teams mimic the Scott vs. Amundsen race to the South Pole—in Greenland.
2006: Thor Heyerdahl's grandson, Olav, sails the Pacific with a crew of six in a balsa raft to replicate the 1947 Kon-Tiki voyage. They bring a satellite phone.
2013: Jarvis plays Shackelton, using vintage gear and a replica lifeboat. But his team carries a beacon, and the craft is followed by a chase boat.
2007: Leo Holding and Conrad Anker climb Everest in the same gear Georgy Mallory and Sandy Irvine wore: hobnail boots, tweed jackets, and gabardine pants.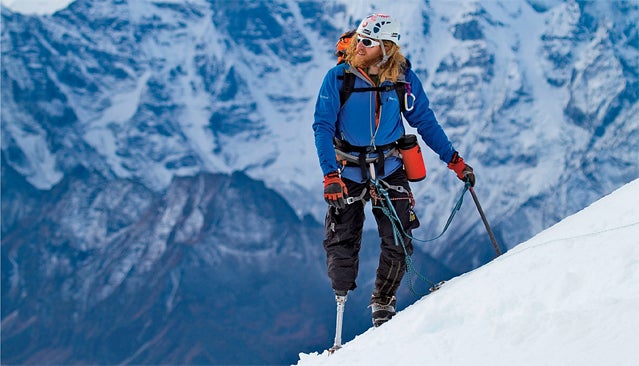 A wounded veteran in High Ground.
OUTSIDE ADVENTURE FILM SCHOOL
Take field courses with three-time Emmy-winning director Michael Brown this summer, fall, and winter in Jackson, Wyoming; Vail, Colorado; and Sandpoint, Idaho. Brown's latest feature, High Ground, the story of wounded veterans climbing Nepal's 20,075-foot Mount Lobuche, was cowritten by contributor Brian Mockenhaupt (read his profile of sports psychologist Michael Gervais, "Get Your Head in the Game") and shot by students during a film-school session.
BY THE NUMBERS: THE JANUARY ISSUE
252: Hours photographer Dan Winters and his crew spent constructing the sets used for the opening shots of "The Agony and the Heresy," "Stravalocity," and "Get Your Head in the Game."
7,121: Miles contributing editor Tom Vanderbilt racked up in Strava while reporting "Stravalocity," about how the social-fitness phenomenon is changing the way cyclists ride.
108: Combined days Frederick Reimers and Stephen Regenold tested winter jackets to select their seven favorites ("Warming Agents"). Check out our ratings of nearly 100 more at outsideonline.com/outdoor-gear.
NOT SAFE FOR WORK
To report "Bull Shot," about the long buildup to—and extensive logistics behind—Felix Baumgartner's 128,100-foot skydive, associate editor Ryan Krogh rolled out of bed at 2 a.m. and spent 12 hours at misson control in the New Mexico desert. Luckily, Red Bull made sure Krogh and the 74 other journalists on site were highly stimulated. Here's a snapshot of Krogh's intake:
3: Cups of coffee (before 6 a.m.)
7: Cans of Red Bull
1: Glasses of mission-control champagne (sipped while newspaper reporters rushed to meet deadlines)
1,000+: Milligrams of caffeine—five times the recommended daily limit
Trending on Outside Online