What We Think About When We're Swimming
In an excerpt from her new book 'Why We Swim,' Bonnie Tsui explores the ways that immersion can radically shift our perspective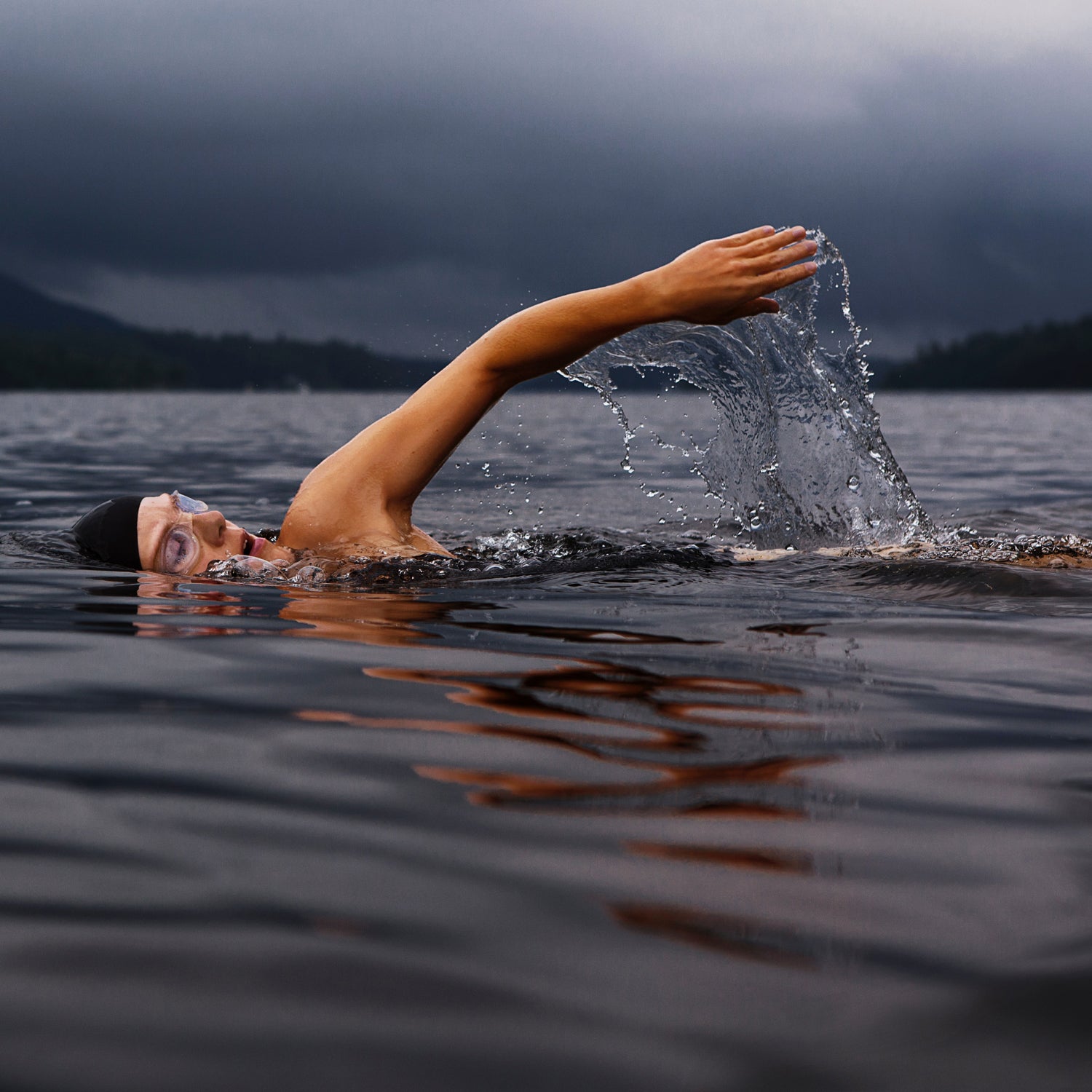 Todd Quackenbush/Unsplash(Photo)
Heading out the door? Read this article on the new Outside+ app available now on iOS devices for members! Download the app.
Most days, if I'm not in the ocean for a surf at first light, I get into the neighborhood pool by 8:30 A.M. Even when there's frost on the ground, the water is warm. Unless you're the lifeguard, blowing the whistle when you want me to get out, I don't know you exist. For 60 blessed minutes and 3,200 yards, I'm my only audience. In a pool there's nothing much to look at once the goggles fog over. I have spit and sprayed all manner of antifog fixes into them, and none has kept the mist from creeping up on my vision like cataracts. But I'm OK with that. Sound? The sloshing of water pretty much cancels out everything else. Taste and smell are largely of the chlorine and salt variety—though, at my old pool, I used to smell burgers cooking from the café downstairs. Nowadays I get whiffs of eggs and hash browns from the high school cafeteria next door. Despite all the tech advances of the last few years, you won't see many swimmers wearing earphones or bone-conduction music devices: they just don't work that well.
Submersion creates internal quiet, too. Sometimes swimming to blankness is the goal. We enter the meditative state induced by counting laps and observe the subtle play of light as the sun moves across the lanes. We slip from thought to thought, and then there's a momentary nothingness. In that brief interlude, we are entirely liberated from the weight of thinking. When he was a child, Michael Phelps was diagnosed with ADHD; back then, the pool was his "safe haven," in part, he says, because "being in the pool slowed down my mind." More recently, in retirement, away from the stress of competition, he has talked about the pool as a place of sanctuary and renewed mental health.
What do we think about when we're swimming? Unlike land-based exercise, swimming requires submersion and that characteristic isolation. But isolation in this context is a rare blessing. In the always connected modern age, the medium represents a means of disappearing. Each pool is in fact a potential portal.
In John Cheever's 1964 short story "The Swimmer," Neddy Merrill swims home through the backyard pools of his suburban neighbors. To get there, he must navigate the parties and social merriment surrounding every body of water. At one stop, Neddy "stood by the bar for a moment, anxious not to get stuck in any conversation that would delay his voyage. When he seemed about to be surrounded he dove in and swam." Water, then, is a bubble in which all social pressure is easily eluded.
Jay Taylor, who spent two years teaching swim lessons in a combat zone in Baghdad, tells me that a long swim leaves his mind calm, collected, and organized in a way that other sports don't.
"It's hard to leave the pool angry about something," he says. "It doesn't lend itself to that." As the world, with its escalating rings and pings, gets ever more hysterical, suspending yourself in water becomes ever more appealing.
Sometimes swimming is a wormhole through which to escape the grinding machinery of everyday life. I get in a lake and swim away, as far as I can. When I get far enough away, literally and figuratively, I know it, because I find I want to go back. It's an exercise in thresholds. How much I can take, how much distance I need, how far I can get from shore before I feel afraid, at what point I desire to return to land. I brew and brood over things that seem to be of consequence, but by the end of a swim, the water has washed much of that away. I come out with my mood and mental clarity improved by a minimum of 48 percent.
"Theories and stories would construct themselves in my mind as I swam to and fro, or round and round Lake Jeff," Oliver Sacks wrote in "Water Babies," one of my favorite essays of all time. Five hundred lengths in a pool were never boring or monotonous; instead, Sacks said, "Swimming gave me a sort of joy, a sense of well-being so extreme that it became at times a sort of ecstasy." The body is engaged in full physical movement, but the mind itself floats, untethered. Beyond this, he added, "there is all the symbolism of swimming—its imaginative resonances, its mythic potentials." Echoes of Lord Byron.
One recent weekday morning at the pool, I watch an eight-year-old boy and his teenage sister swim their laps beside me. The boy shivers on land, lips blue and knees knocking. But when he hits the water, he is confident, focused, as fluent in the medium as a seal. For a little while, there is just a boy in his buoyancy.
This is not to say that swimmers find it easy to be Zen masters. Bill Clinton once told PBS that he and Hillary swim together every afternoon; if either dares to mention a political topic during the course of their swim, he said, "We will stop the other one."
I ask Dara Torres, the 12-time Olympic medalist who has amassed countless training hours for her five Games, what she thinks about when she's swimming. "I'm always doing five things at once," she tells me by phone (at the time, she was driving a car). "So when I get in the water, I think about all the things that I have to do. But sometimes I go into a state—I don't really think about anything." The important thing, she says, is that the time is yours. "You can use it for anything. It depends where your head is at—it's a reflection of where you are."
The reflection of where you are: in essence, a status update to you and only you. And the experience is egalitarian. You don't have to be a great swimmer to appreciate the benefits of sensory solitude and the equilibrium the water can bring.
People often tell me about their swimming habits—for example, how, when they visit or move to a new city, the first thing they do is account for all the pools and open water. It's a way to get to know a place. It's how they map out unfamiliar geographies and make them their own.
When I was growing up, my father told me about Hainan Island, the "Chinese Hawaii," perched on the South China Sea. To the Chinese, Hainan has always had a romantic, frontier air about it. As the southernmost point in China, it is the only tropical island, and it served for centuries as a place of exile for poets and politicos. To my father, a Hong Kong–born painter who divorced my mother and left New York to go back and live in China, it was a dream of a place, a palm-fringed paradise that represented the ideal inspiration for him.
There was a time in my early thirties when I hadn't seen my father in three years. One morning I took a deep breath and called him up. My work would take me to Hainan that year. "Come swimming again," I said, my stomach full of butterflies. "Come meet me in the South China Sea." And he did.
The island was in the midst of a development boom, but still we were able to walk on stretches of empty white beach, with spearmint waves lapping the shores, and take drives to the rural inner parts of the island. A Chinese acquaintance back home wrote out a traditional poem for me from memory, a long verse with many characters about Hainan's famously striking landscape. "Hainan is very beautiful," he'd said. "I've never been there, but I learned about it in school." I brought the poem with me, which my friend had written in Chinese, and asked my father to translate it for me when we were in Hainan. The island's legendary mist-clad cliffs and coastlines, straight out of the old calligraphy scrolls and paintings, came to life.
I tried to forget that, as a child, my father was a daily constant in my life. Once, when I was 12, he told me I was his best friend. It hurt to remember that; as an adult, I saw him only every year or two. The first time I insisted on visiting him in China—on my way back from that college semester abroad in Australia—I screamed and cried at him, not for leaving my mother but for the way he did it. There was no swimming on that trip, but there was a pool's worth of tears.
On Hainan Island, we came together in a truce. The trip was a pilgrimage for me, to a new, more forgiving place. I coaxed him into accompanying me on a swim. He, a former lifeguard, could not remember the last time he went swimming. His butterfly wasn't half bad. The air was humid. The water was warm, enveloping, a balm. He looked happy. As I floated on my back and stared at that cloud-streaked sky over the South China Sea, I felt that I was, too.
Franz Kafka observed that "the truth is always an abyss. One must—as in a swimming pool—dare to dive from the quivering springboard of trivial everyday experience and sink into the depths, in order later to rise again—laughing and fighting for breath—to the now doubly illuminated surface of things." We dare to jump so we can see something new. And sometimes we do it to recover a sense of what we once had.
From Why We Swim by Bonnie Tsui ©2020 by Bonnie Tsui. Reprinted by permission of Algonquin Books of Chapel Hill. All rights reserved.
Lead Photo: Todd Quackenbush/Unsplash
Trending on Outside Online