Checking In with Skier Chris Davenport
Heading out the door? Read this article on the new Outside+ app available now on iOS devices for members! Download the app.
                                                            Chris Davenport, Mike Arzt
To say that ski mountaineer Chris Davenport stayed busy in 2010, would be an understatement. He came out with a new book (Fifty Classic Ski Descents of North America), guided in Indonesia, and flew off on expeditions to dream ski destinations in places like Chile and Antarctica—all while tweeting the entire time (@steepskiing). Greg Fitzsimmons checks in with the Red Bull sponsored athlete on the highlights of this year and what's next for 2011.
Yo, Dav. How are things going?
Hey, Greg. I am on cloud nine right now; things are great. I just got back from a month of skiing in Chile to my favorite time of year in Aspen. I already have some skiing under my belt, I've been on my bike, my kids are back in school, and so we have a good routine.
Good to hear. First, how was last season for you?
Wow, I had a really busy year of travel. I think I was on the road 170 days.
What were some highlights?
It started out in the late fall when I did a trip to Indonesia to guide a climb on Carstensz Pyramid, which is one of the seven summits. I had never been to Indonesia before. I came back from [Indo], packed up and left for Antarctica. The Antarctica trip was one I had been working on for almost a year. When we finally flew down to Ushuaia, Argentina and walked up on the dock to see the sailboat we were going to be on for the next month I just rubbed my hands together and was like, "Okay, this is going to be cool." We had 18 days of skiing on the Antarctic Peninsula. I had been there before, but it is by far one of the world's most beautiful and inspiring skiing destinations. I could go into the ski season like: "Alright I've done these amazing things already" and it was nice to have something in the can like that.
After spending time with my family, taking my kids to ski races, enjoying the amazing skiing we have here in Aspen in late December and January, I crammed the SIA show, X Games, and Powder Awards into a week period. With the SIA Show, we were launching my new Kastle ski, the Chris Davenport FX-94, and so I was working a lot with media to blow that ski up.
Then, right after that, I flew up to Whistler in the first week of February for the Olympics. I was up there for the entire month working as the host alpine ski-racing announcer. I think I did 15 races or something like that. I had two weeks home in March after the Olympics and then I went up to Alaska with Warren Miller Films, Chugach Powder Guides, and my partner Stian Hagen.
From AK, I was home for two days and then flew out to California to meet up with another partner of mine, photographer Christian Pondella. Our goal was to continue a project I started the year before skiing all of California's fourteeners. I showed up in California and we just started sending, going up and down, up and down up these mountains.
I was home for a bit after California before heading up to Canada the last week of April with my good friend and partner Art Burrows. He and I worked on Ski the 14ers together and he's one of the guys with whom I am working on a new book project.  We went to Golden, BC to do some recon for the upcoming book: 50 Classic Ski Descents of North America.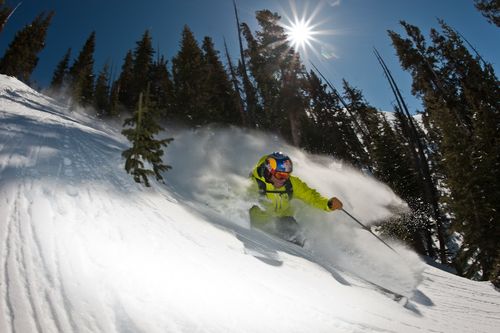 Chris Davenport Skiing, Mike Arzt
We [Chris Davneport and his partners Penn Newhard and Art Burrows] were editing everyday in May, June, and July—compiling the writing, collecting thousands of images and figuring out what fit where, and what the list of 50 was actually going to be. By the time the end of July came around, the book was pretty much finished in terms of the structure of it all and I was able to take off for a month in Chile.
Then I got to spend a month in Chile: a week with fam, a week with my Ski with the Superstars camp, and then the whole Spyder team and Warren Miller Film crew came to Portillo.
Now, here we sit: September in Aspen. I think, in general, it was a very, very good year.
Well, it goes without saying, that it was a full calendar that you put in.
Yeah, my schedule is varied which I like. The thing I like most about my calendar is that it's dynamic. I like being involved in as many aspects of the ski business as I can. I'm in "the business of fun;" that's what I call it.
That's something I wanted to touch on, too. Because I think you set the bar in terms of the scope of your career. So many skiers get stuck in a niche, you know? Like, this guy's a park skier or this guy's a big-mountain skier. Did you set out to try and cover a lot of bases in your ski career or has it evolved into that over time?
I think it's a little bit of both. I grew up in a ski area, my dad was involved at a ski area, and my first job was summer trail crew at a ski area. I just knew that this was a cool industry and something that I wanted to be involved with. I had no idea it would evolve into me being a pro skier.
But, then, throughout my career which has been pretty long, and it's as good and successful now has it's ever been, I've had to evolve to stay current. When I first worked at Snowmass in the race department we had to tell skiers they could not go in the halfpipe. It was snowboarding only. Within a few years there was this massive explosion of terrain parks and park skiing happened and now we've got a lot of young skiers on their teens making crazy amounts of money and having careers.
But they're going to run into an issue, because terrain park skiing is very gymnastic and you can't do that when you're 30 or 40. Maybe you can do it, but you can't do it at a high level, not when there are kids that are 15 and 16 and can do more than you. So, I think we're going to see a lot in the future of athletes having to really reinvent themselves. You see a lot of guys like Tanner talking about taking it to the backcountry; well, there's a lot more to it, it's not just about skiing at different places and getting out of the terrain park. It's evolving your whole career and making it a business more than anything… It's the business of fun, once again.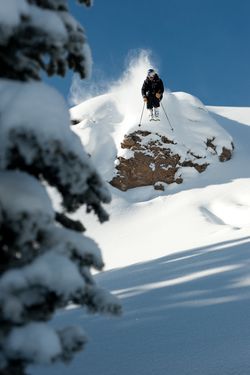 Tell us about the Chris Davenport pro model from Kastle? What's the ski made for and what are your favorite features about the FX-94? Where will this ski perform best?
Kastle wanted to make a ski for me, and I wanted to create a ski that was perfect for ski mountaineering, the type of skiing I'm doing a lot of these days. And of course I ski on fat skis and skis made for hard snow, I like to mix it up depending on the snow conditions, that's the great thing about skiing nowadays: There's a ski for every condition. Whereas when we were growing up, you just had one pair of skis and you used them all the time. People still do that, but more and more you're hearing about people's quiver that that develop over time. So, when there's deep pow they bring out their 128s and when it's icy, hardpack they'll bring out their 88s (or whatever).
The FX-94 is 94 mm in the waist and comes in a 166, 176, 186 cm. It's super light, we have a proprietary technology that still has 2 sheets of metal in there, but they are thinner than what anyone else uses, and so it gives the ski a real high-performance feel but you still can also go uphill for 7, 8, 9,000 feet and it's not going to tear your legs off. I think it's a wonderful ski, and based on the success we've had this year with orders we're actually going to do an FX-104 that we're going to show this winter that I think is going to be amazing as well.
Unreal…
Yeah, you know not that long ago people used to think that something in the mid-90s [underfoot], like the Pocket Rocket, was a fat ski. Nowadays that's very mid-fat and with the advances in technology, shapes, and radiuses you can carve down a groomer beautifully on a ski that's 104 in the waist and it still floats really well. It's an exciting time at Kastle. The designers there and people in the company totally believe in what I'm doing, and I can't think of a better partner for what I have going on in the sport of skiing right now.
Lastly, what's coming up? What do you have lined up? What are you excited about? And what's on the calendar for next year?
The beginning of the season is really busy with promotion stuff for the book and the films. I have the documentary on the Antarctica trip ("Australis: An Antarctic Ski Odyssey"), the book (50 Classic Ski Descents of North America), I'm also in the new Warren Miller movie with the Alaska segment called "Wintervention," and I'm also in the new film from The Ski Channel's which is called "The Story."
Beyond that, we're launching the new Spyder collection this winter (called White Spyder), so there will be a lot of work with blowing that up and making sure that people know t about what I think is the best apparel for backcountry skiing and ski mountaineering. In terms of ski projects, I only have two fourteeners left in California, neither was in condition when I was out there last year and I am really excited to finish those off. And it's a little up in the air, but there's a chance that I'll be guiding a client on Everest this spring.
And then, postscript, you mentioned going to Bali. We joke that every pro skier secretly wants to be a surfer, did you get in the water and paddle out at all while in Indo? 
I did surf in Bali. I surfed at Uluwatu, Legian, and Kuta Beach. It was amazing. I mean I'm not a great surfer, but I can paddle in and stand up for a little while before eating shit. Bali was awesome, everybody's heard of it, and it was great to visit one of the world's great surf locations and see part of the world that certainly wasn't on top of the list.
Trending on Outside Online