Burnout
A new memoir from a fire lookout makes a convincing case for quitting your job.
Heading out the door? Read this article on the new Outside+ app available now on iOS devices for members! Download the app.
ABOUT A DECADE AGO, Philip Connors toiled as a copy editor at The Wall Street Journal. The environment did not suit him. "Maybe it was a case of egocentricity, but I discovered I had things to say that could not be said in the pages of a daily newspaper," he writes in Fire Season: Field Notes from a Wilderness Lookout (Ecco, $25). "Plus, when the weather cooperates, I prefer to work shirtless." In the summer of 2002, Connors visited a friend employed as a fire lookout in New Mexico's Gila National Forest. One taste of the life was enough: in the tradition of Gary Snyder and Jack Kerouac, Connors quit his Journal post and joined the thinning ranks of "freaks on the peaks," spending the next eight summers scanning for "a smoke"—lookout-speak for the first tendrils of fire. Fire Season is full of things that cannot be said in a newspaper, about solitude, pleasure, the mendacity of trail signs, and the usefulness of naps. It's full of wry wisdom and humor, as well as love for the Gila's "20,000 square miles of cruel and magnificent country," and contains perhaps literature's first description of fire as an endangered species.
In short, it's one of the best books to come out of a government gig since Ed Abbey turned a ranger's wage into Desert Solitaire. Writing in beautifully spare language at an essayist's pace, Connors considers topics ranging from U.S. fire policy to Kerouac's stint on Washington's Desolation Peak to the necessity of a hobby (his is Frisbee golf). By the end, he almost had us convinced that we too could love the life of the lookout—and not go batshit crazy. "Time spent being a lookout isn't spent at all," he writes. "Every day in a lookout is a day not subtracted from the sum of one's life."
Powerful Stuff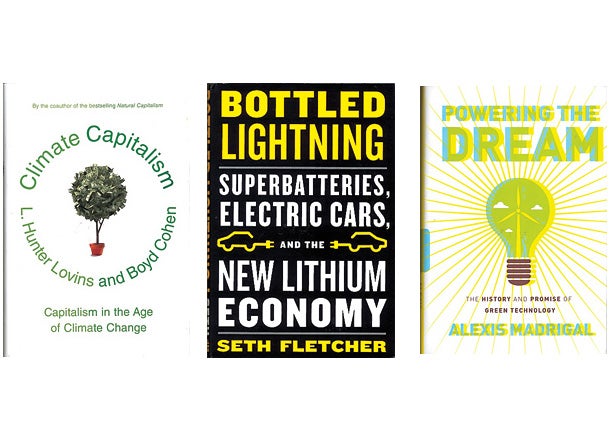 Hope sells, or at least publishers and politicians often bet that it will, and this month three new works face down the energy crisis with something that approximates optimism. In Climate Capitalism: Capitalism in the Age of Climate Change (Hill and Wang, $26), eco-icon L. Hunter Lovins and carbon-offset executive Boyd Cohen make the case that with entrepreneurs creating profits from things like home insulation and biofuels, global warming can be defeated by the free market. It's cheery stuff, but one has to wonder: What happens when corporations—say, Monsanto, which is developing drought-resistant corn—see an upside to climate change? Popular Science editor Seth Fletcher's Bottled Lightning: Superbatteries, Electric Cars, and the New Lithium Economy (Hill and Wang, $26) is a more rewarding read. As he traces the lithium battery from 18th-century Italy to the laboratories of 1970s Exxon (Exxon!) to modern Detroit to the salt flats of Bolivia, Fletcher provides a history of the tech that could fuel a green uprising among automakers. He also puts to bed the myth that "peak lithium" is as great a threat to the new economy as peak oil is to the old. But better batteries won't be enough to charge the future, argues Alexis Madrigal in the beautifully wrought Powering the Dream: the History and Promise of Green Technology (Da Capo, $28). With an eye to misfires in America's past, including the electric carriages and solar water heaters of the early 20th century—failures that were more sociological than technological—he astutely points to what it might take: technocrats wise enough to see that we need to reinvent not just our technology but our relationship with it.
By Our Contributors
Edward Hoagland Sex and the River Styx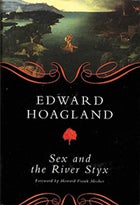 In the essay collection
Sex and the River Styx
, Edward Hoagland considers the gifts afforded him by a lifelong stutter (among them, a late sexual prime), Africa's ability to halt the aging process, and, in a story that first appeared in
Outside
, the mysticism of the Indian state of Arunachal Pradesh (Chelsea Green Publishing, $28).