The Daily Rally
Anna Wilder Burns Can Turn Rejection into Revival
When college gymnast was cut from her dream sport, she was still determined to be the hardest worker in the room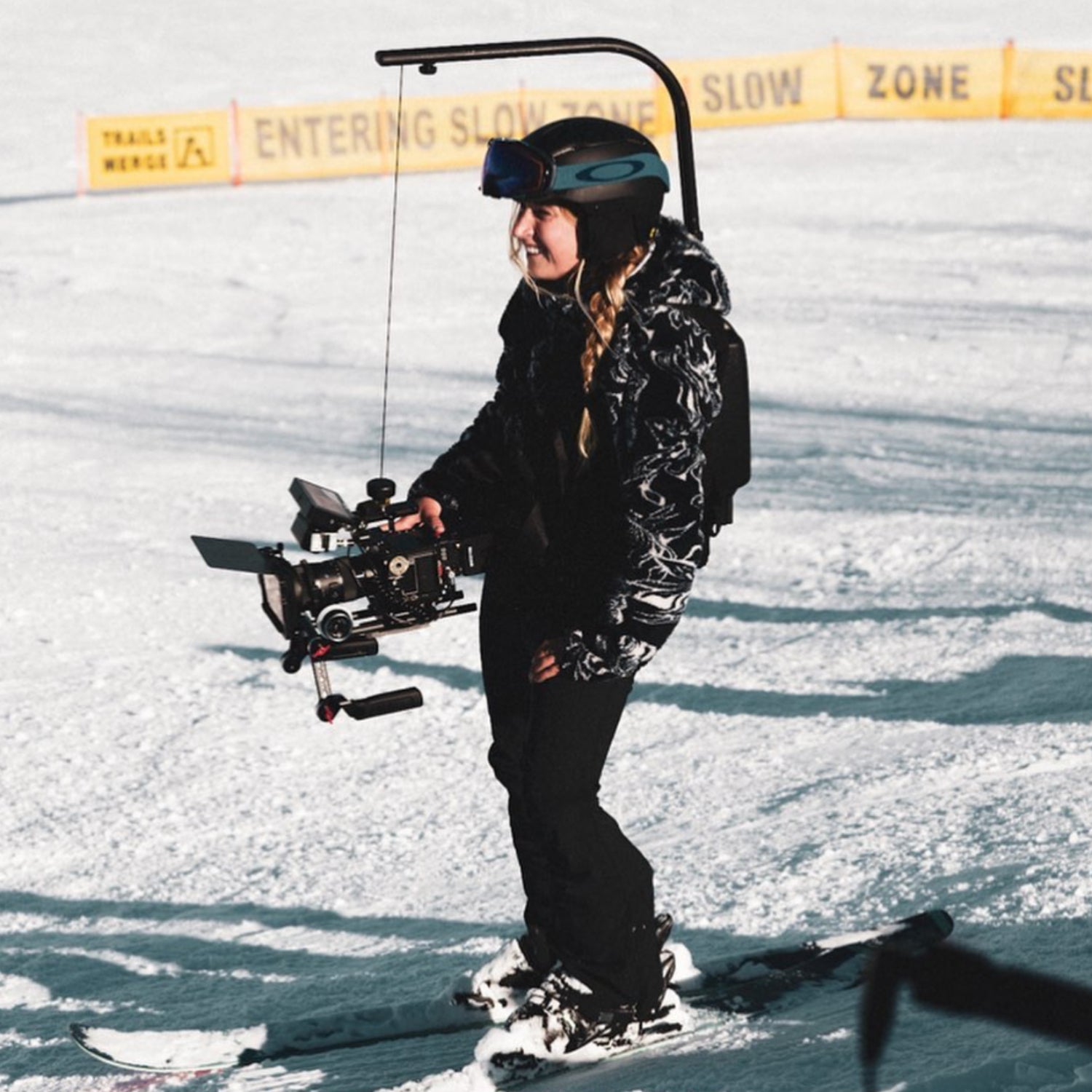 Anna Wilder Burns
Heading out the door? Read this article on the new Outside+ app available now on iOS devices for members! Download the app.
Anna Wilder Burns told her story to producer Cat Jaffee for an episode of The Daily Rally podcast. It has been edited for length and clarity.
My heart just dropped and I was like, "Oh shit. No, no, no, no." I could kind of tell it was about to happen, but I didn't wanna believe it. I thought I was doing well. I was always the hardest worker in the room, I was like, Control what you can control. You can control the fact that like no one can deny the fact that you want it more than anybody else, and that you're more passionate about this sport than anybody else. This was my entire life and identity.
I'm a filmmaker and photographer, a former-athlete-turned-creative. I like finding people in the world who don't know how cool they are, and I like showing them through film and photo.
I'm 25. I'm a little bit blunt, and I have that kind of East Coast salt.
I grew up in Maine. I was a very outdoorsy kid. But I also was a very, very, very serious gymnast. I trained for five hours a day, five days a week, getting out of school at 3:00 PM, quick sandwich in the car, practice from 3:30 PM to 8:30 PM. Go home, do homework, go to bed, do it all the next day. My dream was to do college gymnastics. I started gymnastics a little bit late, and moved through it really quickly, and so I caught the attention of some schools, but I definitely wasn't at the caliber that I would need to be to step on the floor my freshman year and compete.
But, I wanted to try anyway. I thought I got a walk-on spot at the University of New Hampshire, and worked my little booty off. I got there on day two, I was, first of all, a nervous wreck obviously. I had practiced one time, they had seen me do stuff one time. And at the beginning of practice, all the girls were all warming up, and I get pulled out of the running line and they're like, "Anna, can we come meet you with you in the hallway?"
I'll never forget how ruthless this was. They pulled me into this side of the gym where everyone could still see me and them. And they told me, "We're so sorry, but we just can't have you on. You're just not there." And then I just remember my ears ringing, like full panic attack, burst into tears, begging, "Can I just try, can I train on my own? I won't even train with the team. I'll do anything. I don't wanna lose this. I am a gymnast. This is all I know."
The coach was just like, "No, sorry. No, no, no." Gave me a hug at the end. I was like, Not only did you just cut me, but you decided to do it in front of everybody. Why not just call me to your office three hours ago and make this way less traumatic?
So I called my mom. She drove right down and picked me up and I went home. This is my second day of freshman year of college. I'm literally on my couch at home wondering, What the hell am I gonna do?
I ended up deciding to say, "Screw you" to those coaches and see if I could train on my own and get to where I need to be to then re-tryout in the Spring. But in the meantime, it was really hard socially because obviously when you're a D-1 athlete, your team is your family on campus. And so I really wanted to still be involved with the team, especially if I was gonna be on it hopefully the next year. So funny enough, I used to make these GoPro videos of my friends, doing gymnastics, kind of like a ski edit. So I made gymnastics edits, and one of them ended up going semi-viral on YouTube. My Olympian heroes shared it, and so seniors on my team saw that video and were like, "Wait, can you make videos for the team?"
I was like, Well, yeah, I know how to edit a video. And I had just gotten a camera that could record video and not just photo. And so a week after I had gotten cut from the team, I was at the first like exhibition of the gymnastics team at my school filming.
Other teams started to notice, the soccer team would be like, "Anna, can you come to our game and film our game and make a highlight video?" And I was like, "Sure, yeah." It was so much fun. I was meeting all these people, making friends, still training. As time went on, I just started to burn out. I was tired. I wasn't eating enough, wasn't fueling my body correctly, and I kind of knew that it was over. I went and had a final meeting with the UNH coaches to be like, "Maybe I impressed you enough with my work ethic and the fact that I did this all year, that you give me a chance." And they said, "You know what? No."
At that time, the video side was rising, and I was hoping maybe I could turn this into something. I got an email from the school diving coach. "Hey, we've taught a gymnast how to dive before. We heard you're kind of done, if you don't wanna not be an athlete, do you want a spot?" And I was like, Oh, I've never jumped off a diving board in my life.
Learning to dive was a much less intense training schedule, but still D-1. And because of the fact that I was still in the athletic department, meeting all my athlete friends, and had a less intense training schedule, my sophomore, junior, and senior year I got to do a lot more video work. I got an internship with the athletic department. They let me go and film all these games, and get paid $7 an hour, and make edits. Getting the chances to play with cameras in college, low-stakes, and just tell stories of my fellow athletes, led me to where I am now.
I remember vividly saying, "I don't wanna not be a gymnast anymore. What? How can I not be a gymnast anymore?" And I think it takes a lot of time to find that, it's not gonna be an immediate thing. It took me a full year to really accept that there were more sides of me. I wish kids knew this more, that if you're a serious athlete, there's so much more to you, and there's so much more that the world needs from you than flipping on a four-inch beam.
Anna Wilder Burns is an award-winning cinematographer, director, and photographer. She combines her passions for the outdoors and athletics to tell inspiring stories spanning adventure, conservation and sports. She's the director of the 2023 film To Be Frank. To learn more about Anna, visit annawilderburns.com.
You can follow The Daily Rally on Spotify, Apple Podcasts, or wherever you like to listen. Subscribe to our newsletter and nominate someone to be featured on the show.
Lead Photo: Anna Wilder Burns