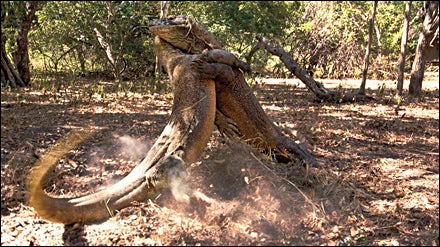 Heading out the door? Read this article on the new Outside+ app available now on iOS devices for members! Download the app.
Discovery's Life Series
Ever since Discovery's Planet Earth shattered cable viewing records, producers have been scrambling to cash in on the public's rekindled affection for wildlife television. First came Disney's Disneynature brand, which borrowed Planet Earth footage and called its big-screen production Earth. Now, on March 21, Discovery returns with Life, an 11-episode series narrated by Oprah Winfrey and, like Planet Earth, co-produced by the BBC. Whereas Planet Earth broke down the globe by ecosystem, each Life episode focuses on a different animal group. But as with Planet Earth, the real wonder is how the hell they got those images. We decided to find out.
SCENE: KOMODO DRAGONS HUNTING
LOCATION: RINCA ISLAND, INDONESIA
CAMERAMAN: KEVIN FLAY, 51
"We wanted to film a dragon hunt, which had never been done. We went in the dry season, when there was one good watering hole left on the island. We knew the buffalo needed to go there. From the ranger station to the hole, it was a 3.5-mile hike with a 70-pound camera. At noon, the buffaloes would come to the watering hole. For days the dragons showed no interest. On the sixth day a buffalo walked toward me, flicking blood over its back with its tail. Within minutes, dragons were walking toward it. The next day we got our first bite. Then we decided to follow the buffalo with the bitten leg. Five days after the bite, the wound opened, swelled, and festered. The buffalo would be limping with five dragons following. It became upsetting. We'd gotten to know that buffalo. One day a big dragon bit it three times. It happened in fading light and we had to leave. We hardly slept that night and ran up the hill at sunrise. The buffalo had died. There were nine dragons ripping it to pieces. They ate everything but the bones and walked away with their bellies rubbing the ground."
: Bird Mating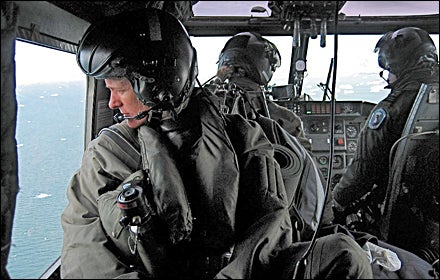 SCENE: VOGELKOP BOWERBIRDS MATING
LOCATION: PAPUA NEW GUINEA
CAMERAMAN: BARRIE BRITTON, 47
"We were on the Vogelkop Peninsula, on the western end of New Guinea. It was a three-day hike to our camp in the cloud­forest. Bowerbirds are small, drab birds famous for building huts and collecting ornaments to adorn them. The first time I saw one of their bowers, I thought it was made by humans. It looks like a thatched hut three feet high and three feet wide. The tricky thing was figuring out which bower to concentrate on. Two looked impressive. One bird had orange flowers, berries, and fungi. The other guy had red flowers, black fungus, this huge pile of deer droppings. I concentrated on the orange bower. My colleague waited with the guy with the red flowers. The day we switched, my colleague saw birds mating at the orange bower! Thereafter I waited at the bower with orange flowers ten hours a day. In our last week a female came down and the male ran inside and hid. He started singing this amazing song, using the bower to amplify the sound. She came in. When she was ready, he came out with his wings spread, like Dracula, and mated with her."
: Whales In Heat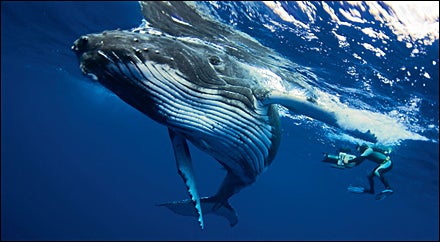 SCENE: HUMPBACK WHALES IN HEAT
LOCATION: OFF THE VAVA'U GROUP, TONGA
CAMERAMAN: ROGER MUNNS, 34
"Tonga is one of the few places where you can get in the water with humpbacks. The caveat is that you can't scuba-dive; the bubbles disturb the whales. We'd go out each day in a small boat and try to spot a blow on the surface. I'd sit with my camera for ten hours. We were trying to film the heat run, when several males chase a female. After two weeks we got lucky, spotted a huge heat run heading offshore. They're moving fast. You try to get ahead, then you drop in the water quietly, freedive down, and wait for the whales—ten amorous, 50-ton males barreling toward a lucky female. It's a shallow dive, about 35 feet. From the moment they come into visibility, you have about 15 seconds to film. Four or five steamed past, and I was running out of air. I started to come up and then saw there was one more coming. You never want to see something like that blocking your way to the surface."