Documentary Film Gear: What You Need
Heading out the door? Read this article on the new Outside+ app available now on iOS devices for members! Download the app.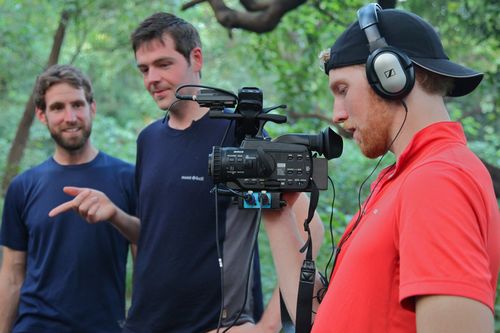 You don't need van-loads of equipment to make a documentary. People all over the world are making pro-quality feature-length films out of their backpacks for relatively little cost.
I've been working in India as a cameraman, filming for a project that will trace the length of The Ganges River. It's a light and fast operation. We have two directors, a translator, and only the gear we can fit in our backpacks. Last week we were filming up in the Himalayas in below- freezing temperatures.  We're in Haridwar now, shopping for a rickshaw to pedal down to Kanpur, and it's 85 degrees and humid. We need to be ready for anything, and able to capture everything.
Basically, all you really need are a couple low-profile, light-weight cameras that can shoot 1080x1920p HD video, and the audio hook-ups to bring the video to life.
Here are the essentials:
1 Canon EOS 5D Mark II with an EF 24-105mm lens and LCDVF Viewfinder (The SLR body makes this a great undercover-camera. You just look like another tourist snapping stills, but you're really shooting 1080x1920p HD video. The eyepiece is key for maintaining the focus, which is often a bit tricky.)
1 Panasonic AG-HMC40P Video Camera (Simple to use with awesome auto functions. It's light, and shoots 1080x1920p. Best of all: it's relatively cheap.)
2 GoPro Helmet HERO HD Cameras and waterproof casings (I'm in love with these little guys. They shoot surprisingly good video in well-lighted situations, and you can huck 'em down a class V rapid and not worry about it!)
1 13" MacBook Pro with Final Cut Studio 2 (It's great to be able to review your footage in the field. Final Cut allows us to even edit short videos to update our blog as we go along.)
1 BeachTek XLR-Mini adapter (Key for attaching pro-audio to cams with only mini-inputs)

Spare Batteries

1 UV Filter (To protect the lens, mostly)

1 Polarizing Filter (To capture true-color while shooting outside, it's worth the $55)

2 Terabyte Lacie Hard Drives (One is just a clone for redundancy)
2 Sennheiser Shotgun Microphones (Perfect for run-and gun shooting.)
2 Sennheiser Wireless Microphones (Because sometimes you just don't want to hear what's going on in the background.)
1 pair of Sennheiser Headphones (A must for any cameraman serious about quality audio.)
Dave Costello is a former Outside Intern. Follow his crew's blog here.  You can also check out his photo- gallery on Climbing In Yosemite at Outside Online.
Trending on Outside Online