Katie Burrell's 'Dream Job' Pokes Fun at Ski Tropes
The comedian's takedown of ski-industry tropes has become a runaway hit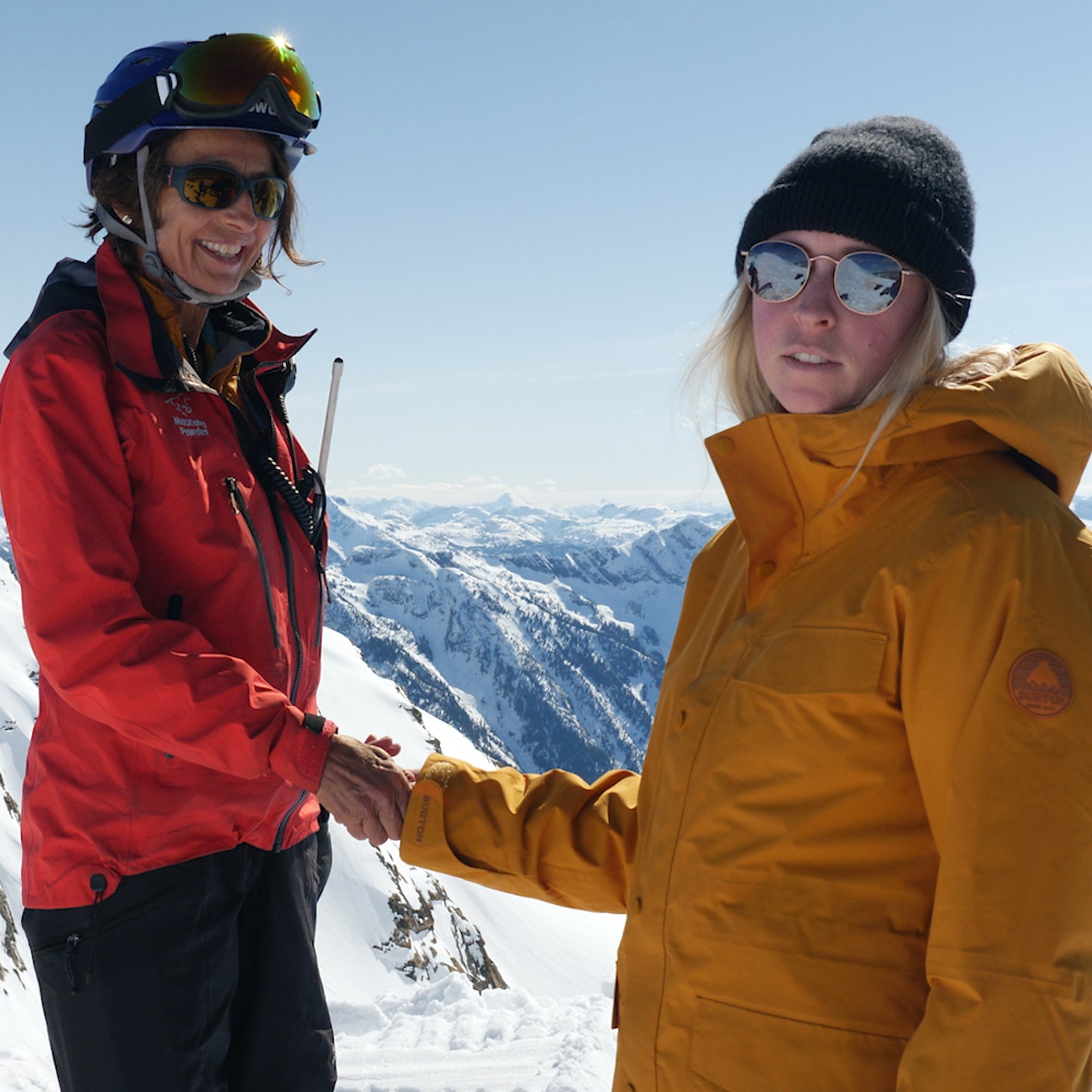 Heading out the door? Read this article on the new Outside+ app available now on iOS devices for members! Download the app.
If you're a skier who identifies as female—or a human who has a sense of humor—there's something deeply satisfying about watching a ski flick where women are the main characters. Bonus points if those characters are not afraid to rip into each other.
Dream Job, a new short film by comedian Katie Burrell, offers exactly that. In the movie, which is available on YouTube, Burrell shadows three athletes while trying to ditch a marketing job for one as a pro skier. "How hard could it be?" she asks as she falls out of a snowcat in the opening scene.
The comedian's misadventures continue through the 15-minute film. She coaches a day of skiing with Leah Evans, founder of Girls Do Ski; follows big-mountain athlete Christina Lustenberger to a steep backcountry couloir; and shadows Diny Harrison, the first internationally certified female mountain guide from Canada ("a guide but, like, a cool one, not one with a soul patch," as Burrell puts it). Burrell finds that professional ski jobs are, in fact, much harder than Instagram and other social-promo videos make them seem.
Burrell, a self-proclaimed "slashy" (actor/director/comedian), gained acclaim with Influencer, a spoof web series about a female Instagram star and a scientist who studies her. She says she made Dream Job because she was sick of the flattened, humorless depiction of women in skiing. She knew athletes like Lustenberger were frustrated with the formulaic way they had to tell their stories: by portraying themselves or other women as either babes or raging badasses, while stripping out the more funny, human elements of their work.
The irreverent mirror that Dream Job turned to audiences—and the ski industry at large—clearly hit a nerve. Burrell says she and producing partner Colleen Gentemann were blown away by the response when they first posted a trailer in August. "Right away people went batshit," she says. "CBC Comedy called, it took on its own life, and we just kind of watched it in awe."
So far, Dream Job has won a handful of awards, including Best Action Sports Documentary at the Kendal Mountain Festival in November. It was nominated for Movie of the Year at the Powder Awards that same month.
Dream Job could easily be an empowerment puff piece, a one-note celebration of lady bosses. But in Burrell's hands, audiences get a more subtle look at the hard work behind the immaculate-seeming facades of ski-industry darlings. Dream Job makes a case that a tidy, made-for-social-media image of smiling girls skiing pretty lines is much less interesting—and far less funny—than Harrison telling dirty jokes while she guns a snowmobile. 
Burrell, ripping cigarettes and loudly fumbling through the mountains, plays foil to the more docile performance of femininity that's generally expected of female skiers. She's a blunt-edged ham in contrast to the good humor and grace of the other women in the film. She gets outskied by Evans's students. She calls a helicopter when she gets scared at the top of the chute Lustenberger takes her to ("I love a cliff band after a couloir," Burrell deadpans at the top). As she bumbles through a day's work with her female skiing heroes, Burrell underscores how absurdly hard it is to do things that appear effortless for them—and how absurd it is that performing effortlessness is an unwritten part of their job description, too. 
Dream Job is about women doing their jobs, and doing them well, with Burrell taking the piss out of everyone in the process. Burrell and Gentemann wanted to create something that made viewers laugh (and felt the too cool ski industry could stand to be laughed at a little). They also wanted the film to have a comic edge, to cut through the stereotypes that make professional skiers feel like they have to be pitch-perfect all the time.
"There's so much posturing in this life, can we just fricking chill out?" Burrell says. "Settle down, let's have a laugh. This is supposed to be fun."
Lead Photo: Courtesy Katie Burrell