Here's Every Movie in Which Dwayne Johnson Walks into a Jungle
We can't get enough of The Rock glistening and swinging machetes in a tropical forest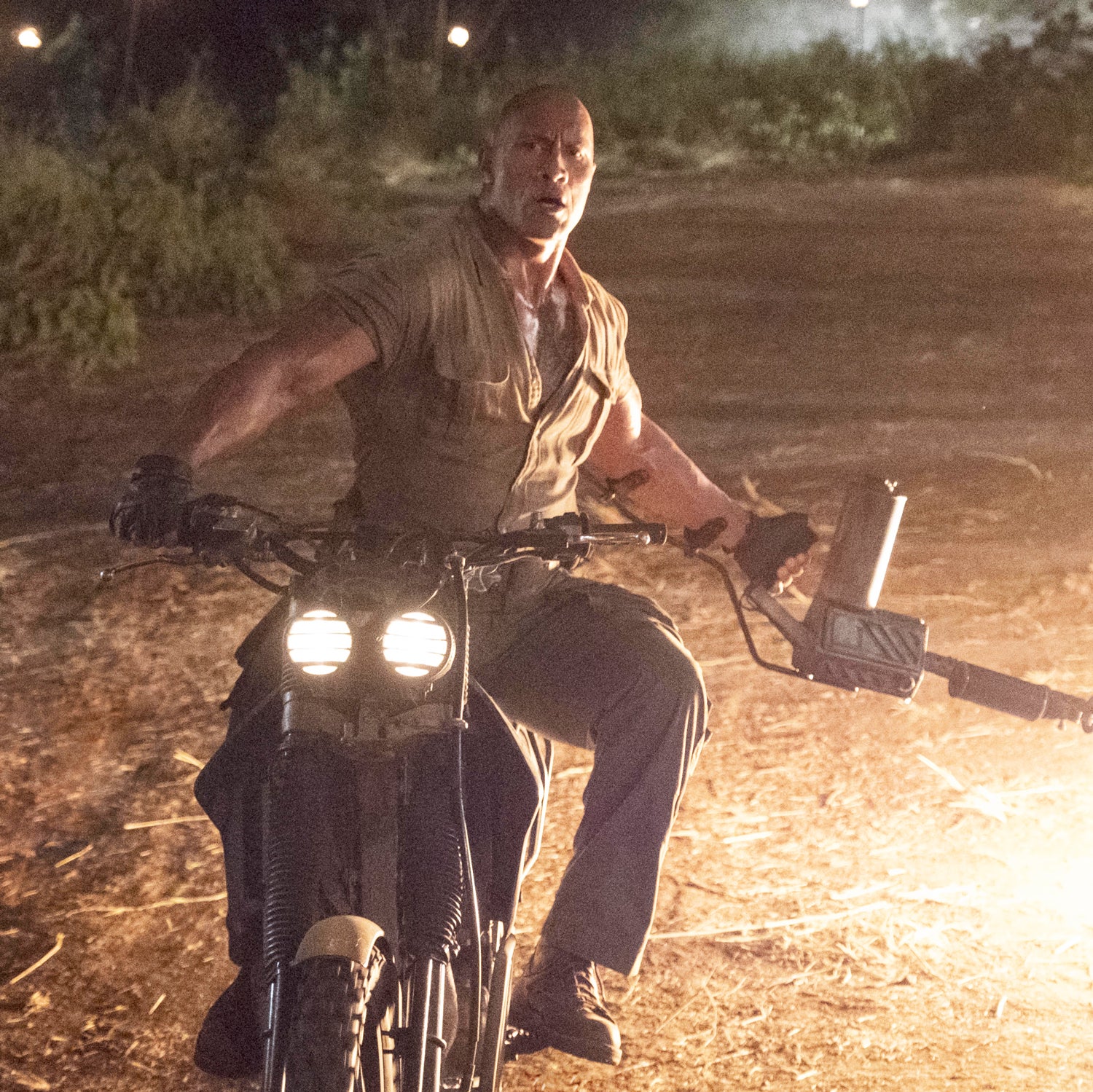 PictureLux/The Hollywood Archive/Alamy
Heading out the door? Read this article on the new Outside+ app available now on iOS devices for members! Download the app.
When I was laid up with COVID-19 earlier this summer (a two-week period that I like to call "Netflix and ill"), I noticed something: Dwayne "The Rock" Johnson appears in a lot of jungle-themed movies. They're almost a natural habitat for his typical on-screen personas: he swings machetes, he fights dangerous wildlife, he raises one eyebrow very high and makes deadpan jokes while he sweats and glistens. In fact, of the 44 feature-length films in which he is listed as an actor on his IMDb page, I identified nine that involve a jungle. Even assuming I haven't missed any, that's more than 20 percent!
There was only one thing to do next: watch every one of them. Here they all are, assessed for both their overall jungle-y-ness and the sheer charm of their muscled megastar:
The Rundown (2003)
These were the early days of Johnson's movie career, when he was still officially performing as "The Rock" and the world was just starting to realize how funny and charming the wrestling star could be on a big screen. In The Rundown, he plays a bounty hunter sent by a wealthy client to retrieve his wayward son (Seann William Scott, still in his post-American Pie heyday) from a gold-mining town in the Amazon. There are fights and jokes and lots of sweaty jungle scenery. Along the way, our hero takes notes on local recipes, hoping to open a restaurant when he finally quits the bounty hunting business. But the lighthearted buddy-action vibes sometimes sit awkwardly alongside a genuinely bleak and brutal storyline about the mine owner who controls and exploits the area.
Jungle Cred: 5/5
Dwayne "The Rock" Johnson Charm Factor: 5/5
Journey 2: The Mysterious Island (2012)
Unless you have kids or are particularly into Jules Verne, this sequel to the 2008 Brendan Fraser film, Journey to the Center of the Earth, may have passed you by. Our hero plays Hank, stepdad to angsty teenage Verne-obsessive Sean (a baby-faced, pre-Hunger Games Josh Hutcherson). The pair journey to Palau, first, and then on to a, uh, mysterious island (Hawaii stands in for both), where big animals are tiny and small animals have grown large. The plot details don't bear thinking too hard about, but Johnson is endearing as the stepfather working hard to earn a teen's approval. Witness him offering valuable life advice about the "pec pop of love," a scene that I'm sure helped seal his win for "favorite male buttkicker" at the Kids' Choice Awards in 2013. Bonus: he sings in this one.
Jungle Cred: 3/5
Dwayne "The Rock" Johnson Charm Factor: 5/5
Moana (2016)
Admittedly, Moana is more an ocean story than a jungle story, and Johnson's character, the roguish demi-god Maui, never sets foot on the lushly forested tropical island of Motunui that Moana is trying to save. But this is a great movie, and The Rock is great in it. If you haven't watched it in a while, watch it again. You're welcome.
Jungle Cred: 2/5
Dwayne "The Rock" Johnson Charm Factor: 5/5
Jumanji: Welcome to the Jungle (2017)
Solidarity to all my fellow millennials who were mildly traumatized by the original 1995 film, but I promise the 2017 iteration is much less sinister. Updated for the video game era, it involves four high-schoolers who get sucked into an old gaming console, where they drop into new bodies and become their Jumanji-world avatars. They are led by The Rock (who makes the most of the joke that his body is now inhabited by an asthmatic nerd), along with Jack Black, Kevin Hart, and the very funny Karen Gillan. To win and escape the game, they have to navigate a jungle (once again, Hawaii gets tapped for set duty) full of threatening wildlife and retrieve a gem from a bad guy. I had low expectations for a reboot, but the movie is really pretty sweet and a lot of fun.
Jungle Cred: 4/5
Dwayne "The Rock" Johnson Charm Factor: 5/5
Rampage (2018)
A science experiment goes very wrong, and a wolf, a crocodile, and a gorilla—who happens to be The Rock's best friend—are transformed by CRISPR gene editing into super-sized super-predators. Somehow this movie manages to be utterly absurd and kind of upsetting (if you love animals) at the same time. The only jungle is a manmade one at the San Diego wildlife sanctuary where George, the gorilla, lives. But The Rock's love for George feels pure and real.
Jungle Cred: 0/5
Dwayne "The Rock" Johnson Charm Factor: 5/5
Fast & Furious Presents: Hobbs & Shaw (2019)
If you haven't followed the F&F saga, some necessary backstory: in Fast 5, Luke Hobbs (The Rock) was introduced as a federal agent chasing our very fast and very furious gang of heroes through the favelas of Brazil before eventually becoming a reluctant ally. Furious 7 brought us Jason Statham as Deckard Shaw—a serious baddie who, by F8, had also kind of come around. In this spinoff from the main series, they both move to center stage. Most of the story takes place in Europe, but eventually, the characters are forced to flee to Hobbs's homeland of Samoa (where Johnson's family is actually from, though Hawaii plays Samoa here). And although technically the grassy area where The Rock makes his final stand—gathering his brothers and friends against the invading techno-baddies—looks to my untrained eye more like Hawaiian tropical low shrublands than Samoan tropical moist forests, it's at least jungle-adjacent. We're counting it.
Jungle Cred: 1/5
Dwayne "The Rock" Johnson Charm Factor: 5/5
Jumanji: The Next Level (2019)
Dr. Smolder Bravestone is back—and, OK, true, the gang leaves the jungle behind after only a few minutes to battle wildlife and steal a gem from a bad guy in a desert this time (plot twist!). But, again, the movie is a pleasant surprise, funnier and sweeter than any sequel to a reboot has a right to be.
Jungle Cred: 1/5
Dwayne "The Rock" Johnson Charm Factor: 5/5
Red Notice (2021)
The Rock is an FBI profiler, Ryan Reynolds is an art thief, Gal Gadot is also an art thief, and this action-heist-comedy about their convoluted plotting against each other is one part Ocean's Twelve, one part Indiana Jones and the Raiders of the Lost Ark, one part Mission: Impossible—Ghost Protocol, and one part Fast 5. If that sounds like too many flavors to you, well, you might be onto something. But it's worth watching just to see Johnson and Reynolds play the odd couple—Reynolds does his Deadpool nonstop banter thing, while The Rock is his straight man, and somehow keeps a straight face. Jungle-wise, there's an early scene on Bali, with visible tropical foliage, and a later one in the Argentinian jungle that is a bit more substantial: people swing machetes and sweat.
Jungle Cred: 2/5
Dwayne "The Rock" Johnson Charm Factor: 5/5
Jungle Cruise (2021)
Adapted from the vintage Disneyland ride of the same name, Jungle Cruise features Emily Blunt as an adventure-seeker in World War One-era London, hoping to travel to the Amazon to locate the mythical "Tears of the Moon," a flower that cures all sickness. Her eventual riverboat captain? The Rock. Trying to turn any amusement park ride, let alone one that's known for its racist caricatures of Indigenous people, into a compelling movie is a challenge—and the meta approach the filmmakers take to addressing that history doesn't always land. But Blunt and Johnson have real chemistry, great actors like Paul Giamatti and Jesse Plemons have fun with the secondary characters, and that alone is almost enough to float the boat along.
Jungle Cred: 4/5
Dwayne "The Rock" Johnson Charm Factor: 5/5
Lead Photo: PictureLux/The Hollywood Archive/Alamy