In 'Edge of the Unknown,' Jimmy Chin Goes Beyond the Instagram Wins and Fails of Elite Athletes
A new National Geographic series streaming on Disney+ features everyone from Conrad Anker to Justine Dupont going deep about their most pivotal close calls and mistakes
Heading out the door? Read this article on the new Outside+ app available now on iOS devices for members! Download the app.
In 2018, when Free Solo was busy breaking box office records and blowing minds, Jimmy Chin—who shot the film and directed it with his wife and collaborator Elizabeth "Chai" Vasarhelyi—was getting the same question a lot: How was Alex Honnold not paralyzed by fear as he clung to the face of El Capitan without a rope? Some wondered aloud if he wasn't simply fearless.
Before becoming an Oscar-winning filmmaker, Chin enjoyed a decades-long career as an alpinist, rock climber, backcountry skier, and photographer. He knew the answer to the question was that fear is ever-present for those who risk it all in the most dramatic and merciless of environments. However, that was difficult to explain in passing conversation given where most of us get our outdoor adventure content now. Those minute-long videos on social media deliver the adrenaline and triumph, but aren't nearly long or nuanced enough to capture the will and craft that enables the best of the best to commune with their fear, and put it all on the line regardless.
Chin and Vasarhelyi's new National Geographic series Edge of the Unknown with Jimmy Chin—their first foray into television, which premiered on Disney+ last week—is the piercing of that veil. "It's a series that I've always wanted to make to give people a sense of what it means to be a truly elite athlete in this realm," said Chin during an interview ahead of the show's release. "The level of passion and commitment, the purpose and meaning the sports give to each of these individuals. Because ultimately, they're all seeking this kind of transcendent experience, but there are two sides to that."
Edge of the Unknown is all about that B-side. In each of the ten episodes (which were released all at once), Chin and Vasarhelyi train their lens on one or a small group of elite athletes, but dispense with their greatest triumphs in favor of their most spectacular failures and near-misses. Polar bears and crocodiles attack. Bones are broken. Minds are scrambled. Hearts stop beating.
Some athletes are more famous than others. Most people reading this will know snowboarder Travis Rice, big wave surfer Justine Dupont, big mountain skier Angel Collinson, ice and rock climber Will Gadd, and legendary alpinist Conrad Anker. Honnold is there too. But so is the big-drop kayaker Gerd Serrasolses, and the young polar explorers Sarah and Eric McNair Landry.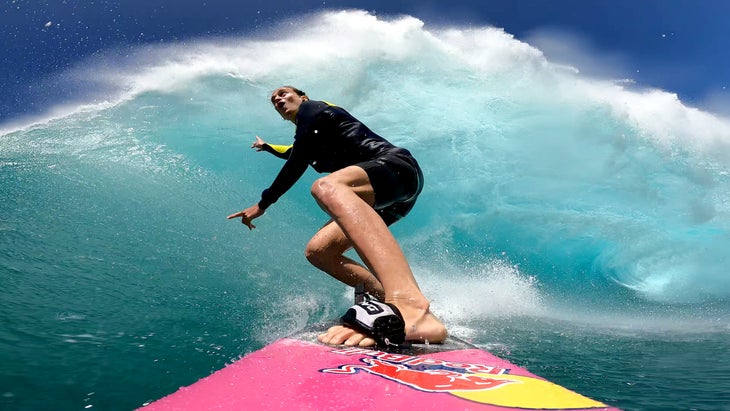 If you've seen 2015's Meru—a chronicle of Chin, Anker, and photographer Renan Ozturk's first ascent up the Shark's Fin on Mount Meru in the Indian Himalayas—you will recall that Chin once had a terrifying near miss himself, walking away from an avalanche that on film looked impossible to survive. Chin delves much deeper into that story for episode eight of the series, which is aptly named "Live Another Day."
The interviews are intimate and often emotional. This is in part because when adventure athletes speak on camera to Jimmy Chin about their darkest moments, they trust him. "I feel like my understanding of what these athletes go through is a bit more acute than for someone who's trying to tell the story from the outside," says Chin. "I think they trusted us with these stories because they knew that we'd be sensitive and sensible about the telling."
None of these stories are especially new. If you've been an Outside reader for as long as I have (or even half that long), watching this show is like paging through the back issues. There are moments when it feels as though Chin is repurposing material from his archives (didn't we see Honnold climbing in Morocco in Free Solo?), however the intent here is not to simply satisfy core fans, but to entertain a more mainstream audience who won't know or care. Plus, the stories are instant classics; human dramas that keep you riveted, and stimulate your own thirst for adventure. Not because the athletes appear fearless or invulnerable, but because you see them as survivors. They aren't social media avatars. They are unvarnished human beings, unnerved, and inches from death. And yet, they emerge touched but not undone by what they've been through.
"They live with deep intention," Chin says. "That's the other thing I think that people don't necessarily understand about these athletes. They live with the deepest intention because their lives are at stake in what they do. They have to decide every day and every moment to pursue it."
Lead Photo: Courtesy Gerd Serrasolses