The Epic Failures of Ambition
Two adventure masterpieces revisit epic failures of ambition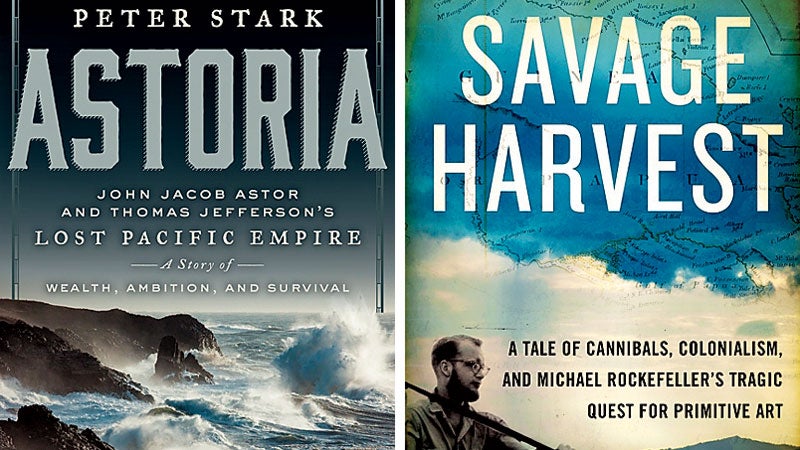 Heading out the door? Read this article on the new Outside+ app available now on iOS devices for members! Download the app.
The reliably volatile mashup of American hubris and untrammeled wilderness has kept adventure writers on the bestseller list for decades. As two excellent new nonfiction works by Outside contributors demonstrate, the formula is as bankable as ever. Peter Stark's Astoria: Astor and Jefferson's Lost Pacific Empire ($27, Ecco) chronicles John Jacob Astor's plan to monopolize the global fur trade in 1810, when he launched an elaborate scheme that, Stark writes, "would probably dwarf even the largest mergers of our era." It all hinged on establishing a trading post at the mouth of the Columbia River, where Astor sent two expeditions: one by sea and the other overland, on the route established two years earlier by Lewis and Clark. Astor was a poor judge of leaders, and both parties were almost comically doomed from the beginning. "Americans love heroes and winners," writes Stark, explaining why the remarkable story has been lost to history. "In Astoria, there are few clear-cut winners and no unblemished heroes." Indeed. The seagoing vessel Tonquin, led by Captain Jonathan Thorn, was in a state of near mutiny for its entire voyage. Then a group of raiding Native Americans came aboard, and somebody lit a fuse, incinerating the vessel in a cloud of gunpowder sure to get Michael Bay's attention. The overland voyage, led by a Jersey boy named Wilson Price Hunt, hardly fared better. But with so much infighting, paranoia, double-crossing, madness, and starvation, the two expeditions supply plenty of action to fuel Stark's dueling narratives.
In Savage Harvest: A Tale of Cannibals, Colonialism, and Michael Rockefeller's Tragic Quest for Primitive Art ($27, William Morrow), Carl Hoffman reexamines the final days of New York governor Nelson Rockefeller's 23-year-old son Michael, who was on an expedition to collect primitive art in New Guinea in 1961 when his catamaran capsized. Rockefeller disappeared while attempting a 12-mile swim to shore, leaving behind one of the modern era's great unsolved mysteries. Had he drowned? Was he eaten by sharks? Or was he consumed by the local Asmat, known cannibals who made their home in the region's labyrinth of coastal rivers?
The answer, according to Hoffman's exhaustive and utterly convincing research: (C) Cannibals. I'm not spoiling anything; Hoffman gives away this plot twist on page ten, describing Rockefeller's demise at the hands of a tribesman in jarring detail: "Fin made a deep cut from Michael's anus to his neck." Smart move. By dispatching with the gruesome ending early on, Hoffman makes room to unspool the more remarkable tale at the heart of the book: his own obsessive quest to discover the truth.
The journey starts in the Netherlands—New Guinea was in part a Dutch-colony—where Hoffman unearths documents that detail Asmat accounts of Rockefeller's killing at the hands of men from the village of Otsjanep. The reports were initially covered up by Dutch officials trying to avoid international scandal. He also reveals a motive: in 1958, a violent raid by Dutch government commander Max Lapré killed five Otsjanep villagers. In a culture where headhunting was the primary means for restoring spiritual balance, Rockefeller's killing four years later, writes Hoffman,"fit tightly and seamlessly into Asmat cultural logic."
To prove it, Hoffman needs a confession or physical evidence, so he heads to Otsja-nep in early 2012. His first trip is a disaster. When he brazenly offers $1,000—a fortune in Asmat—for Rockefeller's glasses, men come forward with "a pair of 1990s-style wrap-around sunglasses." Fortunately, he's his own toughest critic. "I'd been guilty of the same sins for which I was critical of Michael," Hoffman writes, "assuming I was so important that I could pepper them with questions and out would pour their deepest secrets." Humbled, he goes back home, learns their language, and returns nearly a year later to live among the locals and gain their trust. If I told you the stunning way that Rockefeller's fate was finally revealed, well, then I really would be spoiling the book.