Everest Climbers in Flight
When a Sherpa and a native Nepali paraglided off of Mount Everest in 2011, they flew into history. Now a new book chronicles their extraordinary journey.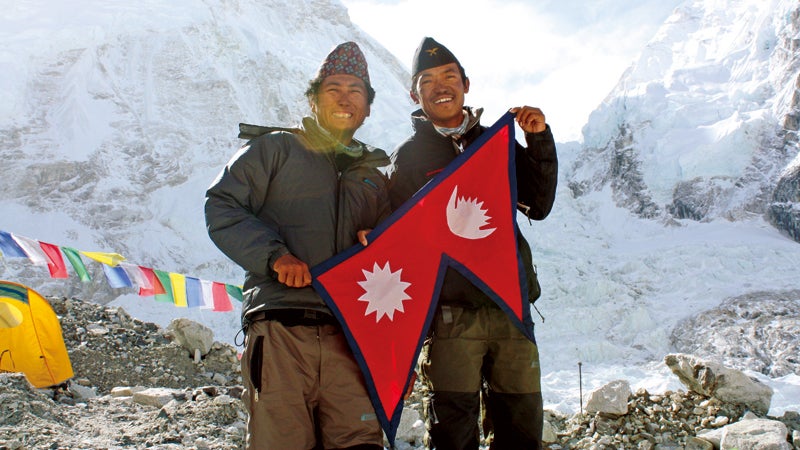 Heading out the door? Read this article on the new Outside+ app available now on iOS devices for members! Download the app.
It's typically Western climbers who grab the spotlight when performing stunts on Mount Everest (see: Ogwyn, Joby). So it may be no surprise that when, in 2011, two native Nepalis stood near Everest's summit, preparing to tandem paraglide from the top, just the start of an audacious 400-mile adventure—and hardly anyone paid attention. Except, that is, for writer Dave Costello, whose new book, Flying Off Everest: A Journey from the Summit to the Sea, recounts the incredible journey of Sano Babu Sunuwar and Lakpa Tsheri Sherpa. We recently caught up with Costello to hear more about their story.
OUTSIDE: Lakpa recounts his vision of flying over Everest. What did it mean?
COSTELLO: The simple answer is that it shows that Lakpa had dreamt about this—this literally was a dream of his to fly above Everest. Of course you can read into that more: [Lakpa and Babu] wanting to go higher than the mountain, sort of be above this thing that they're working on, but the idea of conquering the mountain was not in their minds.
Standing on the summit, what do you think Babu and Lapka feared the most?
These guys have more willpower and control of their minds than I certainly do. They told me, and repeatedly told me, that they were not actually afraid because they could not afford to be.
Babu imagined himself taking off from a hillside near his home on a nice sunny day. They were so committed to doing it, yaknow, they were running out of oxygen, they didn't have another safe way down—not that flying off the top of the mountain is a safe way down—but that was certainly the most expedient. Their explanation to me was that it was simply a matter of commitment and not over-thinking it in an effort of self-preservation.
Did they really care about winning the National Geographic Adventurer of the Year award?
What measures success out of doing something like this? Well, I know they're not reading National Geographic; they're not picking up The New Yorker. So the value of press, of just getting your name out there, doesn't have the same appeal in Nepal. It's not as important as getting something tangible. They got more out the plaques that their friends made for them saying congratulations than they did from the idea of the award. There's no plaque, there's no prize money. They didn't receive anything tangible from National Geographic. So to them, that is nothing. They got nothing.
To what extent did life go on for Babu and Lakpa?
It's been slow progress, but Babu got invited to compete in the RedBull X-Alps event, which he did. He didn't finish, but he was the first Nepali to compete in that. He was also invited to Wings of Kilimanjaro, this organized fundraiser where a bunch of paragliders from around the world were going to go there, climb it, and paraglide off the summit. But they had wicked crazy wind, like 100 mph winds, and everyone else bailed. Babu took off from the summit with his porter who had never flown before and managed to survive.
Lakpa has continued guiding. He was on his way to Everest base camp when the avalanche happened, but he is okay and so is everyone else involved in the story. But ya, he's still guiding on Everest and other peaks in the Himalaya and growing kiwis on his family's farm in Khumbu.
Is their expedition over?
Neither of them will ever stop exploring. It's in their nature. Quitting doesn't really seem to be something they're capable of.
Have you reached the point of no return and bailed?
Oh, heck ya. I've wound up bailing on more climbs and walking more stiff rapids than I've probably ascended or ran. I have backed down an awful lot, and I'm okay with that because my goal when I go out is to come back home. There was Mt. Sanford here in Alaska. First time trying to climb it. After 20 days of climbing wound up turning around about 100 feet from the summit because of deteriorating weather conditions. Just had to turn around. It was the right thing to do.
You know yourself the best, and [Babu and Lakpa] know themselves better than I do, certainly. They know what they're capable of and what they're not, even though the obvious answer when proposing this trip was, well that's crazy—you can't do that. But know yourself, and have faith, reasonable faith in your abilities and you'll accomplish what you want to, and they did it.
Would you jump off the summit of Everest?
Absolutely not.
Lead Photo: Balkrishna Basel