Every President's Favorite Athlete of the 20th Century
Heading out the door? Read this article on the new Outside+ app available now on iOS devices for members! Download the app.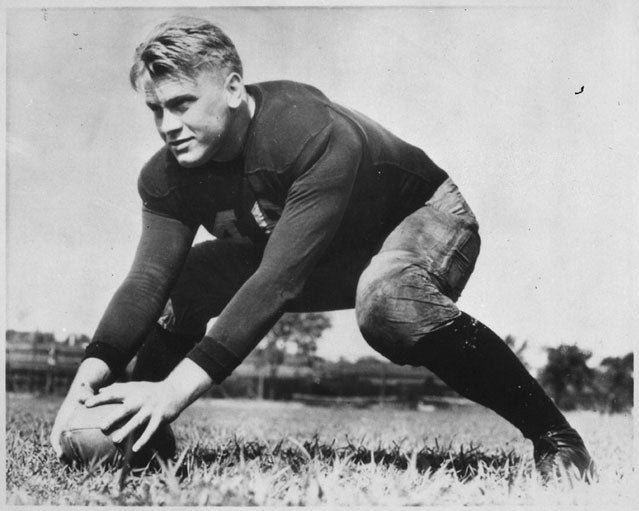 U.S. National Archives and Records Administration. Photo: Wikimedia Commons
"Best athlete" discussions always make for an interesting debate in the sense that they're always totally stupid and pointless and boundary-less, so you're basically arguing about completely different things and no one ever gets anywhere. More than anything, if even anything, your idea of the best-ever athlete says something about you rather than anything about the history of sports.
So, the idea of Mitt Romney calling Jack Nicklaus the greatest athlete of the 20th century—which he only sort of did—would say a few things about the Republican presidential hopeful: he is sort of old, he is white, and he is rich. Which, check, check, check. But this didn't actually happen, so it doesn't really matter. Still, it got us wondering. If all American presidents had to pick their Best Athlete of the 20th Century, who would they choose?
George Washington: Chris Chelios
John Adams: Pete Rose
Thomas Jefferson: Anyone other than Shawn Kemp
James Madison: Phil Simms
James Monroe: Liberian soccer player George Weah
John Quincy Adams: Will Smith 
Andrew Jackson: John Rocker
Martin Van Buren: A tie between female Dutch long-track speed-skaters Ireen Wurst and Atje Keulen-Deelstra
William Henry Harrison: Colombian soccer player Carlos Valderamma
John Tyler: Ryan Leaf
James K. Polk: Raphael Palmeiro
Zachary Taylor: The Rock
Millard Fillmore: Gerry Philbin, defensive end for the 1969 New York Jets
Franklin Pierce: Former Finnish female soccer player Pauliina Miettinen 
James Buchanan: Wilt Chamberlain 
Abraham Lincoln: Detlef Schrempf 
Andrew Johnson: That squirrel that waterskied in a pool 
Ulysses S. Grant: Tommy Moe
Rutherford B. Hayes: Rebecca Lobo
James A. Garfield: Craig Stadler
Chester A. Arthur: Mullet-era Andre Agassi
Grover Cleveland: Kevin Greene
Benjamin Harrison: Fuzzy Zoeller
William McKinley: Claudio Reyna 
Theodore Roosevelt: Dennis Rodman
William Howard Taft: Jose Canseco and Mark McGwire
Woodrow Wilson: Orel Hersheiser 
Warren G. Harding: The Phoenix Suns mascot
Calvin Coolidge: Ray Borque
Herbert Hoover: Chuck Knoblauch
Franklin D. Roosevelt: Kelly Slater
Harry S. Truman: Greg Maddux
Dwight D. Eisenhower: Bill Romanowski
John F. Kennedy: Brian Scalabrine
Lyndon B. Johnson: Brad Johnson
Richard Nixon: Tony Hawk
Gerald Ford: Gerald Ford
Jimmy Carter: Rulon Gardner
Ronald Reagan: Norweigan biathlete Ole Einar Bjorndalen 
George H. W. Bush: Michelle Akers
Bill Clinton: Professional billiards player Janette Lee 
George W. Bush: Picabo Street
Barack Obama: A tie between Pele, Maradonna, Michael Jordan, Babe Ruth, Steve Nash, Eric Heiden, Roger Federer, Evander Holyfield, Willie Mays, Dan Marino, Muhammad Ali, Jerry Rice, Walter Payton, Neil Armstrong, Wayne Gretzky, Jesse Owens, Mario Lemieux, Michael Johnson, Pete Sampras, Larry Bird, Carl Lewis, Bjorn Borg, Babe Didrikson Zaharias, Ryne Sandberg, Mia Hamm, Bob Burnquist, Jim Thorpe, Tiger Woods, Hulk Hogan, and Hank Aaron