Fact-Checking Relin's New Book 'Second Suns'
David Oliver Relin made his name as coauthor of the disgraced bestseller Three Cups of Tea—then tragically committed suicide. Now, a major publisher hypes Relin's posthumous history of the inspiring Himalayan Cataract Project. Should we buy it?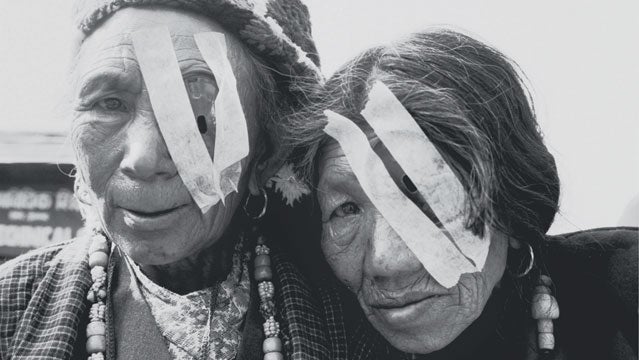 Heading out the door? Read this article on the new Outside+ app available now on iOS devices for members! Download the app.
Dr. Geoffrey Tabin, one of the two medical all-stars in Second Suns: Two Doctors and Their Amazing Quest to Restore Sight and Save Lives (Random House, $27), issues a big, bold statement at one point about the service he provides through the Himalayan Cataract Project. Founded in 1995 by the U.S.–based Tabin and Dr. Sanduk Ruit, a Nepali eye surgeon, the HCP performs low-impact cataract operations in the developing world, installing artificial lenses to allow blind people to see again, usually overnight. During a hectic day of surgeries in Ethiopia, Tabin pauses to savor the power of these transformations. "It's the single most effective medical intervention on earth," he says to Relin, "a little miracle."

One of these things is not like the other?
It's hard to argue with that, and Second Suns should be required reading for anybody with an interest in humanitarian philanthropy—or, for that matter, a desire to feel a little better about the world. HCP doctors have performed some 266,000 successful operations in remote parts of the planet. Not too many years ago, such surgeries were gruesome affairs that involved sawing into eyeballs. The modern technique, which Ruit helped perfect, involves a deft incision in the cornea, removal of the cataract, placement of the lens, and a day of bandaged healing. The "little miracle" that happens when the wraps come off, captured often ins, is always astonishing.
"The oldest patients seemed the most overwhelmed by the gift of second sight," Relin writes after watching Ruit at work in Nepal. "Their joy was sudden and unfiltered. One elderly man, wearing a white turban and a shabby suit coat that hung to his knees, danced circles around his walking staff, singing to himself, drawing protests from patients whose feet he was too entranced to avoid."
Unfortunately, there's a somber presence hovering over this book: the author, who took his life in late 2012 for reasons that remain unclear. Relin had been in the news in connection with his coauthorship of Three Cups of Tea, the bestseller about Greg Mortenson's school-building efforts in Central Asia. That book was attacked in 2011 by Jon Krakauer and 60 Minutes, who argued convincingly that it was riddled with fabrications. Litigation ensued in the form of a class-action suit, brought by disgruntled book buyers, that is still unresolved.
Relin, who was named in the suit, never spoke publicly about Mortenson's claim—aired in an interview with Outside—that he was partially to blame for the book's problems. But Relin has backers of his own, and they've argued that Mortenson was the real culprit. "Relin needed no defense among the many colleagues and friends who continued to consider him a writer of uncommon dedication and integrity," Michael Daly wrote in the Daily Beast after Relin's death. Working for outlets that included Parade, Skiing, and National Geographic Adventure, Relin had a strong reputation and gravitated toward stories about charity and healing.
Random House, the publisher of Second Suns, did not publish Three Cups of Tea, but it's marketing the association in a way that readers may find questionable. The cover photograph and design clone the look of Mortenson's bestseller, and Relin is hailed on the cover as "#1 New York Times bestselling co-author of Three Cups of Tea."
So should Second Suns be taken with a block of salt? Someone may well decide to investigate it, but I think they'll come up empty. The book, unlike Three Cups of Tea, had a fact-checker, and Relin didn't work hand-in-hand with Tabin and Ruit the way he had to with Mortenson. His portraits of Tabin and Ruit ring true because he combines praise of their obvious virtues with frank discussion of their flaws. Ruit, who came up the hard way in the mountains of Nepal, can be grumpy. Tabin, a multitalented physician and mountain climber, can be mercurial and has a tendency to say the wrong thing at the wrong time.
But given the work Tabin has done, such traits seem less like failings than the mark of a real human being, and Second Suns leaves you with no doubt that these are two extraordinary men. Whatever drove Relin to commit suicide, he had the discipline to see the book through before taking that final step. That's a powerful legacy in its own right.