Filmmaker Sarah Menzies Knows the World's Coolest Women
The creator behind 'Afghan Cycles' and 'Catch It' is bringing new athlete role models to life on the big screen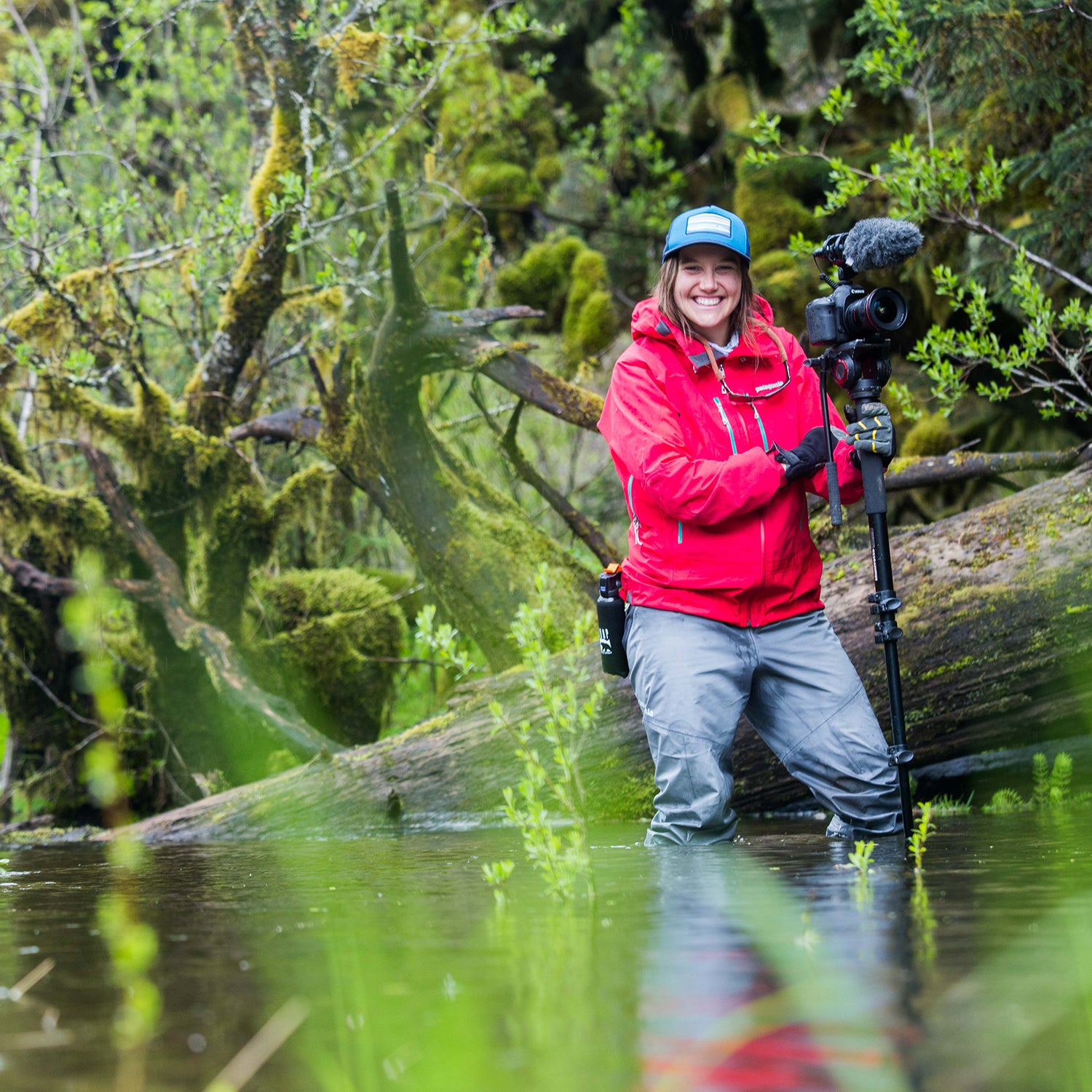 Heading out the door? Read this article on the new Outside+ app available now on iOS devices for members! Download the app.
When she showed up in Kabul for the first time, five years ago, Sarah Menzies thought she'd be making an upbeat short film about young women in Afghanistan learning to ride bikes. Easy. Fast. Maybe a ten-minute short at most. The women on the nascent Women's National Cycling Team of Afghanistan had just started going to international races. They'd also been nominated for a Nobel Peace Prize in the beginning of decade, when the power of the dangerously gender-biased Taliban was limited. They were on the leading edge of independence in a country where it was widely considered immoral for women to ride bikes. But as Menzies got to know the young women on the team, the country slipped back into Taliban control, and cycling for women once again became fraught.
"It was much more complicated than 'I'm going to get on a bike and ride,'" Menzies says. "These women were young and idealistic. Their families told them, 'You're the generation that's going to change this country.'" And they believed that, but as the Taliban gained power, things have gotten more complicated. "As soon as the country starts to slide backward, it's women's rights that go first."
The film grew in scope as the girls on the team faced threats, physical violence, and corruption from coaches. As things got worse, some of the members stopped riding and others fled the country. Menzies dug into the history of the Taliban, traced the marginalization of Afghan women, and continued filming as that changed the way the team was able to ride. She ended up with a feature-length documentary, which she's now submitting to film festivals. The forthcoming Afghan Cycles follows team members as they break cultural norms.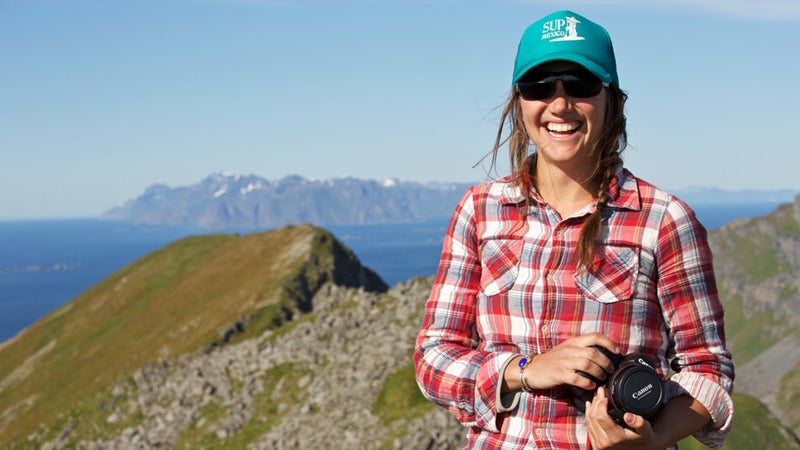 "It's developed into a story I never would have envisioned," Menzies says. "Sometimes I forget that we're making a movie about cycling." Now, instead of just being a narrative about learning to ride, it's about the choices Afghan women face when their freedoms are taken away.
Menzies says she remembers being fascinated by war-zone reporters as a kid. She studied broadcast journalism at Gonzaga University in Washington but went straight into environmental nonprofit work after graduation. While Menzies was documenting the effects of the 2010 Gulf oil spill, she decided she liked the documentary part of advocacy work best, so she decided to try making a living as a filmmaker.
"I quit my job. I didn't have much money, but I bought a little DSLR—which I still have—and I sailed with some scientists from Namibia to Uruguay studying plastic pollution," Menzies says. "As a sailor, I was in heaven. As an environmentalist, I was in heaven. As a new filmmaker, I was in heaven." But when she got home and tried to put a film together, the footage was shaky and she didn't have a narrative. After beating herself up for weeks, Menzies abandoned the idea of the plastics film and resolved to learn everything she could about shooting and storytelling. Her next big project, in 2013, was Catch It, a ten-minute film about French surfer Léa Brassy, who moved to Norway to follow winter swells. It won best short at the San Diego Surf Film festival and spent years on the outdoor film festival circuit.
The success of Catch It came with a wave of insecurities. Menzies worried that she'd fallen into the role of token female filmmaker in an industry that tends to be male-dominated, especially in the outdoor world. "I constantly had this voice in the back of my head saying, 'It's only doing well because I'm a woman and festivals are getting shit for not having enough women and this is a film about a woman by a woman,'" she says. "It took me a really long time to quiet that voice and accept that people might actually like the film."
People liked Catch It for the same reason Menzies was drawn to Brassy's story. It's a portrait of obsession without ego and working toward a goal that came without much acclaim. "It's not intentional that most of my films have centered on women. I try to think, 'If I came across this story not as a filmmaker, would I still be interested,'" Menzies says. "You look at whose stories aren't being told, and often it's women."
She has a knack for finding those untold stories. This fall, Menzies put out a film about Mirna Valerio, a self-identified fat black ultrarunner. The Mirnavator focused on an email Valerio received 27 miles into a 50K race, which she read during a rest stop when Menzies happened to be filming. It was filled with vitriolic body shaming and threats. Menzies' film is about the harassment and the microaggressions Valerio encounters by just showing up to run and how narrow the scope of the outdoor world can be—and how Valerio unflinchingly deals with that. Valerio says she and Menzies clicked as soon as they met, and they'd like to work on more projects about race in the future.
The previous May, Menzies released A Steelhead Quest. She tailed amateur angler Terry Myers on her mission to catch a wild steelhead in a different North American river every month of the year, even though steelhead populations have dropped off by more than half since the 1980s. Myers, who is in her sixties, has the same focused drive and self-deprecating sense of humor that Menzies' other subjects have. And by focusing on her, Menzies is able to subtly tell a bigger story about climate and rivers.
Meanwhile, Menzies is closing in on the end of her own quest. It's not easy to make a five-year-long, independently funded film about women's sports in a conflict zone. She says Afghan Cycles is almost done, but it's taken five times longer than she thought it would. There have been endless rounds of fundraising to make sure she could pay the camera operators and editors on the crew. Travel plans have crumpled—Menzies says she's often told by fixers or interviewees that it's not God's will for her to shoot—and the plot has completely changed. And then there's the guilt that comes with being able to leave a war-torn country when the people you're covering are forced to stay.
She's thought about canning it but says the film feels even more pressing now because of the Trump administration's attack on Islam. "It started as this short, happy film about women riding bikes, but now I want to contribute to fighting Islamaphobia. We're told to be afraid of Islam, but in my experience, these people are the people on the ground actually suffering because of the Taliban."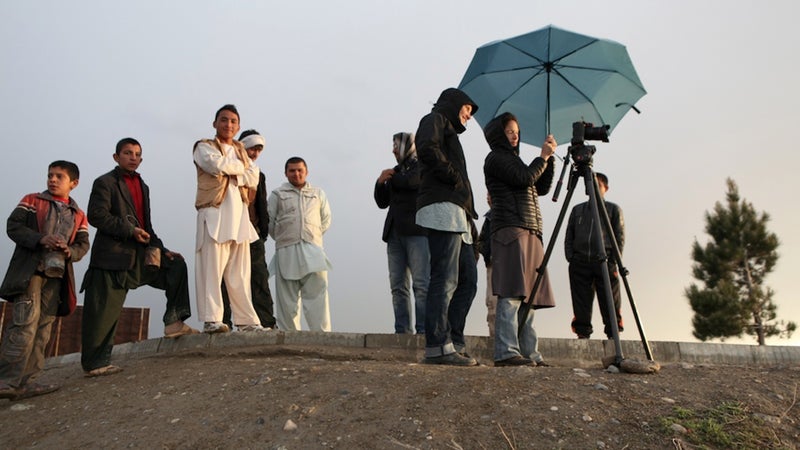 Menzies says she feels a huge amount of responsibility, especially as an outsider, because the girls have entrusted her with their story and because they've risked so much to be able to ride. "The work that I've been the most proud of, the common thread is that the person is willing to do anything for their passion, whether that's Léa trudging through snow or the girls risking everything to ride a bike. I don't think I'm that passionate about anything," Menzies says, after talking about five years of sleepless nights and editing struggles. She's worried she won't be able to do justice to the persecution the girls faced. It has consumed her to the point that Menzies' partner has to remind her to break away from her editing cave on nights and weekends to say sane.
But that's exactly the kind of story Menzies likes: the obsessive ones that take over everything else. As Brassy says in Catch It, "It's not just surfing a wave. It's the whole surf experience I'm looking for."
Lead Photo: Courtesy Sarah Menzies