Heading out the door? Read this article on the new Outside+ app available now on iOS devices for members! Download the app.
If you've ever been glued to the television during Discovery's Shark Week, chances are you've seen the work of Andy B. Casagrande. The 33-year old cameraman was obsessed with great white sharks as a kid and turned that passion into a career.  After studying biopsychology at CSU Long Beach, because he "loved crazy people and biology," Casagrande used his "Great White Shark Song" (see above) to land a gig filming the ocean's greatest predator for scientists in South Africa. Then National Geographic came calling in 2005, and when the society decided to film the apex predators for their Great Migrations series, they deployed Casagrande to the Pacific Ocean.
Outside caught up with Casagrande in late October to talk about the series. For this assignment, Casagrande spent 70 days filming eight hours a day. Half that time he was underwater—without a cage.
No cage. Seriously?
We decided not to use the cages because you always get the same shots—the shark swims toward the cage, turns left, turns right. It's really frustrating and it gets really boring inside the cage. I wanted to think like a shark, swim like a shark and act like a shark. I got certified on the rebreather so I wouldn't make any bubbles while diving.
Any scary moments down there?
The scariest moment I ever had filming was probably when I was focused on one shark in front of me and then I got an eerie feeling. I turned around and saw three other sharks all behind me at different angles—one was deeper, one was directly behind me and one was low and to the left. These are ambush predators. They thrive on surprising their prey and sneaking up on them. So I can't say they were hunting me, but they were using their instinctive ambush method to stay out of my vision.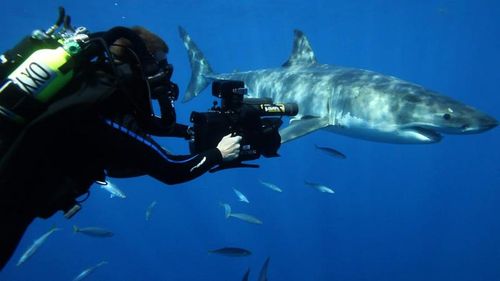 Creepy.
We'd average about eight hours a day underwater. After three or four hours underwater, I'd start to get waterlogged. I'd start to get tired and my reaction time would start to slow down a little bit. It starts to get more dangerous the longer you spend in the water—you start to get complacent like, "Oh, OK the shark swam up to me for the fifteenth time and didn't bite me, so this time I'm not gonna look at him and I'll focus on the other two behind me." So it's like being a truck driver driving across the United States. You gotta stop for coffee every once in a while and take a nap.
Did you learn anything new hanging with the sharks this time?
We learned a lot about the great white sharks' feeding habits out in the Pacific. They were known to like tuna out there, but it had never really been captured under water that white sharks were feeding on elephant seals. We were able to film multiple feeding events in a short amount of time. So we found out that it's very seasonal, but white sharks will target big elephant seals and juvenile seals very actively during times of the year, then switch their dietary preference back to tuna.

Are elephant seals a holiday treat?
December does seem to be the killing season for the great white and the elephant seals. We found this out because when we used bait like bloody tuna, it didn't even work. There were no sharks around. So we thought, "Wow, well the sharks just aren't here." Then we came across our first elephant seal kill and there were like six sharks around the one kill in the same area we'd been the whole time.
What do you want to film that you haven't yet?
Great white sharks mating. Shark porn. I've seen other sharks having sex like leopard sharks, but no one's ever captured great white sharks mating. No one really knows where they do it, when they do it, or how they do it. Well we kind of have an idea about how. But no one's ever been able to capture it and to me that would be like the holy grail: great white shark mating.
The National Geographic Channel's Great Migrations series premieres November 7 at 8 pm. The episode covering great white sharks airs November 14 at 8 pm.
Trending on Outside Online