Heading out the door? Read this article on the new Outside+ app available now on iOS devices for members! Download the app.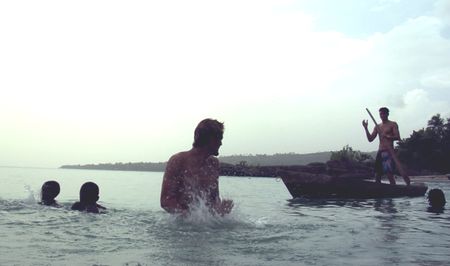 We've been making the most of our stop in southwestern Haiti. We dabbled in the local array of river mouths and reef breaks, until the waves went flat. We ditched our surfboards and decided to check out a mini cove that looked like a set from Peter Pan. We swam out to Devil's Rock, named for the Voodoo ceremonies rumored to have taken place there, and garnered a following of about a dozen teenage boys and girls. When I got tired of swimming, I swam ashore, and, with the help of our all-star guide, Cyril, convinced one of the local fishermen to let me borrow his fishing canoe.
All that swimming and cliff jumping with the locals made it clear that the Haitians are straight-up watermen and extremely talented swimmers, divers, and paddlers. To them, the ocean is more than a place to gather food–it's a source of life.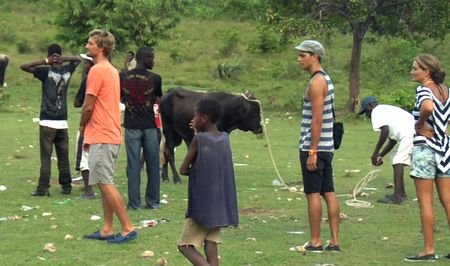 Back on dry land, we were fortunate enough to see a Haitian bullfight. The thought of a bullfight makes me a little queasy, but the beautiful thing about bullfights in Haiti is that the bulls don't get hurt. Here, the fights are more like cockfights, where two bulls square off, lock horns, and essentially wrestle until one of the bulls gets tired and bows out, while spectators place bets on the bull they think will win. I started feeling the excitement of the event when we walked onto a crowded field where the bulls were free to roam as they pleased. It was fun to see how close you could get to the brawl without actually getting entangled in the carnage. Things got a little rowdy, but, despite a few close calls, we managed to avoid any serious injury. A good day, both in and out of the water.
–Kahana Kalama
The surfer and social activist Kahana Kalama is the star of the award-winning documentary Gum for My Boat: Surfing in Bangladesh, directed by Russell Brownley. He, Brownley, Matt Beacham, Art Brewer, and Shayne and Shannon McIntyre are traveling to Haiti as part of a surf-and-serve documentary film project.