A New Book Investigates B.C.'s Missing Native Women
'Highway of Tears' tells the story of the dozens of indigenous women and girls who have gone missing or been found murdered along Canada's Highway 16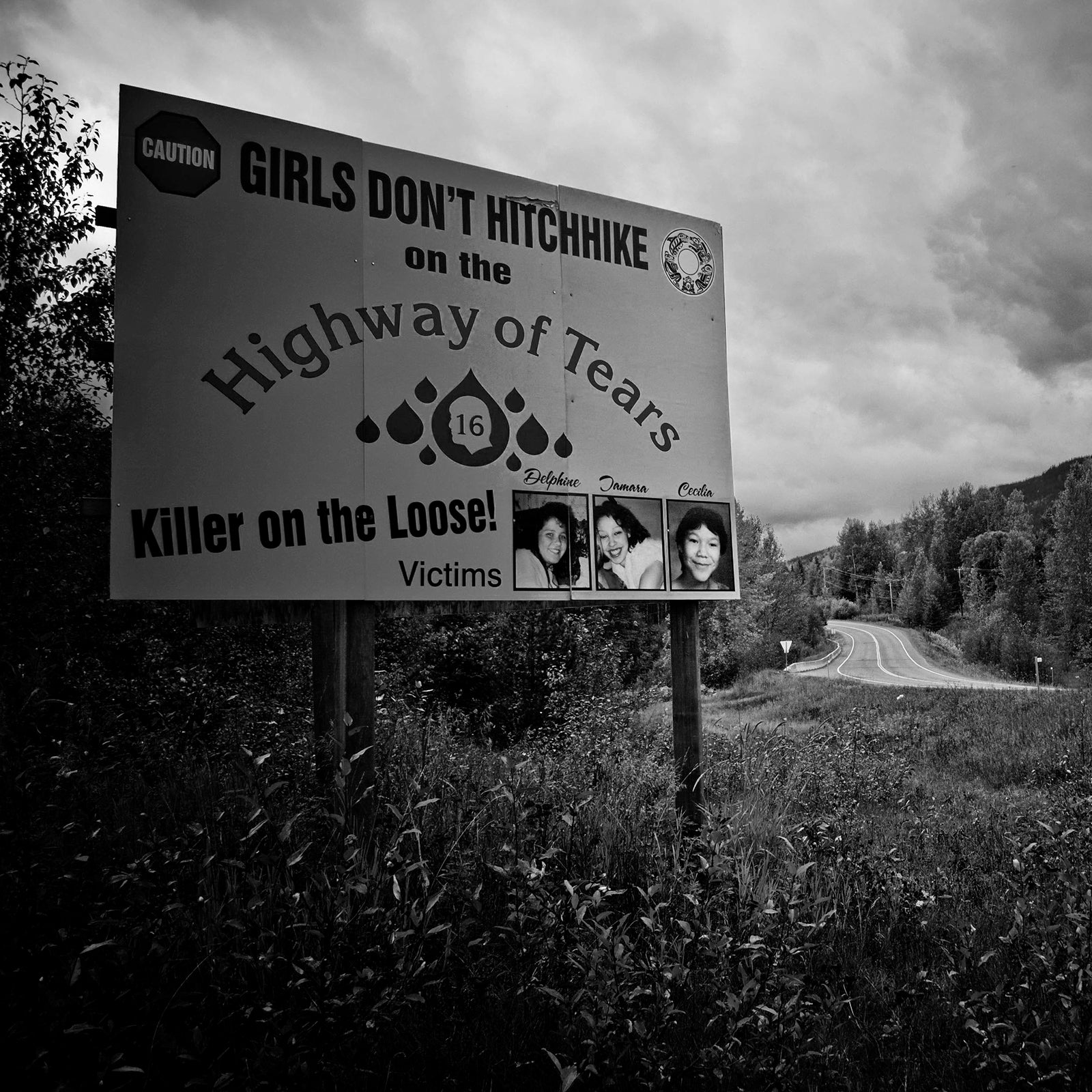 Heading out the door? Read this article on the new Outside+ app available now on iOS devices for members! Download the app.
In June 1994, Ramona Wilson disappeared from Smithers, a small town in northern British Columbia. She was 16, about to start a summer job as a peer counselor. For decades her mother, Matilda, would remember the night her "bright, bubbly" daughter went out the door. Ramona was headed to a dance, then staying the night at her best friend's. She never arrived at the dance.
So begins Highway of Tears: A True Story of Racism, Indifference, and the Pursuit of Justice for Missing and Murdered Indigenous Women and Girls ($28, Atria), Jessica McDiarmid's chronicle of those who vanished or were found murdered along a remote stretch of Canada's Highway 16 between Prince George, in eastern British Columbia, and the coastal town of Prince Rupert. The first known case near the highway was in 1989. Three decades later, that number has grown to more than a dozen, and that's just a microcosm of the rest of the country. The Royal Canadian Mounted Police (RCMP) conservatively puts the number of missing and murdered indigenous women and girls across Canada at nearly 1,200. Yet the crimes didn't draw international attention until a scathing Amnesty International report in 2004. A couple of years later, a national multiagency task force was created to investigate the cases (many of them bungled or unsolved), and finally, in 2015, Canadian prime minister Justin Trudeau launched a national inquiry, which just concluded this summer. But it took the courageous efforts of a community of women—the victims' mothers, aunties, sisters, cousins, grandmothers, and friends—to make people care.
McDiarmid is a Canadian journalist and well suited to tell this complicated narrative. She grew up in Smithers and recalls being ten years old and seeing posters of Ramona blanketing the town. She later discovered that Ramona was among several indigenous girls to go missing around that time. Some, like Roxanne Thiara and Alishia Germaine, turned up dead. In the extensively reported book, McDiarmid jumps between their stories and those of several other girls and women, the region's history, the investigations, the media's role, the activism of the victims' families trying to wrest justice, and the landscape framing Highway 16.
She knows the terrain well: One moment her descriptions of the isolated 450-mile road are vividly beautiful, with their dark green forests, snowcapped peaks, and glacial valleys. The next they convey a preternatural menace. "The air grows heavier as the highway draws closer to the Pacific," she writes, "clinging to a ledge above the Skeena River blasted from the mountainsides to make way for trains and trucks, where the margin of error is only a few feet in either direction."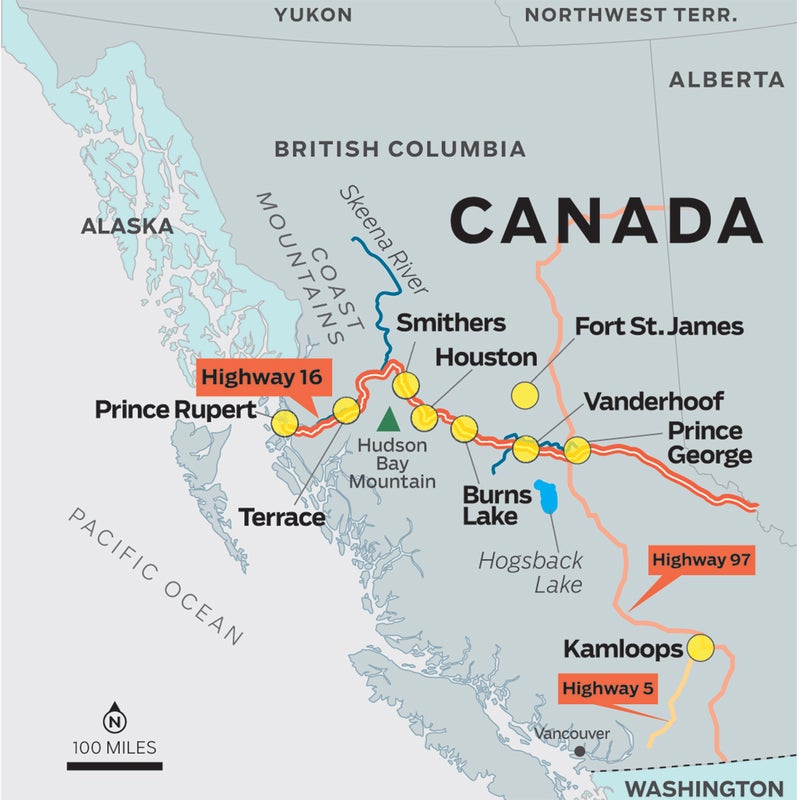 Sometimes the book's structure hampers the narrative, and her thoroughness makes it tough to absorb everything. But she fills in an important, overlooked era in Canada's history, putting a critical lens on the forces that have led to indigenous girls and women being targeted. McDiarmid traces the legacy of colonialism in British Columbia, how it stripped indigenous nations of their land and their livelihood, effectively dooming many to poverty. She also shows how the horrific abuse that children suffered at "residential schools"—boarding schools designed to eliminate Native students' language and identity in the name of assimilation—decimated First Nations families. For instance, Ramona's mother, Matilda, was taken away from her parents at age five and dispatched by train to a residential school called Lejac, where she "was assigned a number in place of her birth name. They were at Lejac to learn the white man's ways, to have the 'savage' within them extinguished."
McDiarmid also details how racism and trauma still haunt the present, and she connects them to the girls' struggles. Some of them skip school to hang out on the rough streets of Smithers with friends. Others have been put in juvenile-detention facilities for minor crimes, like Delphine, a 15-year-old whose dad died and whose mother lies ill in a hospital hours away from home. Delphine is jailed for theft, mischief, and breaking and entering. Because there's no public transportation along Highway 16, most of the teens hitchhike to get around. Others, like Roxanne, who is also 15, bounce around homeless and are sexually exploited in Prince George, a cesspool of drugs and crime. So when the girls go missing, the response is often judgmental. "It was not unusual in the 1990s to hear comments about the 'error' a girl must have committed to encounter such a fate, whether it was hitchhiking, prostitution, drinking, or walking alone at night," McDiarmid writes.
What is most notable about these families, though, is their strength and their ferocious love.
The vast distances between towns on the highway have another tragic effect. When 19-year-old Lana Derrick doesn't come home, her family assumes she spent the night with friends in Terrace, hours away. But when she fails to show up for her college classes, they know something is wrong. That delay was critical as they searched for her—they lost three days. Such delays are compounded by varying police response to the crimes. For the most part, it's infuriating and familiar: the indifference, the incompetence, a lack of resources and experience, a lack of transparency. Files get misplaced, evidence gets tossed. It's refreshing when we meet a few investigators who are good guys, devoted to finding the girls and their killers. But there's also pervasive racism and a history of bad relations between the RCMP and many First Nations communities. In the case of Lana, McDiarmid tells us, "Initially, the family felt the RCMP brushed them off, suggesting she was probably out on a bender or shacked up with a boyfriend for a few days. Her family knew that wasn't the case."
The girls' families do trust McDiarmid, though, and that serves an essential purpose. It allows readers to know the impact of these devastating crimes. Years later, the families whose daughters, sisters, and nieces have never been found continue to suffer. These, I thought, were some of most affecting moments in the book. I cried when I read that one despondent mother, after years of searching for her daughter and trying to compel public attention for her case, slowly drank herself to death. Their guilt is heartbreaking. As McDiarmid writes about a man named Francis, whose sister, Alberta, was murdered, "It was a closed-casket funeral. It had to be. Francis always wondered what might have happened if he had gone to Bogey's [a club] that night when Alberta asked him to come. He was her big brother; if he had been there, he could have protected her."
What is most notable about these families, though, is their strength and their ferocious love. Despite their grief and the lack of any support, the mothers refuse to give up on their daughters who have been murdered or remain missing. They march along the highway, demanding action and igniting an entire movement and a national inquiry into missing and murdered indigenous women and girls. They are still fighting.
Corrections: (10/01/2023) The original version of this story misidentified Justin Trudeau as the president of Canada. The story has been updated to reflect he is Canada's prime minister. Outside regrets the error.
Trending on Outside Online