Hot Ticket
A Q&A with former Maldives president Mohamed Nasheed on his incredibly shrinking country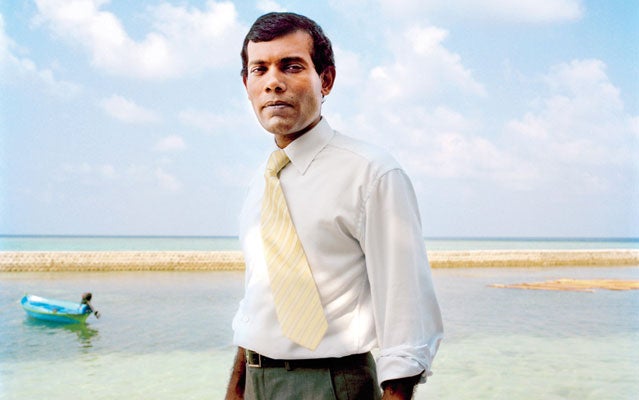 Heading out the door? Read this article on the new Outside+ app available now on iOS devices for members! Download the app.
The Island President, the new documentary from Jon Shenk (The Lost Boys of Sudan), is a remarkable work: a film about climate change that's neither preachy nor boring. The movie, which won the people's-choice award at the 2011 Toronto International Film Festival and opens in wide release this month, follows former Maldivian president Mohamed Nasheed as he travels from Britain to India, then to the 2009 Climate Change Conference in Copenhagen, demanding policy change on behalf of his country, which could be swamped by rising seas. MARIO QUADRACCI caught up with Nasheed, who was the Maldives' first democratically elected president, in late January—just weeks before he resigned amid mass protest and police mutiny.
OUTSIDE: You gave Shenk and his crew remarkable access. They even made it into the bathroom with you in Copenhagen. Did you ever say no?
NASHEED: When they came to the Maldives, I didn't realize quite what I was getting into. I thought they would film a few scenes and then leave. I didn't know they would want to follow me everywhere and film everything!
Global warming is very politicized these days. Is it divisive in the Maldives?
Any Maldivian has to take climate change seriously. Domestically, it's not divisive. 
Do you have plans to adapt to rising sea levels?
We are talking about sea walls, revetments, and water breakers, and we are experimenting with supporting coral reefs, which naturally protect islands from erosion. But these schemes are expensive. We have 1,200 islands in the Maldives. If sea levels rise more than one meter, there is little we can do. The average elevation of our islands is just 1.5 meters above the sea.
In the film, you seem frustrated after months of trying to get the world to act toward finding a solution to climate change. Now, four years later, how do you feel?
We need to change the way we talk about tackling climate change. We keep telling people that they need to cut back on carbon emissions. But many politicians, especially in the developing world, equate carbon emissions with development. So telling people to cut back on emissions makes them think you are telling them to halt progress. Let's stop asking countries not to do things. Instead, ask them to do positive things, like invest in renewable energy. The Maldives has agreed to invest 2 percent of our national income in clean-energy projects, to help pay for our goal to become carbon neutral by 2020.