Sponsor Content: Land Rover
How to Change the World
What do winners of the Defender Service Awards have in common? They make the world a better place, and now Land Rover is helping them do it.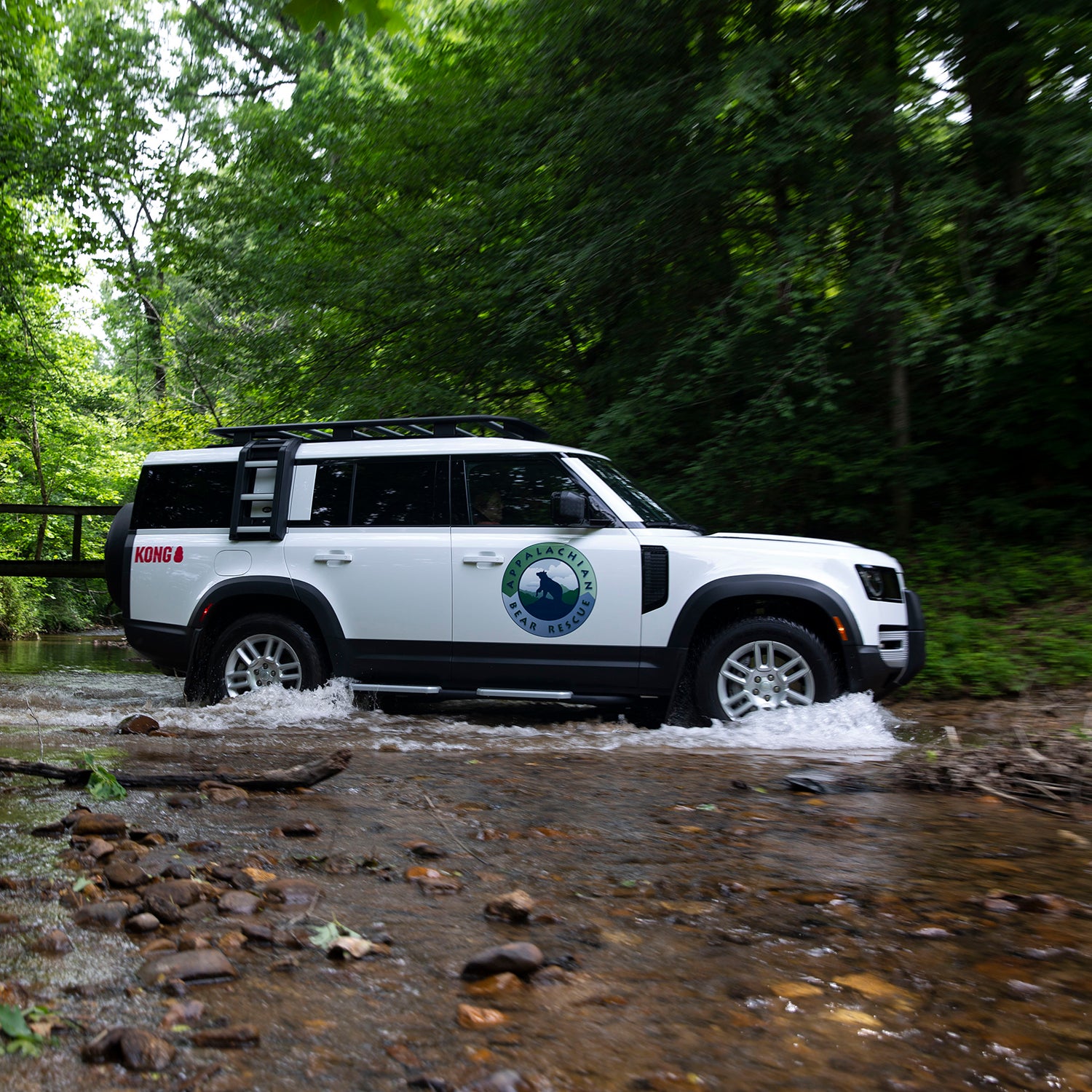 Land Rover
For more than 70 years, the Land Rover Defender has been the vehicle of choice for people making a positive dent in the world. That's why Land Rover launched the Defender Service Awards—to recognize and support organizations that are contributing to the health of their communities, the environment, and more. Now in its third year, the program rewards winners with a customized Defender 130 and a cash prize. Public voting for the 2023 Defender Service Awards takes place from September 15 through October 4, so be sure to click here to learn more, meet the finalists, and cast your vote.

And yes, your vote matters. This past year, five winners each went home with a Defender 130 and $25,000, and 25 finalists took home an additional $5,000 each courtesy of title sponsor CHASE. It gets even better in 2023: this year, six Defender 130 vehicles will be awarded, category sponsors (Animal Planet, Pelican, ei3, Hearts and Science, and Outside Interactive) will donate $25,000 each to the winners, and all 30 finalists will each get an additional cash prize from CHASE ($5,000) and Warner Bros. Discovery ($2,500). That kind of support can transform a nonprofit's programs, present and future. Here are two of last year's winning nonprofits and how their critical work is benefiting from the award.
Mercy Chefs
Community Services Award
(Presented by ei3)
"Just go feed people." As a mission statement, it's hard to get more clear. That's what Mercy Chefs has been doing since 2006, but the clarity of the nonprofit's mission can obscure an underlying belief that the group delivers with every plate of food: something amazing happens over a shared meal. The Virginia-based nonprofit isn't just delivering calories, it's also spreading love, connection, and community. 
Mercy Chefs does this on multiple fronts: feeding victims, volunteers, and first responders after natural disasters; creating community kitchens in select locations; and delivering grocery boxes to food-insecure populations. That adds up to millions of meals. Its mobile kitchens alone can cook and serve 20,000 hot meals per day.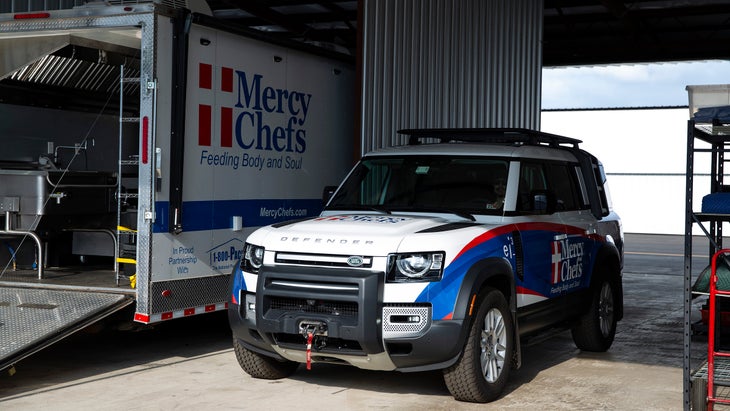 That's where the Defender Service Award comes in. "Adding the Defender 130 to our fleet of vehicles lets us reach remote areas with food," says Nick Beckman, director of logistics and facilities at Mercy Chefs. "When the Virginia Beach tornado struck right in our backyard, the Defender 130 went with our response team. When phones are down and roads are a mess, we can just load 300 meals into the Defender 130 and go. We always want to be faster responding to disasters, and the Defender 130 makes me feel confident we can send anyone just about anywhere." Watch Mercy Chefs in action here.
Appalachian Bear Rescue
Animal Welfare Award (Presented by KONG)
The bear population is growing in the Southeast, which means more orphaned cubs and injured yearlings that need help. Thankfully, Appalachian Bear Rescue, the Tennessee-based rehabilitation and education nonprofit that won the 2022 Animal Welfare Award, is well equipped for the job.
"The Defender 130 allows us to do what we do better," says Dana Dodd, executive director of Appalachian Bear Rescue. "It's a much more reliable vehicle than the older vehicles we have. It's safer to take rescue calls and is far more suited to transport supporters and guests to bear release events." Every year, the organization cares for about 30 rescued bears, working with wildlife officials to identify animals in need, and then rehabbing and releasing them back into the wild.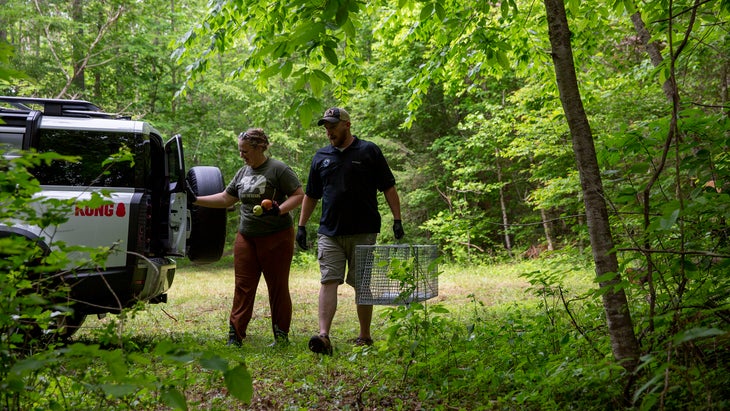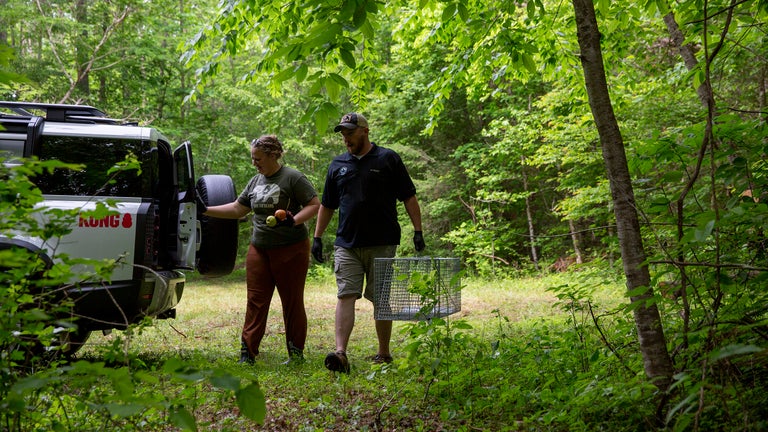 While the functional benefits of the Defender 130 are clear, Dodd says there are also intangible benefits that are just as important. "The biggest impact has been the marketing and name recognition that the Defender 130 brings to Appalachian Bear Rescue," Dodd says. "We've never had a vehicle with our logo or a vehicle that is so easily recognizable. Every time we drive the new Defender 130, folks notice us and learn about our mission." Watch the team in the field here. 
When it comes to treating sick and injured young bears, the University of Tennessee College of Veterinary Medicine gives discounted care to the charges of Appalachian Bear Rescue. But costs still add up. "The $25,000 donation from category sponsor KONG has literally saved the lives of our young bears," says Dodd. "And KONG also donated a big box of their toys for our cubs. We've actually used KONG toys with our cubs for many years. We use them because they are tough and they stand up to the bear test. Our cubs love them."
See Appalachian Bear Rescue in action: check out these videos of the team releasing four yearlings in early July.
---
Founded in 1948, Land Rover designs and engineers its vehicles in the United Kingdom. For over 70 years the brand has built a reputation for providing its clientele with some of the most luxurious and capable vehicles in the world, whether driving through the heart of the city or traversing the countryside on- and off-road. Today's Land Rover lineup includes the Defender, Discovery and Discovery Sport, Range Rover, Range Rover Sport, Range Rover Velar, and Range Rover Evoque. Land Rover is fully engaged with sustainability initiatives and social concerns with continuous involvement in environmental and community programs. For more information, visit the official Land Rover websites for the USA, www.landroverusa.com, or for Canada www.landrover.ca. Learn more about the Defender Service Awards and previous winners here.
Lead Photo: Land Rover
Trending on Outside Online