Interview Issue 2012: Director Lucy Walker on Filming Catastrophe
The filmmaker behind The Tsunami and the Cherry Blossom explains why she's drawn to the world's gnarliest spots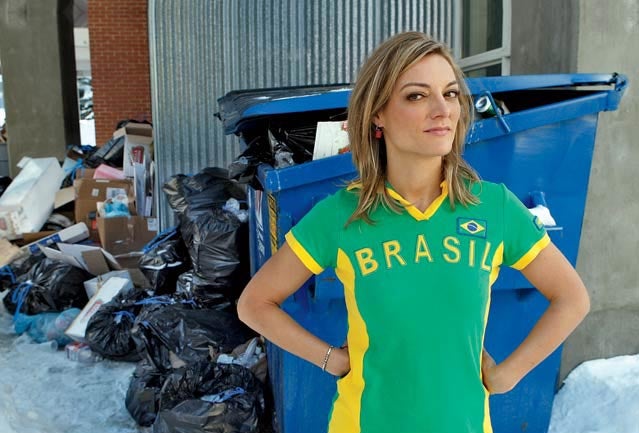 Los Angeles Times
Heading out the door? Read this article on the new Outside+ app available now on iOS devices for members! Download the app.
Triumph over adversity—it's a common theme in Lucy Walker's documentaries. From 2006's Blindsight, about sightless climber Erik Weihenmayer, to 2010's Oscar-nominated Waste Land, about trash pickers at São Paulo's biggest dump, the British director is drawn to characters with serious struggles on their hands. Her latest effort, The Tsunami and the Cherry Blossom, is no different. Walker set out to make a very short doc—a "two-minute haiku," she called it—about the iconic Japanese tree. Then the earthquake hit. The resulting film opens with a mesmerizing four-minute shot of the tsunami rolling in before weaving in images of the country's beloved cherry blossom season, its traditional comfort needed more than ever. The movie earned Walker her second Oscar nod and airs on HBO in July. David Holbrooke talked with her about her focus on human resilience.
What was it like filming after the tsunami?
Shocking. There were very few people around, just survivors looking for their houses or family, occasional rescue workers, and utter devastation for miles up the coast. Even in Tokyo—the city was unrecognizable. There were rolling blackouts, so there were no streetlights or escalators, and there were constant aftershocks, some of them huge, up to magnitude 7.
How do you work in a disaster zone like that?
We had a tiny crew in a small car with some bottled water and ramen noodles. We wore face masks, although they don't protect you from radiation. I did a film about nuclear weapons, so I'm familiar with the effects of radiation. We filmed one family going to their house; we were only there a little while, so we are OK. But because they have spent so much time there, sadly, they may not be.
Survival is a theme of a lot of your films. Why is that?
I like people who, when faced with a challenge, get up and really dig deep and do something impressive.
Like blind Everest climber Erik Weihenmayer.
I broke my ankle training to film his Everest attempt. I love climbing, but I must say I found the altitude frightening. The headache was so bad, and it was so cold at 21,000 feet. Our doctor got high-altitude pulmonary edema and had to be evacuated.
You're not a climber?
No, just an enthusiast. But I'm also not a garbage picker or a Tibetan. In some ways, these are fantasies of my life—I would love to be a climber. But what I really want to do is tell stories about amazing people.
Trending on Outside Online