Interview Issue 2012: Filmmakers Robert and Jamie Redford on Saving Our Rivers
The renowned actor and his son talk to Outside about the fight to bring back the Colorado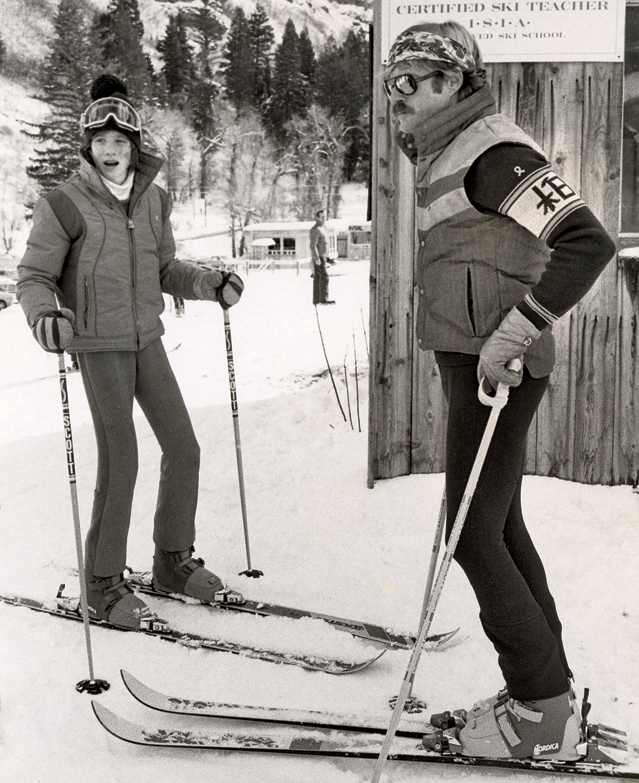 Heading out the door? Read this article on the new Outside+ app available now on iOS devices for members! Download the app.
These days it's de rigueur for movie stars to adopt environmental causes—think Mark Ruffalo on fracking, Ted Danson on oceans. Still, one name carries unmatched cachet: Robert Redford, the 76-year-old film icon whose Redford Center funds projects like the 2008 anti-coal documentary Fighting Goliath. His latest project, Watershed, is a documentary about the Colorado River system, which supplies water to most of the West, including Redford's ranch near Provo, Utah. Narrated by Redford and produced by his 50-year-old son, Jamie, a Marin County, California–based filmmaker, Watershed tells the story of the Colorado's dwindling flows from the perspectives of a bike messenger, a rancher, and a fly-fisherman. Abe Streep spoke with both Redfords—and their protective publicist—on the day the film premiered at the Washington, D.C., Environmental Film Festival. 
How did this project come together?
ROBERT: Much of my life has been in and around the Colorado River, and introducing my children to that has brought us together on this, because they now have the same experience I had in seeing the reality of things: the beauty and the danger mixed together.
You know, when you think about the Colorado River not making it to the Gulf of California anymore, the depletion of water is so extreme that if something isn't done now, we're going to be looking at the drying up of the American West and devastation to a lot of communities. 
Jamie, did you grow up with environmental issues on your mind?
JAMIE: My parents purchased the land around the Sundance Resort when I was a little boy. My memories are of going on horseback rides where you'd almost get sick from the dust—it was overgrazed, and sheep-herders had used poison on the property. But in the span of 10 years, I saw the North Fork of Provo Canyon come back to life. Today it's teeming with wildlife—it's lush, it's vibrant. It's wrong to have a defeatist attitude. 
ROBERT: If you don't believe in something and keep pushing at it, then what is your life worth? If you just sit there and say, "What the hell, what does it matter? What does one vote matter?" I don't believe that's a life worth living.
If you were given a mandate to make one sweeping change on the Colorado, what would it be?
JAMIE: If you just started with the low-hanging fruit, you could make a huge difference. If there was less flooded irrigation—you have agriculture taking 70 percent of the river's flow. You know, maybe you shouldn't grow rice in the desert. Maybe you shouldn't grow cotton. Maybe you shouldn't grow melons. If you think back to John Wesley Powell saying that this is a really different place, and if we're going to live here we're going to have to live differently—that was 130 years ago! And people still aren't listening. 
ROBERT: When they built Glen Canyon Dam to bring in recreation, which brought in money, that was probably a good thing. Our family certainly enjoyed it: we had a boat on the lake. But over the past 40 years, what we've noticed is that the erosion of the landscape has brought a lot of destruction. I think it's probably time to take that dam out. That would probably raise a big stink, but if we're talking about the future and restoring what we can, I imagine that's one thing we should do. 
Discourse on the environment seems to have regressed in the current political climate. Why do you think that is?
ROBERT: It's all about storytelling. The Democratic Party has a good story to tell, but they don't know how to tell it. And the other side has no story to tell and they tell it loud and clear. People listen to the loud barking dog more than the mewing cat. But one of the advantages of the GOP debate—I'm speaking personally now—as horrible as it is to watch, as horrible as it is to see, at least people who have any sense at all can see, "This is what we're getting? This is what we're going to get if we elect somebody from that mob? Whoa—"
PUBLICIST: Abe, uh, do you need anything before we go?
ROBERT: They're giving me the hook!
JAMIE: We just got the hook.