Jonathan Vaughters Goes Deep into Cycling's Dirty Past
In his long-awaited memoir, 'One-Way Ticket,' a cheater turned reformer tells all about performance-enhancing drugs, the Tour de France, and a rider he used to know named Lance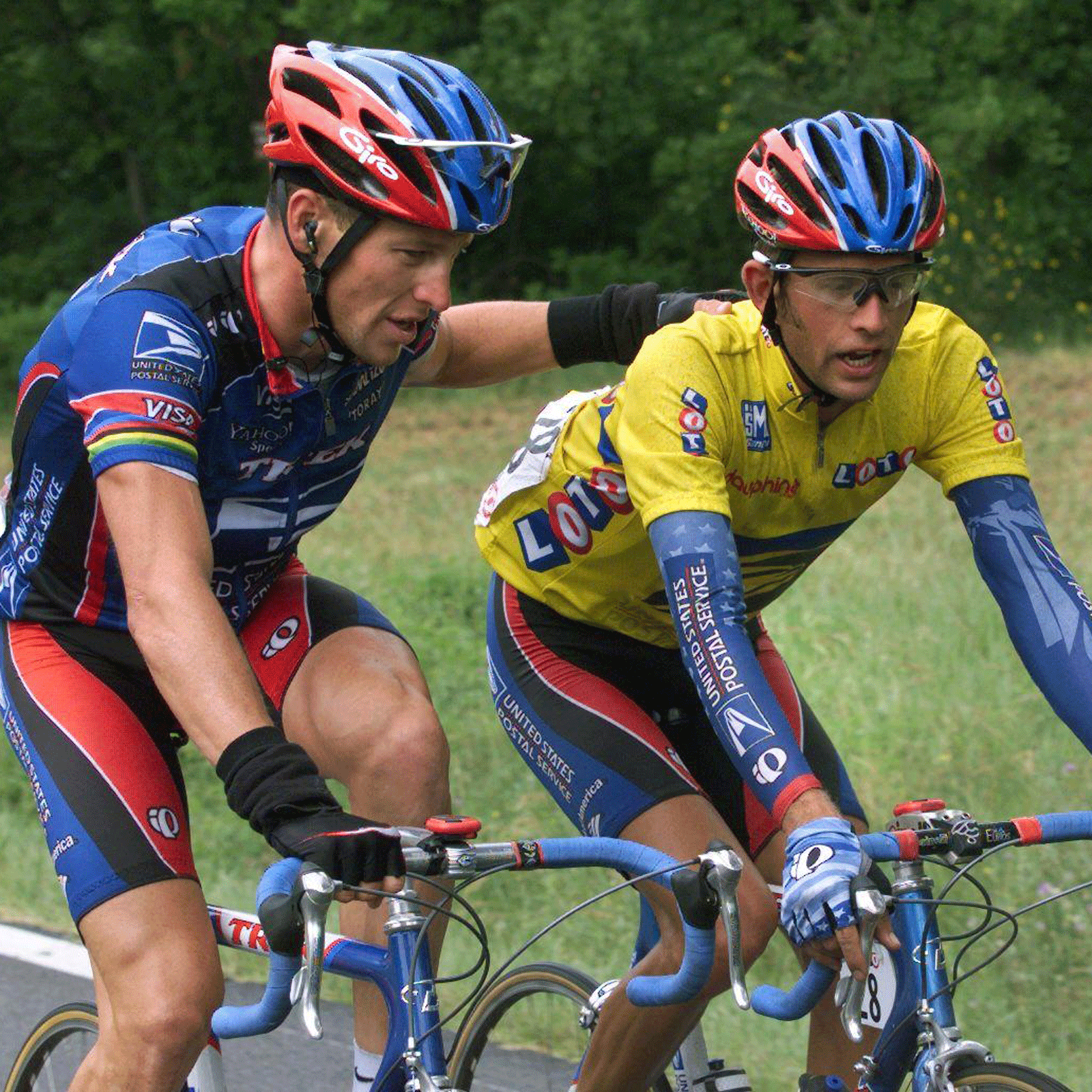 Heading out the door? Read this article on the new Outside+ app available now on iOS devices for members! Download the app.
The first time I met Jonathan Vaughters, founder and manager of the U.S.-based cycling team now known as EF Education First, he had a secret. Actually, he had several secrets. It was August 2006, immediately after the Tour de France, and like every other sports journalist who covered cycling, I was desperate to get an interview with Floyd Landis, who had won the Tour only to test positive for testosterone. Vaughters and I met for dinner in New York's West Village, and he surprised me by casually admitting, off the record, that he had used EPO, the doping cyclist's drug of choice—and that he had watched Lance Armstrong inject himself with the same substance. I blinked. This was huge.
What Vaughters didn't say was that, as we sat there sipping our Côtes du Rhône, Landis was just a few blocks away, holed up in the townhome of Vaughters's team sponsor, real estate investor Doug Ellis. They were protecting their friend from the media, and perhaps from himself, but they were also trying to persuade Landis to come clean about doping. Landis held the key to the change that they both believed cycling desperately needed. But of course, he was not yet ready to tell the truth; that wouldn't happen until nearly four years later, when Landis revealed not only his own drug use, but that of Armstrong and most of his U.S. Postal Service/Discovery Channel teammates. We all know what happened after that.
This is one of several revelations in Vaughters's long-awaited memoir, One-Way Ticket, which was published July 1 in the UK and will appear in the U.S. on August 27. One-Way Ticket tells two dovetailed stories about Vaughters: the coming of age of a young American bike racer, a misfit kid from Denver who found solace on long, lonely rides in the mountains and pursued his dream of racing in Europe at the highest levels; and his subsequent journey from corruption to redemption, when he became a leading force in the movement to clean up cycling. Let's just say it was worth the wait.
Part personal history, part confessional, One-Way Ticket is also a love letter to a beautiful, brutal, hopelessly corrupt, yet paradoxically pure sport. It chronicles Vaughters's saga as an athlete, but there are many more layers to the story, and that's what makes it essential reading for any cycling fan and for anyone who followed Armstrong's rise and fall. It covers the deep history of American bike racing in a way that has never been done. And it's an honest, unflinching look at cycling's darkest era from someone who fully lived it.
Part personal history, part confessional, 'One-Way Ticket' is also a love letter to a beautiful, brutal, hopelessly corrupt yet paradoxically pure sport.
The 46-year-old "J.V.," as he's universally known in the cycling community, belongs to the generation of American riders who grew up watching Greg LeMond's three Tour de France victories. Despite those triumphs, cycling remained a stubbornly obscure sport here; for a time in the early 1990s, Tour coverage consisted of a one-hour weekly summary on ESPN. You had to be different to want to become a professional cyclist. By his own account, Vaughters was a misfit in high school, bullied and ostracized. He chose cycling as an escape, but at first he was hopelessly bad at it. He persisted, though, and eventually found himself thrown into races and team camps with the most talented young riders in the country, including George Hincapie, Bobby Julich, Chann McRae, and a kid from Texas named Lance.
Vaughters's anecdotes are vivid and often hilarious. In the late 1980s, after Lance the newcomer blows up the entire field, and eventually himself, in a junior road race in Moab, Utah, Vaughters tells a competitor, "Well, Lance sure is strong, but man, is he stupid." To which McRae, Armstrong's friend and a fellow Texan, responds, "Duuuude, I'm telling Lance you said that, and he's gonna kick your little skinny ass, motherfucker."
Which more or less sets the tone for their relationship over the next 25 years. Lance becomes by turns Vaughters's rival, teammate, neighbor (in Spain), friend/frenemy, and ultimately his bitter foe.
When the Americans went over to race in Europe in the mid-1990s, they were in for a rude awakening. Suddenly, they were getting crushed by riders who were using reckless quantities of EPO, which increases the oxygen-carrying capacity of blood. At first, Vaughters recounts, the Americans were outraged—Lance most of all. "The bizarre truth is that in 1995, Lance was an incredibly talented but very angry cyclist who was having his career stolen from him by dopers," Vaughters writes. "He was vocally against the use of EPO, called it an epidemic, and wanted there to be a test found to catch the cheaters who were taking it."
It clearly angers Vaughters that Lance won by doping, but at the same time, Vaughters admits that he eagerly joined the EPO generation and became an expert at sticking himself with needles. It worked: he got fast and became a contender in major races again. ("My dream was back," he writes.) His results let him make the jump from a crappy little Spanish team to a new outfit sponsored by the U.S. Postal Service, with many of his fellow Americans and eventually his old nemesis, Lance. After recovering from cancer, Lance had been transformed into a potential Tour contender himself—with plenty of chemical help.
Eventually the U.S. Postal team gets new management, new riders, and a much more aggressive doping strategy, which resulted in Armstrong winning the Tour.
On paper, Vaughters had the right attributes for a Tour de France contender: he was a climber who could time trial. And there is a sense, throughout this tale, that Vaughters at some point believed he should have been the next American to win the Tour. But Armstrong was clearly the chosen one. Power struggles ensued, as they always did with him. Eventually, the U.S. Postal team gets new management, new riders, and a much more aggressive doping strategy, which resulted in Armstrong winning the Tour.
At the same time, much of the peloton was actually easing off of performance enhancers, spurred by new drug-testing rules and the Festina scandal of 1998. Vaughters finds himself on the outs, disillusioned with Postal's frat-party culture and looking for a way to stop doping. His great moment of glory, winning a time trial up the feared Mont Ventoux in a 1999 race, should have been the best day of his life. Instead he felt hollow inside. "This is a joke," he thinks, standing on the winner's podium. The magic was gone.
A few weeks later, in the second stage of that year's Tour, which Armstrong would eventually win, Vaughters crashed hard along with 50 other riders on the Passage du Gois, a cobblestone road that is submerged at high tide. He got up, bloodied and battered, but climbed off his bike and quit the Tour a few miles later.
"I wanted nothing more to do with the race, I wanted nothing more to do with the team, and I wanted nothing more to do with Lance," he writes. "The world thought I was brave for even trying to finish. I knew I was a coward."
---
The second time I met J.V., we were spat on. It was June 2007, and I had finagled a ride in his team car at an important one-day race in Philadelphia. As we made our way up the famed Manayunk Wall, lined with screaming, half-drunk fans, a perfectly aimed glob arced out of the crowd and landed on the windshield, right in front of his face. Nobody said anything, and I still don't know whether it came from some random asshole or an anti-Vaughters partisan during the open war that was then raging in American cycling. Not a lot of fans were neutral about J.V. at that point. On one side, you had the hordes of yellow-wristband-wearing Lance worshippers. On the other, you had people who were beginning to resent the corruption that pervaded the sport.
The "coward" actually turned out to be quite brave. After retiring in 2004, Vaughters started a junior-development team in Denver, with a handful of young riders. As they matured, he fretted that they would have to make the same choice he had made: to cheat or leave. When he brought up his concern with Doug Ellis, Ellis said, "Well, how can we change that?"
The Slipstream team, as it was then known, became the first to take a vocal stance against doping—and to try and back it up with proof. Its mission was to enable riders to compete without having to use banned substances and methods. A six-figure chunk of the budget paid for blood and urine testing of the team's own riders. Many of them were former dopers, notably David Millar, although not all had been caught or outed. The team emphasized competing clean over winning races, which gave it a kind of underdog chic, and cultivating good relations with the press was a big part of the plan. I sometimes covered cycling in that era, and I can say that the openness and quirkiness of Slipstream was a refreshing change from the thuggish vibe of U.S. Postal and many of the major European teams.
According to Vaughters, all of this got under the skin of a certain former teammate. Lance had retired in 2005, but he saw Slipstream as a tacit rebuke to his legacy. The implication that he had cheated obviously bothered him a great deal and may have been one reason for his spectacularly ill-advised comeback in 2009. Vaughters says that Armstrong worked behind the scenes to torpedo the Slipstream project, luring away star riders like then teenage prodigy Taylor Phinney and even trying to poach his chief backer.
The Slipstream team, as it was then known, became the first to take a vocal stance against doping—and to try and back it up with proof.
Vaughters fought back. Disgusted by the behavior of his former teammates, especially Tyler Hamilton, who had tested positive for a blood transfusion in 2004, he went to the U.S. Anti-Doping Agency (USADA) and recounted everything he'd done and everything he knew. When Floyd Landis eventually confessed, in an epic e-mail to the USADA, and serious investigations began, Vaughters made his riders available to testify, with no fear of repercussions. Many of them were former Armstrong teammates, and their testimony was pivotal in the USADA's 2012 "reasoned decision," which ended Armstrong's career and cost him his Tour titles. Probably the most amazing claim in the book is that Lance was actually offered the same deal by the USADA that his teammates accepted: tell all and receive a minimal suspension. According to Vaughters, Armstrong "turned it down cold."
(Outside contacted Armstrong to ask about this and other details in Vaughters's book. His reply: "My only response is that I just checked my calendar and it's 2019. The fact that people are still sitting around writing about this is a sad reflection on them, and it serves no good, especially for the sport of cycling.")
I may be giving the impression that One-Way Ticket is some kind of score-settling tell-all. In fact, the doping saga takes up less than a third of the book. On the whole, it's actually a fun read, with entertaining stories packed in among the drugs and the darkness. Vaughters covers a lot of ground, and he's as hard on himself as anyone else.
He's also insightful about the weird economics and politics of cycling, which helped me finally understand why such a globally popular sport has always seemed so Podunk, sponsorship wise. The problem, he points out, is that there's no equity value in a cycling team; unlike with an NFL franchise, there's nothing of value to "own." As a result, teams tend to rely on bike-industry sponsors and medium-sized corporations with CEOs who happen to love cycling. Vaughters's own team has gone through nearly a half-dozen major sponsors, from Garmin to Chipotle to Sharp to Cannondale to Drapac (an international property-investment group). Now it's backed by a for-profit learning company that specializes in international language courses and travel.
Vaughters covers a lot of ground, and he's as hard on himself as anyone else.
One downside of this haphazard system is that well-funded newcomers can essentially buy their way into professional bike racing and snap up all the best riders. Case in point: Team Sky, whose first order of business was to try and poach Vaughters's best rider, Bradley Wiggins. Wiggins was the first legitimate star who Vaughters was able to recruit, and he cultivated Wiggins's ambition and talent, helping him make the unlikely jump from the track to the Tour, where he finished fourth in 2009—just behind Lance, whose third place has since been disqualified.
What's interesting about the Wiggins story is that it highlights one of Vaughters's strengths as a team director, which is his ability to spot talent before it becomes obvious to everyone else. Many previously unknown riders have emerged as major stars during or just after a stint on Vaughters's team. But Wiggins was the only one (so far) with the ability to win the Tour, and Vaughters was crushed to lose him to the hyperaggressive Team Sky in 2010, after only one year. Wiggins would go on to win the Tour in 2012.
There are some loose ends here, which is not surprising in a book that attempts to cover so much ground. Vaughters does say, somewhat surprisingly, that he believes Lance was clean during his 2009 comeback season. But he doesn't address the elephant-in-the-room question that continues to loom: Is cycling finally clean? Or at least cleaner? He doesn't offer an opinion. Perhaps he feels that the mere existence of his team, and its survival, speaks for itself.
Toward the end, Vaughters mentions the recent discovery that he has Asperger's syndrome, which he blames for his second divorce and other personal difficulties. This is brave of him, and he describes his occasional inability to handle or express his own emotions. But his condition surely deserves further exploration, at a time when mental-health issues among athletes are finally receiving long-overdue attention. Anyone who's familiar with the world of competitive cycling knows that, for some athletes, the sport is a means of escaping, or salving, or expiating, tremendous inner pain. Not all of them succeed, as the tragic suicide of Olympian Kelly Catlin showed.
The most indelible scene in the book, hands down, remains the story Vaughters told me back in 2006, of Lance injecting himself inside a hotel room at the 1998 Vuelta a España.
"You're one of us now, J.V.," Lance says, looking him in the eye. "This is the boys club—we all have dirt on each other, so don't go write a book about this shit or something."
Trending on Outside Online