'Keep Breathing' or 'Alone': Which Survival Show Is More Entertaining?
We pitted the fictional Netflix miniseries against the reality survival game show to see which came out on top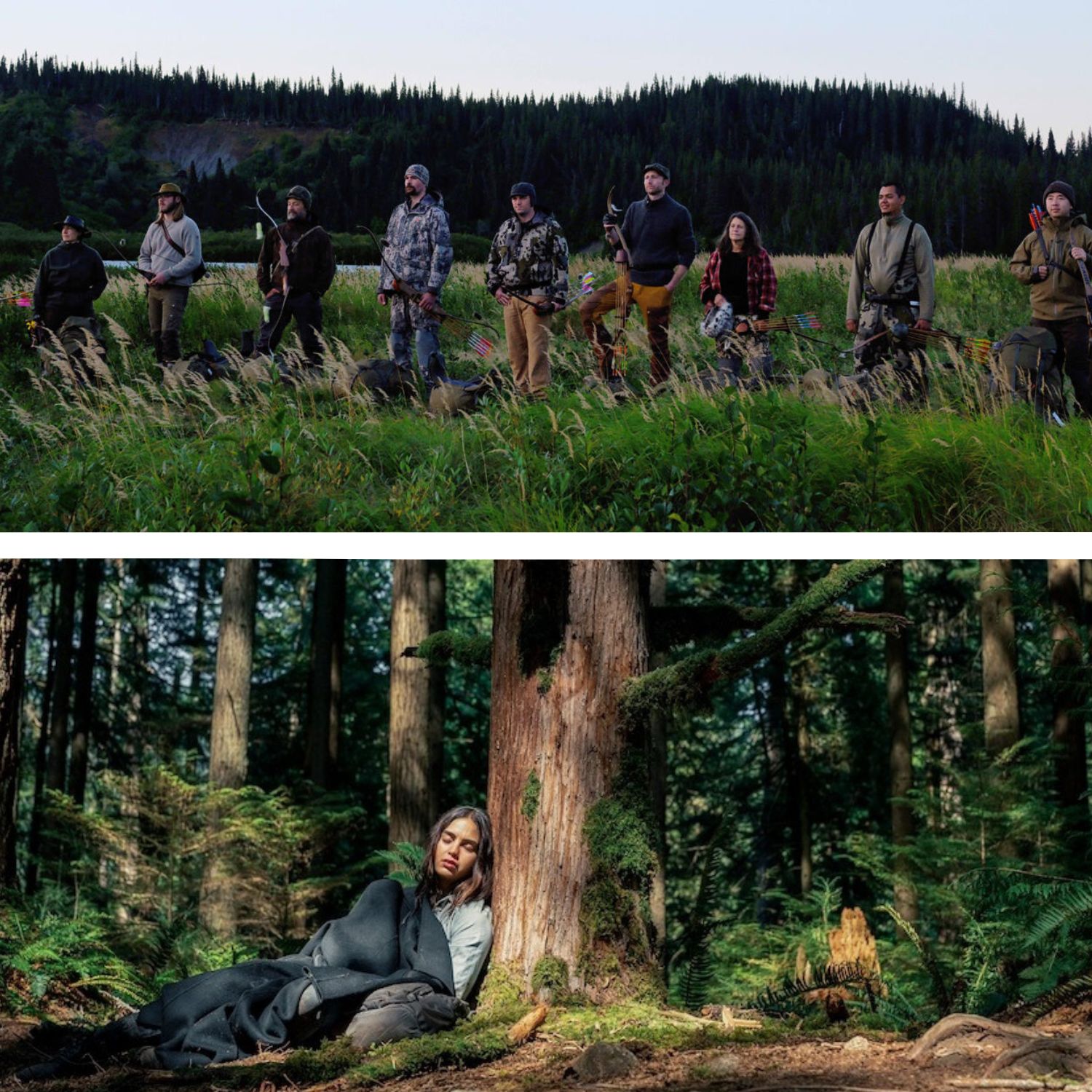 Heading out the door? Read this article on the new Outside+ app available now on iOS devices for members! Download the app.
My partner and I binged every season of the History Channel's reality TV show Alone during the early days of the pandemic and have kept up with new seasons as they've dropped. We devoured Alone on weekends. We ate countless dinners in front of Alone. I even did some crunches and push-ups while Alone played in the background. We are an Alone family.
So when I saw the new drama Keep Breathing under my Netflix recommendations, I rolled my eyes. Who wants to watch a fictional survival show when you've got the real deal? But fresh out of new Alone episodes, and after losing out on a vote by my partner and his daughter, we gave it a try. (Spoilers ahead.)
Keep Breathing follows the journey of workaholic lawyer Liv Rivera (played by Melissa Barrera), as she ultimately is the only passenger to survive the crash of a small plane in the Canadian frontier. Flashbacks to Liv's childhood make up half the show, and these scenes show her coping with a mother with sometimes-untreated bipolar disorder, losing her father, and falling in love with a coworker. The other half  focuses on a now-pregnant Liv trying to survive in the wild.
Media critics have destroyed the limited series for being "fairly forgettable" and just plain dull. I disagree; I actually found the classic—if sometimes corny—survival story, mixed with the drama of Liv's troubled past, pretty entertaining. In some ways, even more so than Alone. Is it fair to pit a reality show against a Hollywood one? Maybe not, but I decided to do it anyway. Here's how they stack up.
Shelter
For me, the best part of any survival show—real or scripted—is harshly and unfairly judging the creativity and functionality of characters' shelters. Whether we're talking about the pit shelter by Theresa Kamper on season eight of Alone or the rock house Roland Welker built on Alone's season seven, I am simply delighted to see the final product and how it holds up against the elements. So when Liv from Keep Breathing threw some pine branches over some sticks and called it good, I was underwhelmed. At least gather some leaves for a mattress!
The Winner: Alone
Food
Food is arguably the most important factor when it comes to survival. Winners of Alone often take home the prize because they bring in the best hauls (like Jordan Jonas, who hunted a 900-pound moose on season six) or simply because they're able to out-starve the other contestants (I'm looking at you, Sam Larson from season five). In Keep Breathing, like for so many Alone contestants, food doesn't come easily for Liv. After rationing the energy bars she brought with her, the lawyer tries to fish, stringing dental floss on a stick, and using an earring as a hook. At first I was impressed by her creativity, but after approximately one minute, she gets a bite, and the fish swims off with her earring and floss. Following this initial setback, Liv gives up on meat and turns to vegetation. After poisoning herself with one kind of berry she gathered, she digs through bear poop to determine which berries the local grizzlies are eating, because those will probably be safe for her to consume as well. Success! While I applaud her ingenuity, it seems unlikely that she could survive on just a few berries, and I give Liv an F for her fishing effort.
The Winner: Alone
Fire
Important for everything from staying warm to cooking food and boiling water, fire is vital to survival on both shows. On Alone, contestants who forgo fire starters and rely on the stick method, often regret their choice when they encounter the damp environment of the wild. Luckily, Liv from Keep Breathing happens to find a cigarette lighter that also survived the crash. She struggles to start a fire—she knows she needs one to boil clean drinking water—until she discovers a bag of money that one of her fellow passengers had on the plane. Believable? No. Entertaining to watch a pile of cash burn? Yes.
The Winner: Keep Breathing
Predators
The predators on Alone are plentiful: season nine was filmed in polar bear country; Amos from season seven was circled by wolves; contestants of spinoff series Alone: The Beast needed to worry about alligators in the swamps of Louisiana; the list goes on. There isn't much thought put into the predators in Keep Breathing. Early on, a bear sniffs the dead body of one of Liv's fellow passengers, so she buries him away from camp. The only other predator the show alludes to is a fleeting fear that drug dealers will come for the bag of cash and some bottles of oxycodone Liv discovered on the plane—but the worry is never mentioned again.
The Winner: Alone
Backstory Drama
Keep Breathing leans in heavily to flashbacks of Liv's childhood and her adult love affair to build the plot. Alone mostly exists in the here and now, and relies on contestants spinning their own tales. Some of these real-life stories are quite compelling, like that of Biko Wright, a cast member from season eight, who was coping with the death of his father and the news that his partner was pregnant with twins. But it's impossible to beat fictional drama. When I asked my 11-year-old stepdaughter which show she preferred, she said Keep Breathing (we have her close her eyes for the mature scenes!). Keep Breathing, she told me, is better because it has a stronger plot and dives more into character development. "I liked the way it showed Liv's inner thoughts and how her past experiences were catching up with her," she said.
The Winner: Keep Breathing
Scenery
Keep Breathing is beautiful to watch, with stunning arial shots of thick, green forests and footage of a glittering, remote lake. The final scene, in which Liv's body is tossed down a rushing river, swallowed by rapids surrounded by giant trees, elicited oohs and ahhs from my partner and me. But it doesn't hold a candle to a single season of Alone. From the jagged mountains of Patagonia in season three to season six's vast Great Slave Lake, the B-roll of Alone is essentially nature porn. Even Hollywood can't outdo the majesty of the great outdoors.
The Winner: Alone
Lead Photo: Netflix, History Channel/A&E Network