Last Man on the Mountain: Jennifer Jordan Talks K2
Heading out the door? Read this article on the new Outside+ app available now on iOS devices for members! Download the app.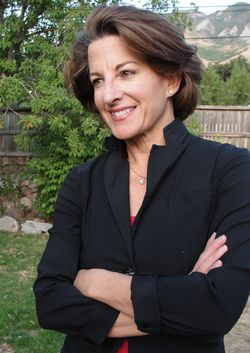 In 1939, wealthy American adventurer Dudley Wolfe was abandoned high on an unconquered K2, becoming the Savage Mountain's first victim. For more than 60 years, no one knew his story. Enter Jennifer Jordan, author, filmmaker, and K2 expert, who discovered Wolfe's remains while living at the base of the mountain in 2002. Her second book, The Last Man on the Mountain, published in August, reveals the intriguing story of Dudley Wolfe's life and the truth about his death. I spoke with Jennifer to discuss her book and get the goods on what life is really like on K2.
–Nick Davidson
How did you get into mountaineering?
I got into it reading high altitude mountaineering books, Into Thin Air in particular. I was a journalist at the time in Boston, and because I could, I started interviewing a lot of the survivors of '96, particularly David Breashears. I asked questions that interested me, and I found a different story in there. The more I pursued it, the more it took me to K2 as I was fulfilling my obsession with high altitude. Somehow this mountain reached out and grabbed me, and it hasn't let go since.
Tell me about discovering Dudley Wolfe's remains in 2002.
I am in a very minuscule group of people who have gone to both sides of K2 without ever having any intention of climbing either. So, unlike most people who approach that mountain, who have their eyes set on the summit, always looking up, I had my eyes set firmly on the base at my feet—because first of all, it's treacherous walking around out there, and second, I had fallen into a crevasse on the north side of K2 two years before, so I was petrified of missing the snow bridge again and falling to the depths.
In my walkabouts, while the team was trying to climb the mountain, I would stumble upon the debris of expeditions past. Because of the topography of K2, everything and everyone that was once on the mountain eventually ends up at its base, either under their own steam, or because of the avalanches and the earthquakes and the wind, and just the sheer gravity and pitch of that mountain. I call it the world's highest graveyard. I always found something.
One day, Jeff Rhoads and I stumbled upon a debris field that instantly we knew was decades old, full of leather and hemp rope and bits of canvas and double-layer pants and Primus stove burners—stuff that hadn't been used in decades. I went around an ice tower and saw this skeleton laid out on the rocks. And then Jeff came back with Dudley Wolfe's glove, with his name on it, so we knew we had actually found the man.
Was Dudley a well known figure to you?
I had read every single book and article ever written on K2 before I went, so I knew who he was. I knew that he had been on the 1939 expedition, and I knew that he was a wealthy American. And I knew that he was the first man to die on K2.
I brought a lot of my library with me to the mountain, so I went back to those books and started rereading. I was struck by how demeaning the language was, because I looked up to where he had last gotten—about 26,000 feet. These books and these articles are calling him fat and lazy and clumsy. I thought, why are they using this incredibly demeaning language in so-called non-fiction accounts about a man who made it higher on K2 than most modern alpinists, in steel crampons and canvas pants? History had gotten him wrong. Nobody gets to where he did on K2 if they're lazy. So I set out to add a chapter to the K2 history that not only vindicates Dudley Wolfe but adds to the nobility of that mountain.
Where did the negative language about Dudley Wolfe originate?
Dead men don't speak, right? Dudley was left high on the mountain, and the men who survived that expedition were very aware of the fact that they were coming back without one of the richest men in America, whose brother was furious and absolutely could not understand why they had left him up there. Fritz Wiessner and Jack Durrance, who were the last ones at base camp, couldn't explain to these flatlanders in New York and Boston why they had left him. So I think before they came back, they got together to figure out what their story was going to be to protect themselves. Let's face it, it's very easy to demean rich mountaineers. We see it all the time. We see a lot of people who have the money to pay their way onto an expedition being ridiculed. Dudley Wolfe was one of the first.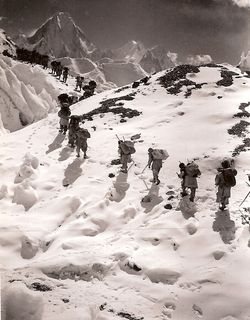 You've lived twice at the base of K2. What's it like?
In base camp, you've got all these triple A personalities, all these adrenaline junkies who have got to get their endorphin fix trapped at base camp with nothing to do, nowhere to go storm after storm, avalanche after avalanche, waiting to get back on the mountain. Ugly things happen.
I have a theory I shared with NASA that they're looking into for their space lab. Jennifer Jordan's crazy whack theory. My theory is that one of the body's most primary responses to altitude is a rush of hormones—fight or flight, body-saving hormones. And one of the strongest is estrogen, because we women need to protect the baby. But in the same way that women have a measure of testosterone, men have a measure of estrogen. That much is fact. When men and women get to altitude, the estrogen starts rushing, because the body doesn't like it much above 5 or 6,000 feet. When you get to 16 or 17,000 feet, the body really doesn't like it. Everybody gets a rush of hormones at base camp. Men just rail at the moon and scream at the Pakistani cooks because, "I will not eat rice for one more meal!" as if they're being withheld the steak. I'd say, oh my God, look at that PMS. The raging that goes on over nothing. I watched a man throw a rock through a tent because he didn't like an email somebody sent. Just crazy-ass stuff.
Anyway, NASA's looking into it. You've got to talk to high altitude mountaineers if you're thinking about sending men and women into space for months at a time. At least on a glacier you can get away, you can take a walk, go miles away and scream and yell and cry on your own little rock. You can't do that in a vehicle the size of a VW bus.
Favorite classic adventure story?
I have one, but I'm not going to mention it because I'm working on getting the story right for a screenplay. Ha ha! I don't want anybody else to beat me to the punch!
Photo 1: Jennifer Jordan, courtesy of Jeff Rhoads
Photo 2: 1939 American K2 team trekking to base camp; George Sheldon