'Light' Takes on Eating Disorders in Climbing
In a new documentary from director Caroline Treadway, athletes like Emily Harrington and Kai Lightner open up about their path to recovery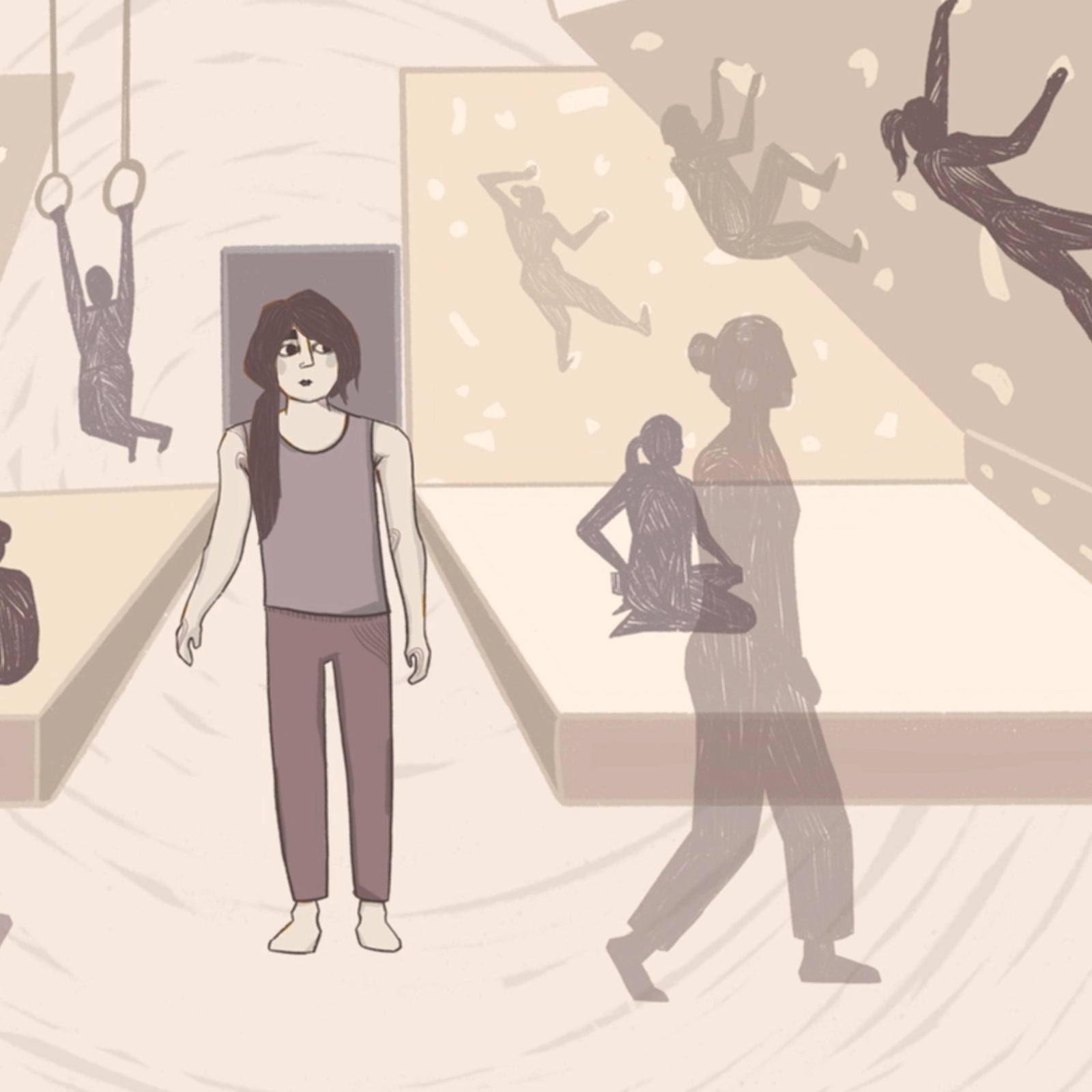 Heading out the door? Read this article on the new Outside+ app available now on iOS devices for members! Download the app.
Caroline Treadway's first film, Light, is a long time coming. The director began to struggle with an eating disorder around the age of 13 or 14 but eventually started a process of recovery when she discovered climbing as a young adult. About ten years ago, while building a career as a writer and photographer focusing on outdoor sports, she pitched a story about eating disorders to multiple climbing magazines—but none of them bit. It wasn't until last year that Treadway, now 44, decided she was ready to make a film about the subject. Light opens up a conversation about eating disorders that reaches far beyond the climbing community, which is a testament to all the time she simmered on the idea.
The 45-minute documentary, which is available for free on YouTube, tells Treadway's story alongside those of four professional climbers who also experienced eating disorders: Emily Harrington, Kai Lightner, Angie Payne, and Andrea Szekely. Climbers like Meagan Martin and Nina Williams also talk about witnessing the sport's unhealthy attitudes toward food and body image. Light shows how the professional side of climbing can be a pressure cooker of criticism and praise, in which many athletes feel they're constantly chasing an ideal body type—and their job depends on it. The title of the film refers to the high strength-to-weight ratio ("lightness") that many climbers see as offering a competitive leg up. Sometimes calorie deprivation is framed as a necessary part of preparing for competitions, evidence of self-control, or a willingness to push harder than others. "You deprive yourself, you starve yourself, you drive yourself into the ground, and then you send," Harrington says, describing the mentality she saw in other successful climbers when she was on her way up. Many of the athletes in Light say they credited their successes at the time with restricting calories and controlling their bodies in these ways. 
Light also depicts a culture in which many athletes are swimming in unhealthy language about body image. Climbers love to watch how others climb, seeing how different kinds of people approach the same problem. But that curiosity may turn into something else in the competitive realm, as athletes can feel that their bodies are always up for discussion. They'll often feel pressure from coaches or peers to lose weight, either in the form of explicit advice or through jokes and observations about their performance. In one striking scene, Lightner recalls how often he'd get remarks that he was bigger than other kids his age. The film then cuts to footage from a past competition of his: "Always curious to see the different physiques we got going on here," an announcer says as he watches Lightner and another climber. He describes Lightner as long and lean before adding, "They're both at the top of their game right now." In a blog post about his eating disorder, Lightner remembers how praise like this reinforced a mindset in which he saw losing weight as the only way to improve his athletic performance. "As I got smaller and smaller, the people around me applauded my efforts, commenting on my dedication to the sport and my rapid improvements," he wrote.
Treadway hopes that Light helps more people validate their experiences with disordered eating, especially if they don't see themselves in the usual narratives.
Treadway tells her own story in animated segments, illustrating particularly painful moments like a cruel comment from a friend after swim practice that first made her feel bad about her body, and the time her parents and medical professionals decided to send her to a mental health hospital out of concern for her eating disorder. The professional climbers' interviews, on the other hand, appear alongside old photos and videos from the time of their eating disorders. Nothing appears to be wrong in this footage: they're smiling, grimacing up a route, or winning a competition. It's only obvious in hindsight how the excitement around a star climber could keep them, and everyone around them, from acknowledging the pressure they were under.
It's through these kinds of contrasts that Light reveals the gulf between how much pain an athlete with an eating disorder feels, and how seldom it may surface in their interactions with others. "The commonest thing for someone with an eating disorder to say when approached is, 'I'm fine,'" internist Jennifer Gaudiani points out in the film. The competitive element of climbing can make those conversations within the community especially fraught: worrying about a friend's health might make you look jealous of their accomplishments, Treadway says. More often, nobody knows how to talk about an attitude toward food that the entire sport seems to condone. Harrington and Payne, who were childhood friends, remember growing apart when they were roommates in the early days of Harrington's professional success. At the time, Payne was trying to recover from her eating disorder, and Harrington was going through her own. It was only years later that they could discuss the topic with each other.
Treadway says she didn't expect the film to resonate far beyond the climbing community. "I thought of it as a sort of insider view of this very personal attitude toward eating, but I also tried to examine the larger culture," she told me. "It was a little bit like a fish looking out of a fishbowl." She thought maybe 1,000 people would watch it when she posted it on YouTube in February, but as of this piece's publication, it had almost 150,000 views. Light seems to be striking a chord with all kinds of viewers, including casual climbers, parents and coaches of climbers, and athletes in other sports that often put an unhealthy emphasis on lightness, like running and cycling. 
What most surprised Treadway was how many men reached out to her about the film. Lightner was the only man who agreed to be interviewed on camera, but he told Treadway he'd like to see more accurate numbers on how many men have shared similar experiences. Gaudiani points out that men are among the many groups often overlooked as at risk for anorexia, along with fat people, people of color, people who aren't wealthy, and nonbinary and trans people—really anyone who isn't a white, affluent cis woman. Treadway is aware of this: "I know that my story is just one story in a multitude of stories that will never be told," she says toward the end of the film. "I know I'm the stereotype and I didn't get missed." She hopes that Light helps more people validate their experiences with disordered eating, especially if they don't see themselves in the usual narratives.
Though certain pressures contributing to eating disorders may be very specific to the world of professional athletes, Light offers takeaways that should resonate widely. Treadway and the interviewees emphasize the value of simply starting conversations around eating disorders; it serves that message that they don't put a gloss on how uncomfortable it was to confront their own or to discuss the subject with others. Most of the climbers in the film talk about how hard it remains to not put a value judgment on their bodies, or to wonder if they'll ever climb as well as they did at their lightest. But none seem to have dropped their competitive edge either. The film is very clear on this point: it's a myth that lightness is the only path to climbing success. All of the climbers express, in their own way, that when they finally started being more compassionate toward their bodies, they found that being strong felt better than being light. "When a mammal is malnourished, you're rigid, rule-bound, and serious, not playful, creative, adventurous," Gaudiani says in the film. It's not hard to see how the latter set of qualities translates to great climbing. Payne, for instance, accomplished the first female ascent of Freaks of the Industry, a V13 in Rocky Mountain National Park, and deliberately did so without losing any weight. At one point in the film, Harrington shares that she hopes to climb a 5.14c one day. "I gotta climb El Cap in a day first," she says, "and I have to eat a lot in order to do that." She became the first woman and fourth person to free-climb El Cap's Golden Gate route in a day not long after.
If you think you may be struggling with disordered eating, contact the National Eating Disorders Association by calling or texting (800) 931-2237.
Lead Photo: Courtesy Caroline Treadway