HBO Shows a New Side of Lindsey Vonn: Vulnerable
The filmmakers behind HBO's 'Lindsey Vonn: The Final Season' had to deal with a sudden plot change while documenting the legendary skier's quest for a coveted record before her retirement, but ended up with an even more interesting story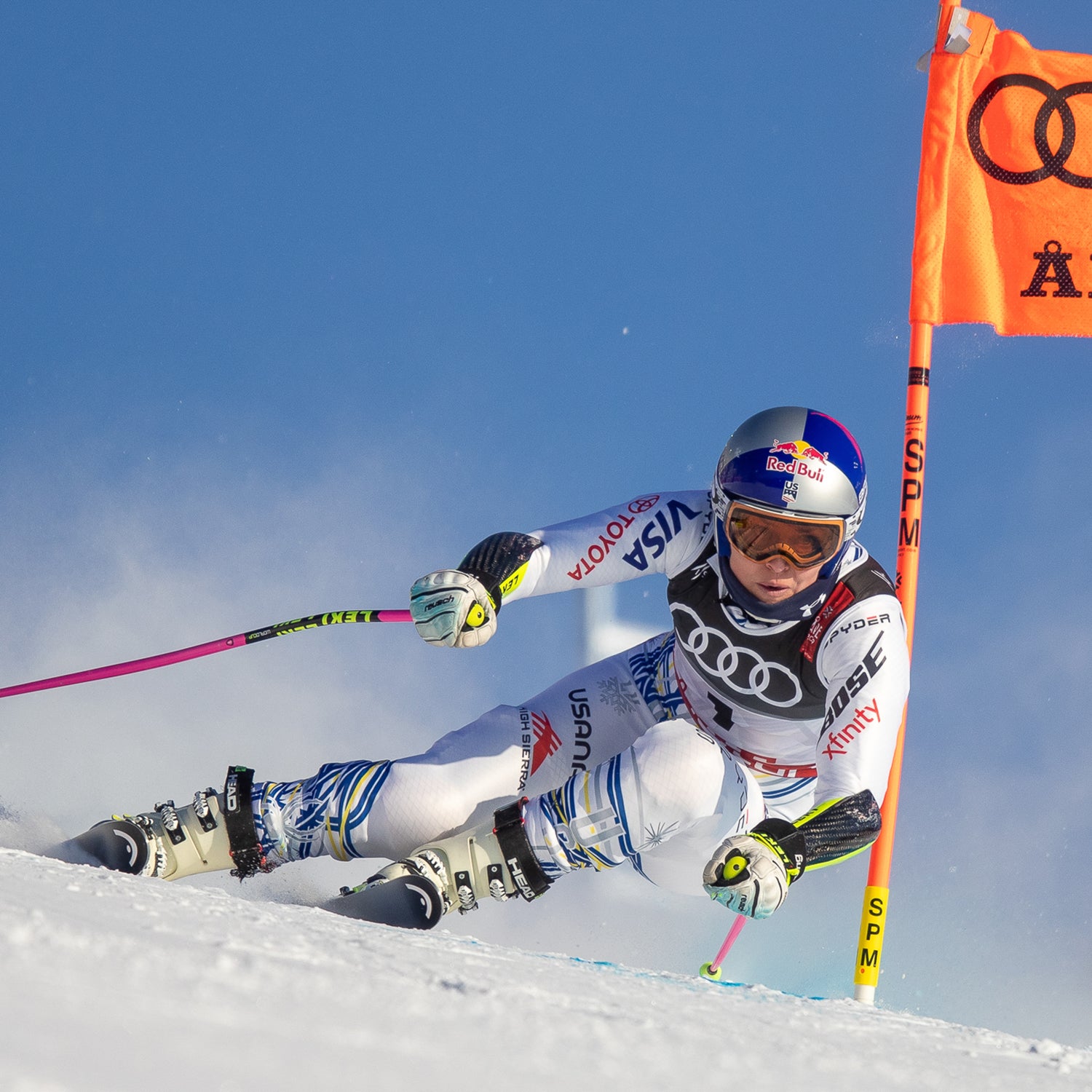 Erich Spiess/Red Bull Content Po(Photo)
Heading out the door? Read this article on the new Outside+ app available now on iOS devices for members! Download the app.
When Todd and Steve Jones, the cofounders of action-sports media company Teton Gravity Research, started making Lindsey Vonn: The Final Season—a look at the storied skier's last year on the World Cup circuit—they were imagining very different material from what they got. Their plan was to be behind the scenes as Vonn pursued one of the sport's most coveted records: Swedish slalom racer Ingemar Stenmark's 86 total World Cup wins. Vonn was only four wins away, and it seemed within reach. But then, last November, she hurt her knee before the season's first downhill competition. She recovered—sort of—in time to ski five more races, but the filmmakers had to pivot. 
The resulting film, which premieres on HBO on November 26, is arguably a lot more interesting. It follows Vonn as she fights to return to the World Cup and chase Stenmark's record, or at least end her legendary career on a high note. A few elements of the documentary felt off to me—I'm not sure I would have used Billie Eilish in a film about a ski racer down on her luck, and Liev Schreiber's stentorian voiceover appears at seemingly random intervals. But the Jones brothers and their team had close access during her recovery and comeback, and the result is the most comprehensive and intimate portrait of Vonn I've ever seen.
Near the beginning of The Final Season, we watch Vonn injure herself on a practice run before the start of last year's season, and follow her to the hospital where she reacts emotionally as she learns she's suffered fractures around her knee that will require at least six weeks of recovery. Vonn has become a world-class rehabber after enduring nearly a dozen surgeries, but this time, the knee doesn't really cooperate, and she struggles in her first races back. In January, she travels to a World Cup downhill event in Cortina d'Ampezzo, Italy, where she broke the women's overall wins record in 2015. She finishes well behind the leader, Mikaela Shiffrin, who is on her way to supplanting Vonn as the greatest women's ski racer ever. Another skier gives Vonn a bouquet of flowers, and she weeps. 
Why force another comeback on a body hanging together by worn cartilage and sutures? Vonn's motivation is clear—she decided to become the best ski racer in history as a young girl, and she won't give up so close to the World Cup wins record. The Jones brothers, treading carefully, also hint at another motive: earning the affection of her demanding and rigid father, Alan Kildow. 
As a young racer, Vonn fell out with Kildow over her relationship with Thomas Vonn, her first husband, and they didn't speak for six years in her 20s. After Lindsey and Thomas split in 2011, she and Kildow reconciled. Of the divorce, Kildow says, a little too smugly, "There was a certain predictability to it, a certain inevitability to it." I think The Final Season gets Lindsey's relationship with her father, a former racer, right. It's hard to miss how, in what should be a friendly interview, they light and position Kildow behind an imposing, dark desk, wearing a Nordic ski sweater, with a severe look on his face. After we're introduced to Kildow, we see clips of Lindsey skiing as a young girl, with her father behind the camera complaining about her technique. It's clear he's been a looming presence in her life, even when they weren't speaking. 
After Cortina, Vonn, in pain, announces that she's at the end of her rope, and will finish her career at the World Championships in Are, Sweden. Her coaches urge her to reconsider. "Everyone is trying to convince me to keep going, and it's like, don't you think I'm trying everything I can?" she asks her media manager. "It just shows you. It's like any other athlete. You're a commodity. When you extinguish your usefulness, they move on to the next one." It comes as a relief to see that a few members of Vonn's entourage actually seem to have her best interests at heart. Namely, her physical therapist Lindsey Winninger, who is always by her side looking out for her body, and her dog Lucy, an irresistible Spaniel rescue who travels with Vonn to Europe. "She has no idea what ski racing is," Vonn says. 
Before the world championships begin, Vonn has a barrelful of fluid drained from her knee, and gets a cortisone shot to quell the inflammation in her damaged peroneal nerve. In super-G—a race also won by Shiffrin—Vonn suffers another brutal crash, blackening her eye but leaving her knee intact. At a press conference before the downhill, a reporter asks Vonn what it's like to race knowing she probably won't win. Vonn responds, icily, "Who said I won't win?"  
The downhill goes as well as could possibly be expected: Vonn is third, earning her an eighth World Championships medal. She retires with the 82 wins—Stenmark's record survives. Afterwards, Alan Kildow says that it was never really about winning, but about leaving a mark on ski racing, which, well, seems a bit dubious. Vonn, though, talking to reporters in the finish zone, looks content for the first time in the film. "I've accepted where I am in my life," she says. "I'm happy and I'm excited for the future. I've cried enough tears, and now it's time to enjoy it."
Lead Photo: Erich Spiess/Red Bull Content Po
Trending on Outside Online