To Live and Die in AK
Liam Neeson's new wilderness-survival epic upends disbelief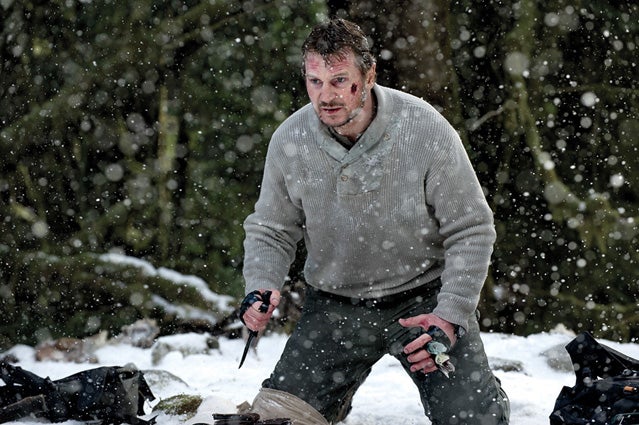 Heading out the door? Read this article on the new Outside+ app available now on iOS devices for members! Download the app.
FIRST OFF—YEAH, it's weird that Liam Neeson, who lost his wife, Natasha Richardson, to a ski accident in 2009, would elect to star in a movie as a man devastated by the loss of the woman he loves. In fairness, though, The Grey, a big-budget, Hollywood-does-Wrangell wilderness-survival epic that opens this month, is no meditation on life imitating art imitating mourning. His character's grief is there for the same reason it is in a vintage Mel Gibson action flick: to establish our anti-hero's state of desperate cunning. The greater mystery is why Neeson bit on co-writer and director Joe Carnahan's script, a mashup of monster movie, psychodrama, and mawkish bromance.
Neeson plays Ottway, a sharpshooting wolf exterminator for a drilling operation somewhere above the Arctic Circle. In voiceover, Ottway tells us that the remote outpost attracts "outcasts, rejects, convicts, assholes—men unfit for mankind." Strap in, folks, for a subzero Dirty Dozen! When their flight back to Anchorage crashes, seven of these hard-luck bastards are left to fight for their lives in the backcountry, besieged by a pack of royally pissed-off gray wolves—the only animal, we're advised, "that will seek revenge." Next morning, we're down to six.
From here the action takes a turn for the preposterous. We're not just talking standard moviemaking concessions like hoods down and coats blowing open in a minus-50-degree gale (so we can see the actors better). We're talking hand-to-hand combat with animatronic wolves that behave less like canines than like frenzied barracuda. We're talking uncalled-for stunts like a running leap off a cliff when a simple rappel would suffice.
This sort of thing—demonized wildlife, Vertical Limit–style acrobatics—can be entertaining, of course, as long as no one takes himself too seriously. If only. Carnahan (The A-Team, Smokin' Aces) seems determined to prove that he's deep, and he's anxious that you not miss any of that depth. Carnahan has one ex-con yell at the wolves, "You're not the animals, we're the animals!" This same dude, as he dies, is revealed to have NO MAS tattooed on his neck. No, really. And his demise follows an exchange in which the men, tearing up, share their first names for the first time—a scene, you think, that must have been workshopped at America's last Iron John retreat.
If any of this is a shame, it's because cinematographer Masanobu Takayanagi's haunting Alaskan wilderness (actually Smithers, British Columbia) hints at a version of The Grey that could have been a fraction as violent and twice as frightening, and because Neeson, despite it all, turns in a first-rate performance. The Irishman's face was pained long before his family tragedy, and it's ideally suited to Ottway's predicament. Neeson even manages to remain convincing as he recites, for the third or fourth time, a poem attributed to Ottway's dad, an eighth-grader's parody of the Bard's King Henry V: "Once more into the fray.… To live and die this day."