The Long Captivity of Michael Scott Moore
The German-American surfing writer was kidnapped by Somali pirates in 2012—and held for two years and eight months. Joshua Hammer reports on his imprisonment, drawn-out negotiations to ensure his release, and the ugly business of kidnapping for cash. As the global debate over ransoming hostages heats up, just how should we be getting our journalists home?
Heading out the door? Read this article on the new Outside+ app available now on iOS devices for members! Download the app.
In his two years and eight months as a hostage in Somalia, Michael Scott Moore spent his days and his nights confined to small, stifling cells, often in handcuffs. His guards, terrified that U.S. Navy SEALs would try to rescue him, moved him to a different safe house every couple of weeks. A 45-year-old native Californian with dual German and American citizenship, Moore was a passionate surfer who wrote an acclaimed book about the sport called Sweetness and Blood; now he watched his body grow soft from lack of exercise. During his captivity, Moore encountered 30 other hostages from a variety of countries. He was allowed to speak with them, and to his guards, who spoke little English and spent their days chewing qat, the mildly stimulating leaf to which many Somalis are addicted. But as the months turned into years, Moore grew increasingly desperate.1
Mixed in with the boredom and isolation would have been moments of terror. Before dawn on January 25, 2012, a week after Moore was abducted while conducting research for a book about piracy, Navy SEALs cordoned off the nearby town of Galkayo and set up a staging area at the airport. The commandos climbed into helicopters and swooped into the village of Hiimo Gaabo, where two Western expatriates working for the Danish Demining Group—the American Jessica Buchanan and the Dutchman Poul Hagen Thisted—were being held by pirates. The SEALs killed all nine of the Somali captors, and freed the two hostages unharmed. Planning for the raid had taken weeks, and the SEALs, operating out of Camp Lemonnier in Djibouti, hadn't had enough time to locate Moore, who was just a few dozen miles away. The operation sent his captors into a panic and the dead pirates' brethren into a rage. They threatened to invade Harardhere, the coastal town where Moore was being held, and kill him. Moore's captors, from a rival clan, strengthened their protection force, adding about fifty armed men, and began shuttling him around every few days. His captors were "scared all the time," a source says.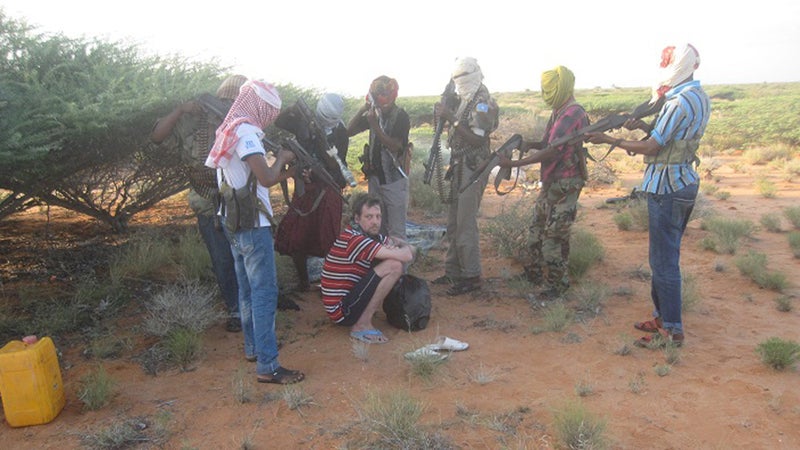 Moore's captors reportedly didn't beat or torture him, but he did suffer psychologically. A video released by the pirate gang in May 2012 shows a distressed Moore, surrounded by masked men aiming Kalashnikovs at his head, pleading for help. Moore claimed that he hadn't eaten for two days. "My life is terrible," he said, and he was "terrified." Eight months later, French commandos botched an attempt to rescue an intelligence agent, a man using the pseudonym Denis Allex, from an Al Shabaab stronghold southeast of Mogadishu. Allex, two French soldiers, and 17 militants died in a long gun battle.
In the many months that Moore was held, the skies over the area were often filled with U.S. drones and warplanes monitoring pirate activity. There would be no rescue for Moore, but he would gain his freedom. The nightmare ended on Tuesday, September 23, when, according to the Associated Press, Somali clan intermediaries hand-delivered a ransom of $1.6 million to his captors—a variation from the typical procedure of air dropping the money in by Cessna. It remains unclear who paid the money—whether it was the German government, Moore's family, kidnapping insurance, or some combination. One security expert with tangential knowledge of the negotiations believes that the bulk was raised by Moore's 75-year-old mother, Marlis Saunders, of Redondo Beach, California, who "passed the hat" around to friends, family members, and supporters. Saunders, sources say, not only was forced to deal with pirates holding her son in the bush half a world away, but was also likely thrust into the middle of a diplomatic kerfuffle between the German and U.S. governments, who have diametrically opposed views on ransoming hostages. An impasse over paying the kidnappers may have extended Moore's captivity by months, if not years.
In the end, the pirates got their money, and Moore was driven to the airport in Galkayo, the lawless and violent town near which he was kidnapped in January 2012, and flown to Mogadishu. From Mogadishu he flew on to Nairobi, where he stayed at a private residence under heavy guard. Then Moore returned to Berlin, his home for eight years prior to his kidnapping, and reunited with his mother. If his post-release period follows the usual pattern, he is undergoing extensive debriefings by the Federal Bureau of Investigation and German intelligence—trying to identify his captors from photographs, and pointing out all the places where he was held.
Moore was the latest and among the most prominent of thousands of foreigners seized in Somalia during the past decade, most of them crew members on merchant vessels captured by pirates in a wave of hijackings that reached its peak between 2008 and 2010. Hostages in Somalia have included Western aid workers, holidaymakers, and journalists. The Canadian reporter Amanda Lindhout and her Australian colleague Nigel Brennan were seized in April 2008, and ransomed fifteen months later for $600,000. (Lindhout later wrote a book, A House in the Sky, about her ordeal.) In October 2009, pirates snatched a British couple, Paul and Rachel Chandler, from their yacht off the Seychelles, held them on board a hijacked merchant ship, then transferred them to the coastal town of Ceel Huur, near Harardhere, where Moore was also kept for much of his captivity. The Chandlers were released on November 14, 2010, after the payment of a ransom—reportedly as high as $1 million and as low as several hundred thousand dollars—patched together from friends and relatives.
Sadly, since ISIS has stepped onto the scene, the pirates' modus operandi has come to seem downright old-fashioned—take the money, release the hostage. As the West has become all too aware, after the grim beheadings of American freelance journalists James Foley and Steven Sotloff and British aid workers David Haines and Alan Henning at the hands of ISIS, Islamist groups, including Somalia's Al Shabaab movement and affiliates of Al Qaeda, tend to be far more brutal than the pirate gangs. Half a dozen hostages have died while prisoners of Al Qaeda in the Islamic Maghreb, founded in Algeria in 2006; an AQIM splinter group beheaded the French hiker Hervé Gourdel in Algeria on September 24 of this year. The Islamic State of Iraq and Syria has executed thousands of Iraqi and Syrian prisoners in addition to the four Westerners it killed this year. As dehumanizing, humiliating, and physically and psychologically punishing as Moore's imprisonment was, few, if any, hostages have been known to die while in pirate captivity.
---
Moore's release has cast fresh scrutiny on the media blackouts that often follow the kidnapping of high-profile Western hostages—most of the press remained silent about Moore throughout his captivity. During the 1980s, when the first wave of kidnappings of foreigners began in Lebanon, the Associated Press's chief Middle East correspondent, Terry Anderson, Anglican Church representative Terry Waite, and dozens of other hostages received extensive press coverage. But over the past ten years, kidnapping has turned into a big business, with ransom, not political statements, now the primary goal of terrorist groups and criminal gangs. The kidnapping boom has given rise to a cottage industry of hostage negotiators and kidnapping and ransom (K&R) insurance companies who have a vested interest in expediting talks and keeping prices down. 
Colin Freeman, the chief foreign correspondent for London's Sunday Telegraph, a former hostage in Somalia, and the author of the book Kidnapped: Life as a Somali Pirate Hostage, wrote in a column this month that press attention often backfires "by convincing the kidnappers that they have a very high value prize, who should not be lightly released." In addition, media publicity can bring out "dodgy" middlemen who claim to have ties to the kidnappers, as well as rival groups looking for a cut. "The whole thing can end up in chaos," Freeman wrote, "with no clear channels of communication, and no clear idea of whom, if anyone, a deal can be struck with."
Acting under the advice of its negotiating team, The New York Times pleaded with media colleagues not to write about reporter David Rohde, who was kidnapped by the Taliban while researching a book in Afghanistan in 2008. After being held for eight months, with almost no news coverage, Rohde escaped from a house in a tribal area of Pakistan and made his way to safety. The parents of Steven Sotloff, kidnapped in Syria in August 2013, fearful that his captors would learn about his dual United States–Israeli citizenship and murder him, managed to keep his abduction out of the news for a year. Sotloff's captivity was revealed to the world only when he appeared at the end of the video of James Foley's execution. In the end, ISIS killed him too.
Over the last ten years, kidnapping has turned into a big business, with ransom, not political statements, now the primary goal of terrorist groups and criminal gangs.
Two years ago, when I began researching a piece for Outside about Moore's abduction, the Pulitzer Center on Crisis Reporting, which had given Moore a grant to report from Somalia, as well as the German newsweekly Der Spiegel, which had employed Moore on its English-language website, asked us to stop pursuing the story. David Rohde, who had been in touch with Moore's mother, also requested that we respect the blackout. "The family and both news organizations think publicity at this time will increase the captors' expectations and complicate negotiations," he explained via email. Outside respected the family's wishes and published nothing. In 2013, the Daily Beast assigned a freelance journalist to go to Somalia to investigate the Moore kidnapping, but the reporter backed off when he became aware of the family's objections. Updates on Moore's abduction did appear from time to time in Slate, the Huffington Post, Medium, and L.A. Weekly, and on surfing websites like The Inertia and The Cardiff Kook, but for the most part, the blackout held.
As Moore's captivity dragged on, however, some close to him began to question the wisdom of the policy. "The American government needs a kick in the ass," one journalist who knows Moore well told me about a year into his captivity. Frustrated at the pace of the negotiations, and suspicious that the U.S. was blocking efforts to pay a ransom, he believed that a magazine piece would increase pressure for a rescue mission or a deal. Moore's mother wavered as well. "There were moments when she seriously considered lifting the press ban," says a source close to the family. At one point, the source says, Saunders contemplated making a public cry for help—possibly a video addressed to her son's kidnappers. The FBI, sources say, was camped out at her home, monitoring the negotiations between her—or, more likely, a private security contractor representing her—and a Somali negotiator hired by the pirate gang. Those close to the situation speculate that the FBI talked her out of going public.
The American journalist Robert Young Pelton, author of The World's Most Dangerous Places and the founder of Somalia Report, a nonprofit website compiled by a staff of Somali journalists, has been a strong advocate of transparency in the Moore case and other kidnappings. Pelton claims that the average time hostages have spent in captivity in Somalia has risen from thirty days in 2008 to six months in 2012. Pelton and other advocates of transparency—including the family of Alan Henning, the aid worker recently murdered by ISIS in Syria—argue that family publicity campaigns and media coverage can put additional pressure on governments to secure the hostages' release. Reg Henning, Alan's brother, told the press that he and his family were "gagged" by the British government, which opposes ransoms, and prevented from talking about the case in public. But as Freeman points out, by the time Henning was shown on an ISIS video with a knife against his throat, any publicity campaign would have been far too late.
Somalia Report was the first publication to reveal the details of Moore's kidnapping; it posted the May 2012 video and continued to cover developments in the case. This, says Pelton, prompted an angry response from Der Spiegel, which demanded via e-mail that Somalia Report cease coverage of his kidnapping. "They wanted to cover up their connection to Moore and limit their liability," alleges Pelton, who says that the newsmagazine scrubbed all of Moore's articles on Somalia from its Web site after he was kidnapped. "They just want to protect themselves." Der Spiegel executives flatly deny this; since 2009, they say, Moore had been only an infrequent freelance contributor to the online publication. The only reason Der Spiegel discouraged media coverage, they say, was to facilitate any negotiations and speed up his release.
One factor that may muddy the waters is whether the hostage has a K&R policy. One of the first things that kidnappers do after seizing a hostage, the security expert familiar with this case says, is to "troll for all the links and connections of the prisoner," to determine his market value. K&R insurers typically provide about $1 million in coverage for travel in Somalia. This, says Pelton, can actually raise an insured prisoner's perceived value—and drag out negotiations—since the captors figure that the family won't be footing the entire bill. Similarly, a hostage's employer can come into play. "If Moore were working for a little San Diego Web site," says the security expert, "that would look a lot less attractive than working for a giant German media house." Der Spiegel executives, however, insist that it held no K&R policy for Moore because he wasn't on assignment for them.
The Pulitzer Center on Crisis Reporting, which had given Moore a grant to travel in Somalia, wouldn't comment on whether it provided K&R coverage for his trip; the organization will often require its grant recipients to carry insurance for travel to hazardous areas; it may underwrite those costs, but sometimes leaves it to the recipient to obtain the policy. (Full disclosure: I received a Pulitzer Center grant in 2014 for travel to northern Mali, an area still subject to occasional abductions by Al Qaeda in the Islamic Maghreb, and was asked to purchase my own insurance with the promise of reimbursement.)
Moore's release has also cast new light on the debate among Western governments about paying ransom to terrorists. Because Moore was a citizen of both the United States and Germany, his kidnapping drew the two governments into a rare and awkward collaboration. "It's complicated enough when there's one nation involved," says a security specialist with some knowledge of the negotiations. "Getting two countries to coordinate their actions is a total nightmare."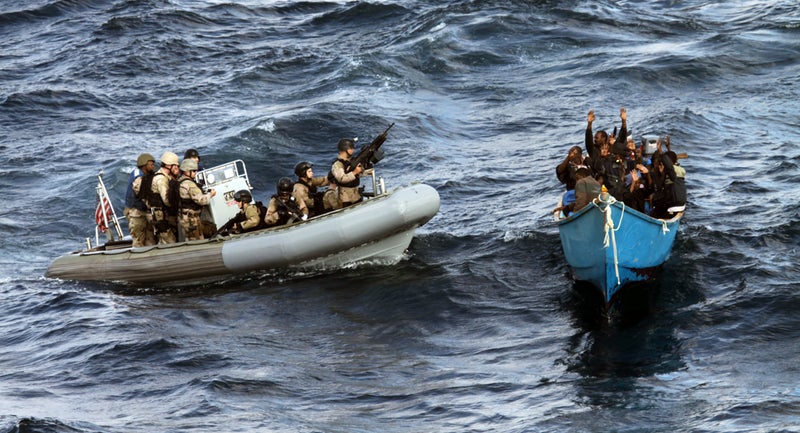 Especially when the two nations have maintained opposite policies toward paying ransoms. In 2003, in the first of many such cases, a German diplomat carried about $6 million cash in suitcases on a plane to Mali to free fourteen European hikers who had been held for months by the Salafist Group for Preaching and Combat, a precursor to Al Qaeda in the Islamic Maghreb. The German diplomat turned the cash over to a Malian hostage negotiator, who delivered it to the kidnappers in a German diplomatic vehicle. "They denied it at the time, but everybody knew they did it," Vicki Huddleston, then the American ambassador to Mali, told me a few months back. The U.S. government, by contrast, has always maintained that it won't make deals with terrorists. (There have been exceptions, however: last May, U.S. Army soldier Bowe Bergdahl was released by the Taliban in Afghanistan in exchange for the freeing of five prisoners held in Guantánamo.)
As the Moore case unfolded, the two governments were in regular communication; an FBI agent attached to the American embassy in Berlin would likely have attended meetings in a basement crisis room in the German Foreign Ministry, along with representatives from Germany's intelligence services, the defense ministry, and the interior ministry. (U.S. Embassy officials wouldn't comment on the presence of the FBI at the meetings.) The security expert I spoke with believes that the U.S. government may have pushed Germany to refuse the kidnappers' demands, putting a far greater burden on Moore's mother to scramble to raise money and thus drawing out the process.
State Department officials won't comment on that allegation or anything regarding this case; they emphasize, however, that, while it's impossible to prove, the no-ransom policy may have protected more Americans from being kidnapped abroad. "Our policy is clear: we make no concessions to individuals or groups holding our citizens hostage," a State Department official told me. "The U.S. government condemns hostage taking and kidnapping under all circumstances and would caution that ransom payments made to any hostage taker or kidnapper encourage future instances of kidnapping for ransom." However, as ISIS has proved, seizing Americans—and sometimes killing them—can have a shock value beyond, say, seizing a Dutchman or a German. While publicly denying that they pay ransoms, Germany and other European nations often quietly accede to terrorists' demands, because they consider the alternative—allowing their citizens to be murdered, often brutally—to be far worse.
Moore, who may well know exactly who paid his ransom, has not spoken publicly about his ordeal, and he has asked his friends not to talk as well. "He is hoping to do his own version of what happened to him and I respect him in that," says one of half a dozen friends reached by Outside who declined to talk further about Moore for this story.
---
So what was a surfing writer doing in Somalia in the first place? Moore certainly wasn't drawn there by the waves: the shark-infested and lawless waters off the Somali coast have never qualified as a surfer's paradise. "You find several beach breaks along the coast out of Mogadishu, but it's not safe to go here at the moment," notes GoSurfAfrica.com with dry understatement. Rather, Moore was intrigued by a different coastal phenomenon—piracy. The subject was a natural for the peripatetic writer, who has long been drawn to gonzo adventures, bizarre subcultures, and, occasionally, breaking news. In the fall of 2009, when Moore first traveled to Africa to begin looking at Somali pirates in earnest, the story had never been hotter.
Moore was born on June 5, 1969, and spent his childhood and teenage years in Redondo Beach, where he attended Mira Costa High School. He later he moved to San Francisco, where he began his career as a writer, including a stint as a theater critic for the San Francisco Weekly. In 2003, he published a novel, Too Much of Nothing. It was a semiautobiographical story, set in the 1980s in a fictitious Southern California beach town, about a restless teenager's last months before his death at the hands of a friend. Two years later, he moved to Berlin to write. (Moore's joint American-German citizenship was acquired through a relative.) He rented an apartment in Prenzlauer Berg, in the former East Berlin, at the time a shabby but gentrifying neighborhood popular among American expatriates. And he began translating and contributing freelance pieces to the English-language page of Der Spiegel's website, founded by three expatriate freelance journalists.
Moore also led an active social life. He played in a poker game with other Berlin-based American writers, and organized a Stammtisch—a "regular table"—each month at Osswald, a bar in Prenzlauer Berg with sturdy wooden tables, wurst-heavy German cuisine, and cheap beer and wine. The Stammtisch drew students, writers, and other expatriates and grew into something of a Berlin phenomenon. "Mike is a gregarious guy, and establishing a social network was important for him," says an acquaintance. (On the night Moore was released, his Stammtisch regulars gathered at Osswald and raised a glass to him.) In 2006 he won a Fulbright journalism fellowship, awarded to promising Americans with a special interest in Germany. He started a blog called Radio Free Mike, in which he wrote about whatever captured his imagination: the Holocaust, Frank Zappa, Blackbeard the pirate, and Israel's blockade of 23 surfboards donated to a Palestinian surf club by the U.S. nonprofit Gaza Surf Relief. 
In July 2007, Moore traveled to Munich for Spiegel Online to cover the Surf Open, held on a tributary of the Isar River at the most popular river-surfing spot in Europe. "Except for the landlocked heat and the freshwater smells, the Munich Surf Open seemed no different from a small-surf competition in Malibu or Huntington Beach," Moore wrote in a dispatch for The Atlantic.
"He had found these surfers in Munich who surf on the river, and it fascinated him," says one Berlin acquaintance. Moore landed a book contract to roam the world—from the north coast of Germany to Cuba to Gaza—exploring the global surfing subculture. "He was really trying to dig into this thing," says the acquaintance. "Surfing was something he deeply missed, living in Berlin."
Sweetness and Blood came out in July 2010 to wide acclaim. "Moore and a robust wet suit have boldly gone where only serious and often seriously unhinged dudes have gone before, mapping out a fresh, unexpected cartography of the waves," wrote Andy Martin in The New York Times Book Review. The Washington Post called the book "a lively global jaunt that will offer some surprises even for the heartiest of wave-riding experts." Moore promoted his book with gentle humor: "Everybody join the Sweetness and Blood page! The book is #3 in Amazon's 'Water Sports' category, which of course amuses me," he wrote on Facebook just after publication. "Any urge to praise the book might be satisfied by leaving an enthusiastic five-star review on Amazon in advance of the Christmas season," he wrote on his Facebook site in December 2010. "Any urge to criticize could be turned to good use with a private message indicating typos. There's time to correct them in the next edition!"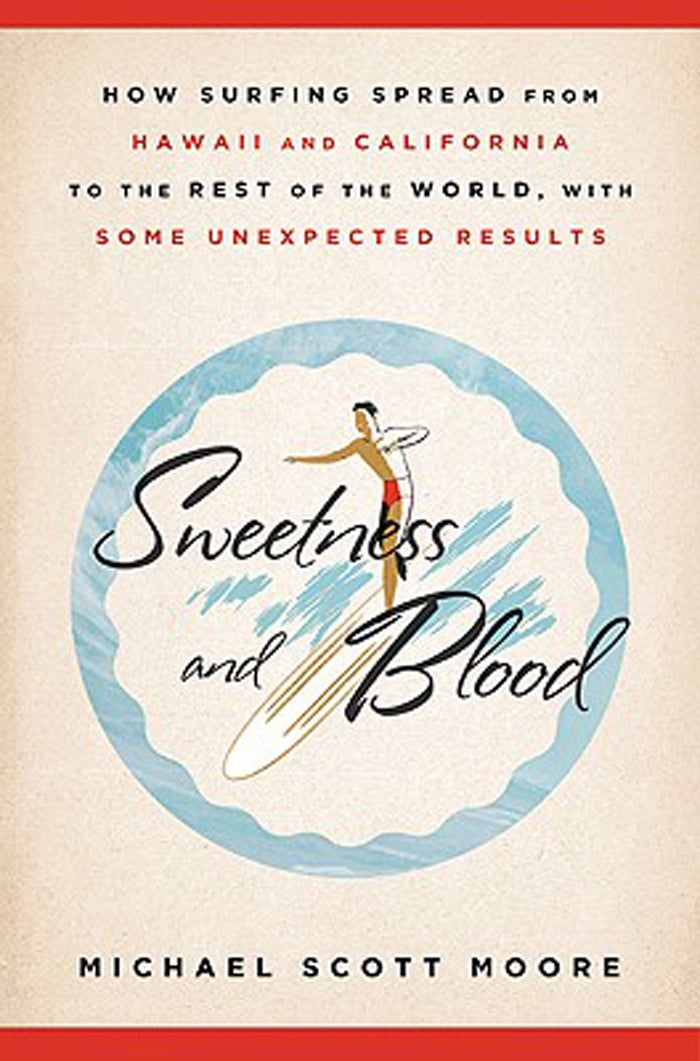 By then, Moore was thinking ahead to his next book. In an interview published in a New York Times blog in June 2010, he described a trip taken to East Africa the previous November, at the height of the piracy epidemic. Somali pirates captured 42 vessels in the Gulf of Aden in 2008, 35 in 2009, and about three dozen in 2010. In a single three-month period between April and June 2010, according to a report by the AKE Group, a British security company, Somali pirates captured 317 foreign hostages—the most of any nation on earth. (According to the International Maritime Bureau, armed seizures dropped to just 14 in 2012—and fell to zero in 2013—after ships began traveling in protected convoys and carrying armed guards. Still, 37 foreigners from three previous merchant vessel kidnappings are believed to remain in captivity in Somalia). In an article for Pacific Standard, Moore investigated the U.S. government's deployment of naval vessels off the Somali coast, ostensibly to protect commercial shipping but also, he suggested, to fight the terrorist group Al Shabaab. The piracy project, Moore told the Times, "has the same appeal to me as the surf book—it has the same clash between hard fact and clichéd mythology. It would also involve a great deal of travel."
Moore became interested in the case of the MS Taipan, a German-flagged vessel that had been captured by ten Somali pirates in April 2010. After its captain issued an SOS, Dutch naval forces boarded the Taipan, captured the hijackers, and turned them over to German authorities. In November 2010, Moore covered the trial in Hamburg for Spiegel Online—the pirates were given two- to seven-year prison terms. There, he met a German translator who had lived in Somalia and who encouraged him to visit Galmudug, a lawless autonomous region in central Somalia. "It all started at the trial," says a longtime acquaintance. Moore lined up a grant from the Pulitzer Center in Washington, D.C. and, around New Year's 2012, flew to Nairobi.2
Mike Pflanz, an Africa correspondent for London's Daily Telegraph, met Moore at a coffee shop in a Nairobi shopping mall during the first week of January. Pflanz had covered the kidnapping of Paul and Rachel Chandler, the British couple seized by pirates while cruising around the world on their yacht. "He struck me quickly as someone who was quite well-informed and keen," Pflanz recalled. "He had done enough research, he could rattle off the names of pirates. He knew what he was talking about." Moore also seemed aware of the risk. "He asked me whether I had experience moving with private security," says Pflanz, who replied that he had traveled in Somalia only with United Nations escorts. "But he was not gung-ho, and seemed to be conscious of the dangers." Pflanz put Moore in touch with Abdi Guled, his Mogadishu-based stringer. "He asked for my advice on his already planned trip to Galmudug and I strongly advised him against that decision by e-mail," Guled, now the AP's Mogadishu bureau chief, told me. Guled says that he warned Moore of the "high risk" of kidnapping. "But he said he'd still go. Then he discontinued our communication."
---
Galkayo, a sunbaked commercial center of half a million people in central Somalia, is a divided city. The north belongs to Puntland, an autonomous region dominated by the Darod clan. South Galkayo is the capital of Galmudug, described by Pelton as "a snaky little faux republic," populated by the Darod's traditional clan rivals and sometime enemies, the Hawiye. "It's a violent place, with political assassinations and random gunfights," says Jay Bahadur, a Nairobi-based writer and consultant who traveled to the region five years ago to research a book about piracy. Moore and a fellow journalist hired a fixer in Berlin, a Somali expatriate who had arranged security for two similar trips to the region. The fixer, a Sa'ad from the south, accompanied the men as they conducted interviews with Galmudug officials and reformed pirates, and may have visited Hobyo, a coastal town and pirate enclave where plans were being hatched to build a port.3
It was on the Galkayo airport road that Moore was taken. Near the same spot where the Danish Demining Group team was kidnapped the year before, a reported fifteen men stopped Moore's vehicle and pulled him from the car. According to Pelton, the kidnappers turned Moore over to a pirate commander named Ali Dulaaye, from the Hawiye's Sa'ad clan, which, with its rival Saleebaan clan, dominates the hostage-taking business in Galmudug. (Saleebaan kidnappers had abducted Buchanan and Thisted.) Moore was taken to the coastal town of Hobyo. Less than one week later, Navy SEAL Team Six, which had killed Osama Bin Laden in 2011, rescued Buchanan and Thisted and killed their captors. The raid threw Moore's guards into a panic that never subsided. "They were always afraid of an attack," said a Somali source. "They were afraid of the Saleebaan clan and the U.S." Along with the fear came anger. The kidnappers initially demanded a ransom of $20 million—an unprecedented sum for a single hostage—as compensation for the extra militiamen they were forced to hire to protect Moore. They threatened to turn Moore over to Al Shabaab if they didn't get their money.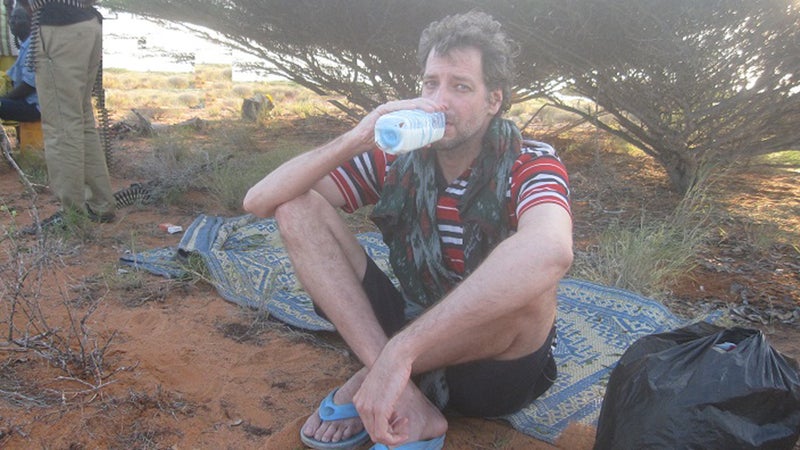 Through his Somali contacts, Pelton tried to persuade the kidnappers to lower their demands. "I said, 'He's not a big fish, he's a freelance journalist. You're not going to sell him to Al Shabaab, that's bullshit, they don't buy hostages, and besides there is no Al Shabaab in this corner of Somalia.' " (The Islamic rebels are concentrated around Mogadishu and the south.) Moore was shuttled to a series of huts along the coast, then moved forty miles inland, to a desolate, heat-blasted region of scrub populated by desert nomads and outlaws. Pelton stayed in touch with the kidnappers. "For a while they said, 'He's in a hole, being kept away from the drones' . . . He was not being treated like a normal hostage."4
Meanwhile, negotiations for Moore's release crept along. According to the security consultant with knowledge of the case, all talks with the Somali pirates went through a single channel. If Moore had been covered by a K&R policy, a "response team" from the insurance company would have handled the negotiations. But this was not the case, the consultant says. Moore's mother was guided by private security experts— evidence, he believes, that Moore was not carrying insurance. Those expert negotiators would have kept Saunders "front and center" with the pirates, emphasizing the message that the pirates were bankrupting an old woman with little funds.
"I think she did quite a bit of this," says the consultant. "I know that she took a leading role." If the process fit the usual pattern, the FBI would have provided her with a regular flow of information, including medical updates, "proof of life" videos, and intelligence gleaned about Moore's movements. Both the feds and the hostage negotiations would likely have warned her to deflect all media attention and keep his abduction a secret.
"Hey folks … spoke to someone in the know, and the 'be quiet' thing is real and useful," a friend of Moore's posted on his Facebook page in late 2012. "Please, to protect our friend's safety, do not mention his name or personal info online—here, Twitter, you-name-it. I have it on good authority that there are knowledgeable people working feverishly to bring him safely home, and there is concern that too much buzz will interfere with that. If you've posted about him, please consider deleting or editing your posts to remove information that would identify him." Some of Moore's friends took issue with the enforced silence. "Guys, do you think it still makes sense to stay quiet?" challenged one. "I mean, it's been ten months." The other responded: "We're looking to his mom for guidance. She says please stay quiet. That's what I'm doing."
---
Though the details of the talks are still not known, Pelton says that, last year, the ransom price was whittled down to between $3 million and $5 million. Talks then stalled, and Moore's conduit made almost no contact with the pirates. Pelton says that he had his last conversation with the pirates in June 2014. "I asked them, 'Why are you still holding Moore?' They were very angry with everybody—his mother, the ransom negotiator. They said they had been lied to, and that they were done 'playing the fucking game.' " Pelton asked if he could speak to Moore. "They said 'No, we want money. We want the goddamn money. We've been holding him too long.' "
By late summer, the Somalis had allegedly tired of Moore and remained on edge about a rescue attempt. In September, they settled on a ransom of $1.6 million, less than a tenth of their original asking price. "I don't think they'd be happy with that after two and a half years," says Jay Bahadur, the author and consultant. The pirates had been paying usurious rates to borrow money to supply themselves with qat and to pay those extra guards, and they also would have owed their negotiator either a percentage of the ransom or a flat fee—usually between $30,000 and $40,000. Divided among a dozen or more members of the gang, says Bahadur, the $1.6 million payoff "was an extremely poor result."
Moore's Facebook page lit up with greetings and expressions of concern from friends around the world. "How did you stay sane? How did you keep hope? How did you cope?" asked one. "Too many of us with too many questions—I guess a book is in order—so glad you are back."
Moore responded with gratitude, making it clear that he would answer all those questions in good time. "You're all wonderful. I'm overwhelmed and still bewildered," he wrote. "My friends here also know better than to talk with journalists. There are a lot of rumors circulating, but I can tell the story myself." Almost immediately after his release he issued a public statement requesting privacy: "Right now I have to recover my wits and spend time with family and friends. I hope journalists will respect that. The support from everyone has been terrific and I knew nothing about it in Somalia." Outside sought comment from Moore via Facebook and through several friends, but he declined to respond. (His corrections, sent to Outside in March 2015, are reflected in this version of the story.)
His captors, meanwhile, were in less of a mood to celebrate. Two days after his release, the pirate gang that seized him got into an argument about the ransom. According to Abdi Guled of the Associated Press, one faction accused the other of cutting a private deal with the negotiator and collecting more than its fair share. A gunfight broke out, and three pirates, including the commander, were shot dead. Given the horror that they inflicted on Moore for nearly a thousand days, few would be surprised if he regarded the killings as poetic justice.
Notes
Moore told Outside that he did not spend almost all his time in silence. Over the course of his captivity, he encountered 30 other hostages, from various countries, in various settings. He was allowed to speak with them, and to his guards.
Moore maintains that he did not end his freelance association with Spiegel Online in 2012, as this story originally reported.
Moore arranged a fixer in advance, not after he arrived in Somalia, as this article had stated. He and a fellow journalist, who traveled with him, hired a Somali expatriate in Berlin who had arranged security for two similar trips to the same region. The fixer was not a Darod from Somalia's north, but a Sa'ad from the south. He had never lived in North America.
Moore was not held in handcuffs, as originally reported, except for photos and videos sent out by the pirates.
Corrections:
(10/02/2023) Michael Scott Moore was unreachable when this story was posted in October 2014. In March 2015, he contacted Outside to correct several inaccuracies about his time in Somalia as a reporter and a hostage. The changes are reflected in the text, as well as in footnotes at the end of the story.
Lead Photo: AP