Looking to Build a Community of Hot Young Entrepreneurs? Why Not Buy a Mountain?
An invite-only conference series for young progressive leaders plans to make a permanent home in the Wasatch Range, buying Powder Mountain for a rumored $40 million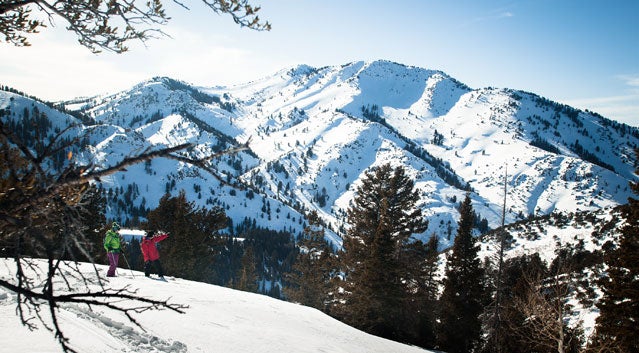 Heading out the door? Read this article on the new Outside+ app available now on iOS devices for members! Download the app.
Summit Series, a four-year-old annual conference for young business, non-profit, and entertainment leaders—think TEDTalks meets Davos meets Lollapalooza—has announced that it's inked a deal to buy Powder Mountain in northern Utah, a 10,000-acre powder hound's playground. The group plans to build 500 home sites and a conference center on the backside of the ski resort, which is known for 500 inches of annual snowfall and a distinct lack of lift lines. The group hopes to build a residential think tank-cum-playground for the type of people who attend their conference series, which have, in the past, featured performances by The Roots and Jose Gonzalez, and a chartered cruise to tag sharks in the Bahamas. We caught up with Summit's Thayer Walker to find out what comes next.
Forbes called you guys the "hipper Davos." How'd you move from conferences to ski resorts?
Since we started in 2008, we've hosted an annual event that's come to include about 1,000 people—an incredible spectrum of multidisciplinary change-makers, from astronauts to entrepreneurs; athletes, scientists, conservationists, writers, journalists—anybody who's doing something to change the world and looking to use their talents for good.
We bring all these people together for talks and discussions and musical events. In 2011, we chartered an ocean liner for 1,000 people, sailed out to the Bahamas and went shark tagging to help with research at University of Miami. Branson was there. We partnered with the Nature Conservancy and ended up raising $1 million to create a marine reserve in the island chain where we dropped anchor.
So we've been throwing these really incredible events over the past four years, and we've raised tens of millions of dollars for business ventures, creative output, non-profits…. We started to ask ourselves what we could achieve if we could create this kind of environment year-round. When Powder came up for sale, one of our attendees, Greg Mauro—a venture capitalist and an Eden, Utah, resident—said we should check it out. And we were like, Holy cow, this would be perfect.
How do you decide to buy a mountain?
Powder Mountain is just spectacular, and the Ogden Valley is a really beautiful place. I hadn't skied it before we arrived last February, but there are just limitless outdoor opportunities out here. We wanted to create a place where people can come together to create, but also relax in a spectacular natural setting.
Its 10,000 acres make up the largest skiable area in the country. Last year, we averaged just 900 skiers per day. So it's pretty wild how much powder you can get.
What has the local response been?
It's been pretty positive. Powder was founded in 1972 by a sheep rancher, so it's got this very old-school type of vibe to it. Instead of coming in and putting up 15 lifts, we want to preserve the character as-is. It's a really exceptional place. It's rare to find a mountain of this size that doesn't have 20,000 people on it every day.
Powder had been purchased several years ago, and there was tremendous local opposition to the planned development. The group wanted to put in 10,000 units, two 18-hole golf courses, tons of new lifts. But what makes the mountain special is the open spaces—I mean, you can see four states from the top of it, and a week after a storm you can still get fresh tracks. It really feels like a national park up there.
We thought that we could do a fraction of the development and, most importantly, still keep it open to the public.
Powder's known for its local feel—is that still going to be the case?
We do want to preserve that ethos—we're looking to incorporate more land under lease for adventure skiing, but we have no plans to turn it into a corporate, 20,000-person/day ski area. We want to keep it small.
Powder's really known for its adventure skiing: there are only four lifts, so you have to earn your turns. James Peak, the highest at Powder Mountain, requires you to take an inbound snowcat to Lightning Ridge, where you have to bootpack. If you want to ski it, you really have to want it. We want that to remain. A lot of other potential buyers wanted to build a lift up there.
Do you all ski?
Yeah, ski, snowboard, surf, climb, yoga, CrossFit—we have a couple second-degree black belts on the team. We're a pretty healthy, athletic group.
Powder seems pretty isolated for a conference hub.
Believe it or not, it's less than an hour from the SLC airport. The reason it's so untracked is because the Park City complex is a little bit closer and to the east of the airport. We're north. Powder has sort of been hiding in plain sight for the past 40 years.
There isn't a lot of available housing around Powder, but you guys are building. What will the development look like?
The community is called Summit Eden. It's on the backside, and it'll be 500 home sites, a sort of alpine-bohemian mixed-use village, and potentially some boutique hotel rooms.
Do you already have a lot of interest in the housing sites?
As of our first fundraising round, our commitments are oversubscribed.
Do you picture these young entrepreneurs skiing runs together and coming up with great ideas?
Yeah, a lot of these home sites are ski-in, ski-out. You'll be able to walk out your front door, click in, and drop into 900 feet of vertical powder.
Beyond that, we're going to have scientific and musical residencies; we're going to build a recording studio at 8,000 feet. It's a retreat, but we also want to see companies being built here. We want non-profits to find resources from this community. We see this as a sort of living, breathing heartbeat of culture and innovation in the heart of the Wasatch.
I imagine you can't give us any hints as to what big names will take up residence?
Not yet.
It seems like the difficulty with translating these events into a community would be the buy-in cost. Are the residencies designed to make the community more open?
We're not really in a position to talk about the financial nuts and bolts of it, but we plan to have a whole spectrum of ways people can get involved. We're looking for two defining characteristics: incredible work, and real integrity. We're trying to bring together people who are trying to make a really positive impact on the world.
Any ski-specific events?
We're already working on some really cool ski programming for this year, open to everybody. I can't give too many details at the moment, but the mountain's name is not hyperbole: the powder—it's sick. There is so much snow. We don't make snow—we don't need to. It's literally some of the best powder skiing on earth. We plan to take advantage of that.