Mickey Mouse Operation
Disney is getting back to its nature-documentary roots—but can the company escape its own legacy?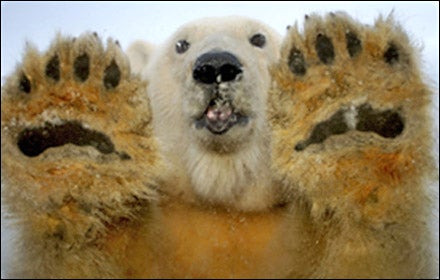 Heading out the door? Read this article on the new Outside+ app available now on iOS devices for members! Download the app.
IN 2003, THE TINY FRENCH film company Bonne Pioche sank $3.5 million into a quirky film about penguins traversing Antarctica. Three years and $127 million in gross profits later, March of the Penguins won an Academy Award for best documentary. BBC's natural-history series Planet Earth is still a best-selling DVD two years after its release. Wildlife documentaries haven't had this much cachet since Jacques Cousteau snorkeled into suburban living rooms in the 1960s. Now Disney wants in on big-budget critter porn, and the entertainment juggernaut has plans to turn nature docs into its next reliable big-screen blockbusters.
The new Disneynature production banner blasts out of the gate with Earth, a $15 million natural-history smorgasbord compiled from the same raw footage as Planet Earth. Opening on Earth Day, it's the first of seven documentaries Disneynature is producing through 2012. Up next is The Crimson Wing, an investigation into the lives of flamingos, followed by a deep-sea feature from French director Jacques Perrin, whose Winged Migration nabbed a best-documentary Oscar nomination in 2002. Unlike Migration, however, which ran in only 202 North American theaters, Earth is going big: On opening weekend, Disneynature will beam it across screens nationwide, with ace of bass James Earl Jones narrating images of baboons and polar bears, Everest and the Kalahari.
Why would Americans shell out $8.50 for footage they can watch on cable? According to Earth director Alastair Fothergill, "For a lot of people, this is a way to see a world they'll never go to. And it works brilliantly on the big screen."
The gamble could be a shrewd one for Disney, whose studio revenues have dwindled by 15 percent since 2004. Documentaries are cheap to produce compared with Pixar cartoons like Wall-E (price tag: $180 million). And early returns from overseas are promising. A BBC-produced version of Earth aired in Germany in 2008, grossing $36 million. In Japan—where personal robots outnumber black bears—it knocked Will Smith's sci-fi hit I Am Legend from the top box-office position.
Of course, for every March of the Penguins, there's an Arctic Tale. In 2007, Paramount's North Pole doc flopped spectacularly. It was panned for assigning cuddly names to polar bear cubs and letting narrator Queen Latifah drop lines like "Pull my flipper." The irony is that there's an adjective for schlock like this. When nature films get too cheesy, people say they've been "Disneyfied."
So in a sense, Disney is out to recapture its good name. The company actually has a pretty distinguished documentary pedigree. Its True-Life Adventure films set the standard for nature docs in the fifties. Originally appearing as shorts that aired before feature films, they went full-length in 1953 with The Living Desert, a southwestern ecology lesson that won the Academy Award for best documentary, trumping mountaineering classic The Conquest of Everest.
How does Earth stack up? It's not entirely free of gimmickry. Fans of Planet Earth will recognize about two-thirds of the footage, but the film reduces that series's cast of thousands to focus on polar bears, elephants, and humpback whales—a holy trinity of charismatic megafauna. And hearing Jones intone "Get down, baby" to a strutting bird of paradise is uncomfortable at best.
But that's the extent of the Disneyfication, and Earth is astounding in a Titanic sort of way—its genius is a function of scale. Whale songs in surround sound make New Age CDs sound like wax cylinders, and hi-def aerial photography inspires vertigo. Earth is an event that kids will dig and biologists will respect. And the rest of us? It's nice to know that if you can't afford to visit the Kalahari, you can explore it at the local multiplex.