Mountainfilm 2010: Skier Lynsey Dyer
Heading out the door? Read this article on the new Outside+ app available now on iOS devices for members! Download the app.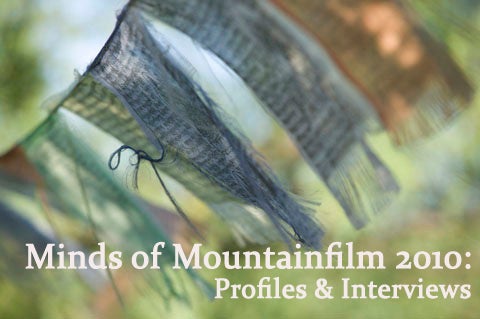 Over the coming months, Outside will be posting interviews with adventurers, environmentalists, filmmakers, and others conducted by Mountainfilm. Many of the icons appearing at this year's festival have been featured in the pages of Outside. For more information on this year's festival, which begins on May 28, please check out Mountainfilm's Web Site.
Lynsey Dyer is not just one the best female skiers in the industry, she's also an artist, a model, and the co-founder of a non-profit organization. Residing in Jackson Hole, WY, Dyer's film career includes a long list of well-known film companies including Teton Gravity Research and Warren Miller. Her powder skills have also put her on the pages of Men's Journal, Women's Health, Outside, Powder, Freeskier and beyond.
But skiing isn't her only passion. With a bachelor's degree in Graphic Design and Photography, she has kept art and design an important part of her life and has been able to integrate it into the sport she loves. She has designed everything from t-shirts and skis, to posters and websites.
Dyer's passion for skiing also translates into action. When she realized she wanted to do more as a visible role model in the ski industry, she and her two friends Vanessa Pierce and Claire Smallwood, founded SheJumps, an organization to help inspire women to reach their greatest potential through the outdoor activities they love. Whether she is skiing, shooting photos or motivating others to get outdoors, Dyer is an example of how to live a balanced life that gives back.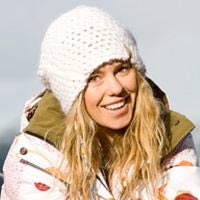 At a very young age you've packed a lot of achievements into your resume – world class skier, artist, designer, model, TV presenter and founder of a non-profit dedicated to increasing women's participation in outdoor activities. How do you manage so many diverse activities?
Luckily I have an amazing people to work with at SheJumps and everything else seems to fall into place.  We are still 100% volunteer based and my partners also hold down several careers while making SJ a priority.
From earning a pilots license while teaching skiing, to participating on the World Extreme Skiing tour while covering rent as a chef at a helicopter skiing operation, Claire Smallwood and Vanessa Pierce, my co-founders are some of my heroes.
Which part(s) of all that you do you find most exciting/inspiring and most satisfying?
I really appreciate the variety in which I get to express my connection with the outdoors. As an athlete it's a physical expression in relation to the mountains and as an artist I try to reconnect with that feeling to express the same emotion. I love coming home ridiculously exhausted from a 15 hour day in the mountains and getting to retell the experience through art while my body recovers. Through the TV hosting I get to inquire about what lights people up, and through the non-profit I get to help others find it in ways they may have never had the opportunity to before.
As someone who loves and values the outdoors, how do you think this year's Mountainfilm theme of species extinction plays into a larger discussion of our society and our future?
This year's theme couldn't be a better topic to bring more awareness to. In third grade I won a statewide contest for a rap I wrote trying to encourage my fellow students to do something about saving endangered species but all it got me was a blue ribbon. The only way I felt like I was actually making an impact was by holding bake sales and donating funds and by doing what I could to walk the walk myself. I realized then that a tree frog going extinct on the other side of the planet wasn't going to force people to change until it directly affected us Westerners in our every day lives. That direct consequence is hitting us now, and though I believe that people want to help, I'm not sure they understand how.
What do you think the loss of biodiversity means for the world's human population?
It's not a new idea that we're all connected and that we all depend on the whole for balance and the continuation of our own species.  I'd like to think that the brains that brought us humans so many advancements will also help us find our balance with the rest of the planet.
What impact, if any, do you think showcase events such as the Mountainfilm festival can have on causes like environmentalism and social justice?
In some ways I'm afraid we're preaching to the choir, but Mountainfilm has also shown me how powerful it can be to bring likeminded individuals together who are passionate about change. In my first year at Mountainfilm, I found my tribe and the inspiration to take on issues that seem overwhelming when taken on alone. I am certain that the inspiration and energy generated in one weekend of Mountainfilm could fuel an entire movement.
How do you see media – be it film, photography, journalism, art, etc. – serving as a catalyst for positive change?
There are two ways to create change, through fear and through inspiration. My intention through everything I do, in skiing for films, creating or with the non-profit is to inspire people to play outside; "if she can do it so can I"(one of SheJumps' mantras). If everyone could feel the raw connection to nature, through making a turn in powder snow, riding down the face of a wave, or climbing up a rock, then I believe they'd be inspired to not only save it, but be a part of it; "get amongst it," we like to say in the bro-bra ski world.
What do you think ordinary people can do to meaningfully impact the kinds of global crises we face today such as climate change and species extinction? (Or, more simply, what can ordinary people do to help effect positive change?)
First we have to heal ourselves by discovering the authentic connection we have to each other and everything around us. Once we allow ourselves to wholly connect to something bigger (our true nature) the payback is everything we've ever wanted. We remember that it has been that connection and not money, or power or popularity that we were really after all along. Then all the things we're told we should do, like buying organically and locally, consuming less, and putting others needs ahead of our own happens naturally because we are finally fulfilled from the right place and the other path just doesn't hold feel authentic or satisfying.
 With a lot of talk going on currently about how to save our world, or pieces of it, what do you think are the conversations most worth sustaining?
I have a thing for trees, water and animals, in particular the world's rainforests and oceans.  They hold so many of the world's greatest resourses by way of animal, plant life, even medicines, besides processing the carbon out the atmosphere. Equally important however is coral reef conservation. The variety of species living there is one of the most diverse on the planet and yet reefs make up such a small part of the oceans.  Being that rainforests only encompass 6% of the planet now, and reefs only one tenth of one percent of the ocean floor, compared to some crises, these seem a bit less daunting with huge reward if we can move to save them NOW.
Check out our recent story on Lynsey Dyer and view a gallery of her in action.