The Best Adventure Podcast You Should Be Listening To
Evan Phillips climbed mountains until an injury took him out of the game. Now he pours his energy into making music and 'The Firn Line,' a podcast about the lives of climbers, artists, and adventurers.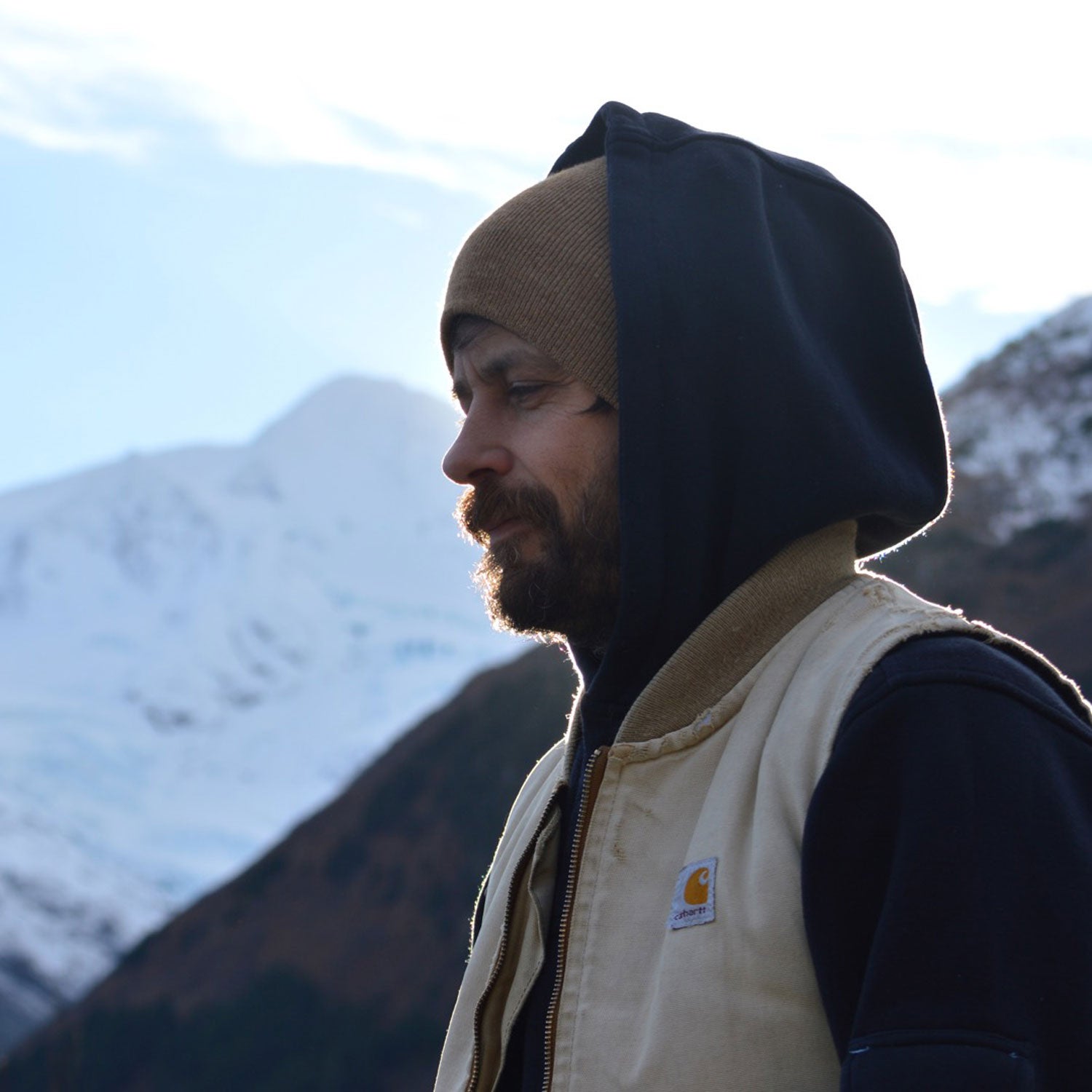 Courtesy Evan Phillips(Photo)
Heading out the door? Read this article on the new Outside+ app available now on iOS devices for members! Download the app.
Growing up in Anchorage, Alaska, Evan Phillips had front-row seats to the wild. From age 16 to 27, he ventured from peak to peak, often guiding on the 20,310-foot Denali, as well as climbing in the Canadian Rockies, the American Southwest, and Aconcagua, in Argentina. So it seemed natural that when Phillips created a podcast, he called it The Firn Line, named after the elevation on a glacier where the snow reaches bare ice. "I spent a lot of time on glaciers and rugged mountains, and the name just made sense to me," he says.
The podcast may not have happened if not for an injury that sidelined Phillips' serious mountain pursuits. In the spring of 2002, he pulled his right groin while stemming up a rock climb. Ignoring the injury, Phillips continued guiding and schlepping loads in the hills. "[The groin pull] was quite serious, but I didn't stay off it," Phillips, now 42, told Outside from Anchorage, where he lives with his partner, Kelsey Vrem. For two years, he explored solutions to the chronic pain that made it difficult to walk, let alone climb. Phillips underwent multiple surgeries, but nothing worked. Defeated, he sold his climbing rack.
The year following his injury, Phillips made a shift. He poured all his energy into singing, playing guitar, writing, and producing music—he taught himself while in high school—and eventually started touring in Europe with his band, Easton Stagger Phillips. He also records with the Whipsaws. To date, Phillips has released five Americana-style solo albums; his latest, Cabin Vibes, is due out in July. He's also a producer and has released dozens of albums for other groups. As for his injury, "sometimes I do well, other times I have so much pain I have to work at home," Phillips says.
Last year, Phillips also started The Firn Line. He's releasing the second season this month. He produces the show out of his condo, doing his best to fit the labor into a nine-to-five schedule so he and Vrem can hang out when she gets off work. But sometimes he still finds himself up all night, editing episodes and composing music to get them just right. "The satisfaction for me is that I'm able to contribute to the climbing community again," Phillips says. "I spent 15 years away from that because it was devastating for me."
The show is built around interviews with notable alpinists, with one-hour conversations that come out about a month apart and 30-minute episodes that Phillips calls "Short Ropes." He also gives each season a theme that informs who he interviews. Season one, which included 22 episodes that ran from March 2017 to January 2018, was titled "Stories from Alaska's Mountains." Guests included landscape and climbing photographer Mark Westman, photographer Clint Helander, and legendary alpinist Jack Tackle. "My goal is to honor the people I'm chatting with," Phillips says. "I understand on some level what drives them, and I'm fascinated by this lifestyle. I take it very seriously."
In the ten years that Phillips climbed, he says, what drew him to the mountains were the partnerships as much as the adventure and beauty of high places. So his conversations are often intimate, focusing on emotions and relationships surrounding his guests' experiences. Phillips also gives speakers plenty of space to tell intense stories about great climbs, rescues, and near misses. In the podcast's first episode, alpinist Charlie Sassara talks about when he was forced to abandon his partner Jack Tackle and facilitate a rescue after Tackle was struck by rockfall that left him temporarily paralyzed high on Mount Augusta, in the Yukon Territories, in June 2002. In another episode, Helander describes multiple visits to Alaska's Revelation Mountains, as well as his strained relationship and eventual reconciliation with his mother before cancer took her away.
"When I started this podcast, I knew it would feel like a huge alpine climb," Phillips says. He spends about 40 hours on each hour-long episode. He does everything, including preproduction, recording, postproduction, editing, and writing the music. And his labor shows: The podcast has 150 perfect reviews on iTunes, and Phillips believes his listenership is approaching 15,000 streams per month.
Season two, starting April 20, is themed "The Creative Climber," focusing on alpinists and climbers who are also artists, writers, and photographers. Interviewees include Alaska bush pilot and all-around adventurer Leighan Falley and professional skier, adventurer, and storyteller Brody Levin. In one upcoming episode, Phillips interviews a woman who skis deep into the Alaska mountains with her paint kit and spends hours capturing the scenes that inspire her. "She lives in a cabin in Fairbanks, with no running water, and she creates her own path through life," Phillips says. "That simple lifestyle allows her to make a living as an artist."
As always, Phillips is behind the scenes doing whatever it takes to create the podcast that reconnected him with the climbing community. For another upcoming episode, Phillips met Conrad Anker, head of The North Face climbing team, at the Hilton Hotel in Anchorage at 6:30 a.m., just before Anker flew back home to Bozeman, Montana. They chatted for nearly two hours about climbing with the late Mugs Stump, Anker's first Alaska climbs, and his passion for environmental activism. "After days of preparation and planning, I just got the alpine start to go and do it," Phillips says.
Subscribe to The Firn Line on iTunes, Stitcher, or SoundCloud. You can also listen to episodes on Phillips' website.
Lead Photo: Courtesy Evan Phillips
Trending on Outside Online