My Toughest Shot
That trope about photos being worth 1,000 words? Here's where it came from.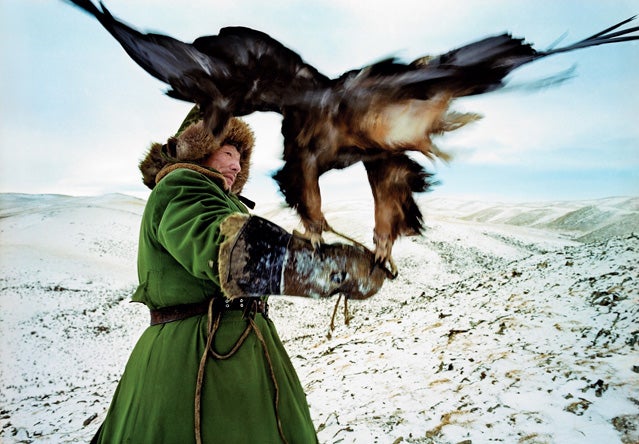 Heading out the door? Read this article on the new Outside+ app available now on iOS devices for members! Download the app.
We asked some of the world's best photographers to share their hardest-won images and the wild, sometimes foolish, and invariably bold adventures behind them. From a nomadic Kutchi camp in Tajikistan to a frozen lake in Siberia, and everywhere in between, these pros show—and tell—how they got the job done.
---
Nicky Bonne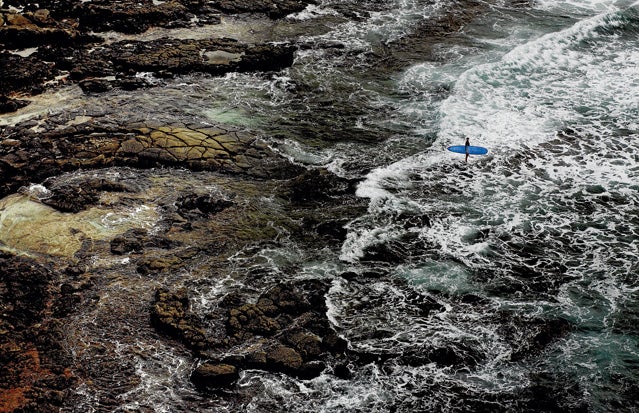 I was on a seven-day commercial shoot in Lanzarote, Spain, trying to get a shot of a windsurfer launching out of the ocean. I blew my entire budget on a helicopter and didn't get a single photo because of poor winds. Then, on the final day, I happened to meet a guy whose uncle owned a gyrocopter—basically a flying shoebox. He agreed to fly me around. We found some windsurfers, and I was lucky to get a decent shot. But then, on the way back, I saw this surfer on the shore. He was staring up at us and I snapped one shot. That was it. It turned out to be the best photo of the trip.
---
Camille Seaman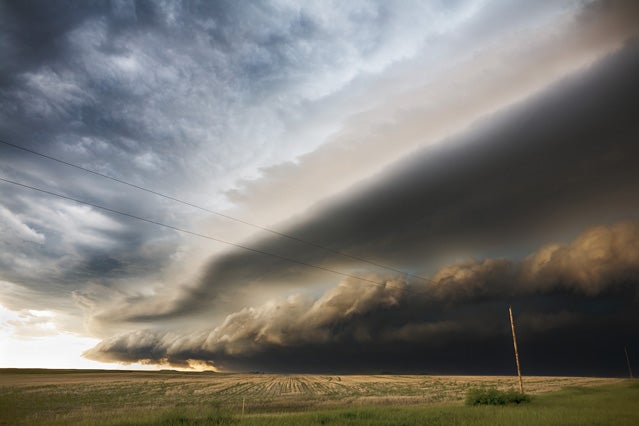 We tracked this supercell from Nebraska to South Dakota, over a distance of 800 miles, in June 2008. We were driving 95 miles an hour to avoid getting swallowed by this thing, and then we'd stop for just a few seconds to snap photos. The idea is to stay in the sweet spot, away from the storm's precipitation, and follow it while it develops. Warm, moist air fuels the cloud until it can't hold any more, and then it blasts out gusts of cold air and rain. This was taken right before the storm dropped golf-ball-size hail on us.
---
Jason Florio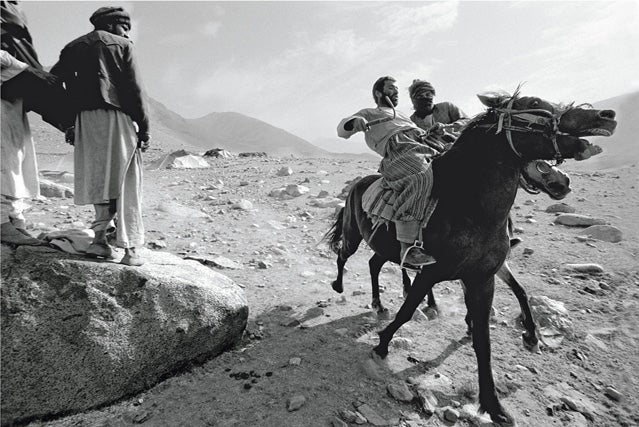 I traveled for a month to get this photo of two nomadic Kutchi men showing off their horsemanship in Afghanistan. In August 2001, I had an invitation to meet the anti-Taliban commander Ahmed Shah Massoud. To reach him, I attempted to be smuggled through a Pakistani no-man's-land, wearing a burka, without success. Then I took a UN flight to Tajikistan, where one of Massoud's helicopters met me. While waiting for him, a commander allowed me to visit this Kutchi camp. It was three weeks before September 11.
---
Paolo Marchesi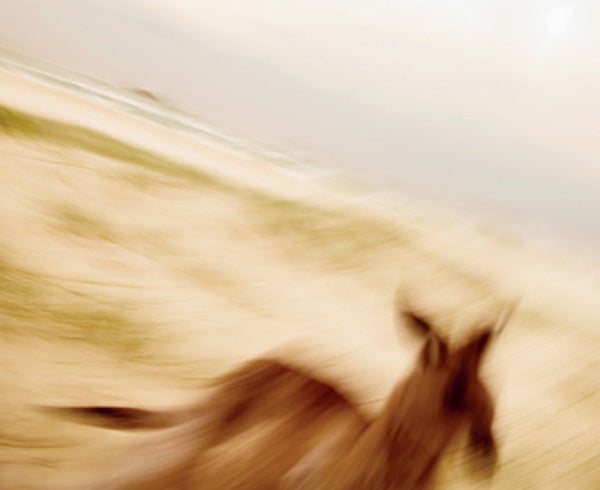 I was on a beach in New South Wales, Australia, in 2008, looking for surf, when I happened on a group of kangaroos. One had babies in her pouch. I followed her for maybe 20 minutes, taking photos, getting within six feet of her when she suddenly jump-kicked me. The blow made me click the camera and I got this photo. After that, I stayed pretty far away.
---
Jeff Hutchens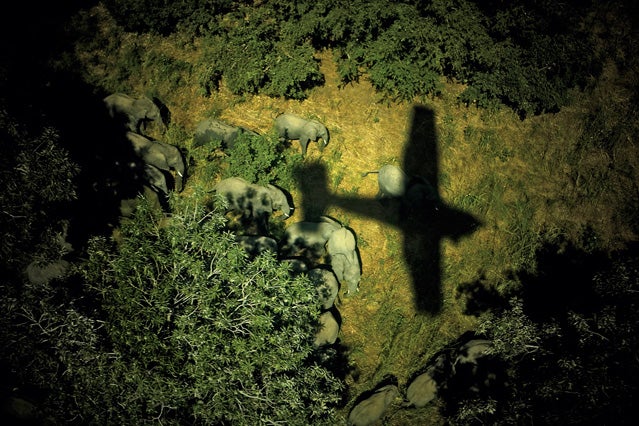 There were six of us, including conservationist Michael Fay and reporter Lisa Ling, crammed into what felt like a three-seat plane, doing aerial surveys of elephants in Chad's Zakouma National Park. We just kept circling and circling, and banking hard so there was no horizon reference. Everybody started getting super-queasy. I tried to grab my camera bag to have something to throw up in, but I ended up just clamping my hand over my mouth. I threw up and swallowed it three times. It was foul. But I still claim that I've never thrown up in a plane, because nobody saw it.
---
Ryan Pyle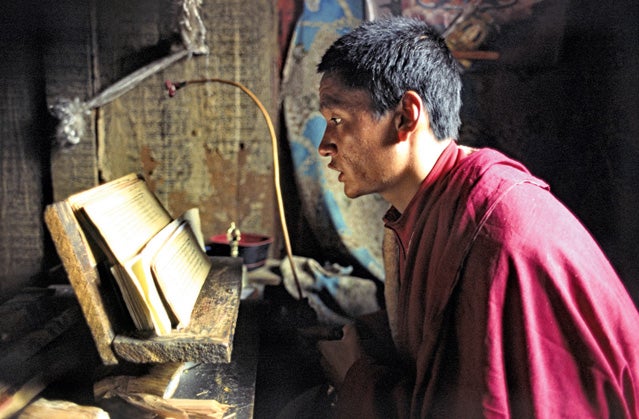 The Konka Gompa Monastery, in China's Sichuan province, sits at the base of 24,790-foot Minya Konka, and I walked 120 miles over four days to reach it. Each morning, one monk prays alone in the main hall. It was damp and cold, and there was a lovely light coming in from a single window. My only concern was to do the moment justice.
---
John Huet
This was the evening of day ten at the 2006 Winter Olympics, in Turin, Italy. It was snowing like crazy, and they pulled these big blinds to block the track from the snow, giving me fewer places to shoot from. I knew there were only a couple of two-man bobsled teams left, but then I saw this deep snow beside a banked turn and knew that was the shot. I only got six frames, but this was one of them.
---
Philipp Engelhorn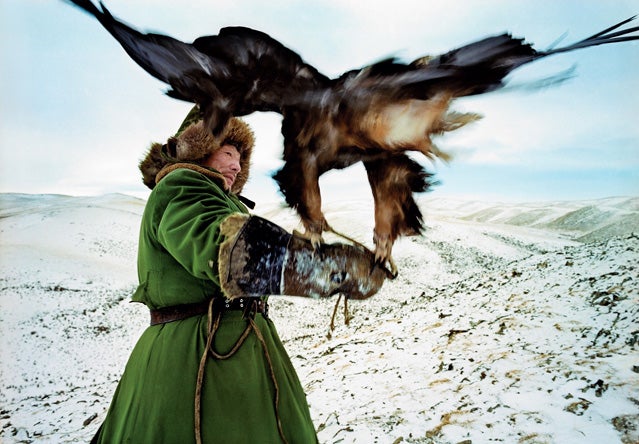 Winters in northern Xinjiang, China, rival those in Siberia: Forty below zero is normal. We'd gone in the fall to find an eagle hunter and make a handshake deal to follow him. But when we actually showed up two months later, he told us he never expected us to return and had no time for us. So we did the worst thing ever and set out by horse-drawn sleigh across the frozen countryside to find an eagle hunter. After four weeks in the blistering cold of that open sleigh, we finally found this guy. His name was Chalek. He was the best bird handler of all the hunters we met.
---
Christopher LaMarca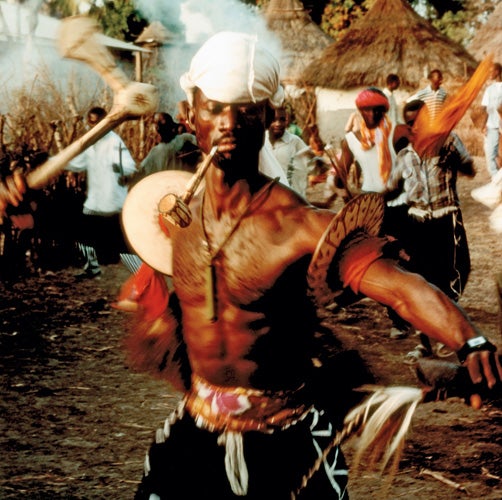 I was studying drumming and dance in Guinea, West Africa, and my teacher took me two weeks inland to observe Malinke villagers dancing to a rhythm called doundounba. It used to be a fighting dance with whips and clubs, but now they battle with martial-arts-style maneuvers. I crouched at the edge of the circle and timed my shots to the beat of the drums. Without autofocus, it took me 100 frames to get this shot. But if I hadn't understood the dance and been able to anticipate the dancers' movements, I'd never have gotten it at all.
---
Joshua Paul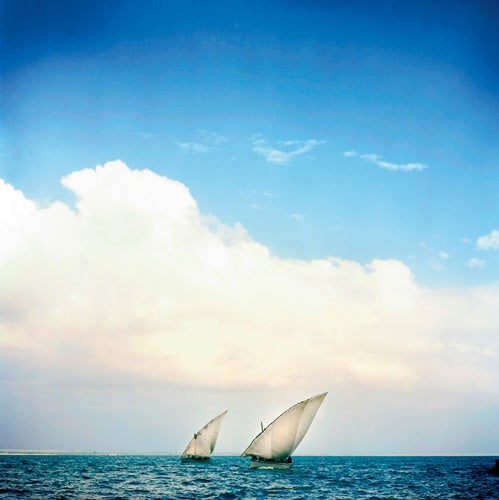 I'd just finished shooting an assignment for Outside, where I photographed the first descent of Mozambique's Lugenda River, dodging hippos, crocs, and a black mamba. I was exploring Ilha de Moçambique when I saw these dhows—basically water taxis—come in from the ocean to pick up a new load of passengers. The light was right and I ran to the beach, but I was only able to snap a few frames as they left. I felt like I could have been taking the same photo 200 years ago.
---
Matthieu Paley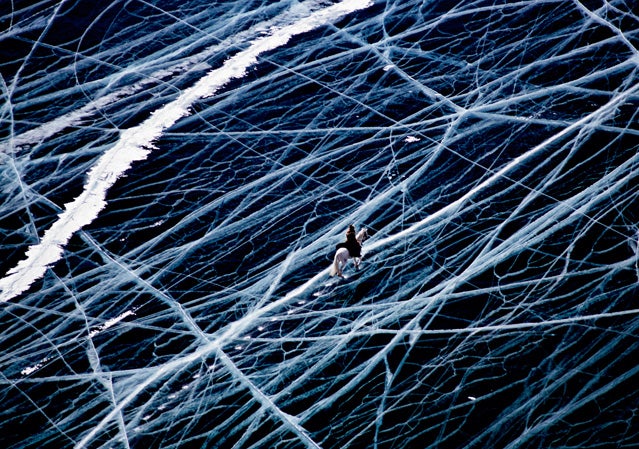 I was in Siberia, at frozen Lake Baikal, and there were five of us crammed into a Russian jeep. The others were drinking vodka. I told them I was going up a small cliff to shoot this rider, and as I walked back I saw the jeep start up and drive off: They had forgotten me. I started running, then screaming. It was getting dark, and it was about to be 35 below. I freaked out. I started thinking that I should've had a kid, to leave something behind. After an hour of trudging through snow, I saw a fisherman sitting beside a hole in the ice. I ran to him, waving like a madman, and tried to explain the situation in the little Russian I knew. He held out a vodka bottle to me, then gestured up a hill. At the top of it, there was a road. I sat beside it in this scary Siberian silence until I heard "Matthieuuuu." It was the driver and translator. When we arrived at the hotel, I called my girlfriend—now my wife—and told her I would love to have a kid one of these days. He's two and a half years old now.
---
Mark Fisher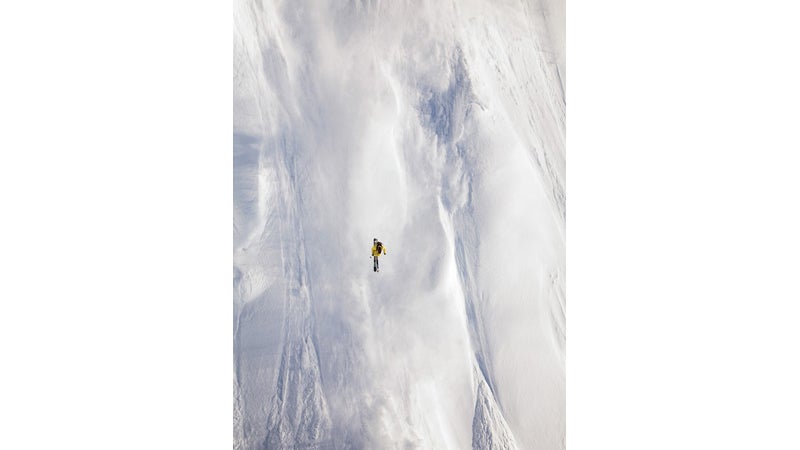 This was the first time I ever held a camera out of a helicopter. It was in Haines, Alaska, and the skier is Seth Morrison. There's all kinds of things happening on a shoot like this. They take the doors off the helicopter, you get strapped in, it's cold outside, so you're wearing gloves, and the production costs are huge, so you fly as little as possible. You sit in a hotel room for a week, waiting for perfect weather. And then when it's time, you have to get the shot. There are no second chances.
---
Chris Anderson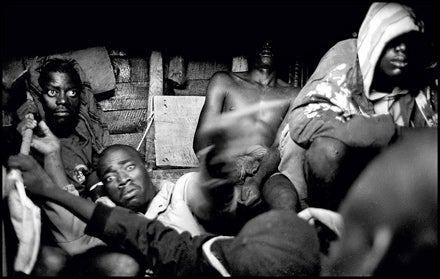 I took this picture the moment we realized we were sinking. It was 1999 and I was in the hold of a 25-foot handmade sailboat with 44 Haitian immigrants. Water started pouring in and David, the man looking at the camera, said, "Chris, you'd better start taking pictures, because we only have an hour to live." I was 29, trying to capture a journey of immigrants who risk everything to reach America. That I could die here hadn't registered until this moment. All I could do was take photographs as a reflex, a way to deal with my fear, even though I assumed the pictures were going to die with me. We were saved by a Coast Guard cutter that happened upon us. It made me understand that taking photographs is as much about explaining the world to myself as it is about explaining it to other people.
---
Antonin Kratochvil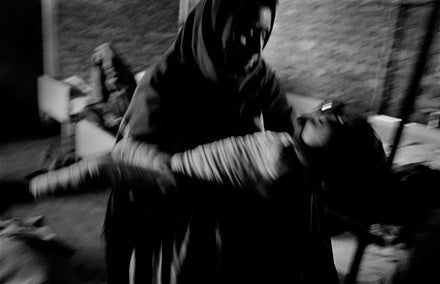 My toughest shot? It was taken back in 1988, just before the Soviets left Afghanistan. I was at a makeshift hospital outside of Jalalabad, where I photographed a woman with her child. He was burned by napalm and died shortly after. The doctor had told me the child would most likely die, so when I photographed them I already knew he would not survive. I don't think the mother knew. She was a nomad, and her son was wrapped in cloth. She stood right there, holding her child out to me, then cradled him in her arms. I've never been able to forget it. It was like the Pietà.