Sponsor Content: YETI
The Mystery of the Hawaiian Rough Riders
Meet the hog-tying, net-throwing, wave-surfing, calf-roping Native Hawaiian cowboys who are unlike any other cowboys on earth
It all started with a gift. In 1793, the maritime explorer Captain George Vancouver unloaded a few cattle on King Kamehameha, the Native monarch of Hawaii at the time. They were ruddy brown Herefords, but it was the ultimate white elephant present for a people accustomed to eating fish and tubers. The king promptly placed a kapu—a protective edict—on the beasts. Safeguarded by this special status, they were free to graze on the Big Island's rolling grasslands unmolested, even as they multiplied and marauded their way through gardens, occasionally charging unsuspecting islanders.
In 1832, the cattle population hit the thousands, the kapu was lifted, and Kamehameha's grandson (also a king) inherited a unique problem: no one on the island knew anything about wrangling cattle. So he recruited three Mexican vaqueros from California to come show some of his fellow Native Hawaiians how to build saddles, braid leather, throw loops, and brand calves. For those of you keeping track, this is still about four years before Texas became a state. Fittingly, the Native Hawaiians who went the cowboy way became known as paniolos—a Hawaiianized pronunciation of español. (The Hawaiian language doesn't do s sounds.)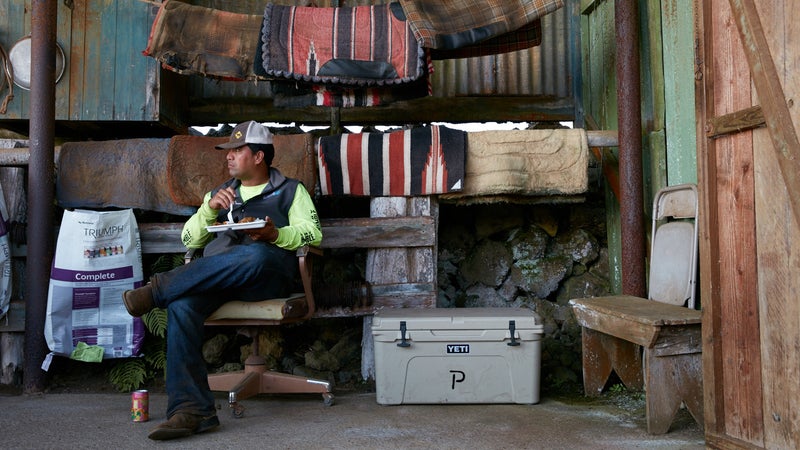 With year-round grazing on lush vegetation and a customer base of hungry seafarers in need of meat and tallow, paniolo cowboying quickly became a success. And it bred some badass cowboys. In 1908, a paniolo by the name of Ikua Purdy traveled to Cheyenne, Wyoming, borrowed a horse, and won the steer-roping event in what was then and is still the biggest rodeo on earth: Frontier Days. A dark-skinned islander with lei flowers in the brim of his hat, he was the Jackie Robinson of all-white western rodeoing. By the latter half of the 20th century, Parker Ranch, the ranch started by the influential Parker family in the late 1800s, had grown into one of the biggest ranches on the planet, with 250,000 acres and upwards of 25,000 head of cattle.
Despite the history, says Jim Neubert, who, along with his brother Luke, has been traveling to the Parker Ranch each summer for 13 years to "start," or break, colts for the paniolos, "when you say you're going to Hawaii to start colts on a cattle ranch, people say, 'Huh? They have cattle out there?'"
"Parker Ranch isn't as big as it was during its heyday, but they still run more than 10,000 head—and the paniolos are still cowboying like no other cowboys on earth."  
Parker Ranch isn't as big as it was during its heyday, but they still run more than 10,000 head—and the paniolos are still cowboying like no other cowboys on earth. Left to their traditions and isolated by island life, says Luke Neubert, the paniolos cowboy "like their daddies and grandpas taught them." Filmmaker Chris Malloy, who captured paniolo life in the short film "Parker Ranch," grew up in California ranch country before surfing professionally for 15 years, but he'd never seen calf roping performed quite like the paniolos do it. Instead of two cowboys working a calf, with the first throwing a head loop and the second lassoing the hind legs above the hooves, a lone paniolo tosses a wide head loop, lets the animal walk through it, and then cinches the rope around the hind legs before dragging it off to the branding fire. "I think they totally figured that out on their own," says Malloy. "I never heard of vaqueros using that technique." It's not their only unique custom. As Malloy was surprised to see, they also hunt without guns and fish without poles.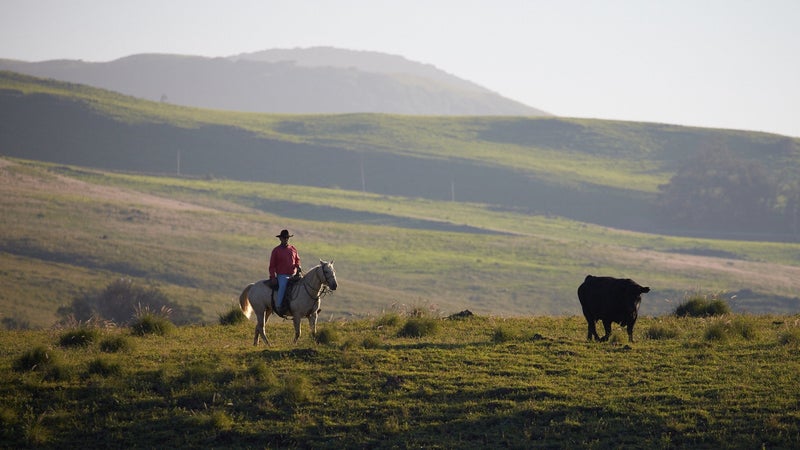 Which is where paniolo-style hog tying comes in. Wild hogs are both a scourge and a food source on ranches from Texas to California, but in Hawaii, feral pigs are one of the most destructive of the island's many invasive species, unleashing more havoc than the feral cattle that still roam the islands. "We grew up in California, with lots of hog hunting," say Jim Neubert, who leaves his surfing gear in a Parker Ranch tack room between annual visits. "Back home, we just shoot 'em. The paniolos get their dogs on them, and it gets a little western."
The paniolos rope hogs like mainland cowboys rope calves. They chase them down with the dogs and the horses, then it's a loop around the neck, another around the rear legs, stretch, and out comes the knife.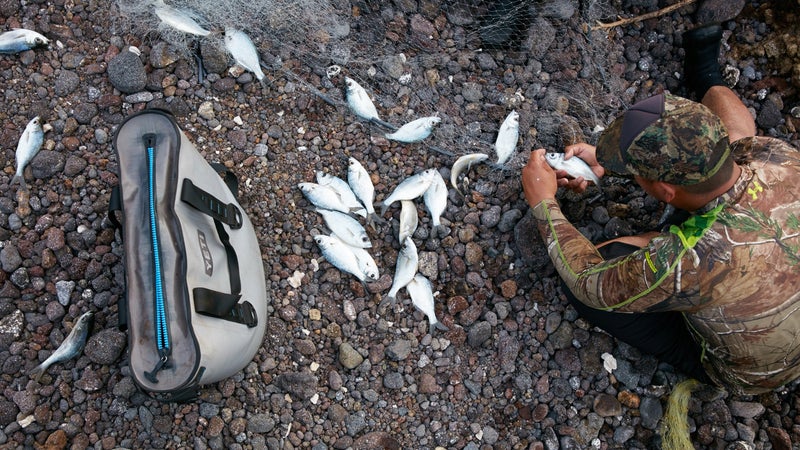 They also have their own distinct style of fishing, which involves wading out into heavy surf, hopping between razor-sharp lava rocks, and throwing out hand nets. Malloy, no stranger to extreme or sketchy ocean environments, was freaked about trying to film them. "The surf was legit. The ocean was moving. As a guy who made his living in treacherous surf, I was like shit, shit, shit," he says. "I have my ranching film crew that's great at what they do, and my ocean crew that does what they do, but they live in different worlds. The paniolo live in both worlds."
Today, the cowboys at Parker Ranch are generational, following in the footsteps of uncles or grandfathers. They hunt, fish, and cowboy like they always have, feeding their families and making their livelihood by living off the land. The ranch is now run by a public trust, and it chiefly raises calves that grow quickly on year-round forage before getting shipped to the mainland to fatten. But it remains a viable ranch, with around 16 paniolos working its green pastures and crashing shore breaks. In an age when it's hard to tell the real cowboys from the drugstore variety, it's nice to know that the paniolos are still humbly ranching in paradise, 225 years after Vancouver's complicated gift. "It's old school, the way we work here," says paniolo patriarch Sonny Keakealani. "It's not the Wild, Wild West, but you can say it's western. You come to work—you don't grumble, you work. That's how I was brought up. That's the Hawaiian cowboy."
---
Built for close calls in far-flung places. Built for tall tales and epic adventures. Built for finding comfort well outside comfort zones. Built for the wild.